1929 Chevrolet International Model AC news, pictures, specifications, and information

Tweet
Chevrolet's were easily identifiable by their prominent 'bowtie' logo mounted on a chrome-plated radiator shell which rested on a rectangular radiator. Part-way through the year, a rumble seat sport roadster was added to the very extensive list of bodystyles. All were powered by a six-cylinder overhead valve engine that produced 46 horsepower. This was the first year for the Chevrolet six-cylinder engine since 1915. Chevrolet marketed this triumphant return as 'A Six for the Price of a Four.' The wheelbase measured 107 inches and the length was a comfortable 156-inches.

The six-cylinder engine did well in sales, prompting Henry Ford to hastily introduce the1932 Ford V8 as competition. Chevrolet would continue to improve upon its six-cylinder unit. It would eventually become known as the 'Cast-Iron Wonder'. It displaced 194 cubic-inches and used a solid overhead-valve design in a cast-iron block. The engine was mated to a three-speed manual gearbox which powered the rear wheels. Fuel economy was adequate at 19 mpg on average.

Available options included bumpers in front and rear, sidemount tires & covers, trunk rack, external rearview mirror, cigar lighter, running board step plates, wire spoke wheels, wind wings on the open cars, and rear spare cover.

This example is a Two-Door Sedan that has buck seats and disc wheels. It is painted in a triple-tone paint scheme that includes grey, maroon, and black. The interior is grey tweed. It has the rare rear trunk with spare, directionals, and a rebuilt engine.
By Daniel Vaughan | May 2008
| | | |
| --- | --- | --- |
| | | Landau Convertible |
Chevrolet introduced their 1929 models as 'a six for the price of a four.' The six-cylinder engine had overhead valves, non-pressurized lubrication, a cast-iron block, and a fuel pump to feed the updraft carburetor. The new Chevrolets had freshened styling with a new grille, revised body side moldings and a smaller diameter wheels with fatter tires.

This example is a Landau Sedan that was only available for 1929 and production was limited to just 300 units. Chevrolet sold 600,000 cars in the first six months of 1929.
By Daniel Vaughan | Jan 2011
FORD CELEBRATES 100TH ANNIVERSARY OF THE MOVING ASSEMBLY LINE WITH NEW GOALS FOR ADVANCED, FLEXIBLE
◾By 2017, Ford will increase its global flexible manufacturing to produce on average four different models at each plant around the world ◾Largest manufacturing expansion in 50 years with eight new assembly plants and six new powertrain plants globally to support growth and retain approximately 130,000 manufacturing jobs around the world ◾Ford ramping up new advanced manufacturing techniques such as 3D printing, advanced prototyping, robotics and virtual simulation to lead the next generation ...[Read more...]
Carl Edwards Drives Historic 1901 Sweepstakes Race Car In Advance Of Henry Ford'S 150Th Birthday Celebration
◾ Ford Racing NASCAR superstar Carl Edwards was given the honor of driving the legendary Sweepstakes race car built and raced to victory by Henry Ford in his one and only race in 1901. ◾ Edwards drove the car around the grounds of Greenfield Village at The Henry Ford, under the guidance of Sweepstakes Engineer Glenn Miller and the watchful eye of Henry Ford's great-grandson, Edsel B. Ford II. Link to video: http://www.youtube.com/embed/Ru_hC9oGVbo?list=UU87j_-SIjbzUqlY8tuKlZyQ D...[Read more...]
Star Automobiles Set To Astonish And Amaze At 7Th Annual Barrington Concours D'Elegance
BARRINGTON, ILL. – July 3, 2013 – The 7th Annual Barrington Concours d'Elegance will feature a wide variety of vehicle classes, including some of the most celebrated pre and post war collectible cars in the world, with stars and stunning examples from each group. An array of exquisite examples of automotive excellence will be shown on July 12-14, 2013, at the Makray Memorial Golf Club in Barrington, Ill. The Concours will celebrate over 100 fine autos with displays detailing the history o...[Read more...]
Lee Holman, Holman & Moody to be Honored at 2013 Pinehurst Concours d'Elegance
- Legendary North Carolina-based motorsports organization featured in special display, lifetime achievement award to Lee Holman - Just saying the name of Charlotte, NC-based Holman & Moody conjures up some of the most exciting motorsports moments in history – in NASCAR, Le Mans, Drag Racing and Rallying. To put an exclamation point on their accomplishments, the inaugural Pinehurst Concours d'Elegance will honor Lee Holman with the first-ever 'Pinehurst Concours Lifetime Achievement A...[Read more...]
Limited-Edition Ford Racing History Artwork Unveiled at SEMA; Limited-Edition Print Sales to Benefit JDRF
•Special limited-edition Ford Racing history artwork is unveiled at the annual SEMA show as part of the Ford press conference •Famed automotive artist Sam Bass created the artwork at the request of Edsel B. Ford II, with proceeds from sales of limited-edition autographed prints benefiting JDRF •Drivers and Ford race vehicles featured on the special artwork include Henry Ford (Sweepstakes), Trevor Bayne (No. 21 Fusion), Dan Gurney/A.J. Foyt (Ford Mark IV), Bob Glidden (NHRA Thunderbird), Jack...[Read more...]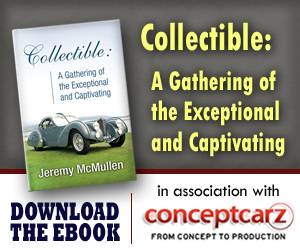 Chevrolet
Monthly Sales Figures
Volume
February 2014
153,913
January 2014
119,089
December 2013
153,493
November 2013
145,089
October 2013
155,214
September 2013
127,785
August 2013
187,740
July 2013
162,670
June 2013
193,460
May 2013
179,510
April 2013
172,460
March 2013
173,859
(More Details)
© 1998-2014. All rights reserved. The material may not be published, broadcast, rewritten, or redistributed.