1965 Mercury Colony Park news, pictures, specifications, and information

Tweet
This vehicle played a role in the movie 'The Silencers', in which Dean Martin played the famed Donald Hamilton character 'Matt Helm'. The script called for a plus four-door station wagon. George Barris met the need with this Mercury, designed for entertaining as well as spy catching with its lavish lounge in the rear compartment. Its features include a fully-equipped bar and a television set.
The top-of-the-line full-size station wagon, the Mercury Colony Park was offered by Mercury between 1957 and 1991. Sharing the same woodgrain paneling on the bodyside and tailgate as the Ford Country Squire and the Edsel Bermuda wagons, the Colony Park was a pillarless hardtop model until 190 when it was switched to pillared styling for 1961. In 1957, Mercury grouped all of its station wagons into their own series.

The Colony Park featured Ford's two-way Magic Doorgate in 1966. The Doorgate was designed to fold down like a conventional tailgate and also swung sideways much like a door. The 1967 Colony Park showcased Ford's dual-facing rear seats.

For 1969 the full-size Mercury wagons were restyled and were no longer considered a separate series, and the Colony Park became a member of the Marquis series. In this same year the Magic Doorgate was revised so that it could be swung sideways without having to roll the window down. For the 1973-1978 generation, the Colony Park got as large as it ever would be before Mercury downsized it for 1979.

In 1992 the Colony Park station wagon was dropped from Mercury's lineup and the Grand Marquis was redesigned with aero-styling. Unfortunately minivans and SUVs took precedence at this time over full-size station wagons. The Chevy Caprice and the Buick Roadmaster Estate were the last of the full-size stations wagons and production ended in 1996.
By Jessica Donaldson
Original 1966 Batmobile Sets World Record
'Kustom Kar' Legend George Barris Parts with His Most Famous Creation After 47 Years The Original 1966 TV series Batmobile, one of the most recognized and popular pieces of entertainment history worldwide, sold for $4,620,000 and set the world record for the highest price ever fetched for a TV/Movie car, at the 42nd annual Barrett-Jackson auction in Scottsdale. The unique vehicle was offered as part of Barrett-Jackson's spectacular Salon Collection on January 19, 2013. Barrett-Jac...[Read more...]
Barrett-Jackson Generates Nearly $109 Million In Sales
• Sets Record Attendance At The 42nd Annual Scottsdale Auction
• Batmobile sells for $4.62 million dollars to a lifelong fan to worldwide audience; marks second-highest single-car sale at Barrett-Jackson
•1,343 cars sold •$108,766,069 gross sales – A 17% increase over 2012 •300,000 in attendance •Charity cars – 21 total for $5,005,000 Scottsdale, Ariz. – Jan. 22, 2013 – Barrett-Jackson Auction Company, The World's Greatest Collector Car Auctions™, generated nearly $1...[Read more...]
Steve McQueen Chevrolet Styleline Leads Exciting List of Celebrity Rides At Auctions America's Ford Lauderdale Sale
• Auctions America kicks off its 2013 calendar, March 22 – 24, 2013 in Fort Lauderdale, Florida • Regarded as South Florida's premier collector car auction, multi-day sale expected to feature more than 550 quality collector cars • Star attraction: 1951 Chevrolet Styleline DeLuxe Convertible formerly owned by Steve McQueen to be offered at no reserve • Additional highlights include a diverse assortment of 1950s convertibles from 'The Gauthier Collection', 1967 Dodge Coronet WO23 Hemi Super Sto...[Read more...]
Sold! Barrett-Jackson's 5000 Series Generates More Than $29.2 Million In Scottsdale
Original 1966 TV Batmobile Sells for $4.62 Million at The World's Greatest Collector Car Auctions™ and New World Records are Set January 19, 2013 •LOT #5037 The Original Batmobile is the highest selling car at the company's annual Scottsdale Auction •LOT #5019 1947 Talbot-Lago T-26 Grand Sport sets a new world record for the model •LOT #5034 1956 Chrysler Diablo Concept Convertible sets a new world record for Chrysler concept cars Scottsdale, Ariz. (Jan. 20, 2013) – Barr...[Read more...]
POW! BAM! ZOOM! The Original 1966 TV Batmobile To Cross Auction Block At Barrett-Jackson Scottsdale
Holy Grail of TV Star Cars to be Sold for First Time January 19, 2013 Barrett-Jackson, the World's Greatest Collector Car Auctions™, announced today that it will offer one of the most recognized and popular pieces of entertainment history worldwide, at its 42nd annual Scottsdale www.barrett-jackson.com/scottsdale/ auction in January – the only 1955 Lincoln Futura concept car which was heavily modified by legendary customizer George Barris to become the original 1966 Batmobile in the l...[Read more...]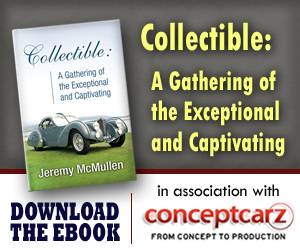 Similarly Priced Vehicles from 1965
Chevrolet Corvette C2 ($2,947-$3,210)
Chevrolet Impala Series ($2,700-$3,200)
Alfa Romeo Giulia Series 101 ($3,315-$4,885)
Ford Series 60 Galaxie 500 ($2,627-$3,165)
Buick Skylark ($2,480-$3,842)
Plymouth Sport Fury ($2,925-$3,160)
Pontiac Bonneville ($3,290-$3,560)
Ford Galaxie ($2,625-$3,425)
Morgan Plus Four ($2,965-$3,350)
Dodge Polara ($2,765-$3,475)
© 1998-2014. All rights reserved. The material may not be published, broadcast, rewritten, or redistributed.