1950 Packard Eight news, pictures, specifications, and information

Tweet
When Packard introduced their newly designed models for the 1948 model year, they featured a design called 'Flow-through' fenders. This was the company's first new model in the postwar era, and they were called the Standard Eight.

Also in 1948, Packard introduced their wagon, called the Standard Eight Station Sedan. It predated Ford's similarly styled version by a full year. Packard's Station Sedan featured a folding rear seat, a rolled roof, and raked C and D-pillars. The styling had been courtesy of Al Prance.

The 'Woodie Wagons' were built atop a four-door, six-passenger sedan and sent to Briggs Manufacturing for completion. Briggs Manufacturing converted the sedan into a full station wagon and used ash and maple for the wood components. In 1948, the station wagons sold for $3,424. By 1950, that figure had increased to $3,449. Between those years, 1948 to 1950, there were a total of 3,900 woodies bodied by the Briggs Manufacturing Company.

This example is painted in its original Packard Ivory Color and features a completely restored wood work. It was given a frame-up cosmetic restoration.

This Model 3201 Woodie Wagon is powered by a 288 cubic-inch L-head eight-cylinder engine which produces 135 horsepower. There is a column shift manual gearbox and four-wheel drum brakes. The car rides on a wheelbase that measures 120 inches.
By Daniel Vaughan | May 2008
In August of 1947, the Twenty-Second Series Packard models were introduced. This was the marque's first all-new post-war design. They were elegant, modern, aerodynamic, and streamlined. In 1948, the New York Fashion Academy chose Packard as its 'Fashion Car of the Year.'

The Station Sedan produced by Packard was an effort to improve its upscale image and align it self with other sought-after vehicles such as Chrysler's Town & Country Woody Wagon. The Packard's had decorative ash framework, innovative Di-Noc panels which gave the appearance of mahogany, high build quality, and a smooth ride. A new Station Sedan was priced at $3,425. Production would continue, mostly unchanged, through 1950. There were 3,864 examples produced making them very rare then and now.

In the early 2000s, this 1950 Packard Eight Station Sedan was given a body-off restoration. It is well-equipped with a clock, heater, AM radio, period correct whitewall tires, steel wheels, chrome-plated hubcaps, red 'Packard' emblems, leather upholstery, and black carpeting.

In 2008, this car was brought to the 2nd Annual Vintage Motor Cars of Hershey presented by RM Auctions where it was estimated to sell for $70,000-$90,000. Though the vehicle carried a reserve, it was lifted even though bidding did not reach the estimated value. The lot was sold for $58,300 including buyer's premium.
By Daniel Vaughan | Oct 2008
The 23rd Series model was introduced in May of 1949 and was essentially unchanged and marked Packard's Golden Anniversary. Powering these cars was an eight-cylinder engine that displaced 288 cubic-inches and offering 135 horsepower.

The Standard Eight Sedan was priced from $2,250 and was the company's entry-level model. This example has traveled less than 1,000 miles since it emerged from 35-40 years of garage storage. The exterior was refinished in a darker shade of green than original, and features include a re-chromed grille and bumpers, and a set of period-style wide whitewall tires. The interior includes a new floor mat and a number of new control knobs.

In 2010, this car was offered for sale at the Vintage Motor Cars of Hershey presented by RM Auctions. It was estimated to sell for $10,000 - $14,000 and offered without reserve. As bidding came to a close, the car had been sold for the sum of $11,000, which includes buyer's premium.
By Daniel Vaughan | Oct 2010
Packard introduced their first factory station wagons in 1940 on the six-cylinder 110 and eight-cylinder 120 chassis. Production would last only two years before World War II put production on hold. After the war, Packard offered a new wood-trimmed model, dubbed the Station Sedan. The new model was essentially a Standard Eight Sedan that featured white ash paneling over an all-steel body, a unique semi-fastback roofline, and rear quarter panels. Though it looked like the 'woodies' of old, the wood played a structural role in only the tailgate, which pioneered the two-piece gate that would become a feature of most all 1950s wagons.

Most of the Packard Station Sedans were produced in 1948, with leftovers being renumbered to sell in 1949 and 1950. The wood bodies required proper care and maintenance, which few examples were given. The majority of the Station Sedans produced have not survived.

This example is a 1950 model and is one of the very last delivered. Prior to entering the Kughn collection, the car was given a major restoration, which included the application of new white ash woodwork and metallic Turquoise Blue exterior finish. Inside, there is tan leather with wood-grained dashboard and window moldings, as well as tan carpets. It is equipped with a radio and heater and the optional overdrive transmission.
By Daniel Vaughan | Apr 2014
Jeep Brand Debuts Four Design Concept Vehicles at the Beijing Motor Show
•Four Chinese-inspired design concepts push boundaries of Jeep brand •Jeep Zi You Xia design concept showcases a sophisticated interpretation of the all-new Jeep Renegade •Jeep Wrangler Sundancer brings premium luxury to the iconic model •Jeep Cherokee Sageland and Urbane reflect distinctive Chinese inspired personalities April 19, 2014 , Beijing - The Jeep® brand introduced four new design concepts at the 2014 Beijing International Motor Show today. The quartet takes Jeep product...[Read more...]
MERCEDES-BENZ 2014 G63 AMG: THE ULTIMATE G-CLASS
The latest technology for the AMG off-road icon: the new 2014 G63 AMG impresses with a state-of-the-art powertrain, expressive new design and improved efficiency. All this is largely attributable to the AMG 5.5-liter V8 biturbo engine delivering 536 hp and the AMG SPEEDSHIFT PLUS 7-speed automatic transmission. Every new AMG high-performance vehicle offers an outstanding mix of 'more power from less fuel' – and the G63 AMG is no exception. The 'strong man' in the AMG model range has been furt...[Read more...]
Mercedes-Benz USA Announces Pricing for 2014 SLS AMG Black Series and C63 AMG Edition 507
MONTVALE, N.J. – Mercedes-Benz USA (MBUSA) today announced pricing for the 2014 SLS AMG Black Series coupe and the 2014 C63 AMG Edition 507 sedan and coupe. Both models are part of an exclusive lineup of high-performance AMG models available at all U.S. Mercedes-Benz dealers. The Manufacturer's Suggested Retail Pricing for the MY14 SLS AMG Black Series is $275,000 (plus $1,800 for destination and delivery). Pricing for the MY14 C63 AMG Edition 507 sedan will begin at $70,000 (plus $925 fo...[Read more...]
2014 Honda Odyssey Arrives At Dealers July 2 Delivering More Value To Customers With Refreshed Styling
06/25/2013 - TORRANCE, Calif. The 2014 Honda Odyssey minivan arrives at Honda dealerships nationwide on July 2, refreshed with a host of powertrain, styling, interior, feature and safety upgrades, all designed to meet the needs of today's family. Key changes to the 2014 Odyssey minivan include the addition of a standard 6-speed automatic transmission on all trims resulting in class-leading fuel-economy ratings, enhanced safety equipment, cleaner front and rear exterior styling, plus revis...[Read more...]
Magnificent Series of Coachbuilt Classics To Grace RM's Amelia Island Concours D'Elegance Sale
• RM Auctions returns as the official auction house of the Amelia Island Concours d'Elegance, March 9, 2013 • Single-day sale features breathtaking roster of more than 80 investment-quality collector cars • Notable highlights include an outstanding series of coachbuilt classics headlined by a multi-million-dollar 1935 Duesenberg Model SJ Walker-LaGrande Convertible Coupe and a trio of Cords from the personal collection of Jim Fasnacht • Frequently updated list of entries available online at r...[Read more...]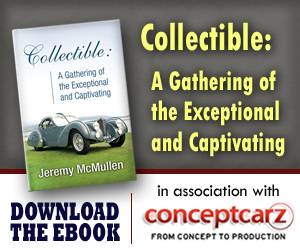 Similarly Priced Vehicles from 1950
Chrysler New Yorker ($2,730-$4,000)
Oldsmobile 88 ($1,720-$2,580)
DeSoto Custom ($2,155-$3,177)
Mercury Series 0CM ($1,870-$3,412)
Hudson Commodore ($2,260-$2,895)

Average Auction Sale: $45,450
© 1998-2014. All rights reserved. The material may not be published, broadcast, rewritten, or redistributed.