1908 Buick Model 10 news, pictures, specifications, and information

Tweet
This vehicle is a 1908 Buick Model 10 which was Buick's most popular vehicle for 1908. The Model came in one flavor - a Touring Runabout with seating for 3 and cost $900. A total of 4,002 examples were created, with the Model F being the second most favorite, with 3,281 examples produced. The Model 10 featured acetylene headlights, bulb horn, and oil-fueled side and taillights. The front suspension was comprised of semi-elliptic leaf springs with full-ellipticals in the rear. The 88-inch wheelbase vehicle was powered by a four-cylinder engine that displaced 165 cubic-inches. Power was rated at 40 and shaft-driven to the rear wheels via a 2-speed planetary transmission.

At $900, the Buick was the least expensive vehicle in the model range. The most expensive was the Model 5, which cost a staggering $2,500. This vehicle had seating for 5 and would see only 402 examples produced. The Model 5 served as the replacement for the Model K; it was available in two paint schemes of either blue or red. The Model 10 was available in off-white Buick Gray.

When W.C. (Billy) Durant organized General Motors in 1908, the Buick Motor Company was the financial foundation which made it all possible. At the same time, the highly successful Model 10 series cars were the financial foundation of Buick. It must be remembered that Buick also introduced to the Automotive World the valve-in-head motor.

This car was purchased by the current owner in 1986. The car was in running condition but needed restoration back to original specifications and finishes. With the help of friends and people in the restoration of antique of Buicks, he was able to duplicate all the original parts and finishes.

This car received Special Pamphilon Award in Philadelphia in 1999. It also received a Senior Award with the Buick Club of America.
By Daniel Vaughan | Nov 2008
The first Buicks, with production beginning in 1904, used a 2-cylinder horizontally opposed engine. By 1908 a 4-cylinder 24 horsepower engine had been developed and Buick became the second largest seller in the US behind Ford.

Early Buicks developed a reputation for power, speed and hill climbing ability by winning competitions against larger and more powerful cars. In 1908, the Model 10 Roadster was advertised as 'a high powered, high grade runabout.' It is one of the handsomest cars ever put on the market.' The cost new was $900.
Buick was the foundation of General Motors when it was founded in 1908 by William C. Durant. That year, Buick production had nearly doubled - to 8,820 cars.

This Model 10 was Buick's most popular model and for good reason. For $900, the buyer received an attractive car equipped with acetylene headlights, oil-fired side and taillights and a bulb horn.

The engine was a T-head, four-cylinder, valve-in-head, with a 3.75-inch bore and 3.75-inch stroke. It displaced 165 cubic-inches and developed 22.5 horsepower.
The Buick Model 10 was introduced at the New York Automobile Show in November of 1907. The Gentlemen's Light Four-cylinder Roadster would soon become the company's best seller. It was the lowest-priced Buick and sold for just $900, including acetylene headlamps, oil lamps for side and tail illumination and a bulb horn. It was priced very close to Henry Ford's new Model T, and over 4,000 were built in the first year and 8,100 the next. In 1910, its last year, production approached 11,000, by far the greatest of any Buick model until 1914.

This Model 10 example wears an older restoration. It is painted in its correct off-white shade called 'Buick Gray.' It has period-correct brass lamps, and correct accessory top and windshield.

In 2010, this Model 10 was offered for sale at the Vintage Motor Cars of Hershey auction presented by RM Auctions. The car was estimated to sell for $25,000 - $35,000 and offered without reserve. As bidding came to a close, the car had been sold for the sum of $28,600 including buyer's premium.
By Daniel Vaughan | Oct 2010
The Buick Motor Company was founded by David Buick in 1903 who quickly found himself in financial problems. William Crapo Durant gained control of the company which was beneficial for the company, as sales, production, and profit greatly increased. In 1908, Buick became a founder member of the General Motors Corporation. This was the same year the Model 10 Buick was introduced. It carried a price tag of $900 which included Buick Gray paint scheme, oil side and tail-lights, acetylene headlights, and bulb horn as standard. The top was optional and cost an additional fee. In total, over 4000 examples were produced in its first year, providing Buick and General Motors with financial prosperity.

In 1909 Buick extended the chassis length to 92 inches. The number of bodystyles and sale also increased, reaching 8,100 units produced. By 1910, Buick was offering the Model 10 in 13 different body styles. The side-mounted spare and a windshield remained as optional equipment.

Production would last until 1910 with a total of 23,000 units being produced.
By Daniel Vaughan | Oct 2007
For more information and related vehicles, click
here
105 YEAR OLD 'CAR OF KINGS' EMERGES FROM AUSTRALIA FOR SALE AT BONHAMS' INAUGURAL MERCEDES-BENZ AUCTION
A 1909 35hp Mercedes with a rugged past, estimated at €480,000-680,000, is being offered on 12 July as part of Bonhams' Mercedes-Benz Sale at the Mercedes-Benz Museum in Stuttgart, Germany. The Sale will feature a choice selection of some 40 motor cars manufactured by the renowned German marque over its more than century-long history. Perhaps the last place one would expect to find an early Mercedes vehicle advertised as 'the car of kings' is at Isis Downs, an isolated sheep station in Queens...[Read more...]
FORD FUND ANNOUNCES $1 MILLION WILLIAM CLAY FORD AUTOMOTIVE DESIGN SCHOLARSHIP
◾Scholarship commemorates the design legacy of William Clay Ford, former chairman of Ford Motor Company's design committee ◾Ford Fund commits $50,000 per year during the next 20 years, giving five automotive design students each $10,000 per year ◾Mr. Ford oversaw design of the iconic Lincoln Continental Mark II, considered by many one of the greatest cars ever built Ford Motor Company Fund will award $1 million in automotive design scholarships during the next 20 years to commemorate the la...[Read more...]
Ford Motor Company Fund Donates $1 Million To College For Creative Studies
The College for Creative Studies (CCS) announced today that Ford Motor Company Fund will donate $1 million over five years, strengthening its commitment to one of the world's leading art and design colleges and providing educational opportunities to Detroit youth. The funds are being used to establish the Henry Ford Academy: School for Creative Studies (HFA: SCS) College and Career Transitions Office at CCS, as well as start a Ford Blue Oval Scholarship fund at CCS for graduates of HFA: SCS t...[Read more...]
Concorso Di Motociclette At The Concorso D'Eleganza Villa D'Este 2012
•30 historic motorcycles set to line up in five classes on the banks of Lake Como •First-class international jury assembled. Following a successful premiere last year, the Concorso e Mostra di Motociclette celebrates its return in 2012. 'The Concorso d'Eleganza for cars can look back over a long tradition, and for BMW, with its extensive history as a motorcycle manufacturer, it was only logical to expand the Concorso to include classic motorcycles,' said Karl Baumer, President of the Concor...[Read more...]
Edsel Ford's Restored 1934 Model 40 Special Speedster Returns to Amelia Island Concours d'Elegance
It has been 13 years since Edsel Ford's 1934 Model 40 Special Speedster first made headlines when it rolled onto the field at the Amelia Island Concours d'Elegance. The elegant roadster, which was rediscovered in 1999 by the show's founder and Chairman Bill Warner, will return again on Sunday, March 11 to the 17 the annual Concours; this time as part of the collection of the historic Edsel Eleanor Ford House (Ford House) and completely restored to its timeless elegance. The Speedster's ...[Read more...]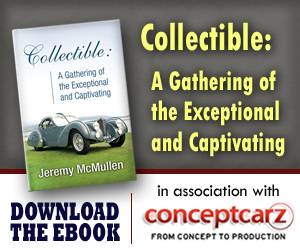 Buick
Monthly Sales Figures
Volume
October 2014
18,699
September 2014
17,466
August 2014
22,143
July 2014
17,683
June 2014
21,403
May 2014
19,957
April 2014
19,214
March 2014
20,428
February 2014
19,192
January 2014
13,278
December 2013
15,379
November 2013
15,072
(More Details)
© 1998-2014. All rights reserved. The material may not be published, broadcast, rewritten, or redistributed.