1908 Buick Model 10 news, pictures, specifications, and information

Tweet
This vehicle is a 1908 Buick Model 10 which was Buick's most popular vehicle for 1908. The Model came in one flavor - a Touring Runabout with seating for 3 and cost $900. A total of 4,002 examples were created, with the Model F being the second most favorite, with 3,281 examples produced. The Model 10 featured acetylene headlights, bulb horn, and oil-fueled side and taillights. The front suspension was comprised of semi-elliptic leaf springs with full-ellipticals in the rear. The 88-inch wheelbase vehicle was powered by a four-cylinder engine that displaced 165 cubic-inches. Power was rated at 40 and shaft-driven to the rear wheels via a 2-speed planetary transmission.

At $900, the Buick was the least expensive vehicle in the model range. The most expensive was the Model 5, which cost a staggering $2,500. This vehicle had seating for 5 and would see only 402 examples produced. The Model 5 served as the replacement for the Model K; it was available in two paint schemes of either blue or red. The Model 10 was available in off-white Buick Gray.

When W.C. (Billy) Durant organized General Motors in 1908, the Buick Motor Company was the financial foundation which made it all possible. At the same time, the highly successful Model 10 series cars were the financial foundation of Buick. It must be remembered that Buick also introduced to the Automotive World the valve-in-head motor.

This car was purchased by the current owner in 1986. The car was in running condition but needed restoration back to original specifications and finishes. With the help of friends and people in the restoration of antique of Buicks, he was able to duplicate all the original parts and finishes.

This car received Special Pamphilon Award in Philadelphia in 1999. It also received a Senior Award with the Buick Club of America.
By Daniel Vaughan | Nov 2008
The first Buicks, with production beginning in 1904, used a 2-cylinder horizontally opposed engine. By 1908 a 4-cylinder 24 horsepower engine had been developed and Buick became the second largest seller in the US behind Ford.

Early Buicks developed a reputation for power, speed and hill climbing ability by winning competitions against larger and more powerful cars. In 1908, the Model 10 Roadster was advertised as 'a high powered, high grade runabout.' It is one of the handsomest cars ever put on the market.' The cost new was $900.
Buick was the foundation of General Motors when it was founded in 1908 by William C. Durant. That year, Buick production had nearly doubled - to 8,820 cars.

This Model 10 was Buick's most popular model and for good reason. For $900, the buyer received an attractive car equipped with acetylene headlights, oil-fired side and taillights and a bulb horn.

The engine was a T-head, four-cylinder, valve-in-head, with a 3.75-inch bore and 3.75-inch stroke. It displaced 165 cubic-inches and developed 22.5 horsepower.
The Buick Model 10 was introduced at the New York Automobile Show in November of 1907. The Gentlemen's Light Four-cylinder Roadster would soon become the company's best seller. It was the lowest-priced Buick and sold for just $900, including acetylene headlamps, oil lamps for side and tail illumination and a bulb horn. It was priced very close to Henry Ford's new Model T, and over 4,000 were built in the first year and 8,100 the next. In 1910, its last year, production approached 11,000, by far the greatest of any Buick model until 1914.

This Model 10 example wears an older restoration. It is painted in its correct off-white shade called 'Buick Gray.' It has period-correct brass lamps, and correct accessory top and windshield.

In 2010, this Model 10 was offered for sale at the Vintage Motor Cars of Hershey auction presented by RM Auctions. The car was estimated to sell for $25,000 - $35,000 and offered without reserve. As bidding came to a close, the car had been sold for the sum of $28,600 including buyer's premium.
By Daniel Vaughan | Oct 2010
The Buick Motor Company was founded by David Buick in 1903 who quickly found himself in financial problems. William Crapo Durant gained control of the company which was beneficial for the company, as sales, production, and profit greatly increased. In 1908, Buick became a founder member of the General Motors Corporation. This was the same year the Model 10 Buick was introduced. It carried a price tag of $900 which included Buick Gray paint scheme, oil side and tail-lights, acetylene headlights, and bulb horn as standard. The top was optional and cost an additional fee. In total, over 4000 examples were produced in its first year, providing Buick and General Motors with financial prosperity.

In 1909 Buick extended the chassis length to 92 inches. The number of bodystyles and sale also increased, reaching 8,100 units produced. By 1910, Buick was offering the Model 10 in 13 different body styles. The side-mounted spare and a windshield remained as optional equipment.

Production would last until 1910 with a total of 23,000 units being produced.
By Daniel Vaughan | Oct 2007
For more information and related vehicles, click
here
FORD BEST-SELLING BRAND AMONG AMERICAN MILITARY FAMILIES; F-150 TOP SELLER OVERALL, ESCAPE NO. 1 SUV
◾Ford is best-selling brand among American military families, according to Polk vehicle registrations analyzed in an IHS Automotive military sample of 19.3 million households of active, retired or veteran military personnel; Ford has three vehicles in the top 10, with F-150 topping the list ◾Ford Escape is best-selling sport utility vehicle among American military families and third most popular vehicle overall. In Philadelphia, Detroit and Cleveland markets, Escape is top-selling vehicle among...[Read more...]
FORD, GE WATTSTATION CHARGERS SUPPORT EMPLOYEE ELECTRIC VEHICLE CHARGING NETWORK
◾Ford to install its first employee electric vehicle charging station network in Dearborn, Mich.; facilities across the United States and Canada to follow ◾Ford will work with GE as its network provider and supplier of electric vehicle charging stations; networked stations will help Ford understand charging usage and plan for future installations ◾Ford electrified vehicles have logged an estimated 65 million electric miles over the last 18 months. Ford now offers six electrified vehicles, incl...[Read more...]
Commemorative Poster For 2013 Pebble Beach Concours d'Elegance Features Ford Family Lincolns
Event Posters Also Celebrate Aston Martin and Porsche 911 PEBBLE BEACH, Calif. (April 16, 2013) -- When Edsel B. Ford II came upon the 1956 Lincoln Continental MK II last year, he admired the long lines and elegant custom styling of the automobile, but he didn't immediately recognize it. Imagine his surprise when he learned the car had, in fact, belonged to his mother, Anne, as evidenced by the original owner's manual inscribed with her name. In all fairness, Edsel was just...[Read more...]
Concorso Di Motociclette At The Concorso D'Eleganza Villa D'Este 2012
•30 historic motorcycles set to line up in five classes on the banks of Lake Como •First-class international jury assembled. Following a successful premiere last year, the Concorso e Mostra di Motociclette celebrates its return in 2012. 'The Concorso d'Eleganza for cars can look back over a long tradition, and for BMW, with its extensive history as a motorcycle manufacturer, it was only logical to expand the Concorso to include classic motorcycles,' said Karl Baumer, President of the Concor...[Read more...]
Concours d'Elegance of America Announces Official Charities
The Board of Directors of the Concours d'Elegance of America has announced that the College for Creative Studies (CCS), Leader Dogs for the Blind and Hospice of Michigan will be its charitable beneficiaries at the 2012 Concours d'Elegance of America at St. John's. Concours' Director and Chief Judge, Bill Parfet explained, 'To further celebrate the heritage of Detroit, a portion of the proceeds of the Concours d'Elegance of America at St. John's is designated for local educational and charita...[Read more...]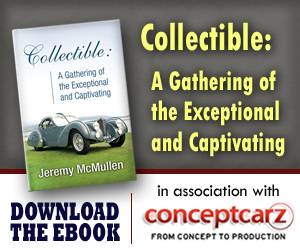 Buick
Monthly Sales Figures
Volume
December 2014
20,357
November 2014
19,143
October 2014
18,699
September 2014
17,466
August 2014
22,143
July 2014
17,683
June 2014
21,403
May 2014
19,957
April 2014
19,214
March 2014
20,428
February 2014
19,192
January 2014
13,278
(More Details)
© 1998-2014. All rights reserved. The material may not be published, broadcast, rewritten, or redistributed.