1949 Packard Custom Eight news, pictures, specifications, and information

Tweet
For 1949, Packard's 23 Series, the model-lineup included the Standard, Deluxe, Super, Super Deluxe, and Custom Eights. The vehicles were similar to the prior years but given minor updates such as a thin spear of chrome on the middle of the body sides. The name 'Packard' appeared in chrome on the sides, just behind and above the front wheel wells. The front bumpers now featured chromed centers instead of the painted styles of the prior years. One of the more noticeable changes was the much larger rear window.

The Standard Packard Eights were offered in three bodystyles with the base version being the Club Sedan costing $2,230. The Deluxe line consisted of a Sedan and Club Sedan and sold for a base of $2,360.

The Standard and Deluxe Models were powered by an L-head engine that displaced 288 cubic-inches and produced 130 horsepower. The Super Eight featured a 327 cubic-inch unit with 145 horsepower on tap. The Custom Eight's were fitted with a 356 cubic-inch V8 that produced 160 horsepower.

The Custom Eights were offered as a four-door Sedan and a two-door convertible. Both saw only few examples produced, with the Sedan being more popular. A total of 810 examples of the Sedan were produced, selling for a base of $3750, while only 60 examples of the Convertible were purchased, selling for a base of just-under $4,300. The Customs were longer and larger than their siblings; they had a wheelbase of 127 inches and a length of 213.25-inches.

The Custom Eight first appeared in 1948 and were Packard's luxury model. They had the most potent engine offered by Packard and fitted with numerous amenities and features. The name would continue through the 1950 model-year. For 1950, production remained exclusive. Only 870 examples of the Sedan were purchased while a mere 85 Convertibles found ownership.
By Daniel Vaughan | Jun 2008
This Custom Eight Series, two-door, six-passenger, convertible Packard is one of only 60 produced. It weighs 4,530 pounds and sold for $4,295.

The current owner had admired the Packard for many years. As a child, his uncle owned one and he was enamored with its quality and style. When he found this car sitting in a field, he knew he had to have it. He acquired the car and sent it to Prueitt Automotive Restoration for an extensive frame-off restoration. The vehicle has received numerous awards since restoration.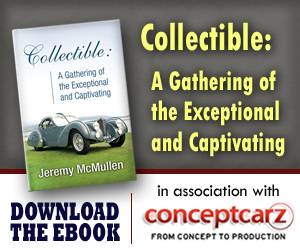 Similarly Priced Vehicles from 1949
Jaguar XK120 Alloy ($3,945-$3,945)
Lincoln Cosmopolitan ($3,185-$3,945)
Packard Super Eight ($2,600-$4,123)
Healey Silverstone ($4,000-$4,000)
Jaguar XK120 ($3,950-$3,950)
Chrysler Town & Country ($3,760-$3,760)
Cadillac Series 60 Special ($3,830-$3,830)
Jaguar Mark V ($3,750-$3,850)

Average Auction Sale: $49,780
© 1998-2014. All rights reserved. The material may not be published, broadcast, rewritten, or redistributed.