1931 Packard TwinSix FWD V12 Prototype news, pictures, specifications, and information

Tweet
The Packard Twelve was the company's top-of-the-line automobile and many people believe the signature car of the Classic Era. It was a conservative automobile with elegant appointments and a refined chassis powered by a quiet 12-cylinder powerplant.

During this era the cylinder war was in full swing, as was the Great Depression. However, the development of Packard's Twelve began years prior, dating back to the Cord L-29 and the Miller-engines front drive race cars. Packard's management entertained the idea of the front drive vehicle and commissioned the construction of a prototype. A 12-cylinder engine was also created for this new car, as the shorter length of a V-12, compared with Packard's inline eight, allowed more flexibility in packaging the front-drive chassis.

After testing revealed weakness with the front-drive chassis design, and development costs skyrocketed, Packard decided to abandon the project. Meanwhile, Cadillac had introduced their mighty 16- and 12-cylinder models, igniting a frenzy that would ripple throughout the automotive industry. Packard's response was to install their new 12-cylinder engine into Packard's proven Deluxe Eight chassis. When introduced, Packard dubbed their new creation the Twin Six, in honor of Packard's first V-12 which had been introduced 15 years earlier. By 1933, the name had been changed to the Packard Twelve. 1933 was also the last year for Packards to have flowing fenders and classic lines before switching to the streamlined look.

This Packard is unique in two respects. It has the prototype L-head, V-12 engine that would evolve into the Twin-Six Packard and it boasts the first front-wheel-drive layout on any Packard. More often found on European cars of the era, this layout used a transaxle. Due to its complexity, this layout never made it into production. The engine, though, was introduced as standard in 1932. The bodywork is reminiscent of that on the Cord L-29; Cord was another company experimenting with front wheel drive. This car was sent to be scrapped by Packard in 1935, but for unknown reasons it was saved. It had various owners before it was bought by the Harrah Collection. It was sold to the Bahre Collection in 1981.
Packard introduced the world to its V12-engine as early as 1912. In 1915 it was put into series production known as the Twin Six. It would remain in production until 1920, though development would continue for racing purposes for many years. When Cadillac introduced their V16 engine, followed by Marmon's Sixteen-cylinder unit, and a host of other potent powerplant from other marque's, Packard was convinced they needed a suitable competitor.

Their development of this new V12 unit was during the Great Depression, which continued to shrink the need for an expensive V12 engine. The Twin Six was introduced around the time of the Light Eight, which was an affordable version of their eight-cylinder model.

Conelius Van Ranst was hired by Packard to create a small bore version of their V12 unit. It was positioned at a 67-degree angle and sent the power it produced to the front wheels. This was a very unusual setup, as rear-wheel drive was the preferred configuration of the era. This new setup was complex, new, and met with major transaxle problems which delayed development. Only one example was ever created as Packard switched to the more conventional RWD layout. The production V12 engines were placed in a Deluxe Eight chassis, which were very heavy and required the V12 engine to be enlarged.
By Daniel Vaughan | Oct 2008
FORD VOLUNTEER PROJECTS EXPAND IN MIDDLE EAST AS EMPLOYEES GO FURTHER IN NINTH ANNUAL FORD GLOBAL WEEK OF CARING
◾More than 13,000 Ford employees, retirees and dealers will work on 310 community service projects in 26 countries for the ninth annual Ford Global Week of Caring ◾Projects expand in the Middle East as volunteers in Ford's newest region join the global effort ◾Volunteers are putting a special emphasis on projects that support and protect water resources, in keeping with Ford Motor Company's corporate water strategy Next week, 20 employees from Ford South Africa's Struandale Engine Plant wil...[Read more...]
DIVERSE PRIVATE COLLECTIONS ADDED TO AUCTIONS AMERICA'S FLAGSHIP AUBURN FALL SALE
• Numerous private collections to cross the block at Auctions America's Auburn Fall event, August 27 – 31 at Indiana's historic Auburn Auction Park • Latest highlights led by 80 vehicles from a prominent private collection along with 20 cars from The David Disiere Collection • Multi-day sale to feature approximately 1200 quality collector cars and a full day of parts and memorabilia • Frequently updated list of entries and complete event information available at auctionsamerica.com AUBU...[Read more...]
120 years of motor sport at Mercedes-Benz take centre stage at the Goodwood Festival of Speed 2014
'Addicted to Winning': at this year's Goodwood Festival of Speed, Mercedes-Benz looks back on some fascinating racing victories of the last 120 years •The unique motor sport heritage of the Mercedes-Benz brand is being celebrated with an exclusive installation by sculptor Gerry Judah •Mercedes-Benz and Gran Turismo®6 jointly celebrate '120 years of motor sport' Stuttgart. – The thrilling victories of the Mercedes-Benz Silver Arrows mark the peaks of the history of motor sport for...[Read more...]
Techno Classica 2014: more than 30 racing cars to celebrate 120 years of Mercedes-Benz motor racing history
•Cars that were the heroes of magical moments put their stamp on this high-powered, most comprehensive show presentation •With more than 30 vehicles, Mercedes-Benz Classic presents motor racing history in all its unique breadth and depth •120 years of Mercedes-Benz motor sport in the focus of the leading international classic motor show 120 years of Mercedes-Benz motor racing history have produced a timeline of extraordinary victories which since 1894 also stand for outstanding innovations ...[Read more...]
HIGHLIGHTS AND LOWLIGHTS FOR VOLKSWAGEN AT HOME RALLY
It was the home rally of all races where Volkswagen would fall short of their own high expectations for the first time since joining the FIA World Rally Championship (WRC) in January 2013. This was the first time Volkswagen have missed out on a podium place in a season which has seen the team pick up six rally wins in eight rallies. And all this despite World Championship leaders in the Drivers' and Co-drivers' categories Sébastien Ogier/Julien Ingrassia (F/F) and Jari-Matti Latvala/Miikka Antti...[Read more...]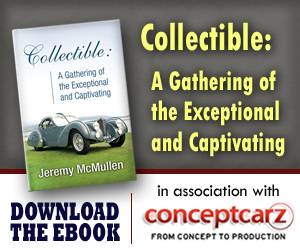 © 1998-2014. All rights reserved. The material may not be published, broadcast, rewritten, or redistributed.