1931 Packard TwinSix FWD V12 Prototype news, pictures, specifications, and information

Tweet
The Packard Twelve was the company's top-of-the-line automobile and many people believe the signature car of the Classic Era. It was a conservative automobile with elegant appointments and a refined chassis powered by a quiet 12-cylinder powerplant.

During this era the cylinder war was in full swing, as was the Great Depression. However, the development of Packard's Twelve began years prior, dating back to the Cord L-29 and the Miller-engines front drive race cars. Packard's management entertained the idea of the front drive vehicle and commissioned the construction of a prototype. A 12-cylinder engine was also created for this new car, as the shorter length of a V-12, compared with Packard's inline eight, allowed more flexibility in packaging the front-drive chassis.

After testing revealed weakness with the front-drive chassis design, and development costs skyrocketed, Packard decided to abandon the project. Meanwhile, Cadillac had introduced their mighty 16- and 12-cylinder models, igniting a frenzy that would ripple throughout the automotive industry. Packard's response was to install their new 12-cylinder engine into Packard's proven Deluxe Eight chassis. When introduced, Packard dubbed their new creation the Twin Six, in honor of Packard's first V-12 which had been introduced 15 years earlier. By 1933, the name had been changed to the Packard Twelve. 1933 was also the last year for Packards to have flowing fenders and classic lines before switching to the streamlined look.

This Packard is unique in two respects. It has the prototype L-head, V-12 engine that would evolve into the Twin-Six Packard and it boasts the first front-wheel-drive layout on any Packard. More often found on European cars of the era, this layout used a transaxle. Due to its complexity, this layout never made it into production. The engine, though, was introduced as standard in 1932. The bodywork is reminiscent of that on the Cord L-29; Cord was another company experimenting with front wheel drive. This car was sent to be scrapped by Packard in 1935, but for unknown reasons it was saved. It had various owners before it was bought by the Harrah Collection. It was sold to the Bahre Collection in 1981.
Packard introduced the world to its V12-engine as early as 1912. In 1915 it was put into series production known as the Twin Six. It would remain in production until 1920, though development would continue for racing purposes for many years. When Cadillac introduced their V16 engine, followed by Marmon's Sixteen-cylinder unit, and a host of other potent powerplant from other marque's, Packard was convinced they needed a suitable competitor.

Their development of this new V12 unit was during the Great Depression, which continued to shrink the need for an expensive V12 engine. The Twin Six was introduced around the time of the Light Eight, which was an affordable version of their eight-cylinder model.

Conelius Van Ranst was hired by Packard to create a small bore version of their V12 unit. It was positioned at a 67-degree angle and sent the power it produced to the front wheels. This was a very unusual setup, as rear-wheel drive was the preferred configuration of the era. This new setup was complex, new, and met with major transaxle problems which delayed development. Only one example was ever created as Packard switched to the more conventional RWD layout. The production V12 engines were placed in a Deluxe Eight chassis, which were very heavy and required the V12 engine to be enlarged.
By Daniel Vaughan | Oct 2008
120 years of motor sport at Mercedes-Benz take centre stage at the Goodwood Festival of Speed 2014
'Addicted to Winning': at this year's Goodwood Festival of Speed, Mercedes-Benz looks back on some fascinating racing victories of the last 120 years •The unique motor sport heritage of the Mercedes-Benz brand is being celebrated with an exclusive installation by sculptor Gerry Judah •Mercedes-Benz and Gran Turismo®6 jointly celebrate '120 years of motor sport' Stuttgart. – The thrilling victories of the Mercedes-Benz Silver Arrows mark the peaks of the history of motor sport for...[Read more...]
REVERED FERRARI 250 LM LEADS SUPERLATIVE ROSTER OF ITALIAN SPORTS CARS AT RM'S FLAGSHIP MONTEREY SALE
· RM Auctions announces a legendary 1964 Ferrari 250 LM by Scaglietti as the latest multi-million-dollar highlight for its flagship Monterey sale, August 15–16 in California · 250 LM leads a superb roster of no less than 26 Ferraris at RM's two-day sale; additional new entries include a 1953 250 Europa and a 1963 400 SA LWB Coupe Aerodinamico Series II · RM joins in Maserati's 100th anniversary celebrations, presenting no less than four examples from the luxury Italian ma...[Read more...]
1964 Nurburgring 1000 Kilometers: Survive for One Last Victory
During the late 1950s, Richie Ginther would begin a relationship with John von Neumann and this partnership would result in one of the most dominant periods of American sportscar racing in which Ginther and Porsche would be virtually unbeatable. Nearly a decade later, that same combination would again join forces to provide one more moment of glory. By the mid-1950s Porsche had developed its 550. This was a small car more than capable of dominating its class and consistently able to challenge...[Read more...]
Mercedes-Benz USA Announces Pricing for 2014 SLS AMG Black Series and C63 AMG Edition 507
MONTVALE, N.J. – Mercedes-Benz USA (MBUSA) today announced pricing for the 2014 SLS AMG Black Series coupe and the 2014 C63 AMG Edition 507 sedan and coupe. Both models are part of an exclusive lineup of high-performance AMG models available at all U.S. Mercedes-Benz dealers. The Manufacturer's Suggested Retail Pricing for the MY14 SLS AMG Black Series is $275,000 (plus $1,800 for destination and delivery). Pricing for the MY14 C63 AMG Edition 507 sedan will begin at $70,000 (plus $925 fo...[Read more...]
Goodwood Festival of Speed 2013: auction of Mercedes-Benz W 196 R one of highlights at world's 'largest motorised garden party'
• Mercedes-Benz Classic presents great moments in motor-racing history at Goodwood • Motorsport festival celebrating its 20th anniversary • Auction of only privately owned post-war Silver Arrow by Bonhams sure to cause a stir Stuttgart – This year's Goodwood Festival of Speed in West Sussex, England, includes the auction of a Mercedes-Benz Type W 196 R Grand Prix racing car on 12 July 2013. The auction will be one of the highlights of a weekend dedicated to motor sport. Mercedes-Benz...[Read more...]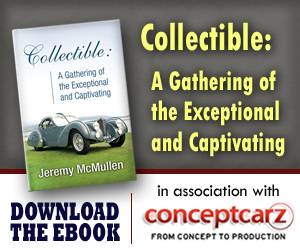 © 1998-2014. All rights reserved. The material may not be published, broadcast, rewritten, or redistributed.