1931 Packard TwinSix FWD V12 Prototype news, pictures, specifications, and information

Tweet
The Packard Twelve was the company's top-of-the-line automobile and many people believe the signature car of the Classic Era. It was a conservative automobile with elegant appointments and a refined chassis powered by a quiet 12-cylinder powerplant.

During this era the cylinder war was in full swing, as was the Great Depression. However, the development of Packard's Twelve began years prior, dating back to the Cord L-29 and the Miller-engines front drive race cars. Packard's management entertained the idea of the front drive vehicle and commissioned the construction of a prototype. A 12-cylinder engine was also created for this new car, as the shorter length of a V-12, compared with Packard's inline eight, allowed more flexibility in packaging the front-drive chassis.

After testing revealed weakness with the front-drive chassis design, and development costs skyrocketed, Packard decided to abandon the project. Meanwhile, Cadillac had introduced their mighty 16- and 12-cylinder models, igniting a frenzy that would ripple throughout the automotive industry. Packard's response was to install their new 12-cylinder engine into Packard's proven Deluxe Eight chassis. When introduced, Packard dubbed their new creation the Twin Six, in honor of Packard's first V-12 which had been introduced 15 years earlier. By 1933, the name had been changed to the Packard Twelve. 1933 was also the last year for Packards to have flowing fenders and classic lines before switching to the streamlined look.

This Packard is unique in two respects. It has the prototype L-head, V-12 engine that would evolve into the Twin-Six Packard and it boasts the first front-wheel-drive layout on any Packard. More often found on European cars of the era, this layout used a transaxle. Due to its complexity, this layout never made it into production. The engine, though, was introduced as standard in 1932. The bodywork is reminiscent of that on the Cord L-29; Cord was another company experimenting with front wheel drive. This car was sent to be scrapped by Packard in 1935, but for unknown reasons it was saved. It had various owners before it was bought by the Harrah Collection. It was sold to the Bahre Collection in 1981.
Packard introduced the world to its V12-engine as early as 1912. In 1915 it was put into series production known as the Twin Six. It would remain in production until 1920, though development would continue for racing purposes for many years. When Cadillac introduced their V16 engine, followed by Marmon's Sixteen-cylinder unit, and a host of other potent powerplant from other marque's, Packard was convinced they needed a suitable competitor.

Their development of this new V12 unit was during the Great Depression, which continued to shrink the need for an expensive V12 engine. The Twin Six was introduced around the time of the Light Eight, which was an affordable version of their eight-cylinder model.

Conelius Van Ranst was hired by Packard to create a small bore version of their V12 unit. It was positioned at a 67-degree angle and sent the power it produced to the front wheels. This was a very unusual setup, as rear-wheel drive was the preferred configuration of the era. This new setup was complex, new, and met with major transaxle problems which delayed development. Only one example was ever created as Packard switched to the more conventional RWD layout. The production V12 engines were placed in a Deluxe Eight chassis, which were very heavy and required the V12 engine to be enlarged.
By Daniel Vaughan | Oct 2008
RECORD DAY AT BONHAMS GREENWICH AUCTION
(June 2, 2014) Greenwich, CT – Standing room only crowds packed the Bonhams tent at the 7th annual Greenwich collector motorcar auction with the sale totaling in excess of $8 million dollars—besting last year's record breaking total by over 40%, with over 93% of lots offered finding new homes. The capacity crowd grew nearly silent as the catalog cover lot, a 1975 Lamborghini Countach LP 400 'Periscopica', sold for over $1.2 million dollars to a bidder seated in the front of the room, beat...[Read more...]
MERCEDES-BENZ 2014 G63 AMG: THE ULTIMATE G-CLASS
The latest technology for the AMG off-road icon: the new 2014 G63 AMG impresses with a state-of-the-art powertrain, expressive new design and improved efficiency. All this is largely attributable to the AMG 5.5-liter V8 biturbo engine delivering 536 hp and the AMG SPEEDSHIFT PLUS 7-speed automatic transmission. Every new AMG high-performance vehicle offers an outstanding mix of 'more power from less fuel' – and the G63 AMG is no exception. The 'strong man' in the AMG model range has been furt...[Read more...]
History Rolls into Hershey for RM's Annual Pennsylvania Sale
• Final countdown underway to RM's annual Hershey, Pennsylvania auction, held October 10 – 11 during the historic AACA Eastern Regional Fall Meet • Two-day sale features 116 vehicles, with an emphasis on Brass and Classic Era motor cars • Sale entries led by a rare, award-winning 1933 Chrysler CL Imperial Convertible Roadster • Auction also features number of vehicles steeped with local Pennsylvania history • Digital catalogue now available online at rmauctions.com BLENHEIM, Ontario (S...[Read more...]
The Champion in Touring Car Racing : The BMW M3
In August 1985, a rumour surfaced in motor magazine Auto-Deutschland which emanated from a new sports car. An A Group Car from BMW that was a thoroughbred racing car according to the rules but was also to be produced in a version licensed to drive on open roads for everyday use. Speculation about this dream car that could take to normal roads and was intended for the 'Most dynamic among BMW 3 Series drivers' was right on target. But the pundits missed the mark about the motor-sport car by a mile...[Read more...]
Auctions America By RM's 2012 Auburn Spring Auction
'Variety' is the buzzword for this year's Auctions America by RM June 1-3 Auburn Spring auction, which will offer a huge range of collector vehicles and an enormous private collection of automotive memorabilia. More than 600 American muscle cars, Classics, foreign sports cars and hot rods will cross the block at the historic Auburn Auction Park, the company's national headquarters in Auburn, Indiana. 'Last year was our first spring event at the park,' said Auctions America by RM's President ...[Read more...]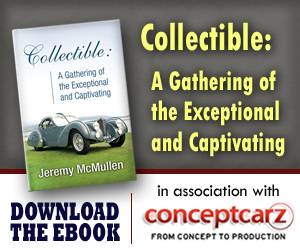 © 1998-2014. All rights reserved. The material may not be published, broadcast, rewritten, or redistributed.