1971 Pontiac GTO news, pictures, specifications, and information

Tweet
Pontiac introduced the GTO in 1964 and it would remain in production until 1974. In total, there were around 500,000 examples of the GTO produced during that time period. The GTO, representing Gran Turismo Omologato, was tagged (at least in some circles) as beginning the start of the Muscle Car craze.

The GTO was the brainchild of Pontiac engineer and engine specialist Russell Gee and divisional chief engineer John DeLorean. The vehicle was perfect for Pontiac, as their advertising (Jim Wangers) and marketing approach was heavily influenced by performance. Pontiac felt that by promoting the big-engine Tempest as a special high-performance model, they could appeal to the youth and the performance community.

The GTO was in violation of GM's policy which limited the A-body intermediate line to a maximum engine displacement of 330 cubic-inches. They were able to side-step this rule since the GTO was an option package in 1964 and not standard equipment. Pontiac had found a loop hole and they capitalized on their creativity.

The GTO continued to change throughout the years. During its lifespan it was given several unique features that were incorporated in the later 1960 body designs. These updates included body-color Endura front bumper, designed to absorb impact without permanent deformation at low speeds, and the signature hood scoop was replaced by dual scoops on either side of a prominent hood bulge.

For 1969, Pontiac offered the Judge Option Package as a result of sagging GTO sales due to the Plymouth Roadrunner and other muscle car entries of the late 1960s. The GTO Judge prototype was originally called 'ET' (short for Elapsed Time). John Delorean, while watching the popular TV series of Rowan and Martin 'Laugh-In' saw the funny skit featuring Sammy Davis Jr. dressed as a Justice of the Court. As the Judge entered the room, the bailiff cries 'Here Comes de Judge.' Inspired, Mr. Delorean suggested the name 'The Judge.'

The Judge was produced for three years starting in January of 1969 and running until 1971. During that time period, around 11,000 examples were produced.

For 1971, only 357 examples of the Judge hardtop were produced.
By Daniel Vaughan | Jan 2012
This vehicle is a 1971 Pontiac GTO 'Judge' 2-Door Coupe. The 'Judge' was a $395 option which included the 455 cubic-inch four-barrel High Output V8 engine, Rally II wheels, T-handle gearshift controls with a manual transmission, side stripes, rear deck lid air foil, decals, black-textured grille, and RAM AIR decals.

For 1971, there were a total of 10,532 examples of the GTO created. A mere 374 examples were ordered with the 'Judge' option. 17 were Judge convertibles and 375 were hardtop coupes.
By Daniel Vaughan | Jan 2012
This GTO Judge spent some of its time in South Carolina then, for a year, in Vermont and in 1989 went to North Carolina. It spent 11 years with the previous owner who also treated the car to a body-off restoration. It was brought to Arizona in September of 2000 and added to a Judge collection.

This car has an AM/FM stereo, 8 Track stereo, power steering, power brakes with discs in the front, air conditioning, and cruise control. There is an owner's manual, maintenance manual, decoding sheet, PHS documentation and owner history.

Power is from a YE coded block with 191 heads, and ram air. It displaces 455 cubic inches, has an 8.4:1 compression ratio, and offers 335 horsepower. The transmission is a Turbo-hydramatic (M40) connected to Safe-T-Track (limited slip) rear end.
By Daniel Vaughan | Jan 2012
The Pontiac GTO, in all respects a muscle car, debuted in 1964 and continued until 1974. John Zachary DeLorean, best known for the Delorean automobiles, was the individual who forced the development of the legendary GTO. The vehicle was very successful because it was able to capitalize on a segment of the market that had not been fully realized. Most of the muscle cars during this time were full-size cars. They had large engines, but due to the weight they were usually slow to accelerate. Pontiac offered a combination of 389 cubic-inch engines in their mid-size Tempest line and called it a GTO. The name GTO comes from Ferrari. It means Gran Turismo Omolgato.
The GTO package included the V8 engine, premium tires, special hydraulic lifters, dual exhaust, manual three and four-speed transmission with a Hurst shifter, heavy-duty clutch, improved suspension, a 3.23:1 rear axle ration, dual hood scoops, GTO emblems, and bucket seats. The 389 cubic-inch engine was rated at 325-348 horsepower depending on the configuration and modification of the engine. The 428 ft-lbs of torque was even more astonishing. Placing this mammoth engine in a mid-size sedan created a vehicle that was untouchable. It was available in both the coupe or convertible body styles. Pontiac sold nearly 32,500 GTO's during the first year.

For 1965, the Tempest GTO received cosmetic and mechanical updates. The engine was modified and was now producing between 335 and 360 horsepower with a torque rating at 431 ft-lbs. The headlights of the vehicle were modified; they were now in stacked configuration. The dual hood scoop was replaced with a single hood scoop. Over 75,000 examples were sold in the second year.

A dealer cold air induction kit for the Tri-Power cars helped stimulate sales and increased the horsepower of the vehicle. The induction kit made use of the hood scoop and brought about the Ram Air package.

For 1966, the GTO became its own model. There were styling changes mostly concentrating on the roof and the rear lights. The engines were unchanged, however, during the middle of the year the multi-carburetor setup was no longer offered. The GTO was still more popular than ever, selling 96,946 examples during 1966.

In 1967, a new 400 cubic-inch engine was introduced. The horsepower rating was between 255 and 360 horsepower depending on the configuration. The torque rating was between 397 and 438 ft-lbs. Minor styling changes occurred, mainly the grill and the rear of the vehicle. During the 1967 model year, nearly 82,000 GTO's were sold.

In 1968, the wheel base was expanded to 112 inches and now sat atop General Motors split wheelbase A-body. Major styling changes occurred. A rubber bumper, labeled the Endura, adorned the front of the car. Hidden headlights were optional equipment. The engine choices remained the same but the horsepower and torque was increased. The 440 was not producing between 265 and 360 horsepower while the torque ranged from 397 through 445 ft-lbs.

In 1969, the competition was becoming fierce. To compete, Pontiac offered a package on the GTO that included body paint, rear spoiler, decals, and a 366 horsepower, Ram Air III V8. A Ram IV V8 could also be purchased, increasing the horsepower rating to 370. Still a very successful year for Pontiac, there were more than 72,000 GTO's sold.

In 1970, the GTO once again received styling changes. There were now four exposed headlamps. The rear engine was

redesigned and the body received new creases. The base engine was dropped. A 455 cubic-inch engine was introduced. The 400 cubic-inch engine produced between 350 and 370 horsepower. The 455 cubic-inch V8 produced between 360 and 500 horsepower. Sales were still strong, but dropping. A little more than 40,000 GTO's were sold.

In 1971, sales continued to drop. Only about 10,000 were sold. GM announced that due to rising emission and safety regulations, compression ratings would have to be reduced and all engines would need to run on unleaded fuel. The horsepower ratings began to decrease. Due to a heavier chassis, introduced a few year prior, and lower horsepower ratings, the vehicle was losing its ability to be competitive. More bad news for the GTO; this was its last year as an independent model. The front end of the vehicle received minor styling updates.

In 1972, the Judge and convertible options were no longer offered. The horsepower ratings continued to go the same direction as the sales figures: down. A little over 5,800 vehicles were sold. The horsepower output was between 250 and 300. The 400 and 455 cubic inch engines were both offered.

In 1973, only 4806 GTO's were sold. The engine horsepower decreased as well, now 230 through 250. Its muscle car status was officially gone.

The 1974 production year was the last for the GTO. It was now an option on the Ventura model line-up. It came as a coupe or a hatchback. A 350 cubic-inch engine was the only one being offered. With a 200 horsepower rating, the car was dying a slow and very painful death. A little over 7000 vehicles were sold with the GTO option.

There were a few reasons for the GTO's decline. The muscle car era was coming to a close - or just being redefined and awaiting a revitalization. Government and safety regulations were becoming more strict. There were tough fuel regulations which severely limited the output of the engines but promoted better fuel economy. Insurance charges increased making these machines out-of-reach for many consumers. The cars became heavier, and heavier. The engine sizes decreased; The cost of ownership increased. The muscle car era was destroyed.
By Daniel Vaughan | Aug 2006
For more information and related vehicles, click
here
NISSAN SET TO EXCITE GOODWOOD CROWDS IN THE UK
◾Global debut of NISSAN CONCEPT 2020 Vision Gran Turismo® ◾Olympians Sir Chris Hoy and Jenny Jones and Paralympian Richard Whitehead MBE will greet fans on the stand over the weekend ◾GT-R NISMO GT3 takes on Goodwood track WEST SUSSEX, England – Fantasy will become reality this weekend when the NISSAN CONCEPT 2020 Vision Grand Turismo® makes its global debut as part of the brand's thrilling and action-packed Goodwood Festival of Speed program. The covers come off the NISSAN CONCEP...[Read more...]
VICARI AUCTION ANNOUNCES 2 RARE 1971 LS6 CORVETTES
To Be Offered At Cruisin' Nocona Auction NOCONA, TX. – A rare find indeed, the Vicari Auction Company recently uncovered a rare survivor 1971 LS6 Corvette convertible in a southern Alabama garage in pristine condition. The 1971 LS6 Corvette is very likely the best documented, lowest mileage, original LS6 Corvette to become available in years. Also joining the convertible, is a restored Brands Hatch Green LS6 Coupe. Both will cross the auction block at Vicari's 2nd Annual Crui...[Read more...]
LA AUTO SHOW CONFIRMS 22 WORLD DEBUTS FOR 2013 SHOW
56 Total Debuts to be Unveiled at Nearly 30 News Conferences Across Three Press Days ◾World debut list more than doubles as automakers choose LA for significant premieres ◾Mercedes-Benz to bring four world debuts, while Porsche confirms two world debuts in addition to Macan ◾Global introductions also expected from BMW, Chevrolet, Jaguar, Nissan, Subaru, Toyota and more ◾Major luxury, performance, green, tech, and concept announcements ◾First of three Press Days focused on technology ...[Read more...]
BMW GROUP REPORTS HIGHEST SALES EVER IN FIRST SIX MONTHS
◾Sales increase by 6.0% to 954,521 vehicles in the first half year ◾184,489 Group vehicles delivered in June, an increase of 6.9% ◾Robertson: Headwinds prevail in some European markets Munich. BMW Group achieved its highest sales for the first six months of the year, with a total of 954,521 vehicles delivered worldwide, an increase of 6.0% over the same period last year (prev. yr. 900,566). Sales in June also reached an all-time high with 184,489 vehicles sold worldwide last month, an incre...[Read more...]
Incredible Hypercar 'Full House' Tops Spectacular Ferrari Extravaganza
• RM Auctions announces amazing 16 car Ferrari haul for its forthcoming sale during the Concorso d'Eleganza Villa d'Este weekend, 25th May, on Lake Como, Italy • Hypercar 'full house' includes Ferrari Enzo, F50, F40, 288 GTO, and 599XX • Full list of handpicked entries available online at rmauctions.com LONDON (16 April, 2013) – RM Auctions, the world's largest collector car auction house for investment-quality automobiles, is delighted to announce that its exclusive sale during the...[Read more...]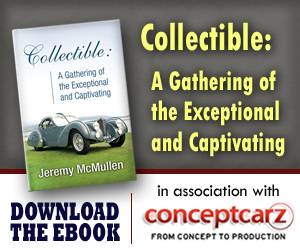 Similarly Priced Vehicles from 1971
Oldsmobile Cutlass Supreme ($3,336-$3,500)
BMW E06 2002 ti ($4,000-$4,000)
Pontiac Firebird ($3,047-$3,446)
Chevrolet Camaro Series ($2,760-$3,940)
Buick Skylark ($2,845-$3,520)
Datsun 240Z ($3,597-$3,597)
Chevrolet Chevelle Series ($2,675-$3,650)
Pontiac LeMans ($2,020-$3,466)

Average Auction Sale: $41,574
© 1998-2014. All rights reserved. The material may not be published, broadcast, rewritten, or redistributed.