1960 Vespa 400 news, pictures, specifications, and information

Tweet
| | |
| --- | --- |
| | Convertible |
Designed by Piaggio Company in Italy, best known for their Vespa scooters, the 400 was manufactured in Fauchambault, France by Ateliers DeConstruction De Motorcycles Et Automobiles. Approximately 1600 cars were imported to the US. This Vespa was imported through the Port of Houston and sold by a Colorado scooter dealer. The price was $1,080. Speeding rating: 55 mph.

The engine is a 2-cylinder 2-cycle Air-cooled 25 cubic-inch 393 cc, with 18 horsepower. The two-stroke engine differs from a four-stroke engine by completing the same four processes (intake, compression, combustion, exhaust) in only two strokes of a piston verse four. The beginning of the compression stroke and the end of the combustion stroke perform the intake and exhaust functions.
This Vespa 400 Semi-Convertible features a 392cc two-cylinder, two stroke engine with a three-speed manual transmission. It is finished in yellow paint with a black interior. There are sliding windows, suicide doors and retractable roof. Period advertisements stated the car had a top speed of 55 MPH and could achieve 55 MPG.
By Daniel Vaughan | Feb 2012
The Italian based company Vespa is legendary for their motorscooters. However, the French-built microcar produced from 1957 though 1961, is far less known. Produced by Piaggio, their history dates back to 1884 where they initially produced locomotives and railway carriages. During the First World War they aided in the war effort by producing aircrafts. They produced fighter planes during World War II. When WWII came to a close, the company was nearly devastated. Their Pontedera plant had been destroyed by bombing; Italy's roads were disastrous due to the bombing and war, and the economy was suffering.

Enrico Piaggio, the son of Piaggio's founder Rinaldo Piaggio, was determined to revitalize the Piaggio business and to address Italy's need for affordable and modern transportation that could traverse the war-torn roadways. Just like Dr. Ferdinand Porsche of the time, he began designing and building a car for the masses. The result was a very small, two-seater dubbed the Vespa 400. It was labeled as a convertible though it really only had a plastic folding sunroof. It was powered by a rear-mounted, two-cylinder, air-cooled engine that displaced 24.5 cubic-inches and produced 20 horsepower. It was mated to a three-speed manual gearbox and fitted with hydraulic drum brakes in both the front and rear. It had a steel unibody construction and a fuel tank that could store five gallons. With around 60 mpg, this was more than adequate. Top speed was just under 60 mph.

The car was introduced in 1957 and was sold in several countries including the US. It was built in France though had been designed by the same individuals that produced the scooter. Production in France was a logistical decision, as the company did not want to compete with the popular Italian based Fiat 500.

The car was priced at $1,080 which made it one of the least expensive and more reasonable micro-cars of the day. Sales were relatively strong, but not enough to convince the Piaggio Company to continue past 1961. They returned their entire efforts back to the production of the motor-scooter and mopeds.
By Daniel Vaughan | Jun 2008
COMPACT, AFFORDABLE AND FUN—THE NEW 2015 HONDA PIONEER 500 SIDE-BY-SIDE
05/15/2014 - Torrance, CA With the addition of the all-new 2015 Pioneer 500™, Honda adds a heavy dose of fun to its line of side-by-sides. The Pioneer 500 carries two people to off-road adventures, is perfect for chores on the farm or a relaxed trail ride out in the country and it's packed with Honda's famous quality and durability at a suggested retail price of $8,499. 'My first drive in the Pioneer 500 was an eye-opener,' said Lee Edmunds, Manager of Motorcycle Marketing Communicati...[Read more...]
2015 SORENTO NAMED BEST FAMILY VEHICLE BY THE NORTHWEST AUTOMOTIVE PRESS ASSOCIATION
Sorento SX Tops Its Segment at Annual 'Mudfest' Challenge Event ◾Automotive journalists from the Pacific Northwest rank the Sorento ahead of six competitors in the Best Family Vehicle category ◾Strong performances on both the autocross course and public roads help Kia's popular CUV capture title IRVINE, Calif., May 9, 2014 – Kia Motors' highly acclaimed 2015 Kia Sorento was named Best Family Vehicle by the Northwest Automotive Press Association (NWAPA) during the annual 'Mudfest' com...[Read more...]
Mille Miglia 2014: strong showing by Mercedes-Benz Classic pays homage to historic successes in thousand-mile race
•The Mille Miglia victories of 1931 and 1955 are highlights of 120 years of Mercedes-Benz motorsport history •Exclusive compressor-sports car models SS and SSLK and 300 SL racing and production sports cars dominate strong showing of Mercedes-Benz •The 'Mercedes-Benz Tribute to Mille Miglia' for the first time gives further classic cars access to the route. Stuttgart – A strong contingent of exclusive classics from Mercedes-Benz Classic will be lining up in May 2014 to drive the M...[Read more...]
BRUCE MEYERS TO CELEBRATE 50TH ANNIVERSARY OF ICONIC MEYERS MANX BY RACING IN 2014 NORRA MEXICAN 1000 RALLY
After months of preparation and with the support of an industry it helped create, Meyers Manx Inc. today proudly announced details of a new project to celebrate the car's 50th anniversary next month. It is entering company founder Bruce Meyers in next month's 2014 General Tire NORRA Mexican 1000 rally. The iconic Meyers Manx dune buggy ('Old Red') was invented by Meyers in a small garage on the Balboa Peninsula of Newport Beach, California and first driven in May of 1964. The spirited and eve...[Read more...]
MASERATI AND RUXTON AMONG FEATURED MARQUES AT 2014 PEBBLE BEACH CONCOURS d'ELEGANCE
PEBBLE BEACH, Calif. (February 20, 2014) -- Maserati, a marque renowned for its racing greats as well as road cars offering both elegance and sporting performance, takes center stage at the 64th annual Pebble Beach Concours d'Elegance. The event, often said to be the most intense collector car competition in the world, will be held on Sunday, August 17, at The Lodge at Pebble Beach. Additional 2014 features range from rainbow-hued Ruxtons and antique steamers to the elegant coachwork...[Read more...]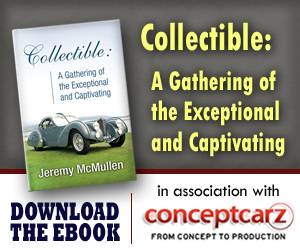 © 1998-2014. All rights reserved. The material may not be published, broadcast, rewritten, or redistributed.