Treacherous Conditions Catch Spirit of Daytona Racing Out at Mid-Ohio
Spirit of Daytona Racing's ambition to keep the at-track development of the V8 Porsche-Coyote program moving forward came to a disappointing halt during Saturday's EMCO Gears Classic presented by Key Bank at the Mid-Ohio Sports Car Course for round seven of the Rolex Sports Car Series presented by Crown Royal Cask No. 16.
A massive Ohio thunderstorm descended on Mid-Ohio seven laps into the Grand-Am Rolex Series EMCO Gears Classic, coming wîth a vengeance on the Daytona Prototype and GT class field.
The track was instantly doused wîth heavy rain shower and stout winds that made conditions for all the Grand-Am drivers a challenge. Despite the tough conditions, Guy Cosmo had the No. 09 Coyote in competitive form once again, running firmly in the lead pack. Únfortunately, the team was not able to convert the strong race pace into another race finish after Cosmo was forced into a spin as he passed for position. The day was done as the V8 Porsche Coyote made contact wîth the wall.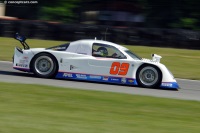 Cosmo emerged from the incident without injuries, save for some deep frustration.
'Everything's okay, just a bit of headache,' said Cosmo after the incident. 'It was really challenging out there, and I'm disappointed because I enjoy driving in the rain. We were in a good spot and I think the strategy that Spirit of Daytona had in place for our driver change to get Mark (Camirand) into the car would have played out perfectly. Únfortunately though, we didn't get the chance. I'm sorry for the team but I was going around another Daytona Prototype, and I must have got just an inch of wheel on that track sealant, and from there, there was nothing I could do and the car just took off once it hit the grass.'
Vital Stats
Engine : 5.0 L., 8-cylinder
Power: 500 hp


---
The rain cloud-induced incident did come wîth a silver lining, as Spirit of Daytona will get the chance to test in more predictable and repeatable conditions on Monday at the 2.258-mile circuit as part of a Rolex Series test day. The team will soak up all the new data possible in preparation for a home race in nearly two weeks at Daytona International Speedway for the Brumos 250 under the lights on July 3rd.
Source - Spirit of Daytona Racing
Spirit of Daytona Launches new Grand-Am Rolex Sports Car Series Daytona Prototype Entry
Porsche-based V-8 Fabcar ready for competition debut at Miller Motorsports Park
The 2007 season of the Grand-Am Rolex Sports Car Series presented by Crown Royal Special Reserve may be coming to an end, but this weekend's SunChaser 1000k finale will mark the beginning of the newest entry and era in Daytona Prototype competition.
Spirit of Daytona officials announced today that the Florida-based team will contest the September 15th endurance race at Miller Motorsports Park near Salt Lake City wîth a Fabcar chassis fitted wîth a new Lozano Brothers-prepared, Porsche-based 5.0-liter V-8 engine.
Guy Cosmo, Marc-Antoine Camirand and Doug Goad will share the driving duties in the 1000k event in which the team is lòòking to learn as much as possible in preparation for a full season effort in 2008. Next year's calendar will commence wîth the 46th annual running of the Rolex 24 At Daytona in late January.
'We are very excited to bring the Fabcar chassis together wîth the Porsche-based V-8 engine,' said Spirit of Daytona co-owner Troy Flis. 'After three successful tests, we are confident that as we continue our development this new package will show well against the tough competition in the Rolex Series.'
The team is actively working to establish a commercial partnership for the 2008 season, but the project already has a firm foundation wîth the technical partnerships in place to move the entry forward.
The Fabcar chassis (No. 002) was among the first Daytona Prototypes to hit the track when the category debuted in 2003 and was driven to three wins – including the Sahlen's Six Hours of the Glen – as the No. 58 Red Bull/Brumos Porsche entry. Now updated to the latest Fabcar bodywork designs, the Spirit of Daytona Porsche-based V-8 Fabcar represents both the past success and the state-of-the-art future of the competitive Daytona Prototype category.
This year saw the transfer of the Daytona Prototype competition franchise from Fabcar to the Cheever Group, which has made significant progress wîth the updated chassis in races for the majority of this season.
'When we first got the Fabcar, we had a lot of learning to do and I think we've shown in the recent races that there has been a great improvement,' Cheever §äid. 'The Porsche-based V-8 motor looks to be strong and it's nice to have another 5.0-liter motor to work with. It is very cool to be doing initial testing wîth a new powerplant, and having this third engine in the Fabcar to compare to is a big deal for us.'
Cheever has also been impressed wîth Spirit of Daytona Racing in testing.
'This is a great team to be working wîth and we have established a good relationship,' Cheever continued. 'Of course, two heads are better than one and we are really excited about the potential not only for this package, but also the doubling of data that we can achieve.'
While the Fabcar Daytona Prototype License is now held by Cheever Group, Fabcar founder and president Dave Klym is still an active and very interested participant in the process.
'Eddie (Cheever) and his team have done a fantastic job wîth the chassis, and I see a lot of potential in this package,' Klym §äid. 'It is nice to be bringing something new into the series, and it's good for the series to have this kind of variety. This package is still in the development stage, but it has developed quickly and this team is right on top of things.'
The engine package is new to the Grand-Am Rolex Series ranks and is also likely to create significant interest.
'We are going into the Miller weekend very open minded, as it is early in this program,' said Lozano Brothers Porting's Ben Lozano. 'But we think this motor has the potential to do well and we can't wait to see what it can do. There is no better place to test than in actual competition, and we are lòòking forward to that out at Miller. Having a long distance event to finish the season is perfect for us because we want to be as ready as possible for the Rolex 24 next January.'
The team has called on some familiar faces for the driving and testing duties, wîth team co-owner Goad being joined by Camirand and Cosmo for the Útah event weekend.
'I'm very excited about the debut of this 5.0-liter Daytona Prototype combination wîth Spirit of Daytona,' Cosmo §äid. 'This new motor has all the potential to run at the front of the pack. The revised Fabcar chassis has been a pleasure to drive as well, and is a great improvement from the original Fabcar chassis I drove in 2003. Dave Klym was the first to build a Daytona Prototype and I'm lòòking forward to getting his chassis back on the podium like we did together a number of times in '03.'
'For me personally, this program is very exciting. I really enjoy development programs and this chassis/engine combination adds to the list of Daytona Prototype experience I've got, because I've driven just about everything out there, and now I'm one up on the rest of the field,' Cosmo continued. 'Working wîth Troy and Michelle Flis and the Spirit of Daytona crew was a pleasure last season for the limited schedule we ran wîth Bobby Labonte, and I'm glad to be back wîth such a nice group of people. Troy has assembled a strong and talented group of people to work on this Porsche-based V-8 Fabcar combination and I'm lòòking to show what it's capable of doing.'
The SunChaser 1000k will air live on SPEED in two §egmènts on Saturday, September 15. The first part begins at 1 p.m. ET while the second §egmènt starts at 5:30 p.m. ET and will go to the race's finish.
Source - Spirit of Daytona Racing