1974 Maserati Merak news, pictures, specifications, and information

Tweet
Maserati's mid-engined supercar - the Bora - was followed-up by the Merak. It was launched at the 1972 Paris Motor Show and was a direct competitor for the Ferrari Dino 246 and used a stretched version of the Maserati-built four-cam V6 that had debuted in the Citroen SM. At the time, the Citroen company owned Maserati, so the Merak made use of the SM's transmission and power-operated, all-disc braking. Derived from a V8 engine designed by the great Giulio Alfieri, Maserati's V6 was increased in capacity from the SM's 2,675cc to 2,965cc for the Merak and developed 190bhp. Top speed was in the neighborhood of 152 mph. The car featured a unitary chassis and an all-independent suspension. Other features of the Merak included 2+2 seating and superior all-round vision thanks to its rear 'flying buttresses'.

A more powerful version, the 'SS', arrived for 1975, followed later by a 2.0-liter version - the Merak 2000 GT - introduced to take advantage of Italy's taxation rates for vehicles displacing less than 2,000cc.

Production of the Merak continued until 1983, after 1,832 had been built. Only 630 of these being the original version which had a production lifespan of 1972-1974.

Chassis no. AM122US1382
This is a numbers-matching Merak that has had only two private, San Francisco Bay Area-based owners from new. The first owner was Mr. William Bradley of Mountain View, California. It has the rarely seen European-specification chrome bumpers, direct from the Maserati factory in Italy. These bumpers replaced the much-disliked US 'impact bumpers' which did no favors to the attractive wedge-shaped GT.

The second owner was Frank Pepler of San Francisco, who had a complete engine-out restoration performed to Concours standards. The car was refinished in its original fly yellow color with its aluminum flying buttress rear roof pillars. Inside there is a black leather interior with a mouse hair dashboard. There is a Blaupunkt AM/FM radio, automatic antenna, clock, and power windows.
By Daniel Vaughan | Nov 2013
The Maserati Merak was essential a study in the art of producing a super-car on a budget. The Merak shared many design similarities to the Bora, Maserati's other super-car during this time. The engine and gearbox were supplied by Citroen, a French automobile manufacturer and major stakeholder of Maserati.

The interior of the car was also influenced by Citroen. However, in 1975 the interior dash was redesigned to eliminate some of the frustations caused by the hard-to-read gauges and too many warning lights. A new engine was introduced which increased the displacement to 3.0 liters. Weber 44DCNF were now used.

In 1977 the Bora production ceased. The Merak was now the only super-car being produced by Maserati. The interior was once again updated and a new badge, the Merak SS, adorned the car. Due to US introduction of the Merak, an electric motor was used in-place of the hydraulic system that controled the headlight raising.
By Daniel Vaughan | Nov 2007
SUBARU ANNOUNCES PRICING ON ALL NEW 2015 WRX AND WRX STI SEDANS
◾New platform offers stiffer, more agile chassis of Subaru performance icons ◾Upgraded suspension tuning and new Active Torque Vectoring ◾Roomier cabin with upgraded comfort and materials and wide array of user technologies ◾Rear camera standard ◾WRX STI holds base price of $34,495 Cherry Hill, N.J. - Subaru of America, Inc. has announced pricing on the carmaker's performance icons, the 2015 WRX and WRX STI. Both vehicles arrive into dealerships this Spring exclusively as wide-bo...[Read more...]
Gooding & Company's 10th Anniversary Pebble Beach Auctions Saturday Sale Realizes More Than $53.7 Million
Santa Monica, Calif. (August 18, 2013) – Gooding & Company, official auction house of the Pebble Beach Concours d'Elegance® and acclaimed for selling the world's most significant and valuable collector cars, realized more than $53.7 million during the first of its two Pebble Beach evening auctions. 64 of the 68 lots offered, a 94% sale rate and an average price per lot $839,609 with the most notable being the 1957 Ferrari 250 GT 14-Louver Berlinetta (Lot 39) that set a world record for a ...[Read more...]
TOYOTA INTRODUCES UPDATED NEXT GENERATION ENTUNE® AUDIO ON 2014 TUNDRA
TORRANCE, Calif., July 30, 2013 -The 2014 Toyota Tundra marks the first appearance of an improved and updated next generation of Entune® multimedia and telematics system. This updated Entune® system offers a streamlined hardware strategy with four (4) audio head units packing enhanced features and capability to offer improved user interface, enhanced voice recognition, improved navigation, and easier upgradability. For this next generation of Entune® Audio, the Entune® brand is also repositi...[Read more...]
Buyers in abundance for another strong sale at Brooklands
Amidst some speculative recent market results, the heat was on Historics, but with Brooklands bathed in sunshine, the classic and sports car auctioneer again delivered another strong sale. In total 60 of 103 vehicles were seen away for a sale ratio of 58% and a final sale figure of £1,159,070. As pre-sale publicity predicted, Bentley's blazed a trail, with the star of the show an R-Type Coupé by Abbott of Farnham, which sold for £100,000. A 1937 4¼ litre Sports Special sold for £47,500, wh...[Read more...]
1961 Targa Florio: Porsche Dominance, Ferrari Victorious
The first race held on the island of Sicily that included an automobile would take place between the car, a bicycle and a horse. Although the gentleman on the bicycle would drop out rather early due to leg cramps constantly going up and down on the mountainous roads, the battle between the de Dion motor tricycle and the horse would be an intriguing one. In the end, the same principles that played out in that first race would come into play many years later when the island hosted the 1961 Targa F...[Read more...]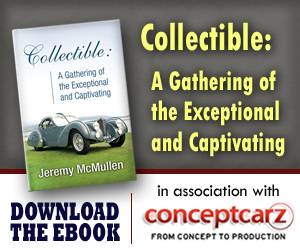 Maserati
Monthly Sales Figures
Volume
March 2014
963
January 2014
567
November 2013
910
October 2013
623
September 2013
379
August 2013
326
July 2013
267
May 2013
226
April 2013
204
March 2013
218
February 2013
159
January 2013
172
(More Details)
© 1998-2014. All rights reserved. The material may not be published, broadcast, rewritten, or redistributed.