1929 Stutz Supercharged news, pictures, specifications, and information

Tweet
In 1928, Stutz nearly won the grueling 24 Hours of LeMans race. For the following year, the company produced three supercharged cars to increase the horsepower over the prior years model. All three examples were entered into the LeMans race for 1929 and one finished in fifth place. This example is one of those cars and it also competed in English races. It is the sole survivor.

Driven by George Eyston and Dick Watney, the car led the race for a time but eventually retired due to a split fuel tank, finishing fourth overall. Europeans considered Stutz the only American manufacturer to take racing seriously.
By Daniel Vaughan | Sep 2011
In 1876, Harry C. Stutz was born. He grew up on the family farm where he often helped repair their farm equipment. This led to a fascination with engines and in 1897 he built his first car; soon after he began designing and creating engines. The Stutz Company, based in Indianapolis, Indiana, introduced its first production vehicle in 1911. The vehicle, after only five months of design and build, was immediately entered in the inaugural Indianapolis 500 mile race where it captured an 11th place finish. Not bad for its first vehicle and first race. Throughout the company's life span, it would endure good and bad times. The Stutz Company was in production during World War I and the Great Depression, both responsible for negatively affecting Industry.
Stutz will be forever remembered for their Bearcat model, a vehicle produced until 1925. This pure-bred race car had an aggressive and masculine stance; the interior was void of luxury and amenities. With its high revving straight 8-cylinder overhead camshaft engine and lightweight construction, the vehicle was poised to compete in national and international competition.

In 1919, Harry Stutz was forced by stock holders to leave his company. In 1922, Charles Schwab was given control of the company. In 1925, Schwab gave control of the company to Frederick Moskovics. Moskovic planed to revitalize the company by shifting the priorities from racing to producing luxurious automobiles. This did not mean that the company was to abandon its racing heritage, rather Moskovics wanted to expand its racing prowess by entering it in International competition. The 24 Hours of Le Mans is a grueling endurance battle that tests stamina, speed, and durability. In 1928 a Stutz Series BB Black Hawk Speedster, driven by Edouard Brisson and Robert Bloch, was entered in the French LeMans race. The vehicle did well, leading for most of the race. Half way through the 22nd hour, the gearbox broke on the Stutz and a Bentley 4.5-liter was able secure a first place finish. The Stutz was second, the best an American car had ever placed in this prestigious race.

In 1929, the Stutz Company decided to increase their chances of victory by entering more than one vehicle into the Le Mans race. The vehicles were designed and prepared especially for the race. Gordon Buehrig was tasked with designing the bodies for the 2-seater sportscars. A modified 5.5-liter straight 8-cylinder with a supercharger were placed in the front and powered the rear wheels. Three vehicles entered by Stutz Paris, Colonel Warwick Wright, and Charles Weymann were anxiously anticipating a repeat of the prior years success or possibly an overall victory. Sadly, only one vehicle would finish. Behind a fleet of Bentley's was the Stutz followed by a Chrysler 75. With a fifth place finish, the Stutz cars were no match for the powerful and agile Bentley Speed Six models.

In the early part of 1929, Moskovics resigned and Edgar Gorrell assumed the duties of president. Many manufacturers were developing multi-cylinder cars which attracted a larger market share of the already small luxury car market. The Stutz Company was not in a financial position to develop an engine of this caliber. Instead, Stutz embarked on developing an inline eight cylinder engine with single overhead cams. The result was the SV16, representing the side-valve 16 meaning that one exhaust and one intake valve per cylinder was allocated for the eight cylinders. By using the name SV16, it gave the vehicle an allure of equal capacity to other nameplates such as the Cadillac and Marmon V16. The SV-16 came equipped with a windshield safety glass and hydrostatic brakes. The chassis sat lower than most of the competition giving it an advantage through turns. During its production run, around 100 examples were produced.

Following on the heals of the SV16 was the DV-32. The engine featured updraft Schebler carburetors and four valves per cylinder equaling 32 valves and dual overhead camshafts. The power-plant was capable of producing 156 horsepower. The vehicle sat atop of a 145 inch wheelbase and outfitted with Stutz 8 hubcaps. At $6,400 these vehicles were extremely expensive at the time.

The Stutz 8 was produced from 1926 through 1935. The engine produced just over 90 horsepower. Within a few years, horsepower had been incrased to over 115.

In 1928, the Blackhawk series was introduced. These sports cars were affordable, competitive, and compact; outfitted with a powerful engines.

During the close of the 1920's, the Stutz company was riddled with lawsuits, including 'breach-of-contract' over engine building. James Scripps-Booth entered a lawsuit about the low-slung worm drive design Stutz had been using. The Stutz Company was beginning to fall on hard times.

The demise on the race track would slowly transcend to the market place. For all of 1930, there were less than 1500 cars produced. Sales declined even more in the following years and in 1934, after only six Stutz cars produced, the factory closed its doors. This is not to suggest the racing results were solely responsible for the company's woes. The Great Depression crippled and destroyed many auto manufacturers at this time. Competition in design and technology was ever present and the dependable, mass-produced, low-cost automobile manufacturers were in the best positions to come out on top. The Stutz Company had an impressive racing heritage and its automobiles are legendary. The Stutz name is respected by many including those overseas.

In 1968 a New York banker named James O'Donnell incorporated Stutz Motor Car of America. Ghia was commissioned to create a design for the Stutz Blackhawk, which was shown to the public in 1970. Sales continued for more than a decade selling very strongly until 1987. Production slowed from 1987 until 1995 when production ceased.
By Daniel Vaughan | Dec 2006
The Stutz Series M coupe was introduced in 1929 and featured an auxiliary trunk, a rumble seat, and dual side-mount spare tires and wire wheels. Right above the front bumper are driving lights that turn in synchronization with the steering.

Before the Series M was the introduction of the Stutz Vertical Eight in 1926, which is considered to be 'the most European of the US auto designs of the era'. The Stutz Model M Supercharged Coupe was dramatic, and featured a very low-slung, one-off coupe coachwork by Lancefield and is one of only 24 supercharged vehicles ever produced by Stutz. A total of 2,320 units Model M units were produced in 1929.

Featuring a rare supercharged engine, the Model M was spectacular in design and featured step plates, a sliding sunroof and cycle fenders that created a truly sporting appearance. Large Zeiss headlamps aided the vehicle in night driving. Originally the Lancefield body has been fabric-covered over wood; the Weymann body building method. The original advertisement was quoted as 'this striking motorcar holds the potential to become one of the premier entrants on the international concours d'elegance circuit.'
By Jessica Donaldson
For more information and related vehicles, click
here
Dodge Challenger SRT Hellcat Is The Most Powerful Muscle Car Ever -- 707 hp!
July 1, 2014 , Auburn Hills, Mich. - The all-new 2015 Dodge Challenger SRT, with its supercharged 6.2-liter HEMI® Hellcat engine, produces an unprecedented 707 horsepower and 650 lb.-ft. of torque, making it the most powerful Challenger ever, Dodge's most powerful V-8 ever and the most powerful muscle car ever. The Challenger's new 6.2-liter Supercharged Hellcat engine is also the first factory supercharged HEMI, as well as Dodge and SRT's first application of V-8 supercharger technology. F...[Read more...]
JAGUAR LAND ROVER REPORTS U.S. SALES FOR JANUARY 2014
◾Jaguar Land Rover North America increases 15 percent in January, for its best January sales month result since 2004 ◾Land Rover brand has its best January sales ever increasing 11 percent on strong Range Rover Sport demand, up 29 percent ◾Jaguar continues growth streak with 31 percent growth in January on new XF sales, up 29 percent ◾Jaguar launches F-TYPE Coupe with British Villains campaign, debuted on broadcast of Super Bowl XLVIII on Fox. (MAHWAH, NJ) - February 3, 2014 - Jagua...[Read more...]
Worlds Fastest P-51 Mustang attending Festivals of Speed
• Racing legend and Indy 500 winner Bobby Rahal will be the Honorary Chairman
• Longtime Race Pilot and Formula One Gold Champion Thom Richard will be attending Festivals of Speed with his P-51 Mustang 'Precious Metal'
• The Worlds Fastest Griffon Powered P-51 Mustang
Ryan Delziel attending Festivals of Speed! Ryan has overall and class wins in some of the most prestigious races in the world including class win at the 24 Hours of LeMans, Class wine / 3rd ov...[Read more...]
Keels & Wheels Concours d'Elegance
Nearly 12,000 people gathered on the lush grounds of Lakewood Yacht Club to get an up close look at some of the most pristine, classic automobiles and vintage wooden boats in the United States at the 17th Annual Keels & Wheels Concours d'Elegance. The 2012 event was co-hosted by the Antique and Classic Boat Society-Southwest Chapter. In addition, the event raised significant funds for Boys & Girls Harbor. To date, Keels & Wheels has donated more than one million dollars to charity. The 2012 ...[Read more...]
Bentley Ready For Classic Thousand Mile Challenge
•Iconic Bentley Blowers ready for great Mille Miglia adventure •Bentley Continental W12 and V8 models join historic cars in Italy (Crewe, England & Brescia, Italy. 16 May, 2012) W.O. Bentley's gift for creating cars that combined the speed of a thoroughbred racing machine with an enviable reputation for strength and comfort, allowing them to effortlessly cover hundreds of miles, is set to be underlined once again at the 2012 Mille Miglia when two 4½ litre Bentley Blowers take on the ...[Read more...]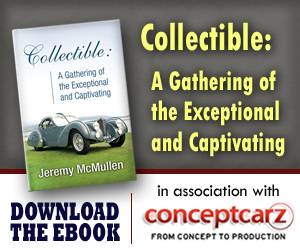 © 1998-2014. All rights reserved. The material may not be published, broadcast, rewritten, or redistributed.