1933 Marmon Sixteen news, pictures, specifications, and information

Tweet
Marmon's parent company was founded in 1851, producing flour grinding equipment. Experimental automobile production began in 1902.

The Marmon 16 was produced for just three years, with a total production of some 400 cars. Marmon discontinued production in 1933 - the worst year of the Great Depression. During its short life, Marmon pioneered the use of the rear view mirror, V-16's and the use of aluminum in automobile manufacturing.

This vehicle wears LeBaron Body Number 123, has engine number 16-893, serial number 16-140-916, and body number 16-140-926. It has a 145-inch wheelbase and powered by the legendary aluminum V16 engine that weighed a mere 930 pounds.

The original price was $4,925 and the vehicle weighed 4,824 pounds. In 1933, the streamlined parking lamps were mounted on top of the front fenders.

The group-up restoration took 2 years and was completed in June of 2007. The restorers were fortunate to have purchased new original head gaskets when rebuilding the 16 cylinder engine, and installed new pistons and steel liners.

In 2010, this Marmon Sixteen Sedan was offered for sale at the Gooding & Company Auction in Scottsdale, Arizona. The car was estimated to sell for $450,000 - $550,000. As bidding came to a close, the lot had failed to sell after reaching a high bid of $350,000.
Howard Carpenter Marmon, the son of an Indianapolis manufacturer of milling machinery, introduced his Marmon Sixteen at the Chicago Auto Salon in November of 1930. A month later, it was awarded with a metal for outstanding achievement from the Society of Automotive Engineers. This was a prestigious award and one that was well deserved. Howard had begun work on his masterpiece beginning in 1926. The fruits of his labor were a compact even-firing 45-degree V16 engine that measures 491 cubic-inches. It had overhead valves that were operated by pushrods, had an aluminum block and wet cylinder liners. The valve gear was well designed, compact and well lubricated, making its operation nearly silent. Total horsepower output was rated at 200, which was more than adequate to carry the elegant and stately 145-inch wheelbase and their attractive Art Deco-inspired bodies.

The coachwork bodies were courtesy of LeBaron, one of the most prominent coachbuilders of the era. The design of the bodies came from Water Dorwin Teague Sr. and his son, a student at MIT, Walter Dorwin Teague Jr. The bodystyles available in 1933 included a five- and seven passenger Sedan, four- and five- passenger coupe, Close Coupled Sedan, a Convertible Coupe and Sedan, and a Limousine. All had a wheelbase size of 145-inchs and sold in the neighborhood of $5,000. This was less than the equivalent Cadillac, and much less than the Duesenberg.

Customers began taking delivery of their Marmon Sixteen in April of 1931. Cadillac had beat Marmon to market by over a year. During Marmon's first year of their 16-cylinder car, just over 200 Sixteen's were produced, out of some 5,700 total sales. The total for 1932 was just ten percent of 1,365 total cars. For 1933, the eight-cylinder cars were discontinued, a very odd move considering they were the bulk of Marmon's sales.

For 1933, only 86 Sixteens were sold, with an estimated one-third of which were probably leftover 1932 models. By the first of May, Marmon had entered receivership.

This particular model was the personal car of Mrs. Marmon. When it left the family ownership, it entered the collection of a Chicago collector named D. Cameron Peck. It spent a decade in several Connecticut collections, before its purchase and long-term ownership by Dr. Atwood in November of 1987.

Based on the vehicle's serial number, this is the second of the 56 Marmon Sixteens produced in 1933. It is the only open Marmon to have cloth upholstery and is believed to be the last of the Style 145 convertible sedans.

In 1988, the car was awarded with an AACA National Junior and Senior honors, and ACCA's James Melton Memorial Cup. It was then given a restoration by Steve Babinsky's Automotive Restorations, Inc., in New Jersey. The work was completed in time for the 1989 season, where it scored a win at the AACA Southeastern Spring Meet. It was shown at Meadow Brook, and then brought to the Pebble Beach Concours d'Elegance where it won a class victory. It also received the Honorary Chairman's Award that year at the Gilmore Classic Twelve and Sixteen Cylinder Experience.

Dr. Atwood continued to show the car, earning an AACA Grand National First in 1990 in Canandaigua, New York, and many other awards at AACA meets through 1992.

The car is painted in yellow with a black pinstripe and there are large C.M. Hall Depress Beam headlamps. There is a black canvas top, a clear plastic cover when the car is not in use, and a matching top boot in the trunk. The interior is done in tan cloth and the odometer reads just 31,070 miles.

In 2009, this Marmon Sixteen Convertible Sedan was offered for sale at the Automobiles of Arizona auction presented by RM Auctions in Scottsdale, Arizona. The lot was estimated to sell for $ 250,000-$325,000 and offered without reserve. As bidding came to a close, the lot had been sold for the sum of $330,000, including buyer's premium.
By Daniel Vaughan | Apr 2009
7-Passenger Sedan
Coachwork: LeBaron

This 1931 Marmon 7-Passenger Sedan was presented to George M. Williams, President of Marmon, as severance when production was discontinued in May of 1933. It was the last 7-passenger sedan built and the only 1933 model known to survive. It was used to smuggle booze from Canada during prohibition and was clocked at 106 mph by Williams' son.
By Daniel Vaughan | Aug 2010
This Marmon Sixteen Victoria Coupe is one of only 68 surviving Sixteens and one of nine surviving Victorias. It was sold new to an Oakland, California doctor and then was displayed at Harrah's collection for over 25 years. It has the original body, chassis and engine with only 42,000 miles.

Howard Marmon had begun working on the world's first V16 engine in 1927, but was unable to start production until 1931. By that time in history, Cadillac had already introduced their V16, designed by former Marmon engineer Owen Nacker. The Marmon Sixteen was produced for just three years, with 390 examples made. The engine was an all-aluminum design with steel cylinder liners and a 45-degree bank angle, displacing 491 cubic-inch and producing 200 horsepower. It won an SAE Gold Medal for advanced design and sold for $5,500. Marmon discontinued automobile production in 1933.
Only two production sixteen cylinder automobiles were manufactured in the United States - the Cadillac Sixteen and the Marmon Sixteen. The Marmon was introduced in November 1930, 11 months after the Cadillac Sixteen's appearance and deliveries did not begin until April 1931.

This Marmon Sixteen was once part of the famed William F. Harrah Automobile Collection in Reno, Nevada.

The Marmon Sixteen was simply spectacular, but for the struggling Marmon Company it was a case of 'too much, too late.' The market for a $5,000, 200 horsepower luxury automobile was disappearing.

Although the Marmon Company also produced a less expensive eight cylinder motorcar, it focused all its efforts on the Sixteen for 1933. By May of 1933 the company was in receivership. The company that won the first Indianapolis 500 race in 1909 had become part of automotive history.
The Marmon Motor Car Company, originally based in Indianapolis, built automobiles from 1902 until 1933 when the firm fell victim to the depression. Before its demise, however, Marmon introduced a stylish, innovative 490.8 CID, 16-cylinder engine with 200 horsepower. The defining feature of Marmon's engine was the use of aluminum, a rarity at the time. When Howard Marmon began work on this engine in 1927, he was working on the world's first automotive V16. Unfortunately, circumstances did not allow him to complete in until 1931. In 1932, the Society of Automotive Engineers declared the Marmon Sixteen engine to be 'the year's most noteworthy automotive accomplishment.'

The 45-degree Marmon V16 employed more aluminum than steel in its construction, with gleaming chrome plate. The block and crankcase were cast as a single unit. One dual-downdraft Stromberg DDR3 carburetor fed the fuel, and a single-cast manifold served both cylinder banks. It utilized overhead valves, a feature unusual for the time period. The intake manifold, rocker covers, pan, chain case, and flywheel housing were cast aluminum, thus the engine weighed only 903 pounds as opposed to the 1300 for iron.

The normal idle of the engine was so smooth that 'a coin could be stood on edge of the engine upper surfaces' and there it would balance! The late William Harrah commented of his own Marmon Sixteen: '...it's extremely quiet. So much so that a very little noise....like people talking nearby....can hide the engine idling sound. One must be careful not to start it twice! Sleek, smooth and quiet - this innovative engine is just as impressive today as it was at its inception.'
It is estimated that between 370 and 375 Sixteens were produced. 76 are known to have survived with 14 being the five-passenger sedans, of which only four are 1933 models retaining their original bodywork. This example was acquired in the spring of 1934 by a variety store owner, A.L. Duckall, from his local dealer, Vern Peattle, of Salina, Kansas. It was apparently traded back to the dealer within a few years, and it was again sold by Peattle in 1937 to E.H. Sudendorf, of Salina. Sudendorf retained ownership of the Marmon until his passing in 1951. The Sixteen then was sold by his estate in 1954 to Perry Fuller, of Salina. Mr. Fuller stored the Marmon from 1956 until 1968, and it remained in his possession until 1988, when Kenneth Peterson, of Sylvan Grove, Kansas, purchased the car after 12 years of pursuit. The Marmon remained in Kansas until 1990, when it was finally sold out of the state where it had been delivered new 56 years earlier.

In 1997, the car was sold to Marvin Tamaroff. Ten years later, Tamaroff had the Sixteen restored by Harry Sherry, of Warsaw, Ontario. The car was finished in dark blue with robin's egg blue body sides, with a beige cloth interior.

The car was sold to its present owners, in whose collection the car has been lovingly preserved, maintained, and enjoyed. The car later judged by the Classic Car Club of America, and in 2009, it received its CCCA National Senior Award.
By Daniel Vaughan | Aug 2013
Convertible Coupe
Coachwork: LeBaron

Three different American luxury manufacturers designed V16 engines in the 1920s. Of these the Cadillac is the most famous, but the Marmon was the most advanced. Its light alloy design, displacing just over 8 liters, was surpassed only by the Duesenberg straight 8 engine in its power-to-weight ratio. In the two years of Marmon V16 production, a mere 390 cars were produced and only around 60 survive today. This Convertible Coupe was the last Sixteen to be built and has a unique body styled by its original owner with skirted front fenders and horizontal front louvers in the grille.
The Marmon V-16 was introduced around the same time Cadillac introduced their V-16 powered automobile. In comparison, the Marmon built automobile was more powerful and an engineering marvel. By using aluminum, the 491 cubic-inch engine with its overhead values weighed just over 900 pounds. The engine was formed by merging twin-eight cylinder engines in a 45-degree angle, giving the engine an impressive look and an astonishing 200 horsepower. The use of steel cylinder sleeves added to the longevity and durability of the engine. The V-16 engine earned Howard Marmon the Society of Automotive Engineers annual design award.

The engine was an engineering marvel and the automobile was a work of art. The problem was the timing; introduced near the onset of the stock market crash and the crippling Great Depression. The most competitive market segment at this time was the upper, high priced vehicles. Packard, Auburn, Cadillac, to name a few, were produced exquisite automobiles and catering to the wealthy. The short list of buyers meant production was low and the profit margin was tight. To stay competitive the manufacturers needed to continue to introduce new products, designs, and innovative vehicles.

Cadillac and Marmon introduced their V-16 automobiles around the same time. The Great Depression meant there were few who could afford this five-thousand luxury automobile. The competition and the Depression resulted in fewer than four-hundred examples being produced. The Marmom Motor Car Company entered into receivership.

The Marmon V-16 was powered by a lightweight, powerful engine and decorated in luxurious amenities and modern designs. Its demise was a market that did not have the resources to sustain its production. With its low production figures, its exclusivity is guaranteed in modern times.
By Daniel Vaughan | Dec 2006
'The World's Most Advanced Car' or a 'new concept in fine cars', at least that was how Marmon Auto Company touted its Sixteen in 1931. But this proclamation wasn't without reason as the engine used all-aluminum construction that was considered evolutionary of the foundry art. Other big claims to fame included overhead valves that were actuated by pushrods from a single camshaft while both the block and crankcase were cast as a single unit and the block was actually a 'Y' in section. A single cast manifold served both cylinder banks while a one dual-throat downdraft carburetor fed the fuel. All but three of the 390 Marmon Sixteens built carried 'standard' bodies built by LeBaron; two coupes, a Victoria and five sedans.

One of the finest names in automotive history, Marmon has under its belt a bevy of accomplishments that include winning the first Indianapolis 500-mile race, and an impressive aluminum V-16 engine in the early 1930s. In 1851 Nordyke and Marmon was formed in Richmond, Indiana and soon moved to Indianapolis. From there it became well-known for flour milling machinery. Howard Marmon graduated in Mechanical engineering from the University of CA in Berkeley late in the 19th century. In 1902 at the young age of 23 he became Marmon's chief engineer while his older brother Walter, also an engineer managed the business. Though the flour machinery was a good money maker, Howard was much more interested in the up and coming automobile business.

In 1902 he built his first car with an air-cooled V-twin engine, pressure lubrication and overhead valves. The following year Howard built his second car, which had an air-cooled V-4. Two years later the Marmon Company was fully in the automobile business, selling six cars, most of them to friends. The following year in 1905, production increased to 25 cars and Howard began trying different engine configurations.

After success with several models, unfortunately the stock market crashed and Marmon, much like other manufacturers, experienced a serious sales decline. Howard Marmon continued to have even grander ideas though and in 1931 he introduced his dream car, the Marmon Sixteen. Though this was the first V-16, the Cadillac V-16 which had arrived in 1930 beat them to it, the Marmon engine was much more powerful and also more brilliant in appearance. Howard Marmon was recognized by his peers when the Sixteen won the Society of Automotive Engineers' annual design award.

The engine was actually quite light despite its size at a scarce 930lbs, nearly 370lbs lighter than Cadillac's slightly smaller V16. Probably only rivaled by Duesenberg, the Marmom Sixteen had impressive 4.65 pounds per hp weight-to-power ratio. Howard had a passion in his design that was evident in his minimal weight construction of the Sixteen. All of the main pieces, the hood, front and rear splash aprons, spare-wheel mounts, running-board aprons, headlamp and tail-lamp brackets and even the fuel-filler pipe were all made of aluminum.

Due to this all aluminum construction, very few cars couldn't even come close to the Marmon for sheer speed or through the gears acceleration. The Marmon Sixteen even accelerated faster than the prestigious Duesenberg Model J, though the Model J had a higher top speed because of its twin-cam engine. The Marmon also cost half of a Duesenberg chassis. The cylinder banks on the Sixteen were set at 45 degrees, which resulted in a narrow engine that fit under the slim hoods of the day. It also had wet, pressed-in steel cylinder sleeves and used fork-and-blade connecting rods instead of the side-by-side type that become universal in V-type engines.

Howard Marmon wasn't responsible for the body design, but he did hire an industrial engineer at a time when this profession wasn't yet popular. Walter Dorwin Teague, Sr., a 47 year old designer took most of the credit, and it's true he handled the contract work with Marmon and translated the concept into production form. But in fact his son W.D. Teague, Jr., a student at MIT sketched the original drawings, as well as the full-size renderings and several interior concepts also the unusual aircraft-type instrument panel during weekends and in summer school. The name of the father carried more prestige then his young son's name. From 1931 until 1933 the number of 16 cylinder cars was 390 and they were priced at $5,100 to $5,400.

The Sixteen was a modern looking vehicle, but not a 'radical' one, and it bore no resemblance to any of the earlier Marmon's. A hood that hid the water filler featured a raked Vee'd radiator with any ornament or badge while the doors extended down almost to the running boards. The fenders were constructed with the purpose of hiding chassis components. A very prominent beltline ran absolutely straight around the body which further accentuated a low-slung profile. A windshield was raked to match the radiator and the ultra-low rooflines.

Only two custom bodies are known of, two Waterhouse tourers and a very individual Victoria constructed by Hayes to a design by Alexis de Sakhnoffsky. These were probably part of Howard's eventual plan to offer 32 'regular' custom styles, much in the spirit of Judkins, Waterhouse and Murphy; town cars, limousines, speedsters, all-weather phaetons and 'sunshine-roof' sedans. Unfortunately slow sales halted this idea.

Despite its grandeur and distinction, the Marmon Sixteen arrived on the scene just too late. The Depression had weakened the economy and shrunk the market for $5,000-plus cars. In 1933 the Marmon Motor Car Co. went into receivership. Barely 400 Marmon Sixteen's were ever built. Though the name would carry on for many years in Marmon-Herrington four-wheel drive trucks and four-wheel drive truck conversions, Marmon was out of the car business. Impressive and elegant, today a Marmon Sixteen is a nearly priceless collectible.
By Jessica Donaldson
For more information and related vehicles, click
here
BARRETT-JACKSON'S SCOTTSDALE 2014 SALON COLLECTION TO OFFER DIVERSE DOCKET OF WORLD'S MOST SOUGHT-AFTER COLLECTIBLES
Rare and Desirable Vehicles Plus One Fully-Operational Carousel Will Cross the Auction Block at Company's Monumental Scottsdale Auction, Jan. 12-19, 2014 SCOTTSDALE, ARIZ. (Dec. 18, 2013) – Barrett-Jackson, The World's Greatest Collector Car Auctions™, announced today a group of exceptional vehicles representing 85 years of automotive history will cross the auction block as part of the world-renowned Salon Collection. The collection will be offered during the company's 43rd Ann...[Read more...]
BARRETT-JACKSON'S SCOTTSDALE 2014 SALON COLLECTION TO OFFER DIVERSE DOCKET OF WORLD'S MOST SOUGHT-AFTER COLLECTIBLES
Rare and Desirable Vehicles Plus One Fully-Operational Carousel Will Cross the Auction Block at Company's Monumental Scottsdale Auction, Jan. 12-19, 2014 SCOTTSDALE, ARIZ. (Dec. 18, 2013) – Barrett-Jackson, The World's Greatest Collector Car Auctions™, announced today a group of exceptional vehicles representing 85 years of automotive history will cross the auction block as part of the world-renowned Salon Collection. The collection will be offered during the company's 43rd Ann...[Read more...]
Gooding & Company Celebrates 10th Anniversary as Global Appreciation of Cars Push Markets to New High in 2013
SANTA MONICA, Calif. (November 11, 2013) – The mystique of collectable cars continues to expand enthusiasm and buyer participation around the globe. In 2013, Gooding & Company, the auction house acclaimed for selling the world's most significant and valuable collector cars, celebrated its 10th anniversary and saw new and returning bidders flock to its three auctions. Demonstrating Gooding & Company's power in the marketplace is an annual auction total of $192.6 million for 286 lots with a...[Read more...]
The Moretti Estate Collection of Packard Twelves
Gooding & Company, the world's leading auction house for collectors of rare and exceptional cars, announces that it will be presenting an exciting collection of Packard Twelves at its 2012 Scottsdale Auctions on January 20 & 21: six extraordinary automobiles from the estate of Thomas A. Moretti, the beloved and respected Packard Twelve collector. The centerpiece of Moretti's collection is an extremely rare 100-point 1932 Packard Twin Six Coupe formerly owned by Hollywood legend Clark Gable. ...[Read more...]
Worldwide Auctioneers: The Auburn Auction
Those making the annual journey to Auburn, Indiana, this Labor Day Weekend, can look forward to a vibrant assortment of motorcars at Worldwide Auctioneers' much expanded event, The Auburn Auction. The company's premier catalogue auction of exceptional automobiles will this year serve as 'The Main Event' and Saturday evening climax to an expanded three day sale, running from September 2nd through September 4th, 2010. Indy 500 enthusiasts can look forward to a rare opportunity to bid on a pair ...[Read more...]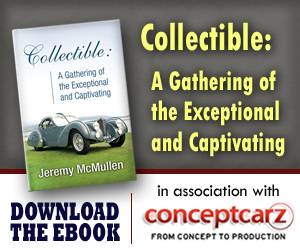 © 1998-2014. All rights reserved. The material may not be published, broadcast, rewritten, or redistributed.