1904 Ford Model A/C news, pictures, specifications, and information

Tweet
The Ford Motor Company was incorporated on June 16, 1903. The first automobiles were built at Ford's small plant on Mack Avenue in Detroit. The first model produced by the new company was logically called the Model A. It was powered by a two-cylinder, eight horsepower engine that was coupled to a two-speed planetary transmission. The engine and transmission assembly were located underneath the body and connected to the rear axle by means of a chain. Nearly 700 Model A Fords were built and sold during the first year of production.

In early 1904, the Model A was improved by increasing the size of the engine to ten horsepower and adding a bigger flywheel and radiator. The new model was called a Model A/C and was built for only a few months during 1904 before it was replaced with a new model, called the Model C.

This rare 1904 Ford Model A/C was purchased by the current owner's father in 1961 from the Collingwood Ford Dealership in Findlay, Ohio. While largely complete, the vehicle was in need of a total restoration. Family and work commitments prevented the restoration of the rare Ford and in 1983, the vehicle was sold to another collector. The vehicle remained in unrestored condition was purchased by the current owner and given back to his father in 2000, who was finally able to complete the restoration in 2004.
The 1904 Ford Model C was mechanically identical to the 1903 Model A and thus is commonly called the Model AC. The difference was its six-inch longer wheelbase that enhanced the ride qualities of the car. It had a new front-mounted hood that allowed the fuel tank to be enlarged and moved up front from its previous position of under the seat. These changes gave the Model C additional space in the front floor area.

There were two bodystyles available on the Model C, a runabout or a rear-entrance touring car with room for four. The final drive was through the planetary transmission by chain with engine lubrication supplied by a six-point drip oiler.

The rear-entrance touring car sold for around $1,000 and included a horn, sidelamps and a brass rail accenting the dashboard. The engine was a horizontally opposed two-cylinder unit that offered 10 horsepower. The car rode on full elliptic leaf-springs and had internal expanding brakes on the differential band.

Much of the early history of this car is unknown. After World War II, it was purchased from C.A. Trussell Motor Company in Athens, Georgia, by Tommy Protsman. It was shown in his museum, the Stone Mountain Auto Museum in Georgia, for over 5 decades. It was then purchased by the current owner.

This Rear-Entrance Tonneau is finished in the correct shade of red with black diamond-tufted leather upholstery, has the correct original Dietz bail-handle sidelamps and is complemented by the Gray & Davis self-generating acetylene headlamps.

In 2009, this Model C Rear-Entrance Tonneau was offered for sale at the Gooding & Company auction held in Scottsdale, Arizona where it was estimated to sell for $100,000 - $150,000. The lot was sold for the sum of $93,500, including buyer's premium.
By Daniel Vaughan | Apr 2009
BARRETT-JACKSON GALA KICKS OFF LIFESTYLE EVENT IN DYNAMIC FASHION
Craig Jackson Welcomes Bidders, Consignors, VIPs and Celebrities at 43rd Scottsdale Auction SCOTTSDALE, ARIZ. (Jan. 14, 2014) – Barrett-Jackson, The World's Greatest Collector Car Auctions™, held its opening night gala on Monday night, an event that signifies the beginning of Barrett-Jackson's auction week and kick offs the action. Barrett-Jackson's 43rd annual Scottsdale auction – held Jan. 12-19, 2014 – will be seen on channels including FOX Broadcast, the FOX Business Netw...[Read more...]
Barrett-Jackson Revs Up For Sixth Annual Las Vegas Auction September 26-28, 2013
• Hundreds of Unique Collectibles Including Three Exceptional Cars from the Coveted William Munday Collection Set to Cross Block in Las Vegas
LAS VEGAS (September 5, 2013) – Barrett-Jackson, The World's Greatest Collector Car Auctions™, is pleased to announce the return of its renowned Las Vegas auction, taking place at Mandalay Bay Resort & Casino, September 26-28, 2013. A strong offering of classics, exotics, muscle cars, hot rods, resto-mods and contemporary collectibles ...[Read more...]
Maserati Trofeo Mc World Series Returns To Sonoma After Successful Debut Of Ghibli Sedan Over Pebble Beach Weekend
Englewood Cliffs, NJ, August 21, 2013- Maserati is proud to announce that the Maserati GranTurismo MC Trofeo World Series will make its North American stop for a second year at Sonoma Raceway the weekend of August 21st. Last year, famed actor and accomplished race driver Patrick Dempsey and top stuntman, and Hot Wheels X Games Double Loop World Record holder, Greg Tracy competed in the GranTurismo MC Trofeo to the delight of thousands of fans in attendance. Thanks to the success of last y...[Read more...]
Russo and Steele Collector Automobile Auctions Grows 100% in 2013
Russo and Steele adds Newport Beach and Las Vegas Auctions To Its 2013 Schedule Building upon over 13 years of success Russo and Steele is growing by 100% with the addition of two new auction events in 2013. The expansion to Newport Beach and Las Vegas in 2013 is a critical step for the auction company and its business growth. Drew Alcazar, owner of Russo and Steele, stated 'Both Scottsdale and Monterey have matured to what we feel exemplifies the Russo and Steele experience. Addin...[Read more...]
Gooding & Company's Saturday Pebble Beach Auction realizes more than $60 million
In the first of two nights, Gooding & Company's Saturday Pebble Beach Auction realizes more than $60 million Gooding & Company, the official auction house of the Pebble Beach Concours d'Elegance acclaimed for selling the world's most significant and valuable collector cars, sold more than $60 million in collector cars last night, at the first of its two Pebble Beach evening auctions. Sixty-one of the 68 lots available sold, a 90% sale rate, the most notable being the 1960 Ferrari 250 G...[Read more...]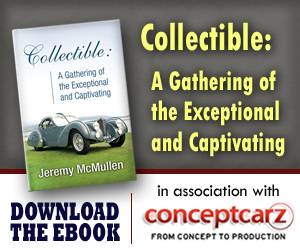 Ford
Monthly Sales Figures
Volume
August 2014
214,028
July 2014
204,373
June 2014
214,793
May 2014
244,501
April 2014
203,552
March 2014
235,198
February 2014
177,286
January 2014
148,671
December 2013
210,074
November 2013
183,722
October 2013
184,854
September 2013
178,693
(More Details)
© 1998-2014. All rights reserved. The material may not be published, broadcast, rewritten, or redistributed.