1904 Ford Model A/C news, pictures, specifications, and information

Tweet
The Ford Motor Company was incorporated on June 16, 1903. The first automobiles were built at Ford's small plant on Mack Avenue in Detroit. The first model produced by the new company was logically called the Model A. It was powered by a two-cylinder, eight horsepower engine that was coupled to a two-speed planetary transmission. The engine and transmission assembly were located underneath the body and connected to the rear axle by means of a chain. Nearly 700 Model A Fords were built and sold during the first year of production.

In early 1904, the Model A was improved by increasing the size of the engine to ten horsepower and adding a bigger flywheel and radiator. The new model was called a Model A/C and was built for only a few months during 1904 before it was replaced with a new model, called the Model C.

This rare 1904 Ford Model A/C was purchased by the current owner's father in 1961 from the Collingwood Ford Dealership in Findlay, Ohio. While largely complete, the vehicle was in need of a total restoration. Family and work commitments prevented the restoration of the rare Ford and in 1983, the vehicle was sold to another collector. The vehicle remained in unrestored condition was purchased by the current owner and given back to his father in 2000, who was finally able to complete the restoration in 2004.
The 1904 Ford Model C was mechanically identical to the 1903 Model A and thus is commonly called the Model AC. The difference was its six-inch longer wheelbase that enhanced the ride qualities of the car. It had a new front-mounted hood that allowed the fuel tank to be enlarged and moved up front from its previous position of under the seat. These changes gave the Model C additional space in the front floor area.

There were two bodystyles available on the Model C, a runabout or a rear-entrance touring car with room for four. The final drive was through the planetary transmission by chain with engine lubrication supplied by a six-point drip oiler.

The rear-entrance touring car sold for around $1,000 and included a horn, sidelamps and a brass rail accenting the dashboard. The engine was a horizontally opposed two-cylinder unit that offered 10 horsepower. The car rode on full elliptic leaf-springs and had internal expanding brakes on the differential band.

Much of the early history of this car is unknown. After World War II, it was purchased from C.A. Trussell Motor Company in Athens, Georgia, by Tommy Protsman. It was shown in his museum, the Stone Mountain Auto Museum in Georgia, for over 5 decades. It was then purchased by the current owner.

This Rear-Entrance Tonneau is finished in the correct shade of red with black diamond-tufted leather upholstery, has the correct original Dietz bail-handle sidelamps and is complemented by the Gray & Davis self-generating acetylene headlamps.

In 2009, this Model C Rear-Entrance Tonneau was offered for sale at the Gooding & Company auction held in Scottsdale, Arizona where it was estimated to sell for $100,000 - $150,000. The lot was sold for the sum of $93,500, including buyer's premium.
By Daniel Vaughan | Apr 2009
BENTLEY 'HOME COLLECTION' MAKES ITS DEBUT
Full furniture range at prestigious Maison & Objet Fair in Paris • Bentley aesthetic translated into luxury home and board room environments • Collaboration with leading Italian interiors company defines luxury lifestyle direction (Crewe, January 24) Bentley Motors presents its range of luxury home and executive furniture at the Maison & Objet fair in Paris, designed and manufactured in collaboration with Luxury Living Group, one of Europe's leading furniture makers. The collection i...[Read more...]
FIRST RETAIL 2015 FORD MUSTANG GT FASTBACK CROSSING BARRETT-JACKSON BLOCK TO BENEFIT JDRF
◾The first retail 2015 Ford Mustang GT fastback will be auctioned to benefit leading diabetes research charity, JDRF ◾The winning bidder of the fastback can personalize his or her car with any available Mustang GT options The first retail unit of the all-new Ford Mustang will be sold at Barrett-Jackson Auction Company's event in Scottsdale, Ariz. on Jan. 18, 2014. Offered at no reserve, all proceeds will benefit JDRF, the country's leading global organization funding type 1 diabetes resear...[Read more...]
GORDON RACES TO SECOND SPEED ENERGY STADIUM SUPER TRUCKS WIN OF SEASON
San Diego, Calif. (May 18, 2013) – SPEED Energy Stadium SUPER Trucks made a return trip to Qualcomm Stadium in San Diego, Calif., for the second and final time in 2013. Five distinct racing divisions took to the track to test their driving skills on the uniquely prepared dirt and asphalt course. Robby Gordon, Larry Swim, Apdaly Lopez, Derek Costella and Shelby Anderson were able to record wins in Round No. 5 of SST competition. Robby Gordon, of Orange, Calif., driving the #7 SPEED Ener...[Read more...]
TOPLINE COLLECTORS PLACE SPOTLIGHT on SPEED'S BARRETT-JACKSON BROADCAST FROM SCOTTSDALE
• TOPLINE COLLECTORS PLACE SPOTLIGHT on SPEED'S BARRETT-JACKSON BROADCAST FROM SCOTTSDALE
• 'LOST' SHELBY DUAL PROTOTYPE, HAGERTY GIVEAWAY & SALON COLLECTION HIGHLIGHT 39 HOURS OF LIVE COVERAGE
The 42nd annual Barrett-Jackson Scottsdale (Ariz.) Collector Car Event, the first of four set for live coverage in 2013, kicks off the auction season in grand style as some of the world's most sought-after machines cross the block starting Tuesday, Jan. 15 at 7 p.m. ET/4 p.m. PT. SP...[Read more...]
Lost Mercedes - Surfaces At Bonhams
One owner, unrestored, supercharged 'S' Type Mercedes to be sold by Bonhams at Goodwood Revival this autumn One of the greatest and most important motor car finds of the last decade, the 'Lost Mercedes' is to be offered at Bonhams Goodwood Revival sale on Saturday 15th September 2012. Bonhams announced today that it has been commissioned to sell a recently discovered 1928 Mercedes-Benz 26/120/180 'S' Type Sports Tourer which almost without precedent for motor cars of this type and d...[Read more...]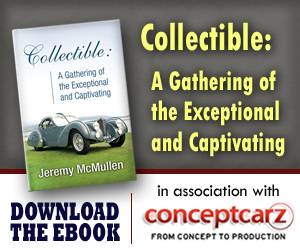 Ford
Monthly Sales Figures
Volume
November 2014
178,221
October 2014
179,014
September 2014
172,261
August 2014
214,028
July 2014
204,373
June 2014
214,793
May 2014
244,501
April 2014
203,552
March 2014
235,198
February 2014
177,286
January 2014
148,671
December 2013
210,074
(More Details)
© 1998-2014. All rights reserved. The material may not be published, broadcast, rewritten, or redistributed.