1910 Imperial Model 35 news, pictures, specifications, and information

Tweet
'T.A.' and George N. Campbell were brothers and proprietors of the Jackson Carriage Company. In 1908 they added motorcars to their line and called them Imperials. They were medium sized, four-cylinder vehicles and were sold with touring car and roadster bodies.

Like most vehicles built by smaller companies, Imperials were assembled using 'off the shelf' components built by automotive supplier companies. The bodies on the Imperial automobiles were made by the Beaudette Company, which also produced bodies for Buick and Ford. If you look at 1910 era Buicks and Fords, the resemblance is clear.

Imperial automobiles were built from 1908 to 1915, when the company merged with the Marion Company of Indianapolis, Indiana and became the Mutual Motors Company. When the new company was formed, they discontinued the Imperial line and produced a new vehicle called the Marion-Handley.

This 1910 Imperial is one of only a few in existence today. It is powered by the 35 horsepower, four-cylinder engine which is mounted on the 112-inch wheelbase chassis. It was formerly part of the famous Harrah's Automobile Collection in Reno, Nevada before being purchased and restored by the Imperial Palace Collection in Las Vegas, Nevada.
REVERED FERRARI 250 LM LEADS SUPERLATIVE ROSTER OF ITALIAN SPORTS CARS AT RM'S FLAGSHIP MONTEREY SALE
· RM Auctions announces a legendary 1964 Ferrari 250 LM by Scaglietti as the latest multi-million-dollar highlight for its flagship Monterey sale, August 15–16 in California · 250 LM leads a superb roster of no less than 26 Ferraris at RM's two-day sale; additional new entries include a 1953 250 Europa and a 1963 400 SA LWB Coupe Aerodinamico Series II · RM joins in Maserati's 100th anniversary celebrations, presenting no less than four examples from the luxury Italian ma...[Read more...]
RECORD DAY AT BONHAMS GREENWICH AUCTION
(June 2, 2014) Greenwich, CT – Standing room only crowds packed the Bonhams tent at the 7th annual Greenwich collector motorcar auction with the sale totaling in excess of $8 million dollars—besting last year's record breaking total by over 40%, with over 93% of lots offered finding new homes. The capacity crowd grew nearly silent as the catalog cover lot, a 1975 Lamborghini Countach LP 400 'Periscopica', sold for over $1.2 million dollars to a bidder seated in the front of the room, beat...[Read more...]
Ten Days And 3,000 Cars At Mecum Collector Car Auction In Kissimmee
Walworth, WI - January 6, 2014 -- Mecum Auctions will bring the world's largest collector car auction to the Osceola Heritage Park grounds in Kissimmee, Fla., this Jan. 17-26 with 3,000 vehicles and 3,000 items of Road Art and memorabilia set to cross the auction block throughout the 10 days of hard-hammering action. The immense lineup includes everything from high-performance muscle cars to '50s era cars as well as vintage racers, European sports and exotics and of course an impressive...[Read more...]
STEVE MCQUEEN'S HARLEY-DAVIDSON TO CROSS MECUM'S BLOCK IN ANAHEIM
Walworth, WI - November 11, 2013 -- Mecum Auctions will offer a rare piece of celebrity history at the second annual Anaheim auction this Nov. 21-23 at the Anaheim Convention Center – a motorcycle once owned and ridden by 'The King of Cool' Steve McQueen. As the highest paid actor of his time, McQueen is best remembered for his roles in movies like 'The Great Escape,' 'The Getaway,' 'Bullitt' and 'The Thomas Crown Affair.' In addition to his acting career, McQueen was an avid motorcycl...[Read more...]
Mecum Set To Auction Off Steve Mcqueen's 'Last Ride' 1952 Chevrolet 3800 Series Pickup Truck With Custom Camper
Los Angeles, CA - July 16, 2013 - Mecum Auctions have announced they will be auctioning off the legendary late actor Steve McQueen's last known personal vehicle at the Mecum Celebrity Items Auction: Celebrating the Legendary History of Hollywood at the Barker Hangar in Santa Monica, CA July 26-27, 2013. While much is known of McQueen's antique motorcycle collection, he was also an avid collector of vintage cars and trucks. Throughout his lifetime, he owned more than 60 rare vehicles inclu...[Read more...]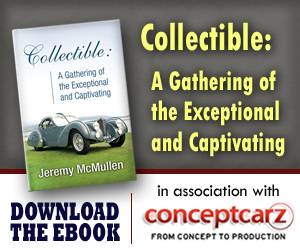 © 1998-2014. All rights reserved. The material may not be published, broadcast, rewritten, or redistributed.