1959 Ferrari 410 Superamerica news, pictures, specifications, and information

Tweet
The Ferrari America is one of a series of top-end Ferrari models built in the 1950's and 1960's. They were large touring cars with the largest V-12 engines and often had custom bodywork. All America models used a live axle in the rear and were front-engined. The America series was based on a series of concept cars which bore the Superfast name.

As if the custom, low-volume America was not fast enough, Ferrari produced another line of America cars, beginning with the 1955 410 Super America. The engine was now up to 5.0-liters with 340 horsepower (254 kW) available. A 1957 Super America III had triple Weber carburetors for even more power.

Each 410 Super America had custom bodywork, with a few by Ghia but most by Ferrari stalwart, Pinin Farina. The price was extremely high : US $16,800. The 410 Super America offered at the New York Auto Show by importer Luigi Chinetti was more than twice as expensive as the Mercedes-Benz 300SL 'Gullwing' exhibited by Max Hoffman. Just a few (14 to 35) were built when the series ended in 1959.

Most of the Pinin Farina cars shared similar lines, however a small group were extremely unique and celebrated their own style. The most notorious of these was the individually-titled 410 Superfast which sported prominent tail fins like the American cars of the era.
During the mid-1950s, Ferrari's 250GT production became standardized with the Boano, Ellena and Pinin Farmin coupes. Ferrari, about a decade old at this point in history, had accomplished and achieved racing success and fostered an exclusive list of clientele. They had experimented with a wide range of engines including fours, sixes, and even the two-cylinder Grand Prix engine. During this experimentation which included the first Ferrari V6 and V8 engines, Ferrari gained the knowledge and solidified designs that would carry them through the next decade of racing. Those designs would even find their way to their road-going vehicles.

While Ferrari's racing program and 250 GT production were becoming well established, they wanted to continue their legacy of exclusive, limited production, and handcrafted line of vehicles. In 1954, this would become manifested in the 410 Superamerica.

The Ferrari 410 Superamerica was a continuation of the Lampredi-powered 375 America. The engine was enlarged to 4963cc resulting in 340 horsepower. The 375 America displaced 4,522cc and produced 300 horsepower. Modifications continued throughout the vehicle, including an increase in track width by 130 mm at both the front ad rear. The transverse leaf springs in the front were replaced with coil springs. These changes gave it a wider stance with a more modern appearance and better stability at speed.

Most of the 410 Superameria chassis's were clothed by Pini Farina. Only four examples were bodied by other artesian, with Sergio Scaglietti performing his craft on one, chassis number 0671 SA. The Scaglietti body was created for Dottore Enrico Wax, the principal in the Genoese firm of Wax & Vitale whose business was in importing.

Scaglietti's relationship with Ferrari began with the 500 Mondial and would continue throughout the years, with one of their more-memorable designs being the 500 TRC. Currently, Scaglietti is owned by Ferrari SEFAC and is the bodywork production facility for all Ferrari road cars.
By Daniel Vaughan | Aug 2008
There were just 34 examples of the 410 SA produced between 1956 and 1959. It was Pinin Farina job number 15825 with the bodywork ordered on February 26th of 1959. The car was originally equipped with covered headlamps and finished in ruby red with grey leather upholstery.

The car was completed on July 8th of 1959. The car was sold through Chinetti Motors to its first owner Gill Brothers, a resident of Rhinelander, New York. The second owner, Henry Desormea of Latham, New York, took possession of the car in 1963. He would retina the car until 1975 when it was sold to Jim Haynes of Lime Rock, Connecticut. In 1979, it passed through Bill Kontes and eventually to Hilary A. Raab, Jr. of Crown Point, Indiana. Raab would keep the car until 1998, when it was sold to Luigi Chinetti Jr. of Connecticut.

In 2004, the car was sold to William Grimsley of Sausalito, California. On October 23rd, 2007, Grimsley sold 1323 SA to Robert Harris of Logan, Utah. The current owner acquired the car in 2008.

In 2010, this car was offered for sale at the Sports & Classics of Monterey offered by RM Auctions. It was estimated to sell for $1,600,000 - $2,200,000. As bidding came to a close, the car had been sold for the sum of $1,760,000, inclusive of buyer's premium.
By Daniel Vaughan | Dec 2010
Ferrari unveiled the 410 Superamerica as a bare chassis at the 1955 Paris Auto Show, then exhibited the completed car at the Brussels show early in 1956. Delivered new to New York Ferrari distributor Luigi Chinetti in 1959, this series III Ferrari 410 Superamerica, chassis number 1449SA, is the third to last Ferrari fitted with Lampredi's long-block V12 engine. After the car was displayed at the New York Auto Show, Chinetti sold it and since then it has changed hands very few times.
An ultra-rare, extremely expensive, very fast vehicle, the Superamerica featured a low grille opening and covered headlights. With a long sloping rear deck combine with the double curvature of the windshield and rear window, the car had a taut, muscular look in keeping with its performance capability. Built as if for a king, the inside of the Ferrari 400 Superamerica features a lavish interior with thickly bolstered seats and sumptuous Italian hides.

Introduced in 1959, the Ferrari 400 Superamerica featured a Colombo V12 that displaced 3,967 cc. A first for Ferrari road vehicles, the Superamerica also boasted disc brakes. Only 47 units in two series, short and long wheelbase were ever constructed during the Superamerica's five-year production run.

Built to order, the vehicles featured a very demanding clientele that had the option of a wide choice of finishing details on their cars. The Superamerica was built only according to the specifications of the individual. An entirely European concept, the vehicle was a kind of luxury item that only few could afford. In accordance, no two Ferrari 400 Superamerica vehicles are ever exactly alike. These vehicles have been produced for elite owners such as Aga Khan, Gianni Agnelli, Enzo Ferrari and Nelson Rochefeller.

One of the rarest examples of the Ferrari 400 Superamerica is the 5029 SA, the Series II long-wheelbase, which was delivered new in Italy. Finished in elegant silver gray; Grigio Argento, with an exquisite red leather interior. Sold in 1998 in Switzerland, the 5029 SA was restored fully by some of the most respected European specialists.

Still recovering from World War II during the late 1940s and early 1950's, while Europe struggled with the scarcity of fuel, cash, and raw materials, Enzo Ferrari sensed that there was a market for a high-powered GT. The 340 America was introduced in 1950 as the first attempt to put a powerful Lampredi V12 engine in a Ferrari GT. Trying to associate the name with America's 'bigger is better' culture, Ferrari also sought to make the Americans aware of this new Italian marque.

Popular hits, the 340, 342 and 375 America's were featured in an assortment of beautiful bodies from Italy's most talented carrozezrias, and powered by Ferrari's legendary Lampredi engines. The Ferrari's 250 series had changed the company from a manufacturer of short runs of rapidly evolving models to a series-production-based manufacturer by the mid 1950's. Feeling that it was time to move up-market, Enzo Ferrari moved on to produce a GT model that would satisfy his most demanding and affluent customers. This new model would share a common drivetrain and chassis, but would allow the customers the discretion in the choice of features, tune and coachwork. A step above the previous 'America', this new model was aptly called the Superamerica.

The 410 Superamerica debuted in 1956 following the 'more power is better' theme of the earlier 'America's, while featuring a near-5-liter Lampredi V12 and offered in tuning levels up to 400 horsepower. Reportedly able to spin the rear wheels in third gear, a total of around 35 examples were produced in vastly different configurations as both cabriolets and coupes.
Following the 410, the 400 Superamerica was an impressive automobile, but unfortunately fell short of the 410. The refined Colombo-designed V12 was a more reliable and less expensive alternative to the Lampredi, and a 4-liter version of the Colombo engine was developed for the 400 Superamerica. Rated at 340 horsepower, the new V12 was sadly 60 less than the very powerful 410 engine.

On the other hand, the coachwork options were more impressive. An impressive array of coupe and cabriolet models in both LWB and SWB variations were commissioned, and four show cars called Superfast I, II, III and IV were produced during the 410/400 Superamerica's production run. Featuring Superamerica mechanicals and are apart of the Superamerica family, they are classified by their Superfast chassis number.

The 500 Superfast was introduced in 1964 as the newest car to the 'America' series and followed the ultra-premium 'America' theme, though only offered with one engine and body configuration. A total of 36 500 Superfast models were produced.
By Jessica Donaldson
In 1955, Enzo Ferrari displayed a polished chassis #0423 SA at the Paris Salon. The completed version of the 410, crafted by the Italian coachbuilder Pinin Farina, was displayed at the Brussels Salon in January of 1956. As was the style of Ferrari, many variations of this vehicle were built. This is due to the fact that Ferrari used different coachbuilders during the vehicles assembly. Coachbuilders such as Boano, Ghia, and Scaglietti produced versions such as the Testa Rossa, Series I, II and III, and Superfast. This included Coupes and cabriolet versions. Mario Boano produced two, one by Ghia, one by Scaglietti, and the remaining thirty were by Pinin Farina.

The 410 came as a replacement for the 375 America. There were three series for this model but only a total of 38 were produced from 1956-1959.

Although similar to some of the earlier models produced by Ferrari, this one had a few styling changes. The 410 featured side vents located behind the front wheels. These have become a signature of the Superamerica series.

The 410 was given a larger engine and bigger brakes. Coil spring suspensions were used in the front. As with most of the Ferrari's from this era, Pinin Farina produced most of the bodies. From 1956-1958, a 110.2 inch wheelbase was used. In 1958 the size of the wheelbase was decreased to 102.3.

A Colombo engine provided the muscle for the GT version. It featured a 60-degree, single-overhead-cam, 'vee' type 12-cylinder, with aluminum alloy block and heads and cast-iron cylinder liners. The power produced by this engine was in the 220-260 hp range. The 410 SuperAmeria had a 60-degree, single-overhead-cam, 'vee' type 12-cylinder, with aluminum alloy block and heads. It was produced by Lambredi. The horsepower was significantly greater. The Series I had 340 horsepower, the Series II had 360 hp, and the Series III had 400 hp. Depending on the series of the vehicle, three or six Weber two-barrel carburetors were used.

The 410 models were heavy, powerful, elegant, and luxurious automobiles that could race from zero-to-sixty in under six seconds. These cars were well suited for the American market and were never really put into serious production, with about one being produced per month during its production lifespan.
By Daniel Vaughan | Aug 2008
Automobiles with Exceptional Provenance Highlight Gooding & Company's Pebble Beach Auctions
SANTA MONICA, Calif. (July 10, 2014) – Gooding & Company, celebrated for its world-class automotive auctions and record-breaking results, will begin its second decade as the official auction house of the Pebble Beach Concours d'Elegance® on August 17 and 18. Gooding & Company is pleased to share a hand selected group of consignments from our Pebble Beach Auctions with exceptional provenance. Exciting entries include an extremely rare 1939 Alfa Romeo Tipo 256 Cabriolet with spectacular one...[Read more...]
REVERED FERRARI 250 LM LEADS SUPERLATIVE ROSTER OF ITALIAN SPORTS CARS AT RM'S FLAGSHIP MONTEREY SALE
· RM Auctions announces a legendary 1964 Ferrari 250 LM by Scaglietti as the latest multi-million-dollar highlight for its flagship Monterey sale, August 15–16 in California · 250 LM leads a superb roster of no less than 26 Ferraris at RM's two-day sale; additional new entries include a 1953 250 Europa and a 1963 400 SA LWB Coupe Aerodinamico Series II · RM joins in Maserati's 100th anniversary celebrations, presenting no less than four examples from the luxury Italian ma...[Read more...]
RM Auctions and Sotheby's Stun the Market with Incredible $63 Million 'Art of the Automobile' Sale in New York
• RM Auctions and Sotheby's momentous Art of the Automobile auction generates $62,797,500 of sales in two hours of furious bidding • Records tumble with the historic 1964 Ferrari 250 LM by Carrozzeria Scaglietti achieving $14,300,000 while the stunning 1938 Talbot-Lago T150-C SS Teardrop Cabriolet by Figoni et Falaschi sells for $7,150,000 • 93 percent of all lots sold to an international audience of bidders representing 17 countries • Full results are available online at www.rmauctions.c...[Read more...]
THE PINNACLE OF COLLECTOR CAR AUCTIONS: RM AND SOTHEBY'S OFFER A CENTURY OF AUTOMOTIVE HISTORY AND DESIGN IN NEW YORK CITY
• Final countdown underway to RM Auctions and Sotheby's expertly curated Art of the Automobile sale, November 21, in New York City • First major collector car auction to be held in Manhattan in over a decade; the sale's catalogue features examples of the upper echelons of design from each era of motoring • Extraordinary exhibition that showcases all vehicles on offer will be held from November 18–20 on the 10th floor galleries at Sotheby's New York • Official digital catalogue now availab...[Read more...]
63rd Pebble Beach Concours d'Elegance Names 1934 Packard 'Best of Show'
The competition showcased 248 cars, including 48 from abroad PEBBLE BEACH, Calif. (August 18, 2013) -- A 1934 Packard 1108 Twelve Dietrich Convertible Victoria owned by Joseph and Margie Cassini III of West Orange, New Jersey, was named Best of Show at the 63rd Pebble Beach Concours d'Elegance, held Sunday on the 18th fairway of Pebble Beach Golf Links at Pebble Beach Resorts. The event showcased 248 cars from 36 states and 12 countries and raised $1,277,007 for charity. 'This Pack...[Read more...]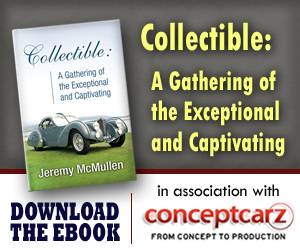 © 1998-2014. All rights reserved. The material may not be published, broadcast, rewritten, or redistributed.