1938 Oldsmobile Series L news, pictures, specifications, and information

Tweet
Ransom E. Olds began producing automobiles in 1897. Oldsmobile was the first company to use the assembly line, but Ford Motor Company later added the conveyor belt. General Motors acquired Oldsmobile in 1908 and Mr. Olds later pursued another of his inventions, the power lawn mower. The Ideal Power Lawn Mower began production in 1914 and was eventually sold to the Indian Motorcycle Company in 1945.

1938 was a year of firsts and lasts for Oldsmobile. This was the last year General Motors would offer a rumble seat in any of their cars. It was also the first year that GM shared a common body among divisions (Cadillac, LaSalle, Buick and Oldsmobile). This was the first year for Oldsmobile to offer the safety transmission, which was an automatic transmission with a clutch. This car is one of 330 'L' series convertible coupes built in 1938; 16 are still knwon to exist. Approximately 21 were built with safety transmissions and this may be the only convertible coupe in existence with the safety transmission.

The top-of-the-line Oldsmobile for 1938 was the L-38 Convertible Coupe. Powered by an inline eight-cylinder engine, the exhibited L-38 is also equipped with the 'Automatic Safety Transmission' option. This unit provided semi-automatic shifting...the driver had to engage the clutch to get the vehicle moving, but could then shift up and down through the gears without declutching. In 1940, Oldsmobile introduced the General Motors Hydra-Matic fully automatic transmission.

The L-38 Convertible shared its basic Fisher body shell with the 1938 Buick, LaSalle and Cadillac 60 Series convertible coupes. Like them, the Oldsmobile came with a rumble seat - these were the last GM cars to offer such a configuration. The Olds exterior was distinguished by its advanced frontal design, with headlamps moved out onto the fenders. Inside, the instrument cluster was an unusual unit that suggested designs to come. Cars equipped with the Automatic Safety Transmission had a column shift in lieu of the conventional floor shift provided with the regular manual transmission.

The L-38 Oldsmobile Convertible was - and is - a rare car. Only 407 were built, including 77 for export. It is estimated that about 20 were equipped with the semi-automatic. This freshly restored example had been street-rodded before undergoing an exacting professional restoration to factory specs. It is finished in its original combination of Starlight Blue Metallic with grey top and red leather.
As the 1930s continued, the effects of the Great Depression dwindled and the economy continued to pick up steam. Oldsmobile restyled many of their vehicles for the 1937 model year and did mild refreshing for 1938. A new 'Automatic Safety Transmission' was introduced in 1937 which was a clutchless manual gearbox. The following year, it was optional on both the six- and eight-cylinder Oldsmobiles.

Oldsmobile offered two engine sizes for 1938, a six- and eight-cylinder unit. The six-cylinder had an L-head design with cast iron block and a displacement size of 230 cubic-inches. Power was rather impressive at just under 100 bhp. The eight cylinder displaced 275 cubic-inches and produced 110 horsepower. Both had a three-speed sliding gear transmission with synchromesh as standard, with the 'Safety Automatic' unit costing an additional $100.

There were two series, the Series F and the Series L. The Series F vehicles rode on a wheelbase that measured 117-inches. The Series L were fitted to 124-inch frames. Both the Series F and Series L could be purchased in a convertible, touring sedan, club coupe, two-door sedan, business coupe, two-door touring sedan, and four-door sedan. The most popular bodystyle was the Touring Sedan for both the F and L models. The Series F Touring Sedan saw production reach 36,484 while the similarly designed Series L saw about half that figure, at 17,987.

Among the more rare and sought after in modern times is the L-38 convertible. There were 475 examples produced, each having a base price of $1,160. A mere 68 were ordered with the factory sidemount enclosed tire - an important feature as this would be the final year Oldsmobile would offer a convertible with rumble seat and the sidemounted spare.
By Daniel Vaughan | Aug 2008
This 1938 Oldsmobile Series L Convertible Coupe was one of the first equipped with the new four-speed semi-automatic transmission called the 'Automatic Safety Transmission.' This accessory was actually built by Buick and they would begin using it on their own cars in 1938. The transmission featured a conventional clutch pedal, which the driver pressed before selecting either 'low' or 'high' range. In 'low', the car shifted between first and second gears. In 'high', the car shifted between first, third and fourth gears.

There were only 475 of these Series L convertible coupes built starting at $1,160. A Minnesota Oldsmobile dealer owned this car for $50 years. It has only 35,000 miles and is unrestored except for one repaint.
For more information and related vehicles, click
here
SUBARU ANNOUNCES PRICING ON 2015 BRZ® AND SPECIAL EDITION BRZ SERIES.BLUE
◾BRZ Series.Blue launches as special edition with 1,000 units for US market ◾Improved suspension refinement added to full BRZ lineup Cherry Hill, N.J. - Subaru of America, Inc. today announced pricing for the 2015 BRZ. Starting at $25,695, the BRZ lineup focuses on the fundamentals of great sports car design: low vehicle weight, an ultra-low center of gravity and precision steering. Powered by a 200-horsepower 2.0-liter BOXER engine, the Subaru BRZ marked a return to the fundamentals...[Read more...]
EXCLUSIVE VOLVO OCEAN RACE EDITION AND V70 & XC70 EDITION RELEASED IN GENEVA
Exactly forty years after the completion of the first race, Volvo Car Group (Volvo Cars) is celebrating the upcoming 2014-2015 Volvo Ocean Race by presenting another special edition of sailing-inspired cars. The fifth generation Volvo Ocean Race Edition, which includes the Volvo V40, V40 Cross Country, V60 and XC60, will be launched at the 2014 Geneva Motor Show. At the same time, Volvo Cars will introduce the V70 and XC70 Editions for customers with a taste for a more dynamic look and handli...[Read more...]
Chrysler Group Llc Dominates The 21St Annual Texas Truck Rodeo Winning 15 Of 24 Awards
◾2014 'Truck of Texas' awarded to Ram 1500 for second consecutive year ◾Jeep Grand Cherokee wins 'SUV of Texas' for the fourth consecutive year ◾Dodge Durango awarded 'Full-size SUV of Texas' for the second time in three years ◾Ram Trucks and Jeep Brand SUVs sweep the competition, winning highest honors in every category entered ◾All-new 2014 Jeep Cherokee wins Compact SUV of Texas, earning award in first head-to-head vehicle competition October 14, 2013 , San Antonio, Texas - Once...[Read more...]
FROM EAST TO WEST, THE ITALIANS CONTINUE TO ARRIVE; ALL-NEW 2014 FIAT 500L ARRIVES AT THE PORT OF SAN DIEGO
July 19, 2013 , Auburn Hills, Mich. - The FIAT brand is expanding the ports of entry for the introduction of the all-new 2014 Fiat 500L. The first Fiat 500L models arrived to America one month ago via the port of Baltimore, and now the Italian brand is adding the National City Port of San Diego, California, as another entry point into the American market. 'From east to west and from north to south, we want to make sure that every customer who wants the all-new Fiat 500L can get one as ...[Read more...]
Scion Announces Pricing for Limited Production Scion 10 Series, New 2014 tC and iQ
Scion today announced manufacturer's suggested retail prices (MSRP) for its new limited production Scion 10 Series, the 2014 tC and the 2014 iQ. The Scion 10 Series includes special enhancements to the new tC and iQ as well as to the 2013 models of the xD, xB and FR-S in celebration of the brand's 10th anniversary. 2014 Scion tC The 2014 tC debuted at the New York International Auto Show with more assertive styling, an upgraded interior and an enhanced driving experience. Distincti...[Read more...]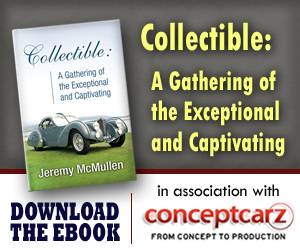 Similarly Priced Vehicles from 1938
Studebaker President ($1,100-$1,204)
Buick Series 40 Special ($945-$1,406)
Oldsmobile Series F ($875-$1,045)
Studebaker State Commander ($965-$1,365)
Chrysler C-19 ($1,125-$1,125)
Hupmobile Skylark ($1,045-$1,340)

Average Auction Sale: $137,500
© 1998-2014. All rights reserved. The material may not be published, broadcast, rewritten, or redistributed.