1942 Buick Series 50 news, pictures, specifications, and information

Tweet
| | | |
| --- | --- | --- |
| | | Convertible Coupe |
Buick introduced sweeping 'Airfoil' fenders on its 1942 Super and Roadmaster series two-door sedans and convertibles - making them the first major American cars, and the only GM cars, to have this innovative feature. Other styling features on the 1942 models originated with the Buick Y-Job experimental convertible created by the eminent GM designer, Harley Earl, in 1938.

The attractive 1942 Buick design would essentially be carried through the 1948 model year. However, post-WWII Super models would have a single bright trim strip along their body sides, instead of the dual strips seen on this 1942.

The 1942 Buick Super Convertible was built on a 124-inch wheelbase and had a production shipping weight of 3,998 pounds. The original price was $1,450. A total of 2,489 of the Model 56C Super Convertibles were produced before production was halted in February 1942, when General Motors converted completely to war production.

This particular car was produced in Flint, Michigan on or about November 4, 1941. Critical metals needed for defense dictated that cast-iron pistons replace the aluminum pistons used in prior-year versions of its 118-horsepower Buick Fireball straight-eight engine.
In 1903, the Buick Motor Car Company was formed by David Dunbar Buick. In 1907, over 725 vehicles were produced and one year later, it grew drastically to over 8,800 with the help of the ever-popular Model 10. By 1940, Buick had moved into the higher end and larger car range. Even though over 16,500,000 cars use the Buick name, Mr. Buick was only involved with 120 of them. In 1929, he passed away due to cancer in the motor city, Detroit.

The 1940's Buick design, took a different turn than most of its competition. With fuller grilles having horizontal bars, the headlamps were set-back into the fenders, hoods that opened much differently, and more space throughout provided a different choice for consumers. Most Buicks of this time came with dual carburetors as standard options. The convertibles came with an automatic power top, which was a great luxury option of that era.

The early Super Series 50 were powered by an eight-cylinder engine and was distinguished by its three chrome ventiports on the sides of the hood. The term 'Super' was placed on the front fenders. The Supers were the same size as the Specials with their 121.5 inch wheelbase, unless the Super Series 50 LWB version was ordered. This extended the wheelbase by four inches and provided extra interior room for its passengers.

The three-speed manual gearbox was standard but a Dynaflow transmission could be ordered for an additional cost.

In 1955 the Buick Super Series 50 sat atop a 127-inch wheelbase and was powered by an eight-cylinder engine which produced just under 240 horsepower. There were three body-styles offered, a four-door sedan with seating for six cost $2,875. The two-door Riviera Hardtop had seating for six and cost $2,880. This was the most popular of the Super Series 50 with 85,656 examples being produced. The two-door convertible with seating for six cost the most, setting the buyer back $3,225. These were the fewest produced of the series with only 3,527 examples being created.

For 1956, the Series 50 continued to be a large vehicle in the Buick lineup, with features such as four ventiports per fender and a very vertical windshield as part of its distinguishable features. For 1956, a Riviera sedan was added to the lineup, which quickly became the most popular in the series, fetching $3345 for a base model. All bodystyles rested on the 122-inch wheelbase and power came from a overhead-valve V8 engine that displaced 322 cubic-inches. Horsepower was impressive at 255, and torque measured just over 340. Dynaflow drive was standard on the Series 50.

The lowest production series 50 for 1956, was the 56C, which demanded a price of $3,540. There was seating for six on this two-door convertible bodystyle, and a total of 2489 examples were produced during this year. This was Buick's most 'exclusive' bodystyle in regards to it being the lowest produced bodystyle for all Buicks. The next bodystyle to have the fewest production figures, was the Buick Series 70 76C, which saw production reach 4,354.

For 1957 the Super and Roadmaster were Buicks were given unique roof treatments and a new C-body. The word 'SUPER' was spelled in block letters on the trunk. Three bodystyles were available, the '53' which was a four-door Riviera hardtop with seating for 6. This was the most popular of the Series 50, with a total of 41,665 examples being produced during this year. The '56R' 2-door hardtop Riviera also had seating for six and was the second most popular bodystyle in the Series 50 line-up. The two-door Convertible '56C' continued to lag in production figures, with a mere 2,056 examples being produced. It cost $3,980 which was a couple hundred dollars more than the other Series 50 bodystyles. Having only two-doors, it was less versatile and required a buyer who was interested in its convertible top and sporty persona. These were truly marvelous cars and have become highly sought after in modern times.

There were two bodystyles offered on the Series in 1958, the two- and four-door Riviera hardtop. The two-door version was the less example model of the two, costing $3640. Included with this price were standard power steering, power brakes, safety-cushion instrument panel, Dynaflow gearbox, carpeted floors, and courtesy lights.

The name 'Series 50' would continue until 1959, when new names and modified styling was introduced.

For a period in time, the Series 50 was Buick's most popular model. They were elegant and stylish, and in a price range that many, in this price group, could afford. They were not an entry level vehicle, but one higher up the ladder . The early 1950s saw the unique ventiport design and 'buck-tooth' front-end grille. The round styling of the bodies were modern and flowed nicely with the one-piece windshield. Power was adequate and dependable, capable of carrying this prestigious cars to adequate speeds.

The name 'Series 50' had been with Buick since 1930, when it served as a replacement for the Series 121. At the time, they rested on a 124-inch wheelbase and powered by a six-cylinder engine that displaced 331 cubic-inches and produced just under 100 horsepower. The Great Depression was a difficult time for many marques, but Buick was able to weather the storm and came through with their Series 50 still intact.
By Daniel Vaughan | Jul 2007
Buick's best-selling vehicle of 1930, the Series 40 was the precursor to the Series 50. With a wheelbase that stretched to 124 inches, the Series 121 was renamed the Series 50. The large six engine was enlarged to 331.5 cubic inches and achieved 98 hp and 2,800 rpm. The Series 50 ranged in price from $1,510 to $1,540. The styling of the Series 50 was new and featured conservatively sporty lines and much less chrome than the public had grown used to.

The Buick Series 50 Convertible came with hydraulically operated top, front seat adjustments and door windows. The wheelbase was a total of 124 inches.

Buick faced a lot of pressure during the Great Depression, while Buicks were a substantial part of the medium-price range, almost the enter class was being squeezed out. Unfounded rumors were milling about that the Buick nameplate was about to cease, these obviously proved untrue. The Series 40 was introduced in May, 1934 by the new Buick GM, Harlow Curtice. The Series 40 was basically a Chevy body mounted on a Buick straight-8 chassis and featured 2 overhead-valve straight-8 engines. The Buick series were given names in 1935. The Series 40 became the Special and the Series 50 became the Super. The following year the three larger engines were all replaced by a 320 c.i.d. unit that would be the mainstay of Buick engines until 1953.

The Super series were next renamed Roadmaster. Following the war, the Century line was deleted and Buick filled the demand with the larger Supers and Roadmasters.
By Jessica Donaldson
Corvette Shines in the Big Apple
All-new Corvette Stingray comes to New York City 60 years to the day after Motorama debut 2013-01-16 Sixty years ago tomorrow, spectators lined New York City's posh Park Avenue, waiting to get a glimpse of the ground-breaking Chevrolet Corvette on display at the General Motors' Motorama show. On Thursday, the Corvette will be back in The Big Apple, marking the historic milestone with the all-new 2014 Chevrolet Corvette Stingray. The all-new Corvette Stingray debuted earlier...[Read more...]
CADILLAC CONCEPT CARS STAR at AMELIA CONCOURS d'ELEGANCE
There are limited production cars, there are rare cars and there are concept cars that never find their way to the showroom. A fleet of Cadillac's rare and mythic Motorama and Detroit Auto Show Concept Cars will take to the field at the 18th Annual Amelia Island Concours d'Elegance on Sunday March 10, 2013. Created under the supervision of GM's legendary styling chief, Harley Earl, the Cadillac Concept cars of the 'Fifties were created as the stars of GM's Motorama shows. All are blood anc...[Read more...]
Joe Bortz to Host Historic Dream Car Discussion Panel
Dream car collector and historian Joe Bortz has prepared a special treat for participants at the 40th Annual Pontiac-Oakland Club International Convention in St. Charles Illinois, this coming July 17-21. In addition to bringing his four historic Pontiac Dream Cars, he has also assembled a panel, conisisting of two noted designers, a retired engineer and two veteran authors to examine the topic of Pontiac's early concept vehicles. The panel discussion will be held on Friday, July 20th at 1...[Read more...]
GM Design: 85 Years of Making Art That Moves You
As GM Design celebrates its 85th birthday this month, the 1,900 men and women in GM's 10 global design centers are focused on the future, united in their vision to entice consumers to fall in love and see vehicles as they do: art that moves you. 'Our global team is united around its passion for designing vehicles that make an emotional connection with customers,' said Ed Welburn, GM vice president, Global Design. 'What was true 85 years ago is still true today: A designer's role is to create...[Read more...]
Automotive Hall of Fame Inductees Named
Awards to be Presented in Conjunction with the Concours d'Elegance of America The Automotive Hall of Fame will present its annual induction and awards ceremony on Thursday, July 26, 2012 as one of the week-long Concours d'Elegance of America events. It will be held at The Inn at St. John's in Plymouth, Michigan. Both the Concours d'Elegance of America and the Automotive Hall of Fame celebrate the heritage and history of Detroit. The show highlights the evolution of the automobile's...[Read more...]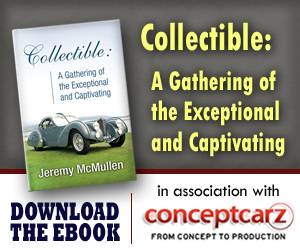 Similarly Priced Vehicles from 1942
Pontiac Streamliner ($1,000-$1,315)
Chrysler Windsor Town and Country ($1,395-$1,395)
Buick Series 40B ($1,020-$1,450)
Mercury Series 29A ($995-$1,260)
Packard Clipper Eight ($1,300-$1,575)

Average Auction Sale: $50,600
Buick
Monthly Sales Figures
Volume
December 2014
20,357
November 2014
19,143
October 2014
18,699
September 2014
17,466
August 2014
22,143
July 2014
17,683
June 2014
21,403
May 2014
19,957
April 2014
19,214
March 2014
20,428
February 2014
19,192
January 2014
13,278
(More Details)
© 1998-2014. All rights reserved. The material may not be published, broadcast, rewritten, or redistributed.