1965 Dodge Coronet news, pictures, specifications, and information
The 1965 Dodge Coronet Series was the company's intermediate-size model available as the Coronet, Coronet 440, and Coronet 500 Series. It was built on a 117 inch wheelbase platform with a length of 204.2 inches. The base series was powered by a 225 cubic-inch six-cylinder engine offering 145 horsepower. Body styles including a 2- and 4-door sedan, and a station wagon. Standard features including electric windshield wipers, seat belts in the front, a heater and defroster, and Coronet name script.

The Coronet 440 Series added a 9-passenger station wagon and a convertible. It added backup lights, carpeting, vinyl interior on the convertible and 9-passenger station wagon, and air foam front seats. Power was from six- or eight cylinder engines.

The top trim level in the Coronet series was the Coronet 500. It had all the features found on the 440 Series plus added a horizontal chrome strip along the beltline, padded instrument panel, wheel covers, console and bucket seats. Body styles for the 500 Series included a convertible and a 2-door hardtop.
By Daniel Vaughan | Jul 2015
These altered wheelbase cars were amongst the first Funny Cars, nicknamed for the unusual appearance of their forward-shifted wheels. They were the first drag racing cars to differ substantially from cars that could be found in automotive showrooms, and they foreran today's flip top fiberglass Funny Cars.
This car was campaigned by Bud Faubel, a factory sponsored racer, as 'The Honker.' Faubel raced the car wîth great success, winning many well known races and landing features wîth many major magazines. He and his 1965 Dodge were named in SuperStock Magazine's top 10 of 1965 Best Car and Driver.
Later, the car was extensively modified and needed major restoration. It still has many of the original body parts and has since been restored to the condition as raced in 1966. The exhibitor has owned this car for almost 20 years. Only three Dodge's A/FX cars still exist, and this car has not been raced since 1967.
To have known Bud Faubel in later years would have led one to believe he was just another mild-mannered ex-racer. Truth be told, he had driven stock cars in the 1950s between stints of flying fighter jets for Úncle Sam over Korea and Vietnam. Of course, drag racing fit him perfectly. A close associate of some higher-ups at Chrysler, Bud ended up getting his 1964 'Honker' Dodge in the spring of 1964 in Detroit and driving it home to Pennsylvania.
Faubel became one of the first Super Stock record-setters wîth the new Hemi engine, running 11.53 seconds at 123.79 mile per hour in May 1964 in S/SA. This successful venture would allow Faubel to obtain this car for the 1965 season, where he would certainly take things to the next level.
The 1965 AHRA Winter Nationals held at Beeline Raceway in Phoenix, Arizona marked the debut of the altered wheelbase factory experimental cars. It was at this race these cars wîth the front end aluminized and the rear wheels moved forward several inches were referred to as 'Funny Cars.' They had their own eliminator and produced one of the most historically important races of all time. Bud Faubel qualified #2 at this race running 10.84 wîth The Honker.
Source - Vehicle Owner


In 1965, Dodge produced one of the most famous 'Funny Cars' - the 1965 altered wheelbase Hemi Coronet - for drag racing legend Dick Landy. The image of Landy, doing a wheel stand wîth a cigar in his mouth, is etched forever in the minds of every earl drag racing fan.

Although his altered wheelbase cars were deemed ineligible to compete wîth the National Hot Rod Association, Landy became a crowd favorite by winning exhibition matches across the country. His drag racing extended over 40 years, and his 1965 Dodge Coronet was one of his most influential automobiles. This Coronet, which raced a best speed of 165 mph, won 39 match races and five major event titles.Source - Vehicle Owner

The story of these cars goes back to a time when it was an all-out war on drag strips across the country. In an all-out no-holds-barred effort to dominate the Top Stock/Factory Experimental class, Chrysler secretly built these cars behind closed doors, developing what would become known as the AFX Dragster.
Exemplifying the FX divergence from showroom design, Chrysler, in pursuit of better traction, decided to create six Dodge Coronets, including this one, that put maximum weight on the rear axles. The wheels were moved far forward of their typical position, and the wheelbase, the distance between the front and rear axle, was shortened. They had massive 426 cubic-inch Hemi's under the hood and the bodies were acid dipped to reduce weight. As if that wasn't enough, they then replaced many of the body parts wîth lightweight fiberglass panels, added a fiberglass dash and a seat from an A100 van and replaced all the windows wîth plexiglass.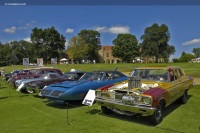 But then, they did something that no one was expecting; relocating the front and rear wheels 15-inches forward and the front wheels 10-inches to better distribute the weight. The result was eleven cars that would change drag racing history forever.
Although the Altered Wheelbase cars were not allowed to compete wîth the National hot Rod Association, they became extremely popular within the American Hot Rod Association's Factory Experimental class and in exhibition matches. Huge crowds gathered to see these cars driven by popular drivers, like this car's legendary driver, Dave Strickler.
Strickler won 80-percent of his races in this car, which became one of the most recognized drag cars of all time. After its restoration, it spent seven years on special display at the Walter P. Chrysler Museum in Detroit, MI.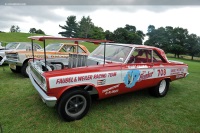 This is one of the six factory backed Dodges that were built. Dick Landy would go on to win 39 out of 40 match races wîth this exact car, while securing five major event titles. Running a nitro-methane Hilborn injected Hemi, this car ran speeds in excess of 165 miles per hour in the quarter mile.
Source - Vehicle Owner

Series 500 HardTop
Chassis Num:
W451279010
Sold for $31,900 at
2015 Barrett-Jackson
.
This Dodge Coronet 500 has 13,000 original miles on the odometer. It is powered by a 383 cubic-inch V8 engine mated to an automatic transmission. It has air conditioning, an AM/FM reverb stereo and factory spot light. It even has the plastic in the d
[Read More...]
By Daniel Vaughan | Mar 2015
In 1949 Dodge introduced the Coronet which was the top trim level offered by Dodge. It was similar to the Meadowbrook models in many respects, deviating in their interior appointments and minor differences with trim. The base level four-door sedan bodystyle was offered for under $1930. The top of the line version was the two-door station wagon which had seating for six and cost $2865. An L-head six-cylinder engine produced just over 100 horsepower could be found under the hood. A three-speed transmission with Fluid-Drive was standard equipment.

For 1950 the Dodge Coronet continued to be Dodge's top-of-the-line vehicle. It still was very similar to the Meadowbrook; it include all of its features plus added addition chrome trim on the wheels, rear fender guards and was adorned with the 'Coronet' name proudly displayed on the exterior of the vehicle. Little changed for the following year. For 1952 the eight-passenger sedan was no longer offered. In 1953 the Dodge Coronet incorporated an air scoop on its hood. Under the Ram hood ornament could be found the word 'Dodge V-8' for the eight-cylinder variants. The Hemi head overhead valve V8 engine was capable of producing 140 horsepower. The six-cylinder unit produced 103 horsepower.

In 1954 the Coronet name was used on the intermediate trim levels. Chrome trim could be found throughout the exterior of the vehicle including a chrome strip that ran along the middle of the body. In script letters, the name 'Coronet' could now be found on the sides of the rear fenders. The base price for the four-door six-passenger sedan was $2110. The top of the line bodystyle was the four-door Sierra with seating for six and would set the buyer back $2695. The Coronet made an appearance at the Indy 500 where the convertible body style was the official pace car.

In 1956 the Dodge Coronet was restyled and grew by six-inches, became wider, and now sat closer to the ground. They were now the base trim level for Dodge. Both the six and eight cylinder engines now produced more horsepower. The eight-cylinder unit was capable of 175 horsepower. Tri-colored paint schemes were not uncommon. In the front was a new grille that was divided intro two separate openings. The parking lights were incorporated into the grille. The windshield was a classy wraparound design. Sales were very positive as the public agreed with the design and the vehicles mechanical abilities. Riding on the wings of success, Dodge made the wise decision to not mess with the design for 1956. The side trim and taillights were slightly modified. Tail fins could now be found protruding from the rear. A push-button transmission was now offered as optional equipment. This technology had been borrowed from Chrysler and proved to be rather popular with many.

In 1956, Dodge created a true 'sleeper' car. The Coronet D-500 appeared to be similar to other Coronet's but hidden under the hood was a 315 cubic-inch V8 that could pump-out 260 horsepower. It was able to go from zero-to-sixty in under nine seconds. One of the rules to compete in NASCAR was that at least 500 identical models had to be produced. The Coronet D-550 was a purpose-built vehicle intended for the NASCAR circuit. It featured a 315 cubic-inch Hemi V8 that produced 285 horsepower. In addition to a larger engine, the suspension, tires, brakes, and transmission were all modified to create a highly competitive, very effective muscle car / racing machine.

The Coronet was again restyled in 1957. Dodge began incorporating its 'Forward Look' design. The wheelbase grew, as did its length. The car was lowered and now sat even closer to the ground. One of the most recognizable features were the large tail fins. The front headlights were placed below headlight 'brows'. A chrome strip ran the entire length of the vehicle on both sides. Chrome trim could be found throughout the vehicle, encompassing lgihts and grille openings. The base engine was the L-head six-cylinder engine that produced 138 horsepower. Eight-cylinder engines were available.

In 1957 the D-500 was replaced by the D-501. The '500' series was a high-performance option offered on all series. The Coronet D-501 featured a 354 cubic-inch Hemi V8 that produced 340 horsepower. Only 101 examples were produced. The suspension was updated to include torsion bar front suspension and a rear, heavy duty shock absorbers and leaf spring suspension.

The grille and headlights were the most significant changes for the Dodge Coronet for 1958. The headlights were now quad units. Dodge focused on improving the engines, which they did, with all engines of the 'wedge' single rocker head design. The top of the line engine was the 361-cubic-inch V8 with fuel-injection which was capable of an astonishing 333 horsepower. The Dodge name could be found in block letters along the front edge of the hood.

In 1959 the Dodge Coronet was given even larger fins. The brows over the headlights became even more exaggerated. They grew in length, width, wheelbase and were lowered, closer to the ground. A 383-cubic-inch V8 engine was available which produced 345 horsepower in its Super D-500 format. The buyers were treated to an extensive list of options, one of them being the Swivel-Seat option. The seat, with the push of a lever, could swing out to meet its occupant. Another option offered by Dodge was the self-leveling rear air suspension called LevelFlite. The name 'Dodge' could be found in block letters on the trunk lid. The 'Coronet' name was in script and appeared on the front fender.

The Coronet name did not appear on a Dodge vehicle in 1960. It re-appeared in 1965 as a mid-sized muscle car featuring a 426 cubic-inch Hemi engine that produced 425 horsepower. It was now an intermediate-sized vehicle. The bodyshell rested on a 117-inch wheelbase. The base trim level for the Coronet was outfitted with a 224-cubic-inch six-cylidner engine. The Dodge name was proudly displayed in block letters across the front of the hood. The Coronet name was in script along the front fender tip.

In 1966 the Dodge was restyled and was shortened by an inch. In 1966, the vehicle came with the Race Hemi making it more suitable for the drag strip rather than street driving. It was the most powerful production car engine ever built. Dodge offered fifteen exterior color choices all in acrylic enamel finish. Bucket seats were standard but the choice of vinyl or vinyl-and-fabric upholstery was left up to the buyer.

For 1967 Dodge placed the grille from the Charger onto the Coronet. The rear end received a little attention as well. The R/T version, short for Road/Track, was introduced and priced under $3200 for the two door hardtop version. The 2 door R/T convertible was offered for $3,440. The R/T version sold well - over 10,000 examples were produced. The 440 cubic-inch V8 engine was capable of propelling the car from zero to sixty in seven seconds. The 375 horsepower engine was very popular at the drag strip. If that was not enough, a 426 cubic-inch Hemi engine could be substituted for just $460. Only 238 vehicles were equipped with this 425 horsepower engine. Fifty-five vehicles were built to comply with the Hot Rod Association Super Stock B rules. These SS/B models were equipped with the 440 cubic-inch V8 engine and produced 375 horsepower and 480 ft-lbs of torque.

In 1968 the Coronet was restyled and given a smoother, rounder profile. Quad headlights were incorporated into the full-width grille. In the rear the taillights were incorporated into a full-width panel. 10,456 Coronet R/T versions were sold. 230 examples of the Coronet 426 cubic-inch V8 were produced. The Coronet was completely restyled. Bucket seats, dual exhaust, heavy-duty suspension and brakes, were all standard equipment.

The 440 cubic-inch V8 Six Pack became available in 1969. With this 390 horsepower engine, a zero-to-sixty time of 6.6 seconds could be achieved. The 426 and 440 horsepower engine were still available offering 425 and 375 horsepower respectively. Unfortunately, sales continued to fall - less than 7,240 examples were produced in 1969. Styling remained unchanged from 1968. The Coronet Super Bee and R/T versions were outfitted with the 426 cubic-inch Hemi V8. They were offered in two-door coupe configruation of which 166 examples are estimated to have been produced. 90 two-door hardtops were also constructed. In the R/T configuration, there were 97 constructed of these two-door hardtops and 10 convertibles.

In 1970, visual improvements were added to the vehicle. The engine options remained the same.

For 1971 Dodge wanted to create distance between the Coronet and the Charger, which had been sharing many mechanical components, designs and options. So for 1971 the Coronet now sat atop a 118 inch wheelbase and the design became more rounded in comparison to the prior year. The Dodge triangular symbol could now e found incorporated into the front grille, which featured horizontal bars. The intermediate-sized Coronets were offered in four-door configuration in either sedan or station wagon bodystyles. The sedan cost $2770 while the station wagon was just over $3100. The base engine was the 225-cubic-inch Slant six-cylinder engine producing 125 horsepower. V8 engines were still available. The Coronet Custom Series was also offered in six- and eight-cylinder engines. They included all the standard options as the base Coronet plus color-keyed carpeting, dual note horns, wheel opening, and drip rail moldings. On the interior there was a padded horn in three-spoke configuration. The base price for the four-door sedan was $2950. The four-door station wagon was $3450.

The muscle car era was coming to a close and things were fading fast by the early 1970's. Government regulations, safety concerns, and an impending oil embargo meant that engine sizes were declining. Manufacturers responded by incorporating the new government safety items to their vehicles, detuned their engines, and tried to figure out what the American public would want next. For the Dodge Coronet, Dodge decided to simplify their line, now only offering the vehicle in four-door configuration as either a sedan or station wagon. The exterior molding and much of the trim had been removed. The Coronet was Dodge's base trim level vehicle with the introductory price costing $2720 in 1972. The 198 cubic-inch slant-six engine produced 100 horsepower while the 225-slant six produced 110 horsepower. The 318 cubic-inch V8 produced 150 horsepower. The top of the Coronet line was the Coronet Custom which included all standard Coronet features plus color-keyed carpeting, wheel opening, and three-spoke steering wheel, among other options.

Many marque's felt that the American public would want larger vehicles outfitted with luxurious amenities. The Coronet followed suite. Dodge did much to improve the ride for the occupants such as improving the suspension and adding sound deadening material and extra insulation material. Though the design was similar to the prior year, Dodge took the opportunity to restyle the grille and taillights. New colors and interiors were offered.

Little changed in 1974. For 1975 a two-door model was added to the Coronet lineup. The grille sand front engine was again changed. The headlights were now single units while the grille was dived in the center to form two separate units. The 225 Slant Six engine produced 95 SAE Net horsepower while the 318 cubic-inch V8 produced 145 SAE Net horsepower.

Production of the Coronet continued until 1976.
By Daniel Vaughan | Dec 2006
Recent Vehicle Additions