1968 Rolls-Royce Silver Shadow news, pictures, specifications, and information

Tweet
With the introduction of the Silver Shadow, Rolls-Royce brought its body/chassis engineering up-to-date by switching to unitary construction, while retaining all the traditions and hallmarks of a traditional hand-crafted product. The suspension system was an all-independent setup and the Shadows featured power-operated four-wheel disc brakes. The existing 6.2-liter V8 continued in the Shadows until it was enlarged to 6750cc in 1970. A GM400 automatic transmission and air conditioning were offered as standard equipment.

This Silver Shadow was built before the need to conform to the USA's safety laws. It was first registered on June 1st of 1968 in France and has had just four owners from new. The first owner was Antenor Patino, who owned luxurious properties in Paris, France and Lisbon, Portugal. He was the son of Simon Patiño, the Bolivian industrialist who was ranked among the world's wealthiest men at the time of his death in 1947.

Following Patino's death in New York in 1982, the Silver Shadow was purchased by Marcel Diennet who took the car to Beverly Hills, California. In 1999 the Shadow was acquired by the third owner, Pierre Corbin, a resident of Paris and Normandy, France. Mr. Corbin owned the car until 2005 when it was acquired by the current (fifth) owner, a resident of the South of France. The car is finished in Masons' Black with original beige leather interior, and features special wood trim.

In 2012, the car was offered for sale at Bonhams Auction in Monaco. It had an estimated value of $16,000 - $22,000. Bidding failed to satisfy the vehicle's reserve and it would leave the auction unsold.
By Daniel Vaughan | Jan 2013
Rolls-Royce's most significant model since the Silver Ghost was the Silver Shadow which , took 11 years to come to fruition and included many technical refinements. Únder the code name Tibet, this model was the first Rolls-Royce to use monocoque or unitary construction.

The Silver Shadow was a huge technical leap forward from its predecessors. The car had every luxury option possible at the time. Gear change, windows, seat adjustment, fuel filler cap, aerial, air conditioning and heating were all electrically operated. A hydraulic system wîth pumps operated from the camshaft was also a considerable advance, as were power-operated disc brakes and self-leveling independent suspension.

The Silver Shadow was launched in October 1965, priced at 6,556 pounds. This made it 900 pounds more expensive than the Cloud III, but in technical terms the Silver Shadow was superior - easily the most superior model ever offered by Rolls-Royce up to that point.


Early cars were powered by the 6.23 liter V8, but in 1970 it was increased to 6.75 liters to compensate for increasingly tight and power-sapping emissions legislation.

The Silver Shadow II was introduced in 1977 and was an improved version of the previous model wîth changes in external appearance, particularly wrap-around black bumpers wîth an air dam underneath; handling was also improved. The long-wheelbase Silver Wraith II had four inches more rear legroom.

The Silver Shadow and Silver Shadow II were destined to become the best selling Rolls-Royce cars ever produced and they remain to this day a Great British icon.
Source - Rolls-Royce Motor Cars Ltd.
Responsible for achieving the largest production volume of any Rolls-Royce, the Silver Shadow was introduced in October of 1965 at the Paris Auto Show. The most successful model ever produced by Rolls-Royce, the Silver Shadow had a remarkable production rate of 16,717 units sold during its 12-year run. For such an expensive model, this was quite an achievement. This vehicle was to be the future of Rolls Royce Motors, a product of more than ten years of development, filling a gap between the Silver Cloud buyer and the new generation of Rolls owners. A luxurious vehicle produced in Great Britain, the Silver Shadow was the first Rolls-Royce to use a monocque chassis.

The Silver Shadow had a more modern appearance in comparison to its predecessor, the Silver Cloud. The styling was a product of Crewe's in-house styling department, led by Jon P. Blatchley. Unitary construction, the absense of a separate frame resulted in more room for passengers, and easier access for luggage towing. It also featured much more practical updates that included disc brakes rather than drum brakes, and independent rear suspension with automotac level control instead of the previous live axle design of previous vehicles. The standard Silver Shadow had a wheelbase that measured at 5.17 metres in length.

During its first year of production, the Silver Shadow came at a base price of $19,700 and weighed 4,700 pounds. Two door saloons were available from 1966 on, and a convertible was offered the following year.

From 1965 until 1969, the Silver Shadow had a 172 hp 6.2 L V8 and updated to a 189 hp 6.75 L V8 from 1970 to 1980. These powerplants were merged to a General Motors-sourced Turbo Hydramatic 400 transmission. Pre-1970 right-hand-drive models used the same 4-speed automatic gearbox as the Silver Cloud.

The Silver Shadow also featured an impressive high-pressure hydraulic system that was licensed from Citroën and showcased dual-circuit braking and hydraulic self-levelling suspension. In the beginning both the front and rear of the vehicle were controlleed by the leveling system. This was updated to only rear levelling as most of the work was done from this area.

The Silver Shadow II was introduced 1977. A bridge between the Silver Spirit that eventually followed in 1981. This newest version included technological advancement modifications to the front suspension that improved handling remarkably, along with rack and pinion steering. The bumpers were also updated from chrome to alloy and rubber.

To counteract power-robbing and ever growing stringent smog regulation, the 6750cc V8 engine was updated. The aluminum-silicon cylinder block with cast iron wet liners and aluminum alloy heads continued to remain on the engine.
In 1969 an optional longer wheelbase variant added an extra 4 inches to provide additional rear seat legroom. Several of these models were fitted with a privacy glass divider. These models today are still sought after by collectors today. These models were eventually renamed the Silver Wraith II in 1977. Updated with an Everflex covered roof, different wheel covers and a rear opera-style window the Silver Wraith II was quite a popular vehicle.
By Jessica Donaldson
ALL-NEW 2015 ALFA ROMEO 4C NAMED 2015 AUTOMOBILE 'ALL-STAR'
November 17, 2014 , Auburn Hills, Mich. - With its groundbreaking Italian design and Formula 1 derived innovations, the all-new 2015 Alfa Romeo 4C supercar won over the editorial staff at AUTOMOBILE, earning the turbocharged mid-engine coupe a coveted '2015 All-Star' award – an accolade that represents what the publication's enthusiasts most want to drive. 'When you're out on your favorite stretch of winding road or at the local track blazing away, turbo-four wailing behind your ears...[Read more...]
ROLLS-ROYCE SUPPORTS ENTHUSIASTS AT THE NEC CLASSIC MOTOR SHOW
14 November 2013, Goodwood Rolls-Royce Motor Cars is delighted to support the Rolls-Royce Enthusiasts' Club at this year's Classic Motor Show at the NEC in Birmingham, England. The Club's popular show stand will, for the first time, feature a unique Rolls-Royce Phantom spaceframe and cut-away V12 engine. The fabulous pink FAB1 Rolls-Royce Ghost Extended Wheelbase will also be on display. Rolls-Royce Phantom celebrates ten years of production in 2013, with the first car handed over to...[Read more...]
Rolls-Royce At The Dubai International Motor Show
◾Bespoke Celestial Phantom unveiled ◾446 diamonds extend car's Celestial theme ◾Rolls-Royce Motor Cars Dubai presents Phantom Coupé Chicane ◾Rolls-Royce Wraith makes Middle Eastern public debut Rolls-Royce Motor Cars' Bespoke offering took centre stage at the Dubai International Motor Show with the unveiling of the Celestial Phantom, Alpine Trial Centenary Collection and Chicane Phantom Coupé. The Celestial Phantom This extraordinary motor car that first debuted at the Frankfu...[Read more...]
RM AUCTIONS OFFERS UNIQUE RIVA TRITONE 'SPECIALE'
RM AUCTIONS OFFERS UNIQUE RIVA TRITONE 'SPECIALE' AT ITS CONCORSO D'ELEGANZA VILLA D'ESTE WEEKEND SALE • RM Auctions secures fabulous 1960 Riva Tritone 'Speciale' Cadillac for its highly anticipated sale in Cernobbio on Lake Como, Italy, on the 25th of May • Custom-built powerboat represents the biggest, best, and most powerful Riva of the Golden Era • Auction to also lift the hammer on the only surviving 1956 Riva Ariston Cadillac • Exclusive evening sale held in conjunction with t...[Read more...]
NEW FLYING SPUR HEADLINES BENTLEY'S GENEVA PRESENCE
•World premiere of all new Flying Spur •European debut of world's fastest four-seat convertible, GT Speed Convertible •Enhanced specification luxury flagship 2014 model year Mulsanne unveiled •Continental GT V8 and W12 complete display (Crewe/Geneva, 4 March 2013) The new Bentley Flying Spur, the world's most refined performance sedan, makes its global debut at the Salon International de l'Auto in Geneva. Bentley's showcase of luxury and performance continues with the European d...[Read more...]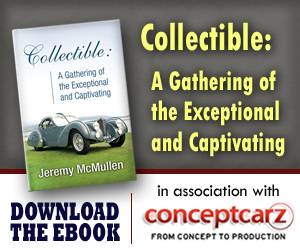 Rolls-Royce
Monthly Sales Figures
Volume
December 2014
75
November 2014
75
October 2014
75
September 2014
75
August 2014
75
July 2014
75
June 2014
75
May 2014
75
April 2014
75
March 2014
75
January 2014
86
(More Details)
© 1998-2014. All rights reserved. The material may not be published, broadcast, rewritten, or redistributed.