1914 Lozier Model 84 news, pictures, specifications, and information

Tweet
This 1914 Lozier Model 84 Meadowbrook Runabout was once in very deplorable condition. It was acquired as a bare chassis and a new body was created using factory photographs and plans. The complete restoration was performed during the 1990s for the Don Boulton Collection. It was given Houk wire wheels which were optional for this vehicle, and fainted in white with blue fenders. It has left-hand driving steering, no windshield, black leather upholstery, and a black soft top. The lights are gas powered which was period-correct for the Lozier Company.

The vehicle is powered by a 368.8 cubic-inch L-head engine that offers 56 horsepower. There is a four-speed manual gearbox, two-wheel mechanical brakes, and a chassis that measures 120-inches.

In 2008 this 1914 Lozier Type 84 was brought to RM Auctions' Vintage Motor Cars of Meadow Brook. It was estimated to sell for $150,000-$225,000. Bidding reached $120,000 but was not enough to satisfy the cars reserve. The lot was unsold sold.
By Daniel Vaughan | Sep 2008
Just like many other individuals of the period, Henry Abram Lozier was first a bicycle manufacturer before moving to the production of automobiles. After building up a very successful bicycle company, he sold it for $4 million. With this new fortune, Lozier began experimenting with gasoline engines. By 1900 he had established the Lozier Motor Company at Plattsburgh, New York and was producing marine engines and launches. Two years later, the company was moving towards automobile engine production and performing experiments with steam and gasoline power. By 1905, the Lozier car was first introduced and offering horsepower in the 30 to 35 BHP range. The four-cylinder vehicle sold for $4,500, a sizeable sum in the early 1900s. A six-cylinder car was introduced in 1908. By 1913, six-cylinder engine, offered in two different sizes, were the only units powering Lozier vehicles.

Joseph M. Gilbert became the company's next president and was responsible for the introduction of the Type 84 in 1914. It was a four-cylinder model designed by British-born engineer John Perrin. It was positioned to compete with Cadillac's four-cylinder cars. The base price of the Type 84 was under $2,000 and its wheelbase measured 120-inches which was the same as Cadillac's. The engine was a departure from the prior Lozier engines. Instead of using a T-head design, the new unit was an L-head, cast en block. It had a displacement size similar to Cadillac's but produced more horsepower, at 56 bhp. It could out-perform the Cadillac while selling for about the same price.

Though the Type 84 and the Cadillac were comparable vehicles in 1914, the story was different for 1915. Cadillac introduced a 314 cubic-inch V8 that offered 70 horsepower and sold for just under $2,000. Lozier could not compete, and was struggling to stay in business. In August of 1914, the company was forced into bankruptcy. New ownership followed and in February of 1915, the production of sixes and the Type 84 was resumes, albeit in small quantities, until 1918.

Racing was another hallmark of the Lozier Company. The first company's victory was scored in 1907 by Ralph Mulford. Several important stages such as the Vanderbilt Cup and the inaugural Indy 500 were also contended by the Lozier Company. Lozier would achieve more victories in road races in 1910 and 1911 than any other single automaker.
By Daniel Vaughan | Sep 2008
Jeep Brand Debuts Four Design Concept Vehicles at the Beijing Motor Show
•Four Chinese-inspired design concepts push boundaries of Jeep brand •Jeep Zi You Xia design concept showcases a sophisticated interpretation of the all-new Jeep Renegade •Jeep Wrangler Sundancer brings premium luxury to the iconic model •Jeep Cherokee Sageland and Urbane reflect distinctive Chinese inspired personalities April 19, 2014 , Beijing - The Jeep® brand introduced four new design concepts at the 2014 Beijing International Motor Show today. The quartet takes Jeep product...[Read more...]
BMW X4 SPORTS ACTIVITY COUPE AND M4 CONVERTIBLE MAKE WORLD DEBUT AT 2014 NEW YORK INTERNATIONAL AUTO SHOW
◾New BMW 4 Series Gran Coupe and BMW ALPINA B6 xDrive Gran Coupe to make North American debuts ◾Updated BMW X3 Sports Activity Vehicle also makes North American debut including first BMW Advanced Diesel X3 model for the US ◾BMW Concept X5 eDrive showcases new dimension of BMW EfficientDynamics technology Woodcliff Lake, NJ – April 3, 2014 6:00pm EDT/3:00pm PDT. . . The all-new BMW X4 Sports Activity Coupe as well as the BMW M4 Convertible make their world debuts at the 2014 New Yor...[Read more...]
VOLVO CARS FEATURES LUXURIOUS INTERIOR PACKAGE FOR MODEL YEAR 2015 VOLVO CARS FEATURES LUXURIOUS INTERIOR PACKAGE FOR MODEL YEAR 2015
ROCKLEIGH, N.J. (March 27, 2014) - A wider choice of personalization possibilities is in sharp focus when Volvo Car Group presents the new model year 2015 lineup. Buyers of the Volvo XC60 and S80 can order a stunning interior upgrade with the luxurious Inscription package. Inscription package 'The Inscription package offers consumers a complete luxury upgrade of the interior. It is perfectly in line with our aim to move Volvo towards a more premium brand position,' says Ander...[Read more...]
Audi announces 2014 Model Year vehicles and pricing
• Audi momentum continues with multiple new and freshened models for the 2014 Model Year • The introduction of the Audi RS 7, SQ5,expansion of the R8 model line, and the addition of four new TDI® clean diesel models highlights a robust choice of new product offerings Audi today announced its complete lineup for the 2014 Model Year, including full line pricing and numerous vehicle additions and enhancements. Continuing its growth strategy with a focus on balanced performance solutions – ...[Read more...]
Auctions America Readies for Highly Anticipated Spring Carlisle Collector Car Weekend
• Auctions America returns to Carlisle, Pennsylvania for its annual Spring Carlisle sale, April 25-26 • Two-day sale lifts the gavel on a diverse roster of approximately 300 quality collector cars • Notable highlights include a rare 1959 Chevrolet Corvette 'Big-Brake' Fuel-Injected Roadster, a 1970 Chevrolet Chevelle SS LS5 Convertible and a 1999 Bentley Azure Convertible • Sale held during Carlisle Events' highly anticipated Spring Carlisle Collector Car Swap Meet & Corral weekend, April 24...[Read more...]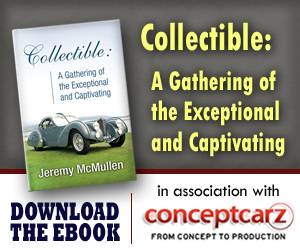 © 1998-2014. All rights reserved. The material may not be published, broadcast, rewritten, or redistributed.