1936 Pontiac Deluxe news, pictures, specifications, and information

Tweet
The 1936 Pontiacs premiered what would become their trademark styling element for years to come, the 'waterfall grille.' The 1936 grille was thinner with fewer 'silver streaks' while the horizontal hood louvers now came to a point at the front. This handsome cabriolet with a front fender mounted spare was bodied by Fisher.
The Pontiac Deluxe Six Series 8BA, just like the other series offered by Pontiac, came in seven different body-style options, ranging from coupes, cabriolets, to touring sedans. The base price was $665 which was for the two-door coupe. The top-of-the-line was the Touring Sedan which had seating for five, four-doors, and cost just under $800.

The Deluxe came in either six or eight cylinder versions. The Deluxe Series sat atop the longest wheelbase available by Pontiac. The extra room was reserved for the longer engine. The cars fitted with the eight-cylinder engines had the words 'Pontiac 8' on the grille. The sixes had an oblong loop style while the eights had a circular design.

The six-cylinder engine displaced 208 cubic-inches and produced 81 horsepower. The eight-cylinder L-head engine displaced 232 cubic-inches and produced 87 horsepower. There was a three-speed synchromesh gearbox and four-wheel hydraulic brakes.
By Daniel Vaughan | Sep 2008
The Pontiac brand was introduced in 1926 and immediately set new sales records. Though sales were solid, and the product was sound - offering abundant standard features at a spectacular value, Pontiac sales declined as the Great Depression continued. In response, a new eight-cylinder engine appeared for 1933. Another introduction was the streamlined Fisher bodies designed by Franklin Q. Hershey, formerly of the Murphy Body Company. Refinements to styling continued, with changes in 1935 and 1936. Mechanical updates were added as well, with hydraulic brakes in 1935, and the eight was improved with a slight displacement and power increase for 1936. These subtle evolutionary changes paid off, as sales continued to increase as the world exited from The Great Depression. For 1936, Pontiac sold 176,270 vehicles.

The eight-cylinder engine was discontinued after the 1936 model year, and the eight-cylinder Deluxe Cabriolet was dropped from the Pontiac model catalog in April of 1936. There were about 2000 such cars produced, of which the majority were built by GM Canada.

This Deluxe Eight Cabriolet was given a restoration, bringing it back to its original condition. According to records, there are just two examples of the Deluxe Eight Cabriolet left in existence.

The 232.3 cubic-inch L-head eight-cylinder engine with the Carter one-barrel carburetor is capable of producing nearly 90 horsepower. There is a three-speed synchromesh gearbox and four-wheel hydraulic drum brakes. The car has earned 'VMCCA Gold' status with 97.5 out of 100 possible points.

In 2010, the car was offered for sale at the Vintage Motor Cars of Hershey auction presented by RM Auctions. The car was estimated to sell for $50,000-$70,000. As bidding came to a close, the car had been sold for the sum of $75,900 including buyer's premium.
By Daniel Vaughan | Oct 2010
CHRYSLER GROUP IN 2015, UNDER THE HOOD: MORE POWER, GREATER EFFICIENCY AND EXCEPTIONAL VALUE
◾Introducing the HEMI® Hellcat – Chrysler Group's most powerful V-8 ever; 18th new engine added to Company lineup in less than five years ◾Celebrated TorqueFlite family grows by one with most robust eight-speed automatic in Chrysler Group history; 15th new transmission ◾TorqueFlite transmissions – projected to save current Chrysler Group customers more than 700 million gallons of gasoline – now available across entire Dodge full-size car lineup ◾Debut of new, high-efficiency, lightweight axle...[Read more...]
120 years of motor sport at Mercedes-Benz take centre stage at the Goodwood Festival of Speed 2014
'Addicted to Winning': at this year's Goodwood Festival of Speed, Mercedes-Benz looks back on some fascinating racing victories of the last 120 years •The unique motor sport heritage of the Mercedes-Benz brand is being celebrated with an exclusive installation by sculptor Gerry Judah •Mercedes-Benz and Gran Turismo®6 jointly celebrate '120 years of motor sport' Stuttgart. – The thrilling victories of the Mercedes-Benz Silver Arrows mark the peaks of the history of motor sport for...[Read more...]
Mercedes-Benz USA Announces Pricing for 2014 SLS AMG Black Series and C63 AMG Edition 507
MONTVALE, N.J. – Mercedes-Benz USA (MBUSA) today announced pricing for the 2014 SLS AMG Black Series coupe and the 2014 C63 AMG Edition 507 sedan and coupe. Both models are part of an exclusive lineup of high-performance AMG models available at all U.S. Mercedes-Benz dealers. The Manufacturer's Suggested Retail Pricing for the MY14 SLS AMG Black Series is $275,000 (plus $1,800 for destination and delivery). Pricing for the MY14 C63 AMG Edition 507 sedan will begin at $70,000 (plus $925 fo...[Read more...]
Goodwood Festival of Speed 2013: auction of Mercedes-Benz W 196 R one of highlights at world's 'largest motorised garden party'
• Mercedes-Benz Classic presents great moments in motor-racing history at Goodwood • Motorsport festival celebrating its 20th anniversary • Auction of only privately owned post-war Silver Arrow by Bonhams sure to cause a stir Stuttgart – This year's Goodwood Festival of Speed in West Sussex, England, includes the auction of a Mercedes-Benz Type W 196 R Grand Prix racing car on 12 July 2013. The auction will be one of the highlights of a weekend dedicated to motor sport. Mercedes-Benz...[Read more...]
BUICK TURNS 110: MOST SIGNIFICANT BUICK OF EACH DECADE
DETROIT – Remaining in business for 11 decades requires constant innovation, so choosing one model to represent a decade of significance can be a catalyst for debate. Among the hundreds of models designed and engineered for Buick, the 11 below stand out as the most significant for their respective decades since May 17, 1903. Let the debate begin. ◾1903-1912: The first Buick ever is quite significant, so Buick's first decade honor goes to the 1904 Model B. The first one of the line was so...[Read more...]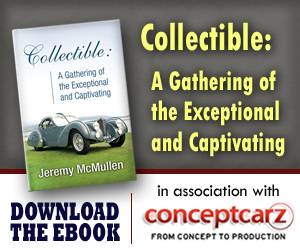 © 1998-2014. All rights reserved. The material may not be published, broadcast, rewritten, or redistributed.