1936 Pontiac Deluxe news, pictures, specifications, and information

Tweet
The 1936 Pontiacs premiered what would become their trademark styling element for years to come, the 'waterfall grille.' The 1936 grille was thinner with fewer 'silver streaks' while the horizontal hood louvers now came to a point at the front. This handsome cabriolet with a front fender mounted spare was bodied by Fisher.
The Pontiac Deluxe Six Series 8BA, just like the other series offered by Pontiac, came in seven different body-style options, ranging from coupes, cabriolets, to touring sedans. The base price was $665 which was for the two-door coupe. The top-of-the-line was the Touring Sedan which had seating for five, four-doors, and cost just under $800.

The Deluxe came in either six or eight cylinder versions. The Deluxe Series sat atop the longest wheelbase available by Pontiac. The extra room was reserved for the longer engine. The cars fitted with the eight-cylinder engines had the words 'Pontiac 8' on the grille. The sixes had an oblong loop style while the eights had a circular design.

The six-cylinder engine displaced 208 cubic-inches and produced 81 horsepower. The eight-cylinder L-head engine displaced 232 cubic-inches and produced 87 horsepower. There was a three-speed synchromesh gearbox and four-wheel hydraulic brakes.
By Daniel Vaughan | Sep 2008
The Pontiac brand was introduced in 1926 and immediately set new sales records. Though sales were solid, and the product was sound - offering abundant standard features at a spectacular value, Pontiac sales declined as the Great Depression continued. In response, a new eight-cylinder engine appeared for 1933. Another introduction was the streamlined Fisher bodies designed by Franklin Q. Hershey, formerly of the Murphy Body Company. Refinements to styling continued, with changes in 1935 and 1936. Mechanical updates were added as well, with hydraulic brakes in 1935, and the eight was improved with a slight displacement and power increase for 1936. These subtle evolutionary changes paid off, as sales continued to increase as the world exited from The Great Depression. For 1936, Pontiac sold 176,270 vehicles.

The eight-cylinder engine was discontinued after the 1936 model year, and the eight-cylinder Deluxe Cabriolet was dropped from the Pontiac model catalog in April of 1936. There were about 2000 such cars produced, of which the majority were built by GM Canada.

This Deluxe Eight Cabriolet was given a restoration, bringing it back to its original condition. According to records, there are just two examples of the Deluxe Eight Cabriolet left in existence.

The 232.3 cubic-inch L-head eight-cylinder engine with the Carter one-barrel carburetor is capable of producing nearly 90 horsepower. There is a three-speed synchromesh gearbox and four-wheel hydraulic drum brakes. The car has earned 'VMCCA Gold' status with 97.5 out of 100 possible points.

In 2010, the car was offered for sale at the Vintage Motor Cars of Hershey auction presented by RM Auctions. The car was estimated to sell for $50,000-$70,000. As bidding came to a close, the car had been sold for the sum of $75,900 including buyer's premium.
By Daniel Vaughan | Oct 2010
THE NEW AMG 4.0-LITER V8 BITURBO ENGINE
Powerful, innovative and efficient July 25, 2014 - Affalterbach -- Mercedes-AMG presents a new technological masterpiece: the AMG 4.0-liter V8 biturbo engine is a new development at the sporting heart of the new Mercedes-AMG GT car. This innovative eight-cylinder unit stands out for its sublime power delivery, the purposeful lightweight construction, as well as its high efficiency and environmental compatibility. With peak power of up to 375 kW (503hp) and maximum torque of up t...[Read more...]
DIVERSE PRIVATE COLLECTIONS ADDED TO AUCTIONS AMERICA'S FLAGSHIP AUBURN FALL SALE
• Numerous private collections to cross the block at Auctions America's Auburn Fall event, August 27 – 31 at Indiana's historic Auburn Auction Park • Latest highlights led by 80 vehicles from a prominent private collection along with 20 cars from The David Disiere Collection • Multi-day sale to feature approximately 1200 quality collector cars and a full day of parts and memorabilia • Frequently updated list of entries and complete event information available at auctionsamerica.com AUBU...[Read more...]
HIGHLIGHTS AND LOWLIGHTS FOR VOLKSWAGEN AT HOME RALLY
It was the home rally of all races where Volkswagen would fall short of their own high expectations for the first time since joining the FIA World Rally Championship (WRC) in January 2013. This was the first time Volkswagen have missed out on a podium place in a season which has seen the team pick up six rally wins in eight rallies. And all this despite World Championship leaders in the Drivers' and Co-drivers' categories Sébastien Ogier/Julien Ingrassia (F/F) and Jari-Matti Latvala/Miikka Antti...[Read more...]
Audi Confirmed For Salon Privé 2013
• Salon Privé 2013 - 4th to 6th September
Syon Park, London, 21 August 2013 – Audi is set to display the R8 V8 Spyder, RS 6 Avant and RS 4 Avant at Salon Privé 2013. A hand-built, high-revving V8 engine mounted just behind the passenger compartment of the Audi R8 V8 Spyder launches the stunning soft-top supercar to 62 mph in 4.8 seconds and on to a top speed of 187 mph. The mid-engine configuration helps to lower the centre of gravity for optimum road holding, while the slick...[Read more...]
1964 Nurburgring 1000 Kilometers: Survive for One Last Victory
During the late 1950s, Richie Ginther would begin a relationship with John von Neumann and this partnership would result in one of the most dominant periods of American sportscar racing in which Ginther and Porsche would be virtually unbeatable. Nearly a decade later, that same combination would again join forces to provide one more moment of glory. By the mid-1950s Porsche had developed its 550. This was a small car more than capable of dominating its class and consistently able to challenge...[Read more...]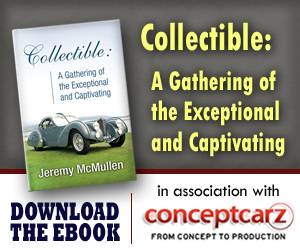 © 1998-2014. All rights reserved. The material may not be published, broadcast, rewritten, or redistributed.