1936 Pontiac Deluxe news, pictures, specifications, and information

Tweet
The 1936 Pontiacs premiered what would become their trademark styling element for years to come, the 'waterfall grille.' The 1936 grille was thinner with fewer 'silver streaks' while the horizontal hood louvers now came to a point at the front. This handsome cabriolet with a front fender mounted spare was bodied by Fisher.
The Pontiac Deluxe Six Series 8BA, just like the other series offered by Pontiac, came in seven different body-style options, ranging from coupes, cabriolets, to touring sedans. The base price was $665 which was for the two-door coupe. The top-of-the-line was the Touring Sedan which had seating for five, four-doors, and cost just under $800.

The Deluxe came in either six or eight cylinder versions. The Deluxe Series sat atop the longest wheelbase available by Pontiac. The extra room was reserved for the longer engine. The cars fitted with the eight-cylinder engines had the words 'Pontiac 8' on the grille. The sixes had an oblong loop style while the eights had a circular design.

The six-cylinder engine displaced 208 cubic-inches and produced 81 horsepower. The eight-cylinder L-head engine displaced 232 cubic-inches and produced 87 horsepower. There was a three-speed synchromesh gearbox and four-wheel hydraulic brakes.
By Daniel Vaughan | Sep 2008
The Pontiac brand was introduced in 1926 and immediately set new sales records. Though sales were solid, and the product was sound - offering abundant standard features at a spectacular value, Pontiac sales declined as the Great Depression continued. In response, a new eight-cylinder engine appeared for 1933. Another introduction was the streamlined Fisher bodies designed by Franklin Q. Hershey, formerly of the Murphy Body Company. Refinements to styling continued, with changes in 1935 and 1936. Mechanical updates were added as well, with hydraulic brakes in 1935, and the eight was improved with a slight displacement and power increase for 1936. These subtle evolutionary changes paid off, as sales continued to increase as the world exited from The Great Depression. For 1936, Pontiac sold 176,270 vehicles.

The eight-cylinder engine was discontinued after the 1936 model year, and the eight-cylinder Deluxe Cabriolet was dropped from the Pontiac model catalog in April of 1936. There were about 2000 such cars produced, of which the majority were built by GM Canada.

This Deluxe Eight Cabriolet was given a restoration, bringing it back to its original condition. According to records, there are just two examples of the Deluxe Eight Cabriolet left in existence.

The 232.3 cubic-inch L-head eight-cylinder engine with the Carter one-barrel carburetor is capable of producing nearly 90 horsepower. There is a three-speed synchromesh gearbox and four-wheel hydraulic drum brakes. The car has earned 'VMCCA Gold' status with 97.5 out of 100 possible points.

In 2010, the car was offered for sale at the Vintage Motor Cars of Hershey auction presented by RM Auctions. The car was estimated to sell for $50,000-$70,000. As bidding came to a close, the car had been sold for the sum of $75,900 including buyer's premium.
By Daniel Vaughan | Oct 2010
Fiat Chrysler Automobiles key player in the Classic Days in Germany
Concours d'elegance, parades and special races on roads closed to traffic: this is the packed programme reserved for the historic cars arriving at the medieval Dyck castle • Alfa Romeo takes part with four precious models: the prototype 750 Competizione (1955), the 8C 2900 Le Mans (1938), the Giulietta SZ (1960) and the 1900 Sport Spider (1954) • Under the spotlight the Lancia 037 Rally (1984 - group B) and the Formula 1 Lancia D50 (1955) • At the German event also the Abarth 1000 Monomille ...[Read more...]
History Rolls into Hershey for RM's Annual Pennsylvania Sale
• Final countdown underway to RM's annual Hershey, Pennsylvania auction, held October 10 – 11 during the historic AACA Eastern Regional Fall Meet • Two-day sale features 116 vehicles, with an emphasis on Brass and Classic Era motor cars • Sale entries led by a rare, award-winning 1933 Chrysler CL Imperial Convertible Roadster • Auction also features number of vehicles steeped with local Pennsylvania history • Digital catalogue now available online at rmauctions.com BLENHEIM, Ontario (S...[Read more...]
Auctions America Continues Successful 2013 Season with its Annual Fall Carlisle Sale
• Auctions America rounds out its 2013 auction season in Carlisle, Pennsylvania, October 3-4 • Two-day Fall Carlisle sale, held in conjunction with the Carlisle Events Collector Car Swap Meet & Corral, features a diverse roster of 300 classics, exotics, muscle cars, hot rods, and customs • Auction highlights include a desirable 1967 Chevrolet Corvette 427/435 Roadster, a 1969 Chevrolet Camaro Z-28 RS Sport Coupe, and a 1960 Mercedes-Benz 190SL Roadster • Full event details and a frequentl...[Read more...]
The Champion in Touring Car Racing : The BMW M3
In August 1985, a rumour surfaced in motor magazine Auto-Deutschland which emanated from a new sports car. An A Group Car from BMW that was a thoroughbred racing car according to the rules but was also to be produced in a version licensed to drive on open roads for everyday use. Speculation about this dream car that could take to normal roads and was intended for the 'Most dynamic among BMW 3 Series drivers' was right on target. But the pundits missed the mark about the motor-sport car by a mile...[Read more...]
Auctions America By RM's 2012 Auburn Spring Auction
'Variety' is the buzzword for this year's Auctions America by RM June 1-3 Auburn Spring auction, which will offer a huge range of collector vehicles and an enormous private collection of automotive memorabilia. More than 600 American muscle cars, Classics, foreign sports cars and hot rods will cross the block at the historic Auburn Auction Park, the company's national headquarters in Auburn, Indiana. 'Last year was our first spring event at the park,' said Auctions America by RM's President ...[Read more...]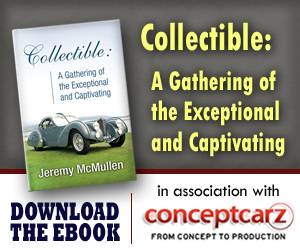 © 1998-2014. All rights reserved. The material may not be published, broadcast, rewritten, or redistributed.