1948 Daimler DE36 news, pictures, specifications, and information

Tweet
The Daimler Company of Coventry, England, was a favorite of British royalty and the company's craftsmen not only built King George VI's State Limousines, but those of his father George V and grandfather Edward VII. The DE36 model first appeared in 1946, and was, in fact, much favored by royal families the world over. During its 8-year production run, a mere 205 examples were produced. They featured Britain's last straight-eight production engine. Despite the postwar austerity, a number of very flamboyant DE 36 specials were produced by in-house coachbuilder Hooper & Company at the bequest of Lady Norah Docker, wife of Sir Bernard Docker, the chairman of the parent company. This Hooper-bodied drop head coupe sports extremely advanced styling for its time.
At the Earls Court British Motor Show in 1948, this automobile made its debut, painted in a special jade green color. The car was given the name 'the Green Goddess' by the motoring press, and later used for several years after the show by Sir Bernard Docker, Chairman of Birmingham Small Arms (BSA).

The Daimler DE36 was introduced during 1946 and powered by a 5.4-liter straight-eight engine offering 150 horsepower. It came equipped with a pre-selector controlled Daimler Fluid Flywheel transmission. The large and heavy formal coachwork was designed to carry the important. In total, there were 216 examples created with many built for British Royalty.

This example was assembled in early 1948 and was the first DE36 chassis designated for a special Hooper's drop head coupe body. Just after New Year's, body no. 9352 was commissioned, to be built to the coachbuilder's design no. 8183. Hooper received the car on June 7th of 1948. The task was given to Osmund F. Rivers, Hooper's chief designer, to prepare the car for the Earls Court show. As the show drew near, 24-hour departmental commitments were required to complete the car before the October 27th opening.

The body was created from a wooden framework of English ash, over which hand-beaten aluminum panels were applied. In the front was a stacked pairing of inset Lucas head and passing lamps that faired into the leading edges of the front wings. The lights were protected by clear Perspex covers, surrounded by molding crowned with trademark Daimler fluting. The rear wheels were partly concealed by covers. There are three windshield wipers spread across the wide base of the curved Triplex glass windshield. The hydraulically operated top is made of fawn cloth and when lowered, is concealed by a painted metal cover.

Inside, there is a full set of Smiths gauges set into the instrument board. There is a specially concealed lockable steel box mounted behind the dash cubby. The seats are tripped in green-piped Connelly's Beige leather. The front upper cushion is divided into three sections with the outer ends tilting forward for access to two armchair-type seats provided for rear passengers.

This example could be considered a prototype. After its debut at the motor show, work continued on the car. It went through an 'extended test' period, after which Daimler made 19 changes and adjustments. Modifications were made almost weekly for several months.

After several years of service, chassis 51233 was given a full body transplant. It was given the body from chassis number 52825. In preparation for the new body, chassis 51233 as renewed and upgraded late in 1953 with new suspension from the Daimler works factory. The original body, body number 9352, was 'broken up.'

The 'Green Goddess' was offered as a 'new' car in 1954 as it had been carried on the books as a factory 'demonstrator' since 1948. The new coachwork was given a two-tone green combination and newly chromed side-sweep trim. It retained its original UK registration of LJJ11.

Records of the eventual first private owner's name do not exist. The next record of its sale was in 1956, by the London specialty car dealer Simmonds. It later made its way to the United States where it was in the ownership of Pennsylvanian George Daggett. A short time later, it was offered by Mr. Daggett to the Jaguar-Daimler Heritage Trust, which declined to meet his price.

During the 1970s, the car was refinished in a color and trim combination inappropriate to its heritage.

In 1996, the car was purchased by John H. Sweeney of Massachusetts. Mr. Sweeney had the car repainted in proper colors, in addition to a full restoration. The project was halted mid-way and the disassembled parts returned to its owner. It later returned back to the shop by Mr. Sweeney's estate, in preparation for its sale at auction.

In 2009, this Daimler was offered for sale by Bonhams Auction Company at the Exceptional Motorcars and Automobilia at the Quail Lodge Resort in Carmel, Ca. The car was sold for $249,000 inclusive of buyer's premium.
By Daniel Vaughan | Mar 2011
The Daimler DE36 Series was produced from 1946 through 1953 with a total of 205 examples produced. They were offered in a variety of bodystyles including drop head coupes, limousines and saloons. Power was from an eight-cylinder unit that displaces 5460cc and produced enough power to carry the large and stately bodies - these would be the last Daimler models to be fitted with a straight-eight engine.

The DE models were the largest in the post-war Daimler production line. The DE36s were first shown to the public at the 1948 Earls Court motor show in London. The car on the stand was a drophead coupe with streamlined bodywork by the legendary coachbuilder, Hooper. It was painted in light green and would soon become known as the 'Green Goddess'.
By Daniel Vaughan | Oct 2008
For more information and related vehicles, click
here
Techno Classica 2014: more than 30 racing cars to celebrate 120 years of Mercedes-Benz motor racing history
•Cars that were the heroes of magical moments put their stamp on this high-powered, most comprehensive show presentation •With more than 30 vehicles, Mercedes-Benz Classic presents motor racing history in all its unique breadth and depth •120 years of Mercedes-Benz motor sport in the focus of the leading international classic motor show 120 years of Mercedes-Benz motor racing history have produced a timeline of extraordinary victories which since 1894 also stand for outstanding innovations ...[Read more...]
An Era of Perspective
Everyone loves a champion. At least that is the saying. But it isn't necessarily true. Instead, everyone loves their champion. When another proves to be equal or stronger, then all reason slips through the window when judging skill. The lamentations would resume in earnest following the dominant performance at Spa by Sebastian Vettel and Red Bull. Suddenly, there was this feeling of resignation, of needing to face reality. Just when it seemed there would be a titanic battle between Ve...[Read more...]
Clean Sweep Of Bahrain Grand Prix Podium For Renault Engines
Renault-engined drivers locked out the podium in today's Bahrain Grand Prix, with Infiniti Red Bull Racing's Sebastian Vettel taking a commanding win over Lotus F1 Team's Kimi Raikkonen and Romain Grosjean. It is the second year in a row that the Renault RS27 V8 engine has made a clean sweep of the Bahrain podium, and the first time since that race that an engine manufacturer has monopolized the top three. The result is the 154th win for a Renault engine in F1 and the 36th for the Red Bull Racin...[Read more...]
September 15 d'Plaisir Road Rallye will precede
The September 15 road rally that precedes the Palos Verdes Concours d'Elegance the following day has been named the d'Plaisir Road Rallye in honor of the 2012 Concours' theme 'French Curves.' It begins with lunch at the Rolling Hills Country Club in Rolling Hills, traverses the stunning views and winding roads of the Peninsula and ends at the Palos Verdes Golf Club in Palos Verdes Estates with a helicopter golf ball drop and a reception honoring Concours Grand Marshals Peter and Merle Mullin...[Read more...]
INDYCAR – LONG BEACH GRAND PRIX
A tough weekend for the Lotus-engined teams in California. Having been sidelined for much of practice and qualifying due to bad weather and a water pump issue, Lotus HVM's Simona di Silvestro suffered an engine failure 11 laps from the end of the 85 lap race, demoting her to 20th. Lotus Team Barracuda BHA's Alex Tagliani, who qualified tenth, struggled during the race and was also hit by EJ Viso, forcing him to pit for a new front wing. Ultimately, he retired and registered 21st place. Lotus Dra...[Read more...]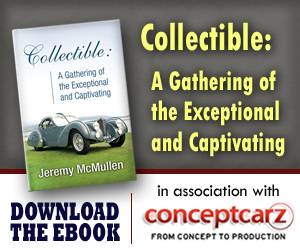 © 1998-2014. All rights reserved. The material may not be published, broadcast, rewritten, or redistributed.