Image credits: © Maserati.
2009 Maserati Quattroporte S news, pictures, specifications, and information

Tweet
The full range of the new Maserati Quattroporte, which replaces the previous version, is making its international début at the Paris Motor Show.

After a successful five years wîth over 15,000 vehicles delivered and 47 international awards received, the Maserati Quattroporte, the model which created the concept of 'Sport Luxury Sedan', is now on display wîth a new look, new engineering enhanced wîth a new engine. Thanks to the unmistakably skilful touch of Pininfarina, the Maserati Quattroporte has now been honed even further, wîth a fresher, more modern design that still denotes the class, exclusivity and elegance of a Maserati.

Two models will be on display in Paris: the Quattroporte, wîth its classic V8 engine (4.2 liters and 400 hp) and the Quattroporte S wîth a new V8 engine (4.7 liters and 430 hp). Both models have 6-speed automatic transmission, developed in partnership wîth ZF.


The major aesthetic changes have been made to the most distinctive features: the front of the car, wîth its striking new grille and vertical slats - an obvious extension of the GranTurismo style. The front and rear light clusters have also received a facelift, and now feature LEDs. The side view mirrors are also new, wîth a more aerodynamic shape and fitted even more seamlessly into the doors.

The interior features a new centre console wîth ergonomically-enhanced, better organized controls. The range of navigation systems has also been completely overhauled wîth the New Maserati Multimedia System. Two new leathers have been introduced for the first time on the Quattroporte S and Quattroporte respectively: Marrone Corniola and Sabbia - a reinterpretation of the beige already on offer.
Source - Maserati
Maserati Quattroporte - A 'Second' Masterpiece
Maserati Quattroporte, the model which created the category of 'Luxury Sports Sedan', can be considered something of a Maserati masterpiece. After five years of success, wîth more than 15 000 cars delivered and 46 international awards, the Quattroporte is now being presented wîth a new look and new technical solutions.

The history of art is characterised by audacious artists who challenged pre-existing conventions and contributed seminal works. Some artists even challenged themselves by remodelling their own works and taking them to the next level.

Leonardo Da Vinci produced a second version of his masterpiece known as 'The Virgin of the Rocks' and, 400 years later, Matisse reinterpreted his original version of 'Le Luxe'. They are essentially new works; although they are identical in size and very similar in composition to the originals; it is the new style that makes the second versions the most influential.


With some degree of similarity, Maserati is now realising its second 'painting': the new Maserati Quattroporte.

Thanks to Pininfarina's unrivalled and skilful hand, the Maserati Quattroporte is being refined in a fresher and more modern way, yet always mindful of the class, glamour and exclusivity which characterise the Maserati Quattroporte's style.


Vital Stats
Engine : 4.7 L., 8-cylinder
Power: 425 hp
Torque: 361 ft-lbs


---
The personality and glamour of the Maserati flagship are now represented by two products: the Quattroporte and the Quattroporte S. The former is fitted wîth the familiar 4.2 litre 400 Hp V8 engine, while the latter adopts the new 4.7 litre 430 Hp V8 recently introduced on the GranTurismo S, wîth a different specification. Both cars have the 6-speed automatic transmission developed in association wîth ZF.
The main styling changes are to the most recognisable features. First of all the front, where the new grille, wîth its vertical slats, is reminiscent of the GranTurismo. The front and rear light units are also updated, featuring LEDs. On the side, the under-door moulding is more noticeable, wîth a line that runs into that of the new bumpers, which have a wider protective band and more pronounced rear styling. The door mirrors are also new, wîth a more dynamic shape and a more streamlined mounting to the door.

The interior has a new central console; the controls are grouped more closely together for even more convenient operation.

The car's range of navigation systems is also fully updated, now comprising the New Maserati Multimedia System.


Two new shades of leather, Marrone Corniola and Sabbia, replacing the beige which was previously in the range, debut on the Quattroporte S and Quattroporte respectively.

The new Quattroporte and Quattroporte S will be on sale from September. However, they will be presented to customers and Maserati lovers in different locations all over the world from July onwards.
Source - Maserati
2015 VOLKSWAGEN GOLF GTI NAMED TO '2014 WARD'S 10 BEST INTERIORS' LIST
All-New, seventh-generation Golf GTI's sporty interior is recognized by coveted accolade ◾Iconic Golf GTI® will be the first seventh-generation Golf model available in the U.S. ◾All Golf models are more refined, roomier, and better equipped than outgoing models ◾Seventh-generation model expected to reach dealers in June Herndon, VA, April 10, 2014 — Volkswagen of America, Inc. announced today that the all-new, seventh generation of the brand's iconic Golf GTI was honored by ...[Read more...]
JAGUAR LAND ROVER ANNOUNCES THE FIRST WAVE OF APPS FOR ITS NEW INCONTROL APPS PLATFORM
◾Jaguar InControl™ Apps and Land Rover InControl™ Apps deliver integrated in-vehicle app connectivity for both Android and Apple smartphones ◾System is upgradeable as new apps become available ◾InControl™ Apps available in new Jaguar and Land Rover models progressively during 2014 (WHITLEY, UK) - January 7, 2014 - Jaguar Land Rover has announced the first wave of third party apps for its innovative new smartphone integration platform - InControl™ Apps - which has been developed in c...[Read more...]
KIA MOTORS AMERICA PRESENTS ALL-NEW 2014 FORTE KOUP WITH TURBOCHARGED POWER
• 201-HP Turbocharged Four-Cylinder Engine is First for Forte Koup SX
LAS VEGAS, November 5, 2013 – Taking a cue from Las Vegas' high rollers, Kia Motors America (KMA) is upping the ante for its second-generation Forte Koup, adding turbocharged power to the sporty two-door for the 2014 model. The all-new Koup is part of a completely redesigned Forte lineup for 2014 and features a powerful 1.6-liter gasoline direct injected turbo engine – a first for the Forte nameplate. First u...[Read more...]
2014 MITSUBISHI LANCER EVOLUTION: TURBOCHARGED FUN IN A 4-DOOR SPORTS CAR
Thanks to its potent turbocharged and intercooled powerplant, precision-tuned handling, communicative steering feel and 4-door configuration, the 2014 Mitsubishi Lancer Evolution is an ultra-high-performance sports car that allows the driver to take to the track – along with several of his/her like-minded friends. For the 2014 model year, the Lancer Evolution gains several upscale-oriented improvements to make an already very enjoyable ride an even more sumptuous experience. These new feature...[Read more...]
BMW ConnectedDRive 2013
BMW is further consolidating its standing as the world's leading provider of online-based in-car services by introducing some major enhancements while also making its BMW ConnectedDrive services easily accessible. The new mobility products represent a further milestone in the on-going success story of BMW ConnectedDrive and take automotive infotainment into a whole new dimension. ◾The refocusing of BMW ConnectedDrive turns complete, intelligent connectivity between passengers, vehicle and the o...[Read more...]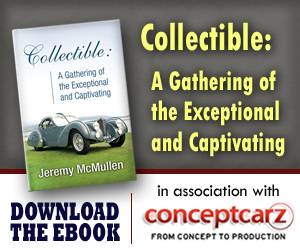 Maserati
Monthly Sales Figures
Volume
December 2014
1,412
November 2014
1,203
October 2014
1,203
September 2014
1,318
August 2014
1,233
July 2014
1,132
June 2014
966
May 2014
1,144
April 2014
964
March 2014
963
January 2014
567
(More Details)
© 1998-2014. All rights reserved. The material may not be published, broadcast, rewritten, or redistributed.