1949 Willys Jeepster news, pictures, specifications, and information

Tweet
Though designed by American Bantam and produced by Ford and Willys, the Willys 'Jeep' was an American war hero. After the war, Willys turned to famed industrial designer Brook Stevens to produce civilian versions of its Jeeps, including a station wagon that in many ways was the original sport utility vehicle and the Jeepster, a four-passenger phaeton-style vehicle that provided an open-air driving experience.

Fewer than 20,000 Jeepsters were produced between 1948 and 1951, powered by a four-cylinder 'Go Devil' engine that at the start of production put 63 horsepower to the rear wheels.
The Jeep was a very capable and adaptable vehicle in its original concept as a reconnaissance car during World War II. When war came to a close, Willys had produced nearly 363,000 of its final MB version, while Ford built almost 278,000 of the Willys-designed GPW (General Purpose Willys). General George C. Marshall even called the Jeep 'America's greatest contribution to modern warfare.'

After World War II, Willys based its civilian production on a series of Jeep-based vehicles. This required very little retooling and capitalized on the hundreds of thousands of returning military personnel who became very loyal to Jeep during their wartime service.

Brooks Stevens designed the two-door Jeepster Phaeton. It shared its chassis with the Jeep station wagon. It had an unmistakable Jeep-derived front end, a sporty design, and rakish cut-down doors that were inspired by the little roadsters spawned from the United Kingdom. The Jeepster was introduced on May 3rd of 1948, initially powered by the F-head 'Hurricane Four.' Beginning with the VJ-3 model in July 1949, the 72-bhp, L-head 'Lightning Six' was available for the Jeepster. Overdrive was optional.

This Willys Jeepster Phaeton is painted in yellow and black with a matching interior. It is one of just 3,638 examples built in total for 1949. There are four-wheel hydraulic drum brakes, a three-speed manual transmission with overdrive, and the 'Lighting Six' L-head engine.

In 2011, this vehicle was offered for sale at the Hershey Auction presented by RM Auctions. It was estimated to sell for $20,000 - $25,000 and offered without reserve. As bidding came to a close, the vehicle had been sold for the sum of $19,800 including buyer's premium.
By Daniel Vaughan | Dec 2011
Willys-Overland Motors launched their Jeep Station Wagon in 1946, arguably as the first mass-production, all-steel, passenger-carrying station wagon. And thus the first SUV? Production based on the Brooks Stevens design lasted until 1965. In 1946, there was just the model 463 (L-134, 4-cylinder, Go-Devil flathead motor) but for 1948 the model 663 was launched with the L-148 Lightning 6-cylinder motor, still flathead. Four-wheel-drive was offered first as an option in 1948. It was the Jeep Wagoneer (no longer with Willys in its name) that superseded the Station Wagon after around 300,000 (all versions total) were built.
The Willys vehicle aided service greatly during The Second World War. Its versatility and toughness helped it traverse various types of terrain. By the close of the war, 362,841 examples of the Willys MB military vehicles had been created. Ford had created 277,896 of the Willys designed General Purpose Willys (GPW).

After the war, Willys decided to resume civilian production. Many returning serviceman were eager to purchase one as they knew first-hand the vehicles capabilities. A two-door Jeepster, designed by Brooks Stevens, was introduced in 1948 and shared a chassis with the Jeep station wagon. For 1950, there were minimal improvements such as to the front end, a new center-gauge dashboard design, and a wraparound rear bumper. It was offered with either a four- or six-cylinder engine and optional overdrive.
By Daniel Vaughan | Nov 2008
ROCKERBOX MOTOFEST MOVES TO ROAD AMERICA DURING AHRMA VINTAGE MOTORCYCLE CLASSIC WEEKEND
ELKHART LAKE, Wis., February 13, 2014 -- Wisconsin's premier motorcycle show, The Rockerbox Motofest, featuring an eclectic mix of Euro, Japanese and American vintage café racers, choppers, sport bikes, racing machines, super motos, scooters, and sidecars is making an official move for the future. Instead of its usual Milwaukee home, the event is making the trek 60 miles North to America's National Park of Speed as part of Road America's American Historic Racing Motorcycle Association (AHRMA) ...[Read more...]
POTEET, CIZEK EARN TOP AWARDS AT GOODGUYS 16TH PPG NATIONALS
Columbus, OH – Tennessee's George Poteet and Nebraska's Ron Cizek collected the top two awards at the Goodguys 16th PPG Nationals in Columbus, Ohio last weekend. Under brilliant sunshine and in front of record crowds, Poteet's vintage NASCAR-inspired '69 Torino won the Goodguys 2013 Optima Batteries Street Machine of the Year while Cizek's popular Ridler award-winning '40 Ford coupe collected the Goodguys 2013 Classic Instruments Street Rod of the Year title. For Cizek, it's the second ma...[Read more...]
Texas-Sized Charlie Thomas Collection Brings $7.4 Million At Dallas Auction
• RM Auctions' sale of the Charlie Thomas Collection generates $7.4 million, with 100 percent of lots sold • Top sellers include a 1946 Chrysler Town & Country Roadster for $143,000 and a 1954 Packard Caribbean Convertible for $132,000 • Sale captures attention of global collector car community with bidders representing eight countries around the world and 31 states across the U.S. • RM wraps up its 2012 calendar with its annual London, England sale, October 31, followed by the John Staluppi ...[Read more...]
Pebble Beach Concours d'Elegance Introduces Its First Sport Customs Class
One-off Sport Customs designed to turn heads while tooling down Main Street USA will roll onto the 18th fairway of Pebble Beach Golf Links for the 2012 Pebble Beach Concours d'Elegance on August 19. This year, for the very first time, the Pebble Beach Concours d'Elegance is hosting an entire class dedicated to Sport Customs. 'These are one-of-a-kind cars built in the US, on modified American production chassis with American engines by individuals, designers and craftsmen,' explains auto...[Read more...]
RM Auctions Lifts Gavel On Charlie Thomas' Texas-Sized Collection of Automobiles
• RM Auctions further expands its 2012 calendar with the addition of 'The Charlie Thomas Collection', a single-day, single-vendor sale to be held in Dallas, Texas, October 20, 2012 • Auction features a superb assortment of more than 150 collector cars, all offered without reserve • Sale further consolidates RM's reputation as the specialist for private and estate collection auctions RM Auctions, the world's largest collector car auction house for investment-quality automobiles, is delighted...[Read more...]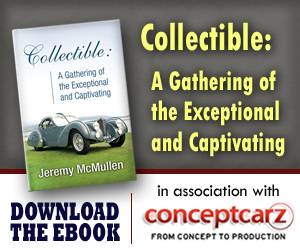 Similarly Priced Vehicles from 1949
Chevrolet GK Styleline DeLuxe ($1,500-$2,300)
Plymouth Deluxe Series P18 ($1,520-$1,550)
Ford Custom Series ($1,510-$2,270)
Volkswagen Beetle ($1,280-$1,995)
Chevrolet Deluxe Series 2100 GK ($1,500-$2,275)

Average Auction Sale: $17,807
© 1998-2014. All rights reserved. The material may not be published, broadcast, rewritten, or redistributed.