1968 Toyota Corona news, pictures, specifications, and information

Tweet
Toyota manufactured several series of cars under the Corona nameplate from 1957 through 2002 with at one point a parallel series called Corona Mark II. There were six Corona body styles in 1968; 2-door hardtop coupe, 2-door pickup and another with an extended cab, 3-door station wagon, 4-door sedan and 5-door hatchback.

This vehicle is an original 1968 Corona Coupe which belongs to the Generation 3 T40/T50 series that ran from 1964 through 1969. It's a California black plate car with just 26,000 miles sold new in Daly City, not far from San Francisco's airport.
Introduced in 1957, the Toyota Corona enjoyed a nice life span up to 2001. Its first and final years the Corona was only made in Japan and was considered to be a large vehicle in most markets. Within North America, the rear wheel drive Corona was generally considered to be an upscale compact or mid-sized vehicle depending on the model year.

Originally marketed as a compact car, the Japanese market loved the Toyota Corona. The Corona has been Toyota's principal export entrant, and the very first model of the Corona to be exported was the third generation, launched in 1964. This third generation was exported in great quantities. The Toyota Corona Mark II was the more luxurious model that was exported very often, and later spun off into its own separate platform.

Providing big-car comfort, looks and features in a small cute little package, the Toyota Corona came with a 98.4 in. wheelbase. The front suspension in the Corona used coil springs with a torsion-bar stabilizer, and the rear used semi-elliptical leaf springs. Double-action hydraulic shock absorbers were utilized on all four wheels. Reciprocating-ball steering was used for the first time and the turning diameter was 32.8 feet.

For 1969 the Corona featured a 116 cubic inch engine four-cylinder OHV that achieved 90 hp at 4,600 rpm with 110 lb/ft at 2,600 rpm. This version used a two-barrel carb, and a four-speed synchromesh manual transmission or a two-speed automatic. Weighing in at approximately 2,260 lbs, the Toyota Corona was a 'true lightweight by American standards' and featured a very well balanced engine. Two styles were available, the sedan and the hardtop and both featured unit-body construction. The Corona could achieve a top speed of 90 mph and had a gas mileage of 25 mpg.

More than half of the U.S. population fell in love with the Toyota Corona and the 1970's were a great year for this car. The Corona was also popular due to the high rise of fuel economy from 1973 through 1979. The T100 series were the first Corona's to make it over to America. The series featured a sedan, hardtop coupe, wood-festooned wagon and a van that was powered by a 2.2-liter four-cylinder engine. Establishing Toyota's presence in the U.S. the Corona was a distinctive vehicle that featured 90 hp four-cylinder that achieved 110 lb/ft of torque. In 1967 Toyota's overall sales were 476,807 and 659,189 in 1968.

In 1969 Toyota introduced the Corona Mark II that came with a longer 99-in. wheelbase and a slightly smaller engine that produced 108 gross hp at 5,500 rpm and 117 lb/ft of torque at 3,600 rpm. The Mark II sedan weighed 2,305 lbs, the hardtop weighed in at 2,315lbs and the wagon weighed 2,405.

The Toyota Corona continued on successfully, while the Mark II continued on as a separate model through the mid-1970s. The Corona received the Mark II's 1.9-liter engine in 1971, a 2.0 liter engine in 1972 and a 2.2 liter engine in 1975. The Corona weighed 2,170 lbs and cost $2,150 in 1971. In 1970 Toyota passed the one-millionth sale.

With 110 lb/ft of torque at 2,600 rpm, the 1971 Corona had 90 gross hp at 4,600 rpm. This Corona weighed 2,235 lbs and was sold for $2,176. In this same year the Mark II cost $2,437, weighed in at 2,280 lbs and featured 108 hp at 5,500 rpm and 117 lb/ft engine. In 1975 the Toyota Corona received the newest variation on the R series 4-cylinder engines.

In 1979 the T130 model was introduced. The van was dropped, while a liftback was added to the lineup. They all retained the same engines, though they were continuously modified. In 1981 the US-spec Corona received a 2.4-liter engine with a slight decrease in horsepower.

The Corona was marketed in several other countries with various names such as the Corona FF, the T142 model, the Toyota Carina and several others. The Corona was replaced with the larger Camry in New Zealand and Australia. But at the same time, in the mid-1980's, a newer version of the Corona was introduced, the Corona Coupe which featured a unique sheet-metal. A four-door hardtop Corona EXIV was introduced and replaced the Coupe.

1982 was the final year for the Corona in the U.S. The final export Corona model was called the Carina E in Europe. The Corona SF was a five-door model and the Toyota Caldina in Japan was a station wagon in a separate line. An eleventh and final version was unveiled in 1996 and lasted until 2000. The Toyota Corona Premio enjoyed its ride on the Corona lineup until eventually spinning off as an independent model call the Premio.
By Jessica Donaldson
MITSUBISHI MOTORS POSTS EIGHTH CONSECUTIVE MONTH OF YEAR-OVER-YEAR SALES INCREASES
◾Best October sales since 2008 ◾Sales are up a full 30.5 percent from last October ◾Best-ever October sales for Outlander Sport Mitsubishi Motors North America, Inc. (MMNA) posted its eighth consecutive month of year-over-year sales increases thanks to a strong sales month in October with vehicle sales through the month totaling 6,199 units, an exceptional 30.5 percent increase over the sales total from October 2013. The Outlander Sport 5-passenger compact crossover – the brand's best-se...[Read more...]
THE POWER OF PULSAR AT THE PARIS MOTOR SHOW
PARIS – Nissan showcased its new challenger to the C-segment at the Paris Motor Show, the Nissan Pulsar 5-door hatchback, and debuted its formidable Pulsar NISMO Concept. The Pulsar NISMO threads motorsport-level performance and technology deeper into Nissan's lineup. Next to it on stage was Nissan's Pulsar power solution available in Europe next spring: the Pulsar 190 PS 1.6 DIG-T, equipped with a turbocharged 190 horsepower engine. On the heels of 12 product launches in 12 months,...[Read more...]
NISSAN ANNOUNCES U.S. PRICING FOR 2015 VERSA NOTE
– New SR and SL trim levels added for 2015, along with revised package content and standard Bluetooth® Hands-Free Phone System for base Versa Note S model – NASHVILLE, Tenn. – Nissan today announced U.S. pricing for the 2015 Nissan Versa Note hatchback, which is on sale now at Nissan dealers nationwide. Following its highly successful debut as a 2014 model, the Nissan Versa Note enters its second year of production with a number of significant enhancements – led by the addition ...[Read more...]
HONDA COMMITS TO THE EXPANSION OF HYBRID VEHICLE OFFERINGS IN THE U.S.
◾Honda product strategy includes advancement of Earth Dreams™ Technology powertrains, including innovative two-motor hybrid system ◾Strategy will include changes to existing lineup of environmental vehicles 02/28/2014 - TORRANCE, Calif. -- Honda is reinforcing its commitment to a clear product strategy focused on further advancing fuel-efficient and alternative-fuel vehicle technologies that are better aligned with customer needs and that strengthen the company's U.S. sales momentum....[Read more...]
VAUXHALL'S 'LIMITED EDITIONS' HAVE UNLIMITED SPEC APPEAL
◾ Limited Edition Vauxhalls get lavish standard specification ◾ Available on Astra GTC, Astra Hatch, Insignia and Corsa ◾ Prices start from just £8,995 for the fashionable Corsa Sting Luton – With exceptionally generous standard spec and prices starting from just £8,995, Vauxhall has bolstered its range with stylish new 'Limited Edition' models including Astra GTC, Astra 5-door hatchback, Insignia and Corsa. Available through Flexible Finance* or Flexible Personal Co...[Read more...]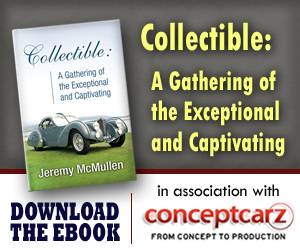 Similarly Priced Vehicles from 1968
Datsun 510 ($1,995-$2,205)
Austin Mini Cooper MKII ($1,840-$1,840)
Fiat 124 ($1,920-$3,180)
Volkswagen Beetle ($1,700-$2,100)
Saab 96 ($1,990-$2,550)
Fiat 850 ($1,430-$2,080)

Average Auction Sale: $8,625
Toyota
Monthly Sales Figures
Volume
December 2014
175,178
November 2014
155,874
October 2014
157,225
September 2014
145,427
August 2014
213,291
July 2014
188,469
June 2014
178,196
May 2014
216,315
April 2014
176,495
March 2014
186,755
February 2014
140,429
January 2014
128,728
(More Details)
© 1998-2014. All rights reserved. The material may not be published, broadcast, rewritten, or redistributed.