1966 Willys Interlagos news, pictures, specifications, and information

Tweet
The Berlinetta Willys Interlagos was the Renault Alpine A108, produced under license in Brazil, by Willys Overland do Brazil, from 1962 to 1966. The Renault Alpine A108, released in 1961, was designed by Giovanni Michelotti and Jean Redele, founder of Alpine, modified the design creating the Berlinetta version. This car is one of 744 and one of the last series produced in 1966. It is believed to be the only one in the USA. It is estimated that only 1/3 of the cars produced in Brazil are currently roadworthy. The motor was originally a 32 horsepower Renault Ventoux engine modified by Amedee Gordini reaching 70 horsepower.

The current owner acquired the car in 2005 in Brasilia, capital of Brazil, during restoration, from the fifth owner and imported the car to South Carolina in 2006. Some additional mechanical work was done in the US with fitting of a new carburetor, an electric cooling fan to avoid overheating, and new trailing arms in the suspension.

The body of the Willys Interlagos is monocoque made of fiberglass and the chassis is integral (sandwiched by the fiberglass) with a steel central backbone. The front and rear suspensions are independent, with coil springs, anti-roll bar, and telescopic shocks. The rear suspension also have swinging half-axles.
Auburn Spring Brings National Spotlight Back to Classic Car Capital of America.
• Final preparations underway for Auctions America's largest Auburn Spring sale to date, May 8 – 10 at the historic Auburn Auction Park • NBCSN (NBC Sports Network) to carry exclusive, in-depth programming of the sale, May 8 - 10 • Latest auction highlights range from a highly original 1939 Packard Twelve Touring Cabriolet to a 2006 Dodge Viper SRT-10 VOI.9 Edition Coupe • Event weekend also features a car corral and swap meet, along with the AACA's Special National Spring Meet • Digita...[Read more...]
BRUCE MEYERS TO CELEBRATE 50TH ANNIVERSARY OF ICONIC MEYERS MANX BY RACING IN 2014 NORRA MEXICAN 1000 RALLY
After months of preparation and with the support of an industry it helped create, Meyers Manx Inc. today proudly announced details of a new project to celebrate the car's 50th anniversary next month. It is entering company founder Bruce Meyers in next month's 2014 General Tire NORRA Mexican 1000 rally. The iconic Meyers Manx dune buggy ('Old Red') was invented by Meyers in a small garage on the Balboa Peninsula of Newport Beach, California and first driven in May of 1964. The spirited and eve...[Read more...]
One of the Three Final Cars Built by Famed Italian Engineer Giotto Bizzarrini To Be Offered at Russo and Steele's Highly Anticipated Monterey Auction
Monterey, California – As the engineer responsible for the design and development of some of the most successful and innovative racing and GT cars ever conceived, Giotto Bizzarrini remains one of the most revered names in motorsport history. Hailing from Livorno, Italy and eventually leaving Alfa Romeo for Ferrari where he began as a test driver and quickly rose to Chief Engineer, Bizzarrini collaborated with Carlo Chiti on the 250 Testa Rossa's V-12 engine and the 250 SWB, with his caree...[Read more...]
Impressive line-up of automobiles to be auctioned at Greenwich
• Numerous British and European sports cars and American classics to feature strongly at forthcoming auction
In just a few days at the beautiful waterfront park in Greenwich, Connecticut, Bonhams will host its sixth annual motorcar auction in conjunction with the Greenwich Concours d'Elegance. Led by some extremely noteworthy highlights from Bugatti, Aston Martin and Rolls-Royce, the 100 car-strong roster – the event's largest ever offering – will present an extraordinary line-up of...[Read more...]
MINI CONVERTIBLE BOAT TO JOIN DAD VAIL REGATTA
Visitors to the 2013 Aberdeen Dad Vail Regatta on May 10-11 will experience an intriguing sight that they won't be expecting… a Chili Red MINI Convertible appearing to 'drive' on the water along the Schuylkill River during this famous annual festival of university and college rowing. It will be the first time that the specially-created MINI Convertible 'boat' has visited Philadelphia and it can be seen throughout Friday and Saturday cruising on the river. This one-of-a-kind boat was the brai...[Read more...]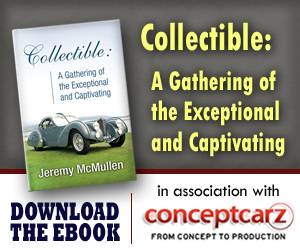 © 1998-2014. All rights reserved. The material may not be published, broadcast, rewritten, or redistributed.