1966 Willys Interlagos news, pictures, specifications, and information

Tweet
The Berlinetta Willys Interlagos was the Renault Alpine A108, produced under license in Brazil, by Willys Overland do Brazil, from 1962 to 1966. The Renault Alpine A108, released in 1961, was designed by Giovanni Michelotti and Jean Redele, founder of Alpine, modified the design creating the Berlinetta version. This car is one of 744 and one of the last series produced in 1966. It is believed to be the only one in the USA. It is estimated that only 1/3 of the cars produced in Brazil are currently roadworthy. The motor was originally a 32 horsepower Renault Ventoux engine modified by Amedee Gordini reaching 70 horsepower.

The current owner acquired the car in 2005 in Brasilia, capital of Brazil, during restoration, from the fifth owner and imported the car to South Carolina in 2006. Some additional mechanical work was done in the US with fitting of a new carburetor, an electric cooling fan to avoid overheating, and new trailing arms in the suspension.

The body of the Willys Interlagos is monocoque made of fiberglass and the chassis is integral (sandwiched by the fiberglass) with a steel central backbone. The front and rear suspensions are independent, with coil springs, anti-roll bar, and telescopic shocks. The rear suspension also have swinging half-axles.
MANX V: POWERED BY REV-TEC, IT'S THE MANX FOR THE 21ST CENTURY
Newport Beach, CA, May 8, 2014 - The Manx is one of the world's most iconic vehicles. Name another car that looks as contemporary today as it did 50 years ago. It's a design that transcends time and borders. It's as beloved in Europe, Australia and the Middle East as it is in all of the Americas. And it's ageless in its appeal. Five years old or 95, there is no generation gap with a Manx. It's simple in its elegance and elegant in its simplicity. A perfect blending of form and...[Read more...]
1964 Nurburgring 1000 Kilometers: Survive for One Last Victory
During the late 1950s, Richie Ginther would begin a relationship with John von Neumann and this partnership would result in one of the most dominant periods of American sportscar racing in which Ginther and Porsche would be virtually unbeatable. Nearly a decade later, that same combination would again join forces to provide one more moment of glory. By the mid-1950s Porsche had developed its 550. This was a small car more than capable of dominating its class and consistently able to challenge...[Read more...]
MIKE RYAN'S BANKS SUPER-TURBO PIKES PEAK FREIGHTLINER A UNIQUE BIG ONE TO WATCH IN PIKES PEAK OPEN DIVISION
Colorado Springs, June 20--------The Freightliner Cascadia Pikes Peak Special racing machine of Mike Ryan (Santa Clara, CA) is truly like no other entry in the Pikes Peak Open division during the 91st edition of the Pikes Peak International Hill Climb on June 30. Ryan, a veteran driver, finished ninth (12:39.960) last year on the Peak in the division, but has his sights set on a higher finish this year with this amazing vehicle. The winner was rookie French driver Romain Dumas, who bri...[Read more...]
Mopar Ram Runner Wins Truck Duel in the Desert
Leaves Ford SVT Raptor in the Dust Mopar Ram Runner 33 seconds faster than Ford SVT Raptor on punishing 4.73-mile loop PickupTrucks.com declares Mopar Ram Runner the winner May 30, 2012 , Auburn Hills, Mich. - This showdown was at sunrise. The Mopar Ram Runner and the Ford SVT Raptor met for a shoot-out at Ocotillo Wells State Vehicular Recreation Area (SVRA), a state park in southeast California with 85,000 acres of nothing but dirt, dust and desert. When all was said and done,...[Read more...]
Carroll Shelby, Ford Family for More Than Half a Century
Carroll Shelby was a member of the Ford family for the better part of 60 years, producing stunning performance vehicles from concepts to production models. He once said his energy and passion for performance products were always strongest when he was working with Ford. Shelby most recently collaborated with the company on the 2013 Ford Shelby GT500 Mustang, the most powerful production V8 in the world. Working with SVT engineers at Sebring and the Arizona Proving Grounds, at times he drov...[Read more...]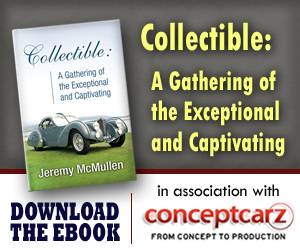 © 1998-2014. All rights reserved. The material may not be published, broadcast, rewritten, or redistributed.