1928 Ford Model A news, pictures, specifications, and information

Tweet
The Ford Model A was introduced in late 1927 and served as a replacement for the highly successful Model T. By the mid-1920s, the sales of the Model T had rapidly slowed as the competition had become more sophisticated.

The Model A was more complex, yet far easier and simpler to operated than the car it was replacing. It was powered by a new inline four-cylinder engine that developed twice the horsepower. The exterior of the Model A had design cues taken from the Lincoln, making the Model A modern, fresh, and refined. Other features included four-wheel, cable operated mechanical brakes, welded steel wire wheels and Houdaille-type double-acting shock absorbers. The Model T had been available in only one color, while the Model A was offered in several choices including green, gray and black. Pricing began at $460 and available in nine body types.

This 1928 Ford Model A Roadster Pickup is painted in green with black fenders. It has been given a complete concours-level restoration and is in excellent running order.

In 2009, this Model A was offered for sale at the Vintage Motor Cars of Meadow Brook presented by RM Auctions. It was estimated to sell for $26,000 - $32,000 and offered without reserve. The lot was sold for the sum of $20,900, including buyer's premium.
By Daniel Vaughan | Sep 2009
| | | |
| --- | --- | --- |
| | | Roadster |
The 'new Ford' was introduced in October 1927 after months of anticipation by the motoring public, which wondered what would take the place of the venerable Model T.

Although it had some similarities to the Model T - four cylinders and semi-elliptic front and rear springs - it was a very different automobile. Most significantly, it was the first Ford that was designed - and Edsel Ford was heavily involved.

Although he had been heavily involved in the design of the Lincoln motorcar since that company was acquired by Ford in 1922, the Model A marked the beginning of Edsel Ford's personal involvement in the styling of all Ford vehicles. By 1931, he had hired the company's first designer, E.T. 'Bob' Gregorie and shortly thereafter one could say that Ford Motor Company now had a design department.
| | |
| --- | --- |
| | Tudor |
One of the popular songs of the late 1920's was 'Henry's made a Lady Out of Lizzie.' 'Lizzie,' of course, was Ford's Model T, popularly known as the 'Tin Lizzie.'

The 'new Ford' was introduced in October 1927 after months of anxious anticipation by the motoring public. The new car had some similarities to the Model T but was a very different automobile. Without doubt, the car's appearance was strongly influenced by the Lincoln motorcar, prompting many to refer to the new Ford as a 'baby Lincoln.'

Most significantly, the Model A was the first Ford that was truly designed, and Edsel Ford played a major role. By 1931, he had hired the company's first true designer, E.T. 'Bob' Gregorie, who became Ford's first design chief.
The 1928 Ford Model A was originally introduced in December of 1927, following nearly 20 years of Ford Motor Company's venerable Model T. The Model A was powered by a Ford four-cylinder motor that developed 40 horsepower and featured four-wheel mechanical brakes. Wheelbase was 103.5 inches.

This phaeton, which sold for a base price of $460, features a rear-mounted accessory trunk. It has been restored just as it would have looked when new.
The Ford Model A introduced many improvements including a new battery and ignition system and a conventional sliding-gear manual transmission. They had four-wheel mechanical brakes, welded wire wheels, and Houdaille-type shock absorbers. Several design cues from Lincolns were incorporated into the design, and they featured a longer wheelbase, a higher belt line, and several more colors than the Model T's utilitarian black. The Model A utilized a new inline four-cylinder engine that produced twice the output of the motor in the Model T.

This Model A is believed to be the lowest known existing serial number for a Ford Model A. This example was originally exported to Sweden after leaving the factory, and it was registered in March of 1928. The car passed through a number of owners in Europe, and it was restored in Sweden before returning to its country of origin in the early 2000s. The car was repainted in green with a black top. Later, it was owned by Charlie Bass, of New Hampshire, before being sold to its current owner in 2006.

This Model A is equipped with the left-handed brake and an early rear taillight.
By Daniel Vaughan | Dec 2013
The name Model A was first used by Ford in 1903 and also known as the Fordmobile. This was the first vehicle produced by the Ford Motor Company and its first owner was Dr. Ernst Pfenning of Chicago, Illinois who purchased the Model A on July 23, 1903. Production of the first generation Model A lasted from 1903 through 1905 with 1750 examples being produced.

Automobile production was new and experiments with design, techniques, and technology were still being experimented with. Many early producers of the automobile had been in either the coachbuilding business or the bicycle business. Upon the invention of the automobile, they switched to the production of horseless carriages.

Henry Ford had $28,000 in investment capital to begin his new business. Upon completion of his first motorcar, he had spent all but $223.65. The Model A's were available as either a two-seater runabout or a four-seater tonneau. A flat-2 engine was horizontally-mounted midship and capable of producing 8 horsepower. A three-speed planetary transmission was matted to the engine. Dimensions and weight varied but the advertised top speed of the vehicle was about 45 miles per hour. The base price was $750 and was available with options such as a rear seat for $100. A rubber roof would set the buyer back an additional $30 while the leather roof was $50.

The Model A was replaced by a sequence of 'letter cars' until Ford produced the perfect combination of accordability and reliability with the Model T. It was mass produced and by 1914 the adaptation of the assembly line streamlined the process even further. By the 1920s, Ford had mobilized the United States with their customers wanting more and willing to pay more for it. Chevrolet's were becoming popular because they were similar to the Ford but offered a few extra amenities at a slightly higher but still reasonable price. Near the close of the 1920's and after sales began to slip, Ford realized that a replacement was needed.

So as production came to a close for the Model T, Henry Ford halted all production for six months to retool the equipment and prepare for the production of the Model A. The second generation of the Ford Model A began on October 20th, 1927. Sale of the Model A began on December 2nd, 1927 and was offered in four colors. The Model had been available in the United States only in black because it dried the fastest.

The public eagerly awaited the sale of the Model T's replacement and were not disappointed. It was a stylish and elegant vehicle, which had been designed by Henry Ford's son, Edsel. In comparison to its predecessor, it was more sophisticated and complex.

The cost of the second generation Model A, produced 24 years after the original Model A was sold for $365 less, with price ranging from $385 through $570. The car was powered by an L-head 4-cylinder engine with just over 200 cubic-inches in displacement. A three-speed sliding gear transmission with 1 reverse speed was used. Top speed was achieved a little over sixty-miles per hour with the average fuel mileage being rather exceptional at over 40 MPG.

Just like the Model T, the Model A was available in multiple configurations such as the top of the line Fordor in either 2 or 3 window, Victoria, Station Wagon, Truck, Town Car, Convertible Cabriolet, Phaeton, Business Coupe, Sport Coupe, Roadster Coupe, and Coupe to name a few.

During the production lifespan of the Model A, lasting until August 31, 1931, Ford produced 4,320,446 Model A's. It was replaced by the Model B.
By Daniel Vaughan | Mar 2006
Lincoln at Los Angeles Auto Show Press Days: Celebration of Its Past and Future As Brand Rolls Out Its Reinvention
> The brand pays tribute to its heritage today, displaying seven of the most influential Lincoln designs > Thursday sees a display full of the all-new MKZ premium midsize sedan and MKZ Hybrid, the future of Lincoln, on the Lincoln stand > Lincoln launches on Tumblr http://lincolnnow.tumblr.com beginning with the visually stunning classic Lincolns shown on the stand and select images from archives. Continues with an all-new collection of photographs by photographers Jamie Beck and Kevin Burg ...[Read more...]
STENHOUSE FINISHES THIRD IN PHOENIX
Ford Finishing Order: 3rd – Ricky Stenhouse Jr. 7th – Michael Annett 21st – Paulie Harraka 30th – Dexter Stacey 32nd – Noel Dowler 34th – Kevin Lepage 41st – Carl Long RICKY STENHOUSE JR. – No. 6 Valvoline NextGen Ford Mustang – WHAT WERE YOU THINKING WHEN YOU DROVE BY AND SAW THE 2 CAR AGAINST THE WALL? 'I didn't really think anything. I just kept doing what we were doing all day. We worked really hard. Mike made some good calls – changing four there, stay...[Read more...]
Classic Motorcar Auctions' Grande Salon Event Tops $1.7 Million
Classic Motorcar Auctions LLC announces total sales for their 3rd annual Grande Salon Auction reached $1.7 million, including buyer's premium. The two-day auction, which was held Sept. 15-16, 2012 during the Glenmoor Gathering event at the historic Glenmoor Country Club in Canton, Ohio, had a 51% sell-through rate. The auction's high sale was a beautifully restored 1937 Cord 812 Supercharged Phaeton at $150,000, followed by the 1912 Ford Model T prototype six cylinder Speedster once belong...[Read more...]
Rolex Monterey Motorsports Reunion : Cobras Take It To The Limit
Today was the day everyone was waiting for, or at least the 30 or so thousand people flocking to the Rolex Monterey Motorsports Reunion were waiting for it: the chance to see 45 competition Shelby Cobras charging around California's famously challenging 2.238-mile road course known as Mazda Raceway Laguna Seca. The Cobras are part of the Reunion's celebration of the Shelby Cobra's 50thAnniversary, and besides those signed up for racing, there were hundreds more in the paddock, surrounding corr...[Read more...]
Classic Motorcar Holds Grande Salon Auction During Glenmoor Gathering
1912 Edsel Ford Model T Six Cylinder Speedster to Cross the Block CANTON, Ohio - Classic Motorcar Auctions LLC will hold their 3rd annual Grande Salon Auction Sept. 15-16, 2012 during the Glenmoor Gathering event at the historic Glenmoor Country Club in Canton, Ohio. The Grande Salon Auction will feature more than 150 antique, classic and sports cars as well as various automotive memorabilia up for bid. Vehicles will be available for preview on Friday, Sept. 14 from 1-8 p.m. The a...[Read more...]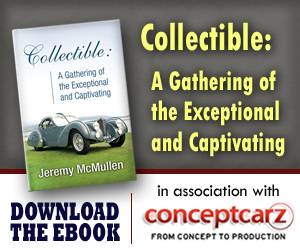 Ford
Monthly Sales Figures
Volume
August 2014
214,028
July 2014
204,373
June 2014
214,793
May 2014
244,501
April 2014
203,552
March 2014
235,198
February 2014
177,286
January 2014
148,671
December 2013
210,074
November 2013
183,722
October 2013
184,854
September 2013
178,693
(More Details)
© 1998-2014. All rights reserved. The material may not be published, broadcast, rewritten, or redistributed.