1953 MG TD news, pictures, specifications, and information

Tweet
The TD debuted in 1949, and retained the TC drivetrain with only minor modifications. Body construction and general look appeared much the same too, but the TD was wider and sat much lower with an independent front suspension. The most obvious visual cue to the TD's identity were its standard 15-inch disk wheels instead of the TC's 19-inch wires. Its current owner obtained this MG TD in 1965 while in college. It was the car in which he drove his future wife to class, and for a time delayed her engagement ring in favor of keeping the car running!
| | |
| --- | --- |
| | Roadster |
The TD used the same basic chassis and drivetrain as the MG Y-type 4-seat sedan, complete with independent front suspension, rack-and-pinion steering, and 15-inch steel, disc type, road wheels. A great improvement over the previous cars, some said. The Motor reported a top speed of 77 miles per hour. The left-hand-drive car was built without a light on the dashboard that on home market cars glowed at a speed of 30 miles per hour (the speed limit in English towns).

This 1953 TD is a recently completed restoration of what was officially known as the TD MKII because of its upgraded - to 54 horsepower - engine block, cylinder head, gaskets and clutch.
Roadster
Chassis Num: 22535
Engine Num: XPAG/TD2/22884

Because of the popularity of the MG TC among American servicemen (both those late returning from World War II and those staying behind for postwar duties), the British automaker equipped 90 percent of that car's successor, the TD, with steering wheels mounted on the left (American) side of the cockpit. The United Kingdom mounts the steering wheel on the right!

The TD was introduced in 1949. This Yellow Cream-colored 1953 example has been restored to its original specification, including the disc wheels, body, engine, upholstery colors and even auxiliary period accessories such as the front driving lights.
Designed specifically for the United States market, the MG TD followed the TC in 1949. Its styling was very similar to its predecessor, though it brought with it many improvements. They had left-hand drive, a much stiffer welded chassis derived from the Type Y saloon with box-section side rails, rack-and-pinion steering, new 15-inch pressed steel ventilated wheels, and a fully independent suspension. The TD retained the engine and transmission of the TC, as well as its classic body, which was slightly widened and given front and rear bumpers.

Nearly three times as many TD models were sold during a four-year production run, than the prior TC.

This TD roadster has been given a body-off restoration and finished in Ivory Cream with a red leather interior, a tan canvas top and canvas side curtains. It has Lucas fog lamps, a boot cover, an owner's manual and a workshop manual.

In 2010, the car was offered for sale at the Vintage Motor Cars of Hershey auction presented by RM Auctions. The car was estimated to sell for $20,000-$30,000 and offered without reserve. As bidding came to a close, the car had been sold for the sum of $27,500 including buyer's premium.
By Daniel Vaughan | Oct 2010
With a possible racing background this car was rescued from a field in West Virginia in the late 60's by an earlier owner and was acquired by the current owners in running condition in 1972. Some maintenance work was subsequently performed but the car was not used much. Full restoration and upgrading started late in 1999 with the goal - in the spirit of the fifties - of ending up with a period-correct touring vehicle that could be driven to the track and, with headlights taped and tires pumped up, give a decent account of itself on the race course.

Aside from routine chassis straightening, panel and parts replacement and all new woodwork and upholstery, the engine was re-worked with an emphasis on longevity as well as more power. Tuning is per a 1956 manual, just short of 'Stage 2' out of five stages, with compression raised to 8.6:1, larger inlet and exhaust valves, strong valve springs, a center branch exhaust header and a 2-inch exhaust pipe. Horsepower is estimated in the low 60s at 5500 RPM to 70 lb. ft. A heavy front anti-sway bar lessens body lean. The original drum brakes are unchanged but the differential has the optional 4.875 ratio.

The result of the above tuning work is that the car not only can keep up with freeway traffic, but also has respectable lap times at the Laguna Seca and Infineon race tracks. It is great fun to drive and corners as well as much fancier sports-racers of the time. 60 mph is reached at the bottom of the Infineon esses on a good day, but, by more modern standards, braking is marginal.

Since 2000 the car competes in club races and is a regular at the Wine Country Classic at Infineon. It has been invited three times to the Monterey Historic Automobile Races at Laguna Seca.
This was the last year that the TD was produced. For a short period of time in 1952 the MGTD and MGTE were available in order to clear the production of the MGTD. Wire wheels were offered as a factory option.

26,000 MGTD vehicles were produced between 1950 and 1953. This was more cars than the factory sold in its pre-war history. Over 60% of the MGTD's came to the US.
This vehicle is a 1953 MG TD Inskip Tourer fitted with a 1250cc four-cylinder engine capable of producing nearly 60 horsepower. There is a four-speed manual gearbox and four-wheel hydraulic brakes.

The TD was a very popular vehicle, with sales reaching 10,000 units in two versions. The most exclusive version is often thought to be the Mark II or the Bertone-bodied Arnolt MG's, however, the honor goes to the Inskip four-seat touring models as only twelve were built.

Based in NY, J.S. Inskip was an importer for MG and other European automobiles during the late 1940s. Inskip felt there was a market for four-seater versions of the MG sports car, as Morgan and Singer had enjoyed success with their versions. Inskip enlarged the frame of a stock MG TD by ten inches. Longer unning boards and doors were fabricated and Rolls-Royce door hinges were added. A rear seat was added, as well as rear fender stone-guards, and knock-off wire wheels. The two-seater MG TDs had factory bench seats while the Inskip models were given front bucket seats.

This Inskip MG has been treated to a restoration some time ago, though still shows well in modern times. It is finished in bright red paintwork and black leather interior. There is a complete set of side curtains, a Inskip Lion radiator hood ornament, Lucas road lights, luggage rack, and tri-bar headlamps.

This vehicle was brought to the 2007 Monterey Sports & Classic Car Auction presented by RM Auctions, where it had an estimated value of $60,000 - $80,000. it was offered without reserve which worked well for the buyer who purchased this car for $35,700 including buyer's premium.
By Daniel Vaughan | Dec 2007
This MG TD has been in the same care for over 5 decades. It was purchased by Werner Spier M.D. on June 4th of 1960, from a Dallas Coca-Cola executive, who is believed to be the original owner. The Coca-Cola executive had the car finished in a two-tone finish, in red and white, with the tonneau cover done to match. At the time, the car showed just 39,500 miles and cost Dr. Spier $1,050. At the time, the car also had two period accessories; it had an aluminum valve colors and an Accessories Ltd. steel spare-tire cover.

In 1990 and 1991, the MG TD was given a complete restoration. The factory original colors are believed to be ivory with green, however Dr. Spier requested Reno Red with a tan interior and top, with a tonneau to match.

The Spier family retained the car for over 2 decades.
By Daniel Vaughan | Oct 2014
The MG TA Midget appeared in the spring of 1936 as a replacement for the MG PB. It featured many components borrowed from Morris. Channel sections replaced the tubular cross-members making the vehicles ride more comfortable. The suspension was provided by leaf springs and beam-axle in the front and rear. The brakes were hydraulically operated drums, a first for MG. The body shell was assembled around the MG traditional way of using a wooden frame. All this added up to a total weight of 1,765 pounds.
A 1292 cc, overhead-valve, pushrod, four-cylinder engine was placed in the front and powered the rear wheels. Outfitted with dual horizontal SU carburetors, the engine produced 50 horsepower. The four-speed manual gearbox was synchromesh, another first for MG.

When first introduced, the two-seater vehicle could be purchased in open and closed configuration. Later, the open coupe, referred to as an Airline Coupe, was replaced with a Drophead style. The Drophead used a soft-top that could open and close depending on the driver and the weather conditions.

In 1939 World War II was beginning. MG was introducing its latest vehicle, the TB Midget. It was basically the same as the TA, but was equipped with a larger, 1250cc, engine. The four-cylinder over-head valve, XPAG power plant was borrowed from the new Morris 10. It produced 45 horsepower and was much more reliable than its predecessor. When the war began, production ceased. MG shifted its focus to creating equipment for military purposes.

At the end of the War, MG introduced the TC Midget. This was essentially a TB with very few modifications. The chassis was modified with rubber bush shackles in place of the sliding trunnion spring mountings. The transmission was the single-plate dry clutch and four-speed synchromesh unit. The engine was the XPAG 1250 cc pushrod engine. It was essential a TB offered in one body style, an open two-seater.

Even though the TC was a rebirth of an old model and used outdated mechanical equipments but modern interior, the TC Midget was very successful. During its four year production run, lasting from 1945 through 1949, more than 10,000 TC's were created.

In 1949, the TC was replaced by the TD Midget. It visually appeared like the previous Midgets, but was very different in mechanical ways. With a new chassis, it was sturdier and provided a comfortable ride. An independent suspension with double wishbones and coil springs were placed in the front. The vehicle was left-hand drive. The engine and transmission were identical to the TC. To comply with newly developed safety concerns and regulations, bumpers were placed on the front and in the rear.

A Mark II version used a more powerful version of the XPAG engine. With larger carburetors and higher compression ratio, the vehicle produced 57 horsepower. The suspension was modified and the interior received bucket seats.

During its four-year production run, the TD experienced even more success than its predecessor. Just like the TC, many of the TD Midgets were exported to the United States.

In 1953, the TD was updated and dubbed the TF. It was given a 1466 cc engine. Production continued through 1955 when it was replaced by the MGA.

Prior to World War I, the future of the company was unknown. Thanks to the success of the TA, the road was paved for MG to continue their prosperous status after the War. The models that followed brought modifications both visually and mechanically. The T-Series, lasting from 1936 through 1955, was a simple and reliable two-seater sports car that was fun to drive.
By Daniel Vaughan | Mar 2006
MAZDA JOINS FORCES WITH IMSA AS OFFICIAL AUTOMOTIVE PARTNER
• Two-Car Prototype Entry, Event Sponsorship Part of Three-Year Partnership
DAYTONA BEACH, Fla. (Jan. 25, 2014) – Mazda has been named an official automotive partner of the International Motor Sports Association (IMSA) and will have a strong presence throughout the 2014 TUDOR United SportsCar Championship. Mazda is fielding a two-car prototype effort utilizing its latest SKYACTIV-technology in the TUDOR Championship, and will have multiple teams racing Mazda MX-5s in the Contin...[Read more...]
PRIMED FOR PERSONALIZATION: MOPAR PRODUCTS AVAILABLE AT LAUNCH TO CUSTOMIZE THE ALL-NEW 2015 CHRYSLER 200
◾Modified 2015 Chrysler 200 on display at the North American International Auto Show (NAIAS) demonstrates how Mopar products can personalize the beautiful all-new mid-size sedan ◾Mopar parts and accessories will be available at launch to complement the exhilarating driving experience of the all-new 2015 Chrysler 200 ◾Mopar products, including wheels, graphics packages, Wi-Fi, in-vehicle wireless charging and more, available for the 2015 Chrysler 200 ◾Owners can customize the beautifully craft...[Read more...]
Hyundai And J. Pangilinan Link Up Again To Create Atlantis Blue JP Edition Genesis Coupe For SEMA Show
COSTA MESA, Calif., Oct. 14, 2013 – Hyundai and tuner John Pangilinan have again linked up, this time to develop a striking JP Edition Genesis Coupe in a custom-developed Atlantis Blue exterior color. Pangilinan is known in the tuner community for selecting retina-bending color themes for his Hyundai SEMA concepts, and this latest Genesis Coupe is sure to bolster his reputation even further. The eye-grabbing coupe concept will debut at the 2013 SEMA show in Las Vegas, November 5-8. 'Jo...[Read more...]
Pagenaud Joins Honda Effort At Pikes Peak International Hill Climb
06/05/2013 - TORRANCE, Calif. Honda-powered IndyCar racer Simon Pagenaud, winner of Sunday's IZOD IndyCar Series race in Detroit, will make his 'Race to the Clouds' debut later this month, driving a highly-modified Honda Odyssey as part of Honda's record-setting 11-vehicle, nine-class effort at the 2013 Pikes Peak International Hill Climb. With support from Honda's North American motorsports and R&D companies – Honda Performance Development and Honda R&D Americas, Inc. – the company wi...[Read more...]
Citroen Shifts Into Racing Gear For 2012 Goodwood Festival Of Speed
•New Citroën Racing driver, Thierry Neuville, will be putting DS3 WRC through its paces on the hill climb & Forest Rally Stage •Hot blooded 256bhp DS4 Racing concept making its UK premiere on the Citroën stand •New Citroën DS5 taking part in the Moving Motor Show Citroën is showcasing the very best of its stylish flair, 'Créative Technologie' and racing pedigree at this year's Goodwood Festival of Speed with the DS3 WRC in action; the UK premiere of DS4 Racing concept and a display of th...[Read more...]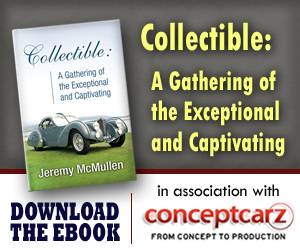 © 1998-2014. All rights reserved. The material may not be published, broadcast, rewritten, or redistributed.