1958 Pontiac Bonneville Series 25 news, pictures, specifications, and information

Tweet
For 1958, the Bonneville ceased the role of model designation and became its own line. It was offered in two bodystyles, a convertible and sport coupe. The name 'Bonneville' was originally used by GM on a pair of bubble-topped GM Motorama concept cars called the 'Bonneville Special.' The name came from the Bonneville Salt Flats in Utah where many land speed records have been set over the years.

The Pontiac Bonneville was a product of those Motorama Concept Cars. It originally began life in the Star-Chief model-lineup and served as the high-performance, fuel-injected luxury convertible late in the 1957 model year. It came equipped with every available option and carried a hefty price tag of $5,000. This price was more than double the base price of a Chieftain four-door sedan.

The name 'Bonneville' was suitable to the 1957 Pontiac Star-Chief Custom Bonneville, as it was the fastest Pontiac ever. It could race from zero-to-sixty in just 8.1 seconds and it would win the Grand National Championship with a top speed of 101.6 mph. This was fast enough to break all existing records during NASCAR trials at Daytona.

In 1957, only 630 Bonnevilles were produced. For 1958, a coupe was added which paced the Indianapolis 500. By now, the price had come down to much more reasonable territory, starting at around $3,000. This was made possible by the removal of many of the standard features found on the 1957 model. Standard equipment now included a Tri-Power 300 horsepower engine.

In 1958, there were 12,240 Bonnevilles made with 9,144 being the coupe body style. They were available in single carburetor, tri-power, or fuel-injected configurations.

This 1958 Bonneville has the Tri-Power setup and 61,600 original miles. It is well optioned with power steering, power brakes, power windows, fender skirts, a continental kit, and the rare 'Sportable Radio.' It is painted in Squadron Blue and Cascade Blue.

In 2008, the car was offered for sale at the Hilton Head Sports & Classic Car Auction presented by the Worldwide Auctioneers. It was estimated to sell for $70,000 - $80,000. Bidding failed to reach the vehicles reserve and the lot was left unsold.
By Daniel Vaughan | Nov 2008
The Pontiac Bonneville measured 211 inches and weighed 4040 pounds of steel and chrome. In its first year of production, the Bonneville was invited to pace the 1958 Indianapolis 500. They were expensive, exclusive, and fitted with the largest engine options available. In 1958, 3,096 convertibles were sold.

The 370 cubic-inch V8 was powerful and dependable, especially with the Tri-Power/Hydra-Matic transmission combination, which offered 300 horsepower, thanks to 10.5:1 compression and a high-lift cam. A Rochester fuel-injected setup was also available, yielding 310 horsepower, though road tests found that the Tri-Power was actually faster and much less trouble.

This particular example wears a well-preserved restoration. It has a new top, wide whitewall radial tires, and color-keyed belts. Power is from a 370 cubic-inch overhead valve V8 fitted with triple two-barrel Rochester carburetors with vacuum linkage, Strato-Flight four-speed Hydra-Matic automatic transmission, and four-wheel power drum brakes.
By Daniel Vaughan | Jan 2014
To celebrate General Motors' 50th Anniversary 'Golden Jubilee', all stops were pulled out by the designers on the 1958 Pontiac Bonneville Sport Coupe, undoubtedly one of the flashiest of all 1950's vehicles. A one year only body was featured as a final staement by longtime GM styling chief Harley Earl before his retirement. The entire 1958 lineup litterly sparkled chrome. Unique two-tone exterior color combo's and delxue interiors were showcased on interiors on all 58 models from Chevrolet's, Pontiacs, Buick, Oldmobiles and Cadillacs. There motto for this year was 'The Boldest Advance in Fifty Years!'

Semon E. 'Bunkie' Knudsen became Pontiac's new general manager in the summer of 1956 and soon after he hired Pete Estes and John DeLorean. Huge changes were in the works for Pontiac. First introduced as mainly a dealer promotion vehicle, that attempted to highlight Pontiac's new high performance image, the original Bonneville was a largy flashy convertible with a highly powered V8 engine generating 310 horsepower.

Originally introduced as a limited production performance convertible in the Pontiac Star Chief model range during the 1957 model year, the Bonneville eventually became its own series in 1958. Historically based of of the Cadillac DeVille, the Bonneville was built by the Pontiac division of General Motors from 1958 until 2005. Pontiac has been best known for its performance vehicles, especially since the introduction of the Bonneville I 1957. Perhaps a little flashier and faster than than a Chevrolet, it is still cheaper than an equivalent Oldsmobile or Buick. That has remained Pontiac's mission.

First appearing in 1954 on on a pair of bubble-topped GM Motorama concept vehicles called the Bonneville Special, the Bonneville name first entered the lineup as the Star Chief Custom Bonneville, which was a high-performance, fuel-injected luxury convertible late during the 57 model year. The very first Bonneville was a spectacular, chrome-laden convertible with a continental-style spare wheel mounting, fuel-injeted engine. It came with an eight-power front seat, underseat heater, degroster electric antenna, and many more unique and exclusive features.

During that first year, only a total of 630 units were produced. This small amount made it the most collectible Pontiac of all time, especially since it cost twice the amount of the star Chief convertible. The Bonneville has persisted, and remained as the division's top of the line model until 2005. Many speed records were being set at the Utah salt flats, and the name was created from the town of Bonneville, the place of much auto racing, and most of the world's land speed record runs.

The public must have liked both the car and its name became in 1958, a coupe was added into the lineup as Bonneville expanded into its own series. In this year it paced the Indianapolis 500. Offering 225 hp an 285 hp V8 engines, the Bonneville sat atop the Pontiac range, also offering a deluxe steering wheel, unique upholstery and chrome wheel covers. The Bonneville also featured wraparound windshields and rear window, two-toning on the roof and long striking sidespear plus chrome hash marks placed on the front fenders.

During its third year, the '59 Bonneville gained a 4-door bodystyle along with a nearly complete line in itself. The Pontiac Wide-Track was born in 1959, when all Pontiac makes and models received new chassis with 'wide-track' stance. During this year, the introduction of two of Pontiac's greatest marketing inspirations were showcased, the split grille, and the Wide Track slogan, both are still part of Pontiac's image to this day.

Sales peaed in 1966 at 135,401 units sold. In 1969, the main highlight became the new V8 engine that provided 360 horesepower. Considered Pontiac's most expensive and most luxurious model throughout the 1960s, the Bonneville was extremely instrumental in moving Pontiac to third place in sales from 1962 until 1970. Bonneville's constantly received updates, changes and restyling, along with new features for all of its trim models throughout the 1970's.

During the early 1970's, the Grand Ville name was being used for Pontiac's highest-price model, and though the Bonneville was de-emphasized slightly, it never went away. In 1976, the Bonneville emerged in the top spot. This was the final year before the down-sized full-sized Pontiacs began to appear in 1977.

The Bonneville nameplate was quite abruptly moved from a full-size vehicle to the mid-sized car in 1982. The mid-sized car was previously known as the Pontiac LeMans. This change was not taken to very well by customers, so Pontiac was forced to reintroduce a full-sized vehicle. They brought over the Canadian-built Pontiac Parisienne, which was basically a re-styled Chevy Caprile that was powered by a Chevrolet V6 or V8 engine. Once again, Bonneville was placed one notch below the top of the line.

Just like the previous time, downsizing became the salvation that the Bonneville needed. The Parisienne was discontinued in 1987, and the Bonneville was redesigned completely as a front-wheel drive vehicle and once again rejoined in pre-1982 platmform buddies, the Buick LeSabre and the Oldsmobile Eighty-Eight. It again regained its status as the senior Pontiac and the SE Bonneville was placed on Car and Driver magazine's Ten Best list for that year.

The decision was made by Pontiac to change the Bonneville from rear wheel drive with a V8 engine to a more economical front wheel drive 3.8 V6 vehicle in 1987. The V6 that was installed was a 3.8L V6 with the RPO code of LG3. A dive in the performance market soon followed, as this engine only produced around 150 hp, though it had a kick of 210 ft-lbs of torque power.

The following model that was introduced in 1989, the Bonneville LE may have been Pontiac's attempt to add a bit more of pep and pizazz to the Bonneville line. This new model moved up to 15 hp and 10 ft-lbs of torque, and this engine has the RPO code of LN3. The Bonneville was once again redesigned in 1991, though it did remain as an H-body.

A total redesign was done in 1992 to the exterior of the Bonneville, though the interior experienced very few changes. The LE trim was also taken off the lineup. Available trims for 1992 were SE, SSE, and SSEi, and airbags now came as standard features in Bonnevilles. Nearly 100,000 Bonneville models were sold in 1992.

Things once again changed in 1993, though the exterior remained the same, the interior did go through a slight update. A sport Luxury Edition was made available for '93, which was basically a base SE, with an SSE exterior, an all of the same available options as an SE. Much remained unchanged for the 1994 model. Much of the vehicle has remained the same throughout the next few years, making way for a total redesign for the 2002 model year.

The Bonneville regained a V8 option on the GXP trim for 2004, which has been a first since 1986. On February 8, 2005, GM announced that the Bonneville would be dropped from Pontiac's lineup for 2006. The high-end Pontiac Grand Prix GXP trim replaced the Bonneville.

For many years, the vehicle fondly called the 'Bonne', the Pontiac Bonneville has showcased a mix of luxury, performance with the aid of a supercharged 3.8 liter engine.
By Jessica Donaldson
For more information and related vehicles, click
here
Mecum Will Offer One-Of-A-Kind Personal Driver Of Corvette's Original Designer
• Harley J. Earl Corvette will Cross Mecum's Block at Chicago Auction Oct. 10-12
Walworth, WI - September 24, 2013 -- The factory-styling Sting Ray gifted to the father of the Corvette – Harley J. Earl – will cross the block at Mecum's Chicago auction this Oct. 10-12 at the Schaumburg Convention Center. Among an anticipated 1,000-car lineup, this car stands out as the personal driver of GM's head designer who was one of the most significant innovators in the history of the Amer...[Read more...]
BRITAIN'S RACING LORD AIMS TO RAISE SUB-1000 KG ELECTRIC CAR WORLD LAND SPEED RECORD AT BONNEVILLE SPEED SHOOTOUT
10 September 2013 : Technology entrepreneur, former UK science minister and racing driver Lord (Paul) Drayson is bringing his spectacular Drayson B12 69/EV electric Le Mans Prototype racing car to the Bonneville Salt Flats in Utah in an attempt to raise the sub-1000kg electric car world land speed record. Drayson Racing achieved a 204.2mph average speed (subject to FIA homologation) over the measured mile earlier this summer at Elvington Airfield in Yorkshire, UK, and is aiming to go e...[Read more...]
Rare, Historic Cadillacs On Display At Pebble Beach
Custom 'none-of-a-kind' Fleetwood V-16s from 1930s featured Aug.16-19 A pair of one-of-a-kind Cadillac Fleetwood V-16s that were available but never ordered by customers during the Great Depression will be among the cars on display at the annual Pebble Beach Concours d'Elegance in Carmel, Calif., this week. Cadillac's exhibit, open to the public Aug. 16-19 at Peter Hay Hill, features Cadillac's newest cars, along with the two custom-built Fleetwood Convertibles from 1934 and 1937. ...[Read more...]
Pebble Beach Concours d'Elegance Introduces Its First Sport Customs Class
One-off Sport Customs designed to turn heads while tooling down Main Street USA will roll onto the 18th fairway of Pebble Beach Golf Links for the 2012 Pebble Beach Concours d'Elegance on August 19. This year, for the very first time, the Pebble Beach Concours d'Elegance is hosting an entire class dedicated to Sport Customs. 'These are one-of-a-kind cars built in the US, on modified American production chassis with American engines by individuals, designers and craftsmen,' explains auto...[Read more...]
GM Design: 85 Years of Making Art That Moves You
As GM Design celebrates its 85th birthday this month, the 1,900 men and women in GM's 10 global design centers are focused on the future, united in their vision to entice consumers to fall in love and see vehicles as they do: art that moves you. 'Our global team is united around its passion for designing vehicles that make an emotional connection with customers,' said Ed Welburn, GM vice president, Global Design. 'What was true 85 years ago is still true today: A designer's role is to create...[Read more...]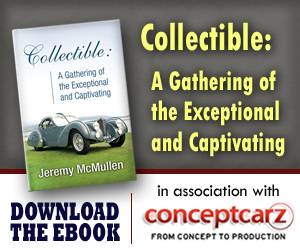 Similarly Priced Vehicles from 1958
Chevrolet Corvette C1 ($3,600-$3,600)
Edsel Citation ($3,498-$3,765)
Mercury Series 85A Montclair ($3,235-$3,600)
Mercury Montclair Turn Pike Cruiser ($3,500-$3,600)
Oldsmobile Super 88 ($3,110-$3,620)
Mercedes-Benz 180 Series ($3,240-$3,520)
DeSoto Fireflite Series ($3,580-$4,175)

Average Auction Sale: $72,272
© 1998-2014. All rights reserved. The material may not be published, broadcast, rewritten, or redistributed.