1971 Renault R-10 news, pictures, specifications, and information

Tweet
In 1898, the Societe Renault Freres Company was founded by Louis Renault and his brothers Marcel and Fernaud. Louis had the engineering talents, while the other two brothers provided the support necessary in running a business. Their first vehicle was the 'Voiturette', and was a sign of things to come. During the early years, Renault was very active in motor racing while greatly enhanced their popularity. As the years progressed, their reputation became better known for building cars for the masses.

In 1956, the R8 was replaced by the R10. In comparison, the R10 was slightly longer which provided more interior and luggage room. The designs were similar, with one of the more noticeable features being the round headlamps in the front. These were later replaced with the now familiar squared off design.

The R10's engine was given more power in 1970, now displacing 1289cc and producing 56 horsepower. The French production of the R10 ceased in 1971, though production continued at their Spain facility until 1973. The R10 was one of the last rear-wheel drive production Renault cars in the US, as after 1971, they were switched to front-wheel drive.

This example is a well preserved Renault 10 Sedan. It is painted in mint green with a black vinyl interior. There are four-wheel single piston disc brakes, independent suspension, and four-speed manual full synchromesh transmission.

In 2008, this saloon was offered for sale at the Hilton Head Sports & Classic Car Auction presented by Worldwide Auctioneers. It had an estimated value of $14,000 - $18,000. As the gavel fell for the third and final time, bidding had failed to satisfy the reserve. The lot was left unsold.
By Daniel Vaughan | Nov 2008
The Renault 10 was produced from 1965 through 1971 and was positioned between the 8 and 12 models. It had a very similar design to the Renault 8 but slightly longer offering extra interior room to the passengers and additional room for luggage. The double overhead cam, four-cylinder engine offered 48 horsepower; the displacement was enlarged to 1289cc for 1970 and was rated at 56 bhp.

It was a well-priced, mass produced car that sold well and popular with many. It was originally priced at $1780 when it went on sale in the US, later increasing to $1780 before peaking at around $1850.
By Daniel Vaughan | Nov 2008
The Trident is Raised
At this year's Rolex Monterey Motorsports Reunion the carmaker Maserati will be featured as it will mark the 100th anniversary of the iconic Italian automaker's founding. One of Italy's most famous marks, and perhaps most troubled, the trident-bearing automaker continues to provoke passion through its search of excellence. Five brothers would come together in December of 1914 to found a motor company bearing their name—Maserati. Alfieri, Bindo, Carlo, Ettore and Ernesto had all demo...[Read more...]
120 years of motor sport at Mercedes-Benz take centre stage at the Goodwood Festival of Speed 2014
'Addicted to Winning': at this year's Goodwood Festival of Speed, Mercedes-Benz looks back on some fascinating racing victories of the last 120 years •The unique motor sport heritage of the Mercedes-Benz brand is being celebrated with an exclusive installation by sculptor Gerry Judah •Mercedes-Benz and Gran Turismo®6 jointly celebrate '120 years of motor sport' Stuttgart. – The thrilling victories of the Mercedes-Benz Silver Arrows mark the peaks of the history of motor sport for...[Read more...]
Techno Classica 2014: more than 30 racing cars to celebrate 120 years of Mercedes-Benz motor racing history
•Cars that were the heroes of magical moments put their stamp on this high-powered, most comprehensive show presentation •With more than 30 vehicles, Mercedes-Benz Classic presents motor racing history in all its unique breadth and depth •120 years of Mercedes-Benz motor sport in the focus of the leading international classic motor show 120 years of Mercedes-Benz motor racing history have produced a timeline of extraordinary victories which since 1894 also stand for outstanding innovations ...[Read more...]
Low Mileage Collectables offered at Fort Lauderdale Auction
• Auctions America kicks off its 2014 collector car calendar March 14-16 in Fort Lauderdale • Leading recent entries are fantastic low mileage examples including a 2005 Ford GT, a 2006 Ford GT Heritage Edition, a 1954 Chevrolet Corvette and a 1967 Chevrolet Corvette 427/435 Coupe • Additional vehicle highlights include a 1973 Ferrari 365 GTB/4 Daytona, a 1971 Ford Mustang Mach 1 and a 1935 Hudson Terraplane driven by Johnny Depp in the movie 'Public Enemies' • Regarded as South Florida's pre...[Read more...]
From 1896 to 1986 - Nearly a Century of Automobile History to be Offered in Unique Aalholm Collection Sale
Collectors from around the world are excitedly requesting catalogues to see in detail some of the diverse and highly-prized lots that will go under the hammer during RM Auctions highly anticipated Aalholm 'without reserve' auction, 12 August in Southern Denmark. Representing nearly a century of automobile manufacturing supplemented by some fascinating lots, including a Wright Brothers Replica Plane, a 1890s Danish Royal Train Carriage and a rare, highly-prized toy train set, the single-day sa...[Read more...]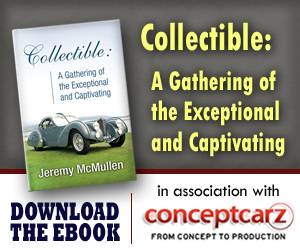 © 1998-2014. All rights reserved. The material may not be published, broadcast, rewritten, or redistributed.