1948 Pontiac Torpedo news, pictures, specifications, and information

Tweet
The 1946-1948 Pontiacs were very similar to the 1942 model introduced before Pontiac, like most other automobile companies, focused their attention on the war effort.

The 1948 Pontiac was a dependable, value-packed, affordable car. It gained a reputation of being a 'middle-of-the-road' car - popular with middle class, middle-aged buyers and in the middle price range. The new styling features of the Torpedo convertible included triple 'Silver Streaks', round taillights, a horizontal grille with vertical shafts, Colonial grain or imitation leather and lacquered instrument boards that matched the exterior color.

The hood was accented with the words 'Silver Streak' with an '8' placed in the middle of them, representing the 104 horsepower, 249 cubic-inch eight-cylinder power plant. Price of the 1948 Pontiac Torpedo convertible was $2,000.
Designed as a cross between a luxurious and standard vehicle, the Pontiac Torpedo is one of Pontiac's lines of muscle cars. First introduced in 1940 was the Torpedo S four-door sedan, and the Pontiac Torpedo S convertible coupe arrived in 1948. Pontiac has long been GM's brand for affordable performance oriented vehicles, and has been able to offer inexpensive yet still aggressive and capable vehicles. Their models have been famed for both their agility and sporty appeal. Pontiac has consistently created performance vehicles that have triumphantly competed with top car brands.

Near the end of the war, nearly ten million Americans were in need for a new vehicle. The majority of manufacturers had launched their '46 models in the summer and autumn of 1945, but production had been delayed due to shortage of materials and due to strikes. In August of 1946 the one-millionth post-war vehicle was built and several new vehicles, including the Kaiser and Frazer were produced in the Willow Run plant.

The Torpedo was built with 6 or 8 cylinder 3.9 liter or 4.1 liter engine from 1946 through 1948. This variation of engine featured stellar horsepower and torque that allowed to Torpedo to function extraordinarily in even poor driving conditions. The interior design of the Torpedo featured upholstery and accessories that were crafted with the drivers comfort in mind. The Pontiac Torpedo Eight Series 27 sedan came with a 248•9 CID engine and a 119-inch wheelbase.
By Jessica Donaldson
Techno Classica 2014: more than 30 racing cars to celebrate 120 years of Mercedes-Benz motor racing history
•Cars that were the heroes of magical moments put their stamp on this high-powered, most comprehensive show presentation •With more than 30 vehicles, Mercedes-Benz Classic presents motor racing history in all its unique breadth and depth •120 years of Mercedes-Benz motor sport in the focus of the leading international classic motor show 120 years of Mercedes-Benz motor racing history have produced a timeline of extraordinary victories which since 1894 also stand for outstanding innovations ...[Read more...]
Magic moments: 120 years of Mercedes-Benz motor sport: history at the Retro Classics show from 13 to 16 March 2014
•Mercedes-Benz Classic presents highlights in the history of the DTM in hall 7 at the show in Stuttgart •Strong presence by the company and the brand clubs at southern Germany's leading show for automotive classics •Fascinating dialogue between competition models and the top-of-the-line C-Class models from Mercedes-AMG 120 years of motor sport history at Mercedes-Benz also stand for twelve decades in a culture of ongoing innovation for series production cars which is fuelled by strong impul...[Read more...]
The Mercedes Benz S Class: automobile comfort of the highest standard
• S Class: the epitome of automobile comfort • Every generation of vehicles provides ground-breaking solutions to the expectations of customers with regard to comfort The history of the Mercedes Benz S Class shows that automobile comfort is far more than just a luxurious ambiance, size and performance. In fact it is far more the intelligent support of the driver and passengers through innovative technical solutions providing answers to current questions and requirements which contribute to t...[Read more...]
Auctions America Announces Exciting List of Attractions for its Auburn Spring Collector Car Weekend
• Final countdown underway to Auctions America's Auburn Spring collector car weekend, May 9 – 11 at the historic Auburn Auction Park in Auburn, Indiana • Sale lifts the gavel on approximately 500 quality collector cars and features full day of memorabilia • Latest auction highlights include a 1930 Packard Dual Cowl Sport Phaeton, a 1938 Cadillac V-16 Convertible Coupe, and a very rare 1967 Ford Fairlane 500XL R-Code in addition to the previously announced John Soneff estate collection • Week...[Read more...]
Auctions America's 2013 Auburn Spring Event Offers Ultimate Collector Car Weekend
• Auctions America presents the first of two annual Auburn sales, May 9 – 11 at historic Auburn Auction Park in Auburn, Indiana • Multi-day sale lifts gavel on 600 quality collector cars and an assortment of memorabilia • Notable early highlights include selection of Hudsons from the respected John Soneff Collection • Weekend also features inaugural Antique Automobile Club of America Central Division National Spring Meet, and an extensive car corral and swap meet presented by Carlisle Events...[Read more...]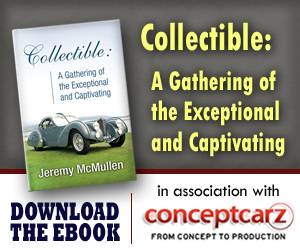 Similarly Priced Vehicles from 1948
Chevrolet Fleetline ($1,400-$1,502)
Oldsmobile Sixty Series ($1,600-$2,620)
Chrysler New Yorker ($2,065-$3,415)
Plymouth Special Deluxe ($1,445-$2,070)
Chevrolet Fleetmaster ($1,379-$2,000)
Pontiac Silver Streak ($1,500-$1,935)
© 1998-2014. All rights reserved. The material may not be published, broadcast, rewritten, or redistributed.