1948 Pontiac Torpedo news, pictures, specifications, and information

Tweet
The 1946-1948 Pontiacs were very similar to the 1942 model introduced before Pontiac, like most other automobile companies, focused their attention on the war effort.

The 1948 Pontiac was a dependable, value-packed, affordable car. It gained a reputation of being a 'middle-of-the-road' car - popular with middle class, middle-aged buyers and in the middle price range. The new styling features of the Torpedo convertible included triple 'Silver Streaks', round taillights, a horizontal grille with vertical shafts, Colonial grain or imitation leather and lacquered instrument boards that matched the exterior color.

The hood was accented with the words 'Silver Streak' with an '8' placed in the middle of them, representing the 104 horsepower, 249 cubic-inch eight-cylinder power plant. Price of the 1948 Pontiac Torpedo convertible was $2,000.
Designed as a cross between a luxurious and standard vehicle, the Pontiac Torpedo is one of Pontiac's lines of muscle cars. First introduced in 1940 was the Torpedo S four-door sedan, and the Pontiac Torpedo S convertible coupe arrived in 1948. Pontiac has long been GM's brand for affordable performance oriented vehicles, and has been able to offer inexpensive yet still aggressive and capable vehicles. Their models have been famed for both their agility and sporty appeal. Pontiac has consistently created performance vehicles that have triumphantly competed with top car brands.

Near the end of the war, nearly ten million Americans were in need for a new vehicle. The majority of manufacturers had launched their '46 models in the summer and autumn of 1945, but production had been delayed due to shortage of materials and due to strikes. In August of 1946 the one-millionth post-war vehicle was built and several new vehicles, including the Kaiser and Frazer were produced in the Willow Run plant.

The Torpedo was built with 6 or 8 cylinder 3.9 liter or 4.1 liter engine from 1946 through 1948. This variation of engine featured stellar horsepower and torque that allowed to Torpedo to function extraordinarily in even poor driving conditions. The interior design of the Torpedo featured upholstery and accessories that were crafted with the drivers comfort in mind. The Pontiac Torpedo Eight Series 27 sedan came with a 248•9 CID engine and a 119-inch wheelbase.
By Jessica Donaldson
BARRETT-JACKSON SALON COLLECTION TO HIGHLIGHT SCOTTSDALE AUCTION
•(Lot #5087), a 1949 Talbot-Lago T-26 Grand Sport Franay headlines Barrett-Jackson's Salon vehicle lineup •An exquisite 1929 Alfa Romeo 6C 1750 SS (Lot #5083) will be among the auctions most notable consignments •One of 300, a stunning silver 1955 Mercedes-Benz 3000 SL Gullwing (Lot #5075) will cross the Scottsdale auction block SCOTTSDALE – Jan. 5, 2015 – Barrett-Jackson, The World's Greatest Collector Car AuctionsTM, will feature a rare docket of exquisite Salon vehicles during its...[Read more...]
MERCEDES-BENZ 2014 G63 AMG: THE ULTIMATE G-CLASS
The latest technology for the AMG off-road icon: the new 2014 G63 AMG impresses with a state-of-the-art powertrain, expressive new design and improved efficiency. All this is largely attributable to the AMG 5.5-liter V8 biturbo engine delivering 536 hp and the AMG SPEEDSHIFT PLUS 7-speed automatic transmission. Every new AMG high-performance vehicle offers an outstanding mix of 'more power from less fuel' – and the G63 AMG is no exception. The 'strong man' in the AMG model range has been furt...[Read more...]
History Rolls into Hershey for RM's Annual Pennsylvania Sale
• Final countdown underway to RM's annual Hershey, Pennsylvania auction, held October 10 – 11 during the historic AACA Eastern Regional Fall Meet • Two-day sale features 116 vehicles, with an emphasis on Brass and Classic Era motor cars • Sale entries led by a rare, award-winning 1933 Chrysler CL Imperial Convertible Roadster • Auction also features number of vehicles steeped with local Pennsylvania history • Digital catalogue now available online at rmauctions.com BLENHEIM, Ontario (S...[Read more...]
The Champion in Touring Car Racing : The BMW M3
In August 1985, a rumour surfaced in motor magazine Auto-Deutschland which emanated from a new sports car. An A Group Car from BMW that was a thoroughbred racing car according to the rules but was also to be produced in a version licensed to drive on open roads for everyday use. Speculation about this dream car that could take to normal roads and was intended for the 'Most dynamic among BMW 3 Series drivers' was right on target. But the pundits missed the mark about the motor-sport car by a mile...[Read more...]
Auctions America By RM's 2012 Auburn Spring Auction
'Variety' is the buzzword for this year's Auctions America by RM June 1-3 Auburn Spring auction, which will offer a huge range of collector vehicles and an enormous private collection of automotive memorabilia. More than 600 American muscle cars, Classics, foreign sports cars and hot rods will cross the block at the historic Auburn Auction Park, the company's national headquarters in Auburn, Indiana. 'Last year was our first spring event at the park,' said Auctions America by RM's President ...[Read more...]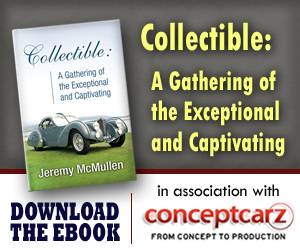 Similarly Priced Vehicles from 1948
Chevrolet Fleetline ($1,400-$1,502)
Oldsmobile Sixty Series ($1,600-$2,620)
Chrysler New Yorker ($2,065-$3,415)
Plymouth Special Deluxe ($1,445-$2,070)
Chevrolet Fleetmaster ($1,379-$2,000)
Pontiac Silver Streak ($1,500-$1,935)
© 1998-2014. All rights reserved. The material may not be published, broadcast, rewritten, or redistributed.