1949 Ford Custom Series news, pictures, specifications, and information

Tweet
1949 was a big year for the Ford Motor Company as they introduced their first new product line since the end of World War II. Ford offered two Series for 1949, a base and a Custom Series. Both were offered with either a six- or eight-cylinder engine. The base series was the base trim level while the Custom was the top trim level. Additions to the Custom series were additional chrome moldings, a horn ring, interior B pillars, and two sun visors. The Deluxe Series could also be purchased in convertible or station wagon bodystyles - in addition to the two- and four-door sedans, and club coupe. The base series had two- and four-door sedan, a club coupe and a business coupe.
By Daniel Vaughan | Dec 2008
The styling for the 1949 Ford Custom was all-new and primarily the work of George Walker, a graduate of the Cleveland Institute of Art. Assisting Walker was Richard Caleal, Robert Bourke and Bob Koto. The designs featured slab-sided bodies earning the cars the nickname 'shoe box Ford.'

The cars were available with either a six- or eight-cylinder engine. In the front was a spinner-style grille and a large central spinner ornament. Ford engineers gave the cars an updated chassis and suspension with longitudinal mounted springs.

There were 51,133 convertibles produced in 1949 on the Ford Custom line with the base price selling at $1,885.

In 2009, this car was offered for sale at the Vintage Motor Cars of Hershey presented by RM Auctions where it was estimated to sell for $15,000 - $25,000 and offered without reserve. The lot was sold for the sum of $18,700, including buyer's premium.
By Daniel Vaughan | Oct 2009
| | |
| --- | --- |
| | Convertible |
For 1949, the Fords were built on a 114-inch wheelbase and given a ladder frame supporting a front coil spring suspension with longitudinal semi-elliptical springs in the rear. To increase passenger legroom the engine was moved forward. The antiquated torque tube was replaced by a modern drive shaft. Power was still from either a 226 cubic-inch flathead six-cylinder or a flathead V8 displacing 239 cubic-inches. The 6-cylinder engine offered 90 horsepower while the V8 version boosted power to 100.
By Daniel Vaughan | Aug 2010
Ford had their 1949 models in production and ready for the public by June 948, beating Chevrolet by six months and Plymouth by nine months. Ford was America's number on auto manufacturer, with a production increase of over 300 percent from 1948 and an extended 16-month selling period.

The 1949 models were nicknamed 'shoebox' fords due to their new slab-sided bodies with flush-mounted fenders. They were the most modern looking of the Big Three low-priced cars for 1949. In total, 31,412 were the new Ford wagon. It featured an all-steel structure that nearly stopped the typical squeaking and much of the wind noise associated with a wood-bodied car. The design featured bolt-on, replaceable wood panels. Up to this point in history, all Ford wagons used solid maple framing, but the 1949's framing was steel-covered, with paneling that was created by using the latest in electronic technology. The parts were created by using a microwave bonding process that squeezed a mixture of phenolic resin-coated wood pieces together to form a frame blank. The panels were crafted by a layer of maple over an inner layer of ash. The roof was also made from steel. Ford offered the wagon in its highly-priced Custom series, but only as a two-door from 1949 to 1951.

This example is painted Midland Maroon Metallic over a dark tan interior. The car was restored in Oklahoma approximately 15 years ago and has been in its current owner's collection for the last six years. Power is from a 226 cubic-inch overhead valve 'flathead' V-8 engine offering 100 horsepower. There is a three-speed manual transmission and four-wheel drum brakes.
By Daniel Vaughan | Apr 2013
This 1949 Ford Woody Wagon is one of the last Ford's from the late Floyd Moore Private Museum Collection. It was given a restoration in the early 1990s by the second owner on a well preserved 'barn find' specimen. It has been meticulously maintained and lightly used since 1993 by the Moore family in northern Wisconsin, not far from the Iron Mountain, Michigan hardwood forest where Ford grew their own trees for use on their woodies.

The car is powered by a Flathead V8 engine and fitted with a three-speed transmission with overdrive. It has the correct Midland Maroon Metallic paint and original woodwork. Inside, there is a dark brown interior and 3 rows of seating. There are rubber floor mats and correct linoleum in the rear storage area. It has a rare rotating center headlight, spare tire cover, whitewall tires, radio, heater and clock.
By Daniel Vaughan | Dec 2014
World War II put automobile production on hold. Production ceased on February 10, 1942 and resumed in 1946. When production began, most vehicles offered by marques were basically carried over from pre-War development. It was not until 1949 until Ford began offering new designs. They featured simple lines that were clean and well integrated into the body. In the front was a dramatic and artful bullet nosed grille.

The Custom Deluxe Series was introduced in 1950 and would continue for a total of two years. The Custom Deluxe Crestliner two-door sedan was Ford's top-of-the-line offering and included chrome window moldings, chrome horn rings, armrests on all doors, and two sun visors. Needless to say, there was chrome at nearly every available location. Two engines were available, a six- and eight-cylinder unit. The L-head six-cylinder unit produced 95 horsepower while the L-head V8 produced 100 horsepower. The standard gearbox was a three-speed manual; an optional three-speed manual with automatic overdrive was optional

The cars rested on a 114-inch wheelbase and passenger cars measured 196.6 inches. Station wagons were slightly larger, measuring 206 inches.

The Crestliner was a two-door special sedan that had a vinyl top covering. There was extra chrome, special steering wheel, full wheel covers and special paint.
By Daniel Vaughan | Oct 2009
For more information and related vehicles, click
here
DIVERSE PRIVATE COLLECTIONS ADDED TO AUCTIONS AMERICA'S FLAGSHIP AUBURN FALL SALE
• Numerous private collections to cross the block at Auctions America's Auburn Fall event, August 27 – 31 at Indiana's historic Auburn Auction Park • Latest highlights led by 80 vehicles from a prominent private collection along with 20 cars from The David Disiere Collection • Multi-day sale to feature approximately 1200 quality collector cars and a full day of parts and memorabilia • Frequently updated list of entries and complete event information available at auctionsamerica.com AUBU...[Read more...]
The Trident is Raised
One of Italy's most famous marks, and perhaps most troubled, the trident-bearing automaker continues to provoke passion through its search of excellence. Five brothers would come together in December of 1914 to found a motor company bearing their name—Maserati. Alfieri, Bindo, Carlo, Ettore and Ernesto had all demonstrated a passion for automobiles, particularly racing, during those early years at the turn of the 20th century. The foundations of the company would actually begin ...[Read more...]
Audi Confirmed For Salon Privé 2013
• Salon Privé 2013 - 4th to 6th September
Syon Park, London, 21 August 2013 – Audi is set to display the R8 V8 Spyder, RS 6 Avant and RS 4 Avant at Salon Privé 2013. A hand-built, high-revving V8 engine mounted just behind the passenger compartment of the Audi R8 V8 Spyder launches the stunning soft-top supercar to 62 mph in 4.8 seconds and on to a top speed of 187 mph. The mid-engine configuration helps to lower the centre of gravity for optimum road holding, while the slick...[Read more...]
1964 Nurburgring 1000 Kilometers: Survive for One Last Victory
During the late 1950s, Richie Ginther would begin a relationship with John von Neumann and this partnership would result in one of the most dominant periods of American sportscar racing in which Ginther and Porsche would be virtually unbeatable. Nearly a decade later, that same combination would again join forces to provide one more moment of glory. By the mid-1950s Porsche had developed its 550. This was a small car more than capable of dominating its class and consistently able to challenge...[Read more...]
Auctions America By RM's 2012 Auburn Spring Auction
'Variety' is the buzzword for this year's Auctions America by RM June 1-3 Auburn Spring auction, which will offer a huge range of collector vehicles and an enormous private collection of automotive memorabilia. More than 600 American muscle cars, Classics, foreign sports cars and hot rods will cross the block at the historic Auburn Auction Park, the company's national headquarters in Auburn, Indiana. 'Last year was our first spring event at the park,' said Auctions America by RM's President ...[Read more...]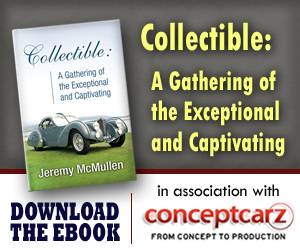 Similarly Priced Vehicles from 1949
Dodge Coronet ($1,913-$3,675)
Oldsmobile Rocket 88 ($2,045-$3,105)
Morris Minor ($1,575-$1,575)
Morris Oxford ($2,150-$2,150)
MG TC ($1,895-$1,895)
Mercury Series 9CM ($1,980-$2,715)
Chevrolet GK Styleline DeLuxe ($1,500-$2,300)
Plymouth Special Deluxe ($1,600-$2,375)

Average Auction Sale: $34,793
Ford
Monthly Sales Figures
Volume
December 2014
209,679
November 2014
178,221
October 2014
179,014
September 2014
172,261
August 2014
214,028
July 2014
204,373
June 2014
214,793
May 2014
244,501
April 2014
203,552
March 2014
235,198
February 2014
177,286
January 2014
148,671
(More Details)
© 1998-2014. All rights reserved. The material may not be published, broadcast, rewritten, or redistributed.