1979 Mercury Zephyr news, pictures, specifications, and information

Tweet
Little changed for the Mercury Zephyr's appearance for 1979, the second year for the model. Mechanically, However, several significant changes were made. The four-speed manual gearbox with overdrive was now standard for the 200 cubic-inch V6 engines and the 302 V8 engines. The 302 V8 fitted with the SelectShift was given a new rear axle ratio, now at 2.26:1.

The list of options expanded to include speed control, performance instruments, electric trunk lid release, and title steering.

The Zephyr was available with a four-, six-, and eight-cylinder engine. The base engine produced 88 horsepower and had 118 foot-pounds of torque. Moving up from there was a six-cylinder unit that offered 85 horsepower and 154 ft-lbs of torque. A V8 engine was also available, boosting horsepower to 140.

The Zephyr was available in two- and four-door bodystyles, including sedan, station wagon, and the Z-7 Sport Coupe. The Station Wagon bodystyle was the most expensive, selling for just over $4300. Next was the Z-7 Sport Coupe which was $4120. The Two-Door Sedan was the least expensive, selling for $3870. The Z-7 Sport Coupe proved to be the most popular, with 42,923 examples produced. 24,218 examples of the station wagon were produced for this year.
By Daniel Vaughan | Dec 2008
The Mercury Zephyr was produced from 1978 through 1983. This name had a history with the Ford Motor Company, as it had been used on the luxurious and elegant Lincoln's of the pre-War era. In 2006, the name re-appeared on the Lincolns.

The Mercury Zephyr was similar to the Fairmont vehicle of the day. It was available with a four, six, or eight-cylinder engine and could be purchased in coupe, sedan, or station wagon body styles. A limited production, 2-door version of the Zephyr dubbed the Z-7, was also part of the lineup. The Z-7 2-door coupe had a wrap over roof design and wraparound taillights. The most common engine found in the Z-7 was either the six or eight cylinder engines, though a few were fitted with the four-cylinder units. Most of the Z-7 vehicles had a two-tone paint job.
By Daniel Vaughan | Dec 2008
CHRYSLER GROUP IN 2015, UNDER THE HOOD: MORE POWER, GREATER EFFICIENCY AND EXCEPTIONAL VALUE
◾Introducing the HEMI® Hellcat – Chrysler Group's most powerful V-8 ever; 18th new engine added to Company lineup in less than five years ◾Celebrated TorqueFlite family grows by one with most robust eight-speed automatic in Chrysler Group history; 15th new transmission ◾TorqueFlite transmissions – projected to save current Chrysler Group customers more than 700 million gallons of gasoline – now available across entire Dodge full-size car lineup ◾Debut of new, high-efficiency, lightweight axle...[Read more...]
120 years of motor sport at Mercedes-Benz take centre stage at the Goodwood Festival of Speed 2014
'Addicted to Winning': at this year's Goodwood Festival of Speed, Mercedes-Benz looks back on some fascinating racing victories of the last 120 years •The unique motor sport heritage of the Mercedes-Benz brand is being celebrated with an exclusive installation by sculptor Gerry Judah •Mercedes-Benz and Gran Turismo®6 jointly celebrate '120 years of motor sport' Stuttgart. – The thrilling victories of the Mercedes-Benz Silver Arrows mark the peaks of the history of motor sport for...[Read more...]
Auctions America Continues Successful 2013 Season with its Annual Fall Carlisle Sale
• Auctions America rounds out its 2013 auction season in Carlisle, Pennsylvania, October 3-4 • Two-day Fall Carlisle sale, held in conjunction with the Carlisle Events Collector Car Swap Meet & Corral, features a diverse roster of 300 classics, exotics, muscle cars, hot rods, and customs • Auction highlights include a desirable 1967 Chevrolet Corvette 427/435 Roadster, a 1969 Chevrolet Camaro Z-28 RS Sport Coupe, and a 1960 Mercedes-Benz 190SL Roadster • Full event details and a frequentl...[Read more...]
1964 Nurburgring 1000 Kilometers: Survive for One Last Victory
During the late 1950s, Richie Ginther would begin a relationship with John von Neumann and this partnership would result in one of the most dominant periods of American sportscar racing in which Ginther and Porsche would be virtually unbeatable. Nearly a decade later, that same combination would again join forces to provide one more moment of glory. By the mid-1950s Porsche had developed its 550. This was a small car more than capable of dominating its class and consistently able to challenge...[Read more...]
Mercedes-Benz USA Announces Pricing for 2014 SLS AMG Black Series and C63 AMG Edition 507
MONTVALE, N.J. – Mercedes-Benz USA (MBUSA) today announced pricing for the 2014 SLS AMG Black Series coupe and the 2014 C63 AMG Edition 507 sedan and coupe. Both models are part of an exclusive lineup of high-performance AMG models available at all U.S. Mercedes-Benz dealers. The Manufacturer's Suggested Retail Pricing for the MY14 SLS AMG Black Series is $275,000 (plus $1,800 for destination and delivery). Pricing for the MY14 C63 AMG Edition 507 sedan will begin at $70,000 (plus $925 fo...[Read more...]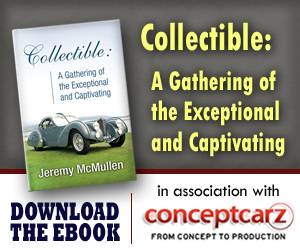 © 1998-2014. All rights reserved. The material may not be published, broadcast, rewritten, or redistributed.