Image credits: © Cadillac. GM Corp.
1915 Cadillac Model 51 news, pictures, specifications, and information

Tweet
This 1915 Cadillac Model 51 Four-Door Saloon wears coachwork courtesy of C.P. Kimball & Co. It was commissioned in 1915 from an individual from Caro, Michigan named W.J. Moore, a cousin of the celebrated American inventor Elisha Gray, who invented and patented many electrical devices and founded the company that became Western Electric. At the age of 21, Moore had established the Moore Telephone Manufacturing Company and the Moore Telephone System, and in 1892 offered the first telephone service in south-east Michigan.

Within a few years, he had built a thriving telephone network across his local area. His successful ventures meant he became one of the first motorists in Michigan, ordering a 4.5-hp De Dion-Bouton Voiturette from Paris in 1899. It is said that when he drove it to Michigan, it was thoroughly examined by Henry Ford, who was working on one of his early prototypes.

Moore placed his order for the Cadillac Model 51 on March 9th of 1915. Though most of the Cadillac 51's were sold complete with bodywork on the standard 122-inch wheelbase chassis, a long wheelbase version, measuring 145-inches, was available at a cost of $1850.

Two days later, his chassis arrived at the Bay City Auto Company in Bay City, MI. He specifically asked for oversize cylinders, low final drive ratio, 37x5 tires, and Universal demountable rims.

The coachwork was performed by the well-established firm of C.P. Kimball coachworks in Chicago. It had a history that dated back to 1877 as a buggy builder.

To make the car more comfortable in the winter, Moore equipped his car with a unique heating system concealed in a specially-extended hood cover that funneled warm air from the radiator into the body of the car. Electric fans were positioned above the rear seats to ensure proper circulation of the air within the car.

The car remained in Moore's care his entire life. In 1950, it won a silver trophy at the Wisconsin Centennial in Milwaukee. Upon his death, his widow disposed of the car. It went to a Chevrolet-Oldsmobile dealership where it became a display car. it was given a modern Cadillac engine, as the original engine had suffered major damage. In 1975 the car was imported into England by the pioneering old car dealership Antique Automobiles Ltd, who completely restored the original V8 engine for the new owner, a major European collector, and re-installed it in the car.

It has been in its present ownership for over 30 years. In 2008, it was offered for sale at the 'Quail Lodge, A Sale of Exceptional Motorcars and Automobilia' presented by Bonhams Auction. It was estimated to sell for $150,000 - $200,000. As the gavel fell for the third and final time, the lot remained unsold.
By Daniel Vaughan | Dec 2008
Cadillac introduced their Model 51 in September of 1914 for the 1915 season. It was a very important model for Cadillac and for the American automotive industry as it became the first production V8 engine for the US. There had been other V8 engines in the past; most were ephemeral prototypes. Only the French De Dion-Bouton company had actually marketed a production V8 engine, which they had done starting in 1909.

Cadillac's V-8 engine was cast in two blocks of four-cylinders each. They were positioned at a 90-degree angle, directly opposite one another. It featured full-pressure lubrication and a single, centrally-located camshaft which operated the valves. Each cylinder block had its own thermostat. The water circulation, used to cool the engine, was controlled by a impeller pump.

The engine displaced 314.5 cubic-inches and produced an impressive 70 horsepower. In the race for refinement, luxury, and performance, the Cadillac Model 51 was at the top of its game. The Packard Model 38, one of the premier luxury car producers of its time, produced 65 horsepower and cost nearly twice the price of the Type 51.

The Cadillac Model 51 was available in eight body styles. The open body styles sold for the same price as its four-cylinder Model 30 sibling from the year prior, at just under $2,000. The closed Landaulet Coupe body style sold for about $500 more. The top-of-the-line Berline Limousine cost $3,600.

The development of the V-8 is credited to many sources. A De Dion V-8 automobile had been purchased for study purposes. A second engine, a V8 Hall-Scott aeroengine was also purchased with the same intention. An experimental V-8 unit was built using the best practices and features of both designs. Under the leadership of British engineer D. McCall White, formerly with Daimler and Napier, the project got under way in 1914. The hand-picked team worked clandestinely, developing a smooth-running V8 that offered low-speed torque. The result of the product turned into America's first mass-produced V-8 engine and the layout would become the hallmark of Cadillac for many decades. The engine was praised for its smoothness at speeds between 55 and 60. However, at lower speeds such as 40 to 50, it exhibited out-of-balance shaking common to four-cylinder engines of the era. This issue would be later resolved with the introduction of the 1924 models. The solution was a balanced crankshaft.
By Daniel Vaughan | Dec 2008
Further enhancing the Cadillac Motor Car Company's reputation for engineering leadership, the introduction of the innovative new eight-cylinder Model 51 marked Cadillac's first application of the V8 in standard production, mass-produced vehicle. Since that debut, the V8 engine has continued to remain as Cadillac's standard powerplant since, for an 'unbroken span of more than 65 years'.

Cadillac chose to replace its outdated four-cylinder Model 30 with the 1915 V-8 Type 51. The model 30 had been running for four years and it was considered by some to be outdated, though it had an outstanding reputation for both durability and reliability. In 1914 sales for Cadillac plummeted, possibly due to other luxury makers were running with sixes. The Model 51 V8 was introduced by Cadillac founder Henry M. Leyland and featured an amazing 70 hp and a water-cooled V8 engine.

As the Edwardian Era was coming to a close, the elegance and innocence of that time was manufactured into the 'Landaulette' model. The stylish transformable coupe made the Model 51 a legend as it featured sophistication and style. Cadillac advertised the Model 51 as 'The Penalty of Leadership' in an ad campaign that wowed consumers. The Model 51 was produced in significant numbers and became a Cadillac trademark for decades.

For years Leyland had been experimenting with a variety of engine types, and as a result of all of his hard research, he came to the conclusion that V8 would be much more popular than a six. The compact nature of the v-type design also appealed to Leyland and in some instance the long crankshaft that characterized the inline sixes had a tendency to 'whip at high rpm'. At the time, most luxury models had moved on to much more powerful six-cylinder engines, but Cadillac continued to sport its mundane four cylinder engine. The Model 51 was then debuted by the luxury department, powered by eight cylinders that wowed the public.

The V8 was a strange and unique design for those days, and many people hadn't even seen such an engine. Two French manufacturers had developed V8's more than a decade previously and had utilized them to power racing machines. In America, as early as 1906 Howard Marmon had demonstrated an air-cooled V8. In 1910 the French firm of DeDion had marketed a production V8. The Cadillac Model 51 offered the first commercially available V8 engine in 1914.

The Model 30 was the original vehicle that included an all-new Delco system and an electric start. No more were drivers concerned with jamming a thumb or breaking a limb when cranking their cars. Unfortunately, though the Model 51 was impressive, but it paled deeply when placed alongside the 1912 Cadillac Model 30. This top-of-the-line Cadillac was the most expensive vehicle that GM produced, and at 1921, the Model 51 was priced at $5,190.

During the 1915 model year alone, Cadillac produced more than 13,000 units of the Model 51, which was a very impressive number for the first year on the market. The Cadillac Roadster, the four-passenger Cadillac Salon, the five-passenger touring car, and the Cadillac Seven-Passenger vehicle were all priced at $1,975, while the Cadillac Coupe was priced at $2,500, the Sedan for five-passengers at $2,800, the standard Cadillac Limousine was priced at $3,450 and the top-line vehicle, the formal 'Berlin Limousine' was sold at $3,600.
By Jessica Donaldson
FORD BEST-SELLING BRAND AMONG AMERICAN MILITARY FAMILIES; F-150 TOP SELLER OVERALL, ESCAPE NO. 1 SUV
◾Ford is best-selling brand among American military families, according to Polk vehicle registrations analyzed in an IHS Automotive military sample of 19.3 million households of active, retired or veteran military personnel; Ford has three vehicles in the top 10, with F-150 topping the list ◾Ford Escape is best-selling sport utility vehicle among American military families and third most popular vehicle overall. In Philadelphia, Detroit and Cleveland markets, Escape is top-selling vehicle among...[Read more...]
Techno Classica 2014: more than 30 racing cars to celebrate 120 years of Mercedes-Benz motor racing history
•Cars that were the heroes of magical moments put their stamp on this high-powered, most comprehensive show presentation •With more than 30 vehicles, Mercedes-Benz Classic presents motor racing history in all its unique breadth and depth •120 years of Mercedes-Benz motor sport in the focus of the leading international classic motor show 120 years of Mercedes-Benz motor racing history have produced a timeline of extraordinary victories which since 1894 also stand for outstanding innovations ...[Read more...]
ALL-AMERICAN CAR TO BE CONSERVED BY ALL-AMERICAN RACERS
One of the race cars American racing legend Dan Gurney is most closely associated with is the Ford Mark IV that he and A.J. Foyt took to a historic victory at the 1967 24 Hours of Le Mans. Gurney will get a chance to become even more familiar with the car he helped make famous when his All-American Racers shop in California takes possession of the car's conservation on behalf of Henry Ford Museum, it was announced today. 'I don't think we could have found a better person or better organiza...[Read more...]
From 1896 to 1986 - Nearly a Century of Automobile History to be Offered in Unique Aalholm Collection Sale
Collectors from around the world are excitedly requesting catalogues to see in detail some of the diverse and highly-prized lots that will go under the hammer during RM Auctions highly anticipated Aalholm 'without reserve' auction, 12 August in Southern Denmark. Representing nearly a century of automobile manufacturing supplemented by some fascinating lots, including a Wright Brothers Replica Plane, a 1890s Danish Royal Train Carriage and a rare, highly-prized toy train set, the single-day sa...[Read more...]
Countdown Underway to 30th Anniversary Meadow Brook Concours d'Elegance Weekend
• Bloomfield Hills/Birmingham motoring tour kicks off the weekend
• Automotive Design Forum with representatives from Detroit's Big 3 Automakers provides unique aspect
• RM's Vintage Motor Cars of Meadow Brook auction provides the opportunity to acquire great collector cars
• 30th Anniversary Gala features Motown's 'The Contours'
• From Drag cars to Duesenbergs, Sunday's show field of over 220 cars and motorcycles has something for everyone
In less ...[Read more...]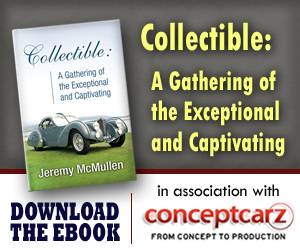 Cadillac
Monthly Sales Figures
Volume
December 2014
16,150
November 2014
13,148
October 2014
13,615
September 2014
13,829
August 2014
16,650
July 2014
15,241
June 2014
13,941
May 2014
14,688
April 2014
13,900
March 2014
14,765
February 2014
13,437
January 2014
11,386
(More Details)
© 1998-2014. All rights reserved. The material may not be published, broadcast, rewritten, or redistributed.