Image credits: © Lancia.
1960 Lancia Appia news, pictures, specifications, and information

Tweet
The Lancia Appia arrived in 1953 and had many styling elements from its big brother, the Aurelia B10. It had an ultra-compact engine positioned at a narrow-angle of just 10-degrees. The V4 unit displaced 1089cc and the inclined overhead-valves were set in hemispherical combustion chambers and operated by twin camshafts in the block. The Appia had unitary-construction with a sliding-pillar independent front suspension. The notchback-style Series II cars rode on a longer wheelbase and given a slightly more powerful engine, now rated at 43 bhp. The Series III cars had 48 bhp.

A limited run of special edition Appia models were produced on a separate chassis and bodied by leading carrozzeria. The coupes were created by Pininfarina, Vignale the cabriolet and Zagato the GT coupé. Those more sporty Appia models were fitted with a 53 bhp engine. The lightweight Zagato models with their aerodynamic coachwork could achieve 100 mph.

This example is a left-hand drive Appia GTE Coupe with coachwork by Zagato. It was delivered new in Guatemala where it was owned by one Ira Dever Lewis Clark, an American citizen. The second owner took possession of the car in 2003. In 2006, it came into the ownership of only its third owner. In 2008, the car was offered for sale at the 'Quail Lodge, A Sale of Exceptional Motorcars and Automobilia' presented by Bonhams Auction. It was estimated to sell for $70,000 - 90,000 but would leave the auction unsold.
By Daniel Vaughan | Dec 2008
This 1960 Lancia Appia GTE Series 3 Zagato Coupe is one of approximately 350 built. It is powered by a narrow-angle V-4 engine capable of producing 60 horsepower. There is a four-speed manual transmission and four-wheel drum brakes. The Zagato bodied cars were lightweight coupe GTs and proved to be very capable machines in competition, including the Mille Miglia.

The Series 3 cars had covered headlights and a smooth roof. This car has been the subject of a recent restoration. It is finished in red paint with a tan and dark-brown vinyl interior.

In 2008, this Series 3 Appia GTE was offered for sale at the Gooding & Company auction held in Pebble Beach, California. It was estimated to sell for $125,000 - $175,000. The lot was sold for $104,500, including buyer's premium.
By Daniel Vaughan | Mar 2009
This 1960 Lancia Appia Berlina sedan with 'suicide doors' is finished in Celeste Ardenza (Sky Blue) with a red leather interior. It rides on a sliding pillar suspension and has thermostatically controlled radiator louvers. Power is from a 10-degree V-4 engine which displaces 1090cc and develops 48 horsepower. There is a column mounted 4-speed manual transmission with synchromesh on 2nd through 4th gear.

There were roughly 150 examples of the 1960 Series 3 Berlina's imported to the United States. The sticker price when new was $2,890. Lancia produced the 3rd Series Appia from 1959 through 1963.
The Appia is one of the most important Lancia models of the 1950s. First introduced in 1953, over 100,000 were produced during the next decade. Zagato proposed this sports car to Lancia in 1957. Over the next seven years, approximately 580 Appia Zagatos were built in four series. Available as a two-seater from 1957 to 1959, the Appia convertible was also built as a 2+2, from 1959 to 1962.

Appias are powered by Lancia's narrow angle V4 engine and feature a sliding pillar front suspension and unit body construction. The aerodynamic body, combined with the light weight (1,785 pounds), allowed this 60 horsepower car to reach speeds of 100 MPH. It was very competitive in small bore racing events, including the Mille Miglia.

This Series 3 car was restored in 2006. It is number 73 of the 136 covered headlight cars built.
One of the most important Lancia models was the Lancia Appia. Available as a two-seater from 1957 to 1959, the Appia convertible was also available as a 2+2 with a welded hard-top from 1959 until 1962. Many people referred to the 2+2 Convertible as the Lusso due to the fact the Coupe and 2+2 shared many similarities, were built in the same period and needed a distinction.

During the 1950's, while Lancia was creating their most beautiful automobiles ever, these cars were also notable for being much more advanced than their competition due to their unitary bodywork structure. Mechanically less complex than other Lancia models, the Lancia Appia Series I and II was produced from 1953 until 1959 and inspired many prototypes by designers such as Zagota, Vignale and Pinin Farina.

The Lancia Appia was designed as the replacement for the Ardea and was introduced to the marked in 1953. Designed by Gianni Lancia, the 1091 cc Appia V-4 featured a four door pillarless design.In 1964, the Appia was the smallest automobile in the Lanci range, at near the end of the decade the Appia was available with both 1216cc and 1298cc engines.

Sharing some of the components of the Appia, the Lancia Fulvia was created to replace the Appia. While the Appia was a rear wheel drive vehicle, the Fulvia was updated to front wheel drive. The Appia was a smaller version of the Aurelia, which was the first Lancia to compete officially in Motorsports. The Aurelia was also the first car in the world to ever mount a 60 degree V, 6-cylinder engine with differential, gearbox and clutch all mounted in a single unit on the rear axle.

During this decade, the Lancia brand became very heavily involved in motor-sports under Gianni Lancia's influence. Models were constructed from production to be used in competitions, with exceptional results.

Financial difficulties forced Gianni to sell his company to Fiat several years later in 1969. All motorsport activities were halted, and financial situation had reached such dire straits that the majority of Gianni's holdings were sold to Pesenti, a financial group.

A style that was unique for its innovativeness and creativity, the custom-built bodies designed for the Dilambda, Lambda, Astura and Aprilia introduced Italian Automobile style to the world. Today Lancia continues to adhere to the precise attention to detail that was instilled by its founder.
By Jessica Donaldson
Postwar Ferrari Named Best of Show at 2014 Pebble Beach Concours d'Elegance
1954 Ferrari 375 MM Scaglietti Coupe Named 'Best of Show' PEBBLE BEACH, Calif. (August 17, 2014) -- Excited cheers echoed across the 18th fairway of Pebble Beach Golf Links Sunday when a 1954 Ferrari 375 MM Scaglietti Coupe was named Best of Show at the 64th annual Pebble Beach Concours d'Elegance. The car, owned by Jon Shirley of Medina, Washington, was the first postwar car to take the top award at the prestigious event in nearly five decades. It was also the first Ferrari to win. ...[Read more...]
63rd Pebble Beach Concours d'Elegance Names 1934 Packard 'Best of Show'
The competition showcased 248 cars, including 48 from abroad PEBBLE BEACH, Calif. (August 18, 2013) -- A 1934 Packard 1108 Twelve Dietrich Convertible Victoria owned by Joseph and Margie Cassini III of West Orange, New Jersey, was named Best of Show at the 63rd Pebble Beach Concours d'Elegance, held Sunday on the 18th fairway of Pebble Beach Golf Links at Pebble Beach Resorts. The event showcased 248 cars from 36 states and 12 countries and raised $1,277,007 for charity. 'This Pack...[Read more...]
Italian thoroughbreds to feature prominently at Bonhams Quail Lodge auction
Numerous iconic and desirable models from Ferrari, Lancia, Lamborghini and more contribute to growing anticipation for this approaching sale San Francisco – Bonhams is delighted to announce its impressive assembly of Italian sports cars for its fast approaching 16th annual Carmel motorcar auction on August 16th. After announcing earlier this spring the consignment of some truly exceptional and noteworthy Italian cars – most notably the one-off 1954 New York Auto Show, 1953 Fe...[Read more...]
Coys True Greats London Sale
Coys round off their 2012 auction calendar with their world-famous True Greats sale of important collectors cars, classic film posters and the Keeler Collection of rare models. With some 400 lots coming under the auctioneer's hammer on 4th December, this sale offers a superb choice of entries for any car collector. Among the great entries include two Lamborghini Miuras, a rare Aston Martin DB5 Vantage in left-hand drive, accompanied by its sister models a DB4 and a DB6, and from Germany a be...[Read more...]
Gooding & Company Announces the distinguished Sherman M. Wolf Ferrari Collection for its Pebble Beach Auctions
Gooding & Company, the acclaimed auction house celebrated for selling the world's most significant and valuable collector cars, is proud to announce that it will present the extraordinary Ferrari collection of Sherman M. Wolf at its Pebble Beach Auctions on August 18 & 19. The renowned Sherman M. Wolf Collection is comprised of a rare, alloy-bodied 1960 Ferrari 250 GT LWB California Spider Competizione, a 1953 Ferrari 340 MM Spider, a 1957 Ferrari 500 TRC and a 1985 Ferrari 288 GTO, four excep...[Read more...]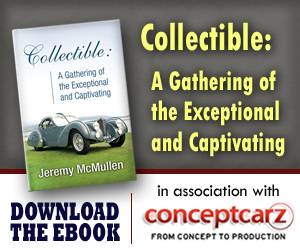 Similarly Priced Vehicles from 1960
Chevrolet Corvette C1 ($3,900-$3,900)
Buick Electra ($3,816-$4,300)
Daimler SP 250 ($3,905-$3,905)
Jaguar MK II ($4,560-$4,760)
Simca Aronde 1300 Oceane ($2,888-$2,888)
Pontiac Catalina ($2,630-$3,210)

Average Auction Sale: $104,500
© 1998-2014. All rights reserved. The material may not be published, broadcast, rewritten, or redistributed.