1953 Jaguar XK120 news, pictures, specifications, and information

Tweet
| | |
| --- | --- |
| | Sport Convertible |
Jaguar created a sensation when the XK120 was launched in October of 148. It was a true 120 MPH sports car with 160 horsepower from a 3.4-liter double-overhead cam engine. A total of 12,055 units of the XK model were produced.

The first restoration of this car was completed in 1977 at a cost of $5,000 and the death of four parts cars. The second restoration was completed over a four-year period by Jaguar South. It is a true driver and has never gone more than two weeks without a good workout. The current owner purchased this car in 1973 for $400.
This 1953 Jaguar XK 120 was offered for sale at the 2007 RM Auctions held in Amelia Island, Florida where it was estimated to sell between $80,000 - $100,000. It was offered without reserve. It is powered by a 3442cc twin-overhead am inline six-cylinder engine capable of producing 160 horsepower. There is a four-speed manual gearbox and four-wheel drum brakes.

The XK 120 model line was first introduced at the 1948 Earls Court Motor Show. Originally, only two-hundred examples were to be produced. After its public appearance, and seeing the interest in the vehicle, William Lyons, Jaguars Founder, ordered tooling for steel bodywork so these cars could be produced in larger quantities.

The car offered style and performance at an affordable price. It was the fastest production car in the world at the time.

This example shown is a two-owner vehicle and the product of a recent, complete restoration. It is finished in British Racing Green and British Racing Green carpet and Biscuit colored leather.

At auction, the beautiful restoration was rewarded and its exquisite design inspired bidding, and the estimated value was achieved. The car found a new owner at a price of $80,300.
By Daniel Vaughan | Mar 2007
It was the XK120 that brought Jaguar to prominence as a sports car builder and giant in the world of road racing. This legendary model was produced between 1949 and 1954. In that time, a total of 12,078 units were built, of which only 2,678 were fixed head coupes.

This example was a 'barn find' in the late 1990s and has undergone a lengthy total restoration.
The 1953 Jaguar XK120 SE Fixed Head Coupe finished in silver with a black leather interior was offered for sale at the 2006 Worldwide Group Auction held on Hilton Head Island where it was estimated to fetch between $75,000-$100,000. When first constructed it was finished in Baltic grey and had a red leather interior. It was constructed on March 24th of 1953 and its first owner was a resident of West Palm Beach, FL. It was used as a commuter car for a number of years before being sent to the United Kingdom where a restoration was undertaken. It was a participant in the 1990-1992 Pirelli Classic Marathon where it earned sixth in class the first year. The following two years it achieved second in class. In 1994 it was sent back to the United States and prepared for motor sports which included the addition of a roll bar and an engine rebuilt. The period C-type head, increased inlet valve size, and enlarged exhaust gave the vehicle over 200 horsepower. Its third owner campaigned the vehicle in six VSCCA races. Its fourth owner acquired the car in 1996 and had it prepared for the 19999 London to Monte Carlo Rally where suffered two flat tires but still managed to finish 13th in class.

At the conclusion of the Worldwide Group the vehicle was left unsold.
By Daniel Vaughan | Jan 2012
Comfort, beauty, performance, class - the Jaguar XK120 was a legend in its own time. The original XK 120 was a true roadster, with a fully detachable top stored in the trunk. The hardtop coupe version was introduced in 1951 and a convertible in 1953. Eventually, 30,000 XK120's were produced in all versions.

It soon became clear that the XK 120 was not only a beautiful machine but a formidable racing competitor. At its racing debut in August of 1949, it took the first two places at Silverstone. With Stirling Moss at the wheel, an XK120 won the Tourist Trophy at Dundrod and the Silverstone in 1950. The twin-overhead-cam, 6-cylinder engine has a displacement of 3.4 Liters, producing 160 horsepower, with a 4-speed transmission, and a top speed of 120 mph.

The Roadster recently completed a frame-off restoration by Tsikuris Classics in Lakeland, Florida. It received the Best-In-Show Award at the Miami International Auto Show - Memory Land (AACA) Display.
Sport Roadster
Chassis Num: S 673526
Engine Num: W 7362-8S

Sold for $114,186 (€86,250) at 2010 Bonhams.

This Jaguar XK120 is an original, left-hand drive example that was completed on the 29th of January in 1953. It was delivered new to R.M. Overseas in Düsseldorf, Germany on 18th February 1953. It came equipped with the 'C-Type' cylinder head, which combined with 8.0:1 pistons and 1.75-inch SU carburetors, increased power to 210 horsepower. In 1986, it was purchased from Jean-Claude Chansel in saint Maur, France and given a seven-year, 'bare-chassis', concours restoration. To help with cruising speeds, it was given a higher-ratio rear axle, while the cylinder head was converted to run on unleaded fuel. It is finished in Old English White with red leather interior and chromed wire wheels.

In 2012, the car was offered for sale at Bonhams Auction in Monaco. As bidding came to a close, the car had been sold for the sum of €86,250 including buyer's premium.
By Daniel Vaughan | Jan 2013
The Jaguar XK120 was conceived and constructed in but a few months. It made its debut at the 1948 Earls Court Motor Show were it caused a sensation. At the heart of the XK120 was the fabulous XK engine; a 3.4-liter 'six' that boasted twin overhead camshafts running in an aluminum-alloy cylinder head, seven main bearings and a maximum output of 160 horsepower. The XK120 defined new standards of comfort, road holding and performance for British sport cars.

This Car
In 2006, Fred Mack celebrated his 95th birthday by skydiving, and enjoyed the experience so much that in 2011, as he 'turned the ton' he did it again! Since his teens, he has owned around eighteen automobiles.

At a much younger age, Mach purchased a Slate Grey Jaguar XK120 with a red interior and chrome wire wheels. It was purchased from a dealer in Media, Pennsylvania. The dealer was able to get it for him for $3,600 instead of the going rate of $4,400. Mr. Mack still retains the Jaguar sales sheet. When he went to collect the car from Hoffman's Importers, it was white with red interior and had painted wires, the dealer explaining that he felt this was better suited to him.

From that day in 1953, the car has been in the ownership of Mr. Mack. In the early 1990s after a period of storage, when the car had sat under a plastic cover and its paint had lifted, Mr. Mack decided to refurbish the XK. The car would emerge from the restorer with new paint and a renewed interior. The work was completed in time to attend the Franklin Mint show in 1999.

The car is currently 60 years old and has been in continuous ownership from new.
By Daniel Vaughan | Nov 2013
This Jaguar is finished in its original pastel green paint. This XK120 M was discovered in 2013 having been in single family car for over 58 years. The current owner acquired the car and began, in early 2014, an intensive refurbishment. This special fixed head coupe has been a California car since it was first retailed by Charles Hornburg Jaguar in Los Angeles in 1953. It spent many years in dry storage.

This XK120 M is one of just 421 examples manufactured for export in 1953, with as few as 30 sharing this unrestored example's color and options.
By Daniel Vaughan | Nov 2014
This Special Equipment XK120 Drophead Coupe was completed at the Jaguar works in May of 1953 and was delivered new through Hoffman Motor Car Company in New York, New York, to its first owner. It left the factory finished in the classic British Racing Green, and fitted with a tan interior and a black convertible top. The early history remains unknown, but at some point it was stored in Georgia, where it remained until recently.
Currently, the cylinder head number does match but the engine block number does not match the factory records, and therefore appears to have been replaced at some point.
By Daniel Vaughan | Nov 2014
The Jaguar XK120 was designed to be a prestigious vehicle and produced in low numbers. The designation '120' represented the vehicles top speed of 120 miles-per-hour. At the time, it was the fastest production car in the world.
The British automotive industry was greatly influenced by World War II. Many manufacturers went out of business due to the lack of funds, fuel and supply shortages, or their factories had been destroyed during the war. In order to stay in business, a solid production line was required that could compete with its class of vehicles. William Lyons, owner of Jaguar, did so by creating a new class - one that was faster, more reliable, stylish, and cheaper than any other vehicle on the market.

To gain industry recognition, Lyons knew that he needed a show car that was revolutionary and bold. Lyons handled the styling while his chief engineer, William Heynes, was tasked with designing the mechanical components. When the vehicle was displayed at Earls Court, the reaction was overwhelming. Originally, Lyons planned to make between 100 and 200 examples. After the public reaction to the car and to keep up with demand, he decided to change the body from hand-formed aluminum to all-steel construction.

The body of the car was reminiscent to the 'French Curves' produced by manufacturers such as Bugatti and Delahaye of the early 1930's and 1940's. They were created in three different body styles, roadster, fixed head, and drop head (convertible).

The vehicle was powered by a 160 horsepower, 3.4 liter, inline-six cylinder engine. Peak horsepower was achieved at 5000 RPM. The 120-mph was the promised speed, the top speed of the vehicle was around 126-132 mph depending on the trim of the vehicle.

The vehicle was designed as a touring car. However, many of the vehicles were raced. Their main weaknesses were their drum brakes which wore quickly, and their steering which was heavy and less responsive when compared to other purpose-built racing vehicles.

In 1951, Jaguar entered the grueling 24-hour of Le Mans endurance race. Three XK120C, the 'C' representing 'competition', were entered. One of the three entrants won the event.

In 1952, an XK120 was driven continuously for seven days and nights around a track located in Montlhery, France. After more than 16,000 miles in one week, the vehicle once again proved its endurance capabilities.

In 1954 production ceased. Over 12,000 examples were produced.
By Daniel Vaughan | May 2008
For more information and related vehicles, click
here
Russo and Steele Collector Automobile Auctions Kicks Off 15th Anniversary with Eight Initial Offerings to Watch
Scottsdale, Arizona (December 1st, 2014) – For Enthusiasts – By Enthusiasts. ™ This is far more than a tagline at Russo and Steele Collector Automobile Auctions. It's a lifestyle, and we are gearing up to deliver that singular passion to the High Desert of sunny Scottsdale, Arizona for our annual flagship event during the world renowned collector car week. Additionally, Scottsdale marks the kick-off of the year-long celebration of our 15th anniversary. Held over five thrilling a...[Read more...]
ROLEX MONTEREY MOTORSPORTS REUNION
THE LADIES' TOUCH While vintage automobile racing trends as a mostly-gentleman's sport, plenty of women have shaped its decades-old history, and several will keep the wheels in motion driving their own collectibles at this year's Rolex Monterey Motorsports Reunion. Scheduled for August 14-17 at Mazda Raceway Laguna Seca, the annual event this year celebrates 100 years of Maserati and punctuates action on the track with 550 pre-selected historic and period-correct race cars competing in ...[Read more...]
Techno Classica 2014: more than 30 racing cars to celebrate 120 years of Mercedes-Benz motor racing history
•Cars that were the heroes of magical moments put their stamp on this high-powered, most comprehensive show presentation •With more than 30 vehicles, Mercedes-Benz Classic presents motor racing history in all its unique breadth and depth •120 years of Mercedes-Benz motor sport in the focus of the leading international classic motor show 120 years of Mercedes-Benz motor racing history have produced a timeline of extraordinary victories which since 1894 also stand for outstanding innovations ...[Read more...]
1956 24 Hours of Le Mans: Collins and Moss Come Close
The 1955 24 Hours of Le Mans would be forever remembered, not for the 24 hours of racing, but for the tragic and terrible events that would take place after just two. The consequences would be dire and would send shockwaves throughout the racing world. Peter Collins would witness the events and would find it very hard to continue. However, he would do just that and would end up a very strong 2nd, practically handed the result by Mercedes. One year later, the mood would be lighter and Collins wou...[Read more...]
1955 Targa Florio: Two Brits Run Wild Over the Sicilian Countryside
The 1955 season for Mercedes-Benz had been filled with great joy, but it would also be muted by great tragedy. Now, with one final race to run, a pair of British drivers prepared to take on an impressive array of cars and drivers. Talented and young, these two would face an experienced field and a formidable course. They would certainly be battered over the course of the race. The question would be if they could rise above it all to stand at the top. Founded in 1906 by Vincenzo Florio, the Ta...[Read more...]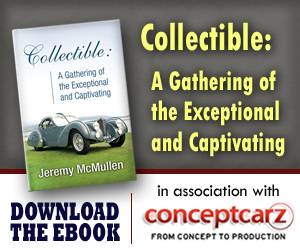 Similarly Priced Vehicles from 1953
Cadillac Series 62 ($3,570-$7,750)
Buick Series 70 Roadmaster ($3,350-$5,000)
Siata Daina ($4,100-$4,100)
Moretti 750 Grand Sport ($4,200-$4,200)
Imperial Custom Imperial Series ($4,260-$7,040)

Average Auction Sale: $80,923
Jaguar
Monthly Sales Figures
Volume
December 2014
1,683
November 2014
1,253
October 2014
1,007
September 2014
1,142
August 2014
1,184
July 2014
1,187
June 2014
1,263
May 2014
1,304
April 2014
1,035
March 2014
1,816
February 2014
1,552
January 2014
1,347
(More Details)
© 1998-2014. All rights reserved. The material may not be published, broadcast, rewritten, or redistributed.