1946 Ford Super Deluxe news, pictures, specifications, and information

Tweet
When Ford introduced their 1946 model lineup, they were basically carry-overs from the 1942 (pre-war) models. They utilized the same drivetrain and had minor restyling, such as the front grille now featured horizontal bars instead of the flush-mounted grille of prior years. The Super Deluxe line was the top trim level and available in several bodystyles including sedan, coupe, convertible, and station wagon. A six and eight-cylinder engine were available with the six offering 90 horsepower while the V8 unit produced 100. The most popular body-style was the two-door sedan which saw over 163,000 examples produced. The rarest is the sportsman convertible which was only available with the V8 engine. Production for this body-style was a mere 723 units. The Convertible was also available only with the V8; all other body-styles could be purchased with the six or eight.

The U.S. War Department had officially forbade work not directly related to the war effort. This is why the 1946 models were basically carry-overs from the 1942 year. Even though this order was in place, Ford staff did quietly prepare for peacetime production by refining the existing 1942 models.

The legendary V8 'flathead' engine was a popular choice with many. This engine incorporated piston, bearing and cooling-system improvements to enhance reliability and performance. Ride and handling improvements included a rear stabilizer bar and increased brake lining area. Other updates to the suspension included front-and-rear transverse leaf springs.
By Daniel Vaughan | Jan 2009
This 1946 Ford Super Deluxe Station Wagon is powered by a 239 cubic-inch V8 engine which offers 100 horsepower and is mated to a three-speed manual gearbox. It is in concours quality condition and painted in light tan with very good wooden bodywork. Located on the driver's side is a chrome side-view mirror, a rear-mounted spare tire, and painted steel wheels with Super DeLuxe chrome hubcaps and period-style wide whitewall tires. Inside, the upholstery is tobacco leather. There is an AM radio and a heater.

In 2008, this vehicle was offered for sale at the 'Sports & Classics of Monterey' presented by RM Auctions where it had an estimated value of $70,000 - $100,000. It was offered without reserve and sold for a high bid of $110,000 including buyer's premium.
By Daniel Vaughan | Jan 2009
After World War II, Ford returned to automobile production beginning on July 3, 1945. They were the first American automaker to do so. It would take months before the first cars were available to customers. The first public showing of the Ford line was on October 26th of that year. The Sportsman model was announced in September, but it was not delivered until late December.

The 1946 model year was long, accounting for 18 months of production. Even with this extended amount of time, the Sportmans production was low, reaching just 1,209 units, not even half that achieved in 1947. The Sportsman, like most of the other vehicles, were basically a carry-over from the 1942 model year. There were minor updates, such as a new horizontal four-bar grille, new hood ornament and bumper guards. The engine gained then extra horsepower, and the entry-level Special series was no longer available.

The Sportsman was found in the top-of-the-line Super Deluxe catalog.

This Ford Sportman has been given a restoration and painted in Dark Slate Gray Metallic. There is a black canvas top, red piping, with wheels that have matching red stripes.

This vehicle was purchased by Nick Alexander in October 2005 from Tom Sharp of Kent. The engine is an L-head V8 unit displacing 239.4 cubic-inches and producing 100 horsepower. There is a three-speed manual transmission with Columbia overdrive and four-wheel hydraulic drum brakes.

In 2009, this 1946 Ford Super Deluxe Sportsman Convertible was offered for sale at the Sports & Classics of Monterey auction in Monterey, California presented by RM Auctions. The car was estimated to sell for $225,000-$275,000. The lot was sold for the sum of $242,000 including buyer's premium.
By Daniel Vaughan | Dec 2009
The Ford Sportsman was the first wood-bodied convertible ever produced. It was an idea of company president Henry Ford II who was searching for a car that could be used for family outings. E.T. 'Bob' Gregorie was tasked with building a one-off body on an old Model A chassis. The car was given the wood-paneled themes of station wagons which the company had produced for years. The one-off became so popular, Ford decided to create a similar production convertible that became known as the Sportsman. It would be the only brand-new design for Ford in 1946, as most automakers resume production of their pre-war models.

Ford produced only 2274 examples of the Sportsman on the Super Deluxe series chassis. They were fitted with many luxury amenities and desirable features. Accordingly, it was the first Ford to retail for more than $2,000 since the 1908 Model K.

For 1946, Ford produced only 723 examples of the Sportsman convertible, and less than 100 are known to exist in modern times. The current owner of this example acquired it in July of 1999. A short time later, the engine was rebuilt and all mechanical and drivetrain components were evaluated and rebuilt as needed. The transmission was rebuilt and new bearings and synchromesh gears were installed. Since the completion of the work, only 300 miles have been added to the car.

This car features a Columbia overdrive and three-speed column shift. The body is finished in Dynamic Maroon with a matching red leather interior. There is mahogany plywood paneling with a varnish seal.

This Super Deluxe features options such as hydraulic windows, original radio, dashboard clock, and maple wood grain dash appliqué.

The engine is a 239 cubic-inch L-head V-8 fitted with a Holley 2-barrel carburetor. There are four-wheel hydraulic drum brakes.

In 2010, this Sportsman was offered for sale at Gooding & Company's auction held in Amelia Island, Florida. The car was expected to sell for $225,000 - $275,000. As bidding came to a close, the car had been sold for the sum of $233,750, inclusive of buyer's premium.
By Daniel Vaughan | Apr 2010
Following the end of World War Two in 1945, the demand for automobiles in the United States was strong - to say the least. The automobile companies could sell everything they could make.

The 1946 Ford was, essentially, a restyled 1942 Ford. The front grille was changed to include horizontal bars on the outside of the rectangular opening, but the rest of the car was identical to its pre-war counterpart.

The Super Deluxe was the top trim level for 1946. Seven different body styles were available in the Super DeLuxe series - including the convertible, shown here. The DeLuxe series was powered by Ford's legendary flathead V-8, which developed an even 100 horsepower.
| | |
| --- | --- |
| | Station Wagon |
Ford resumed automobile production in July, 1945, before the war in the Pacific ended. Civilian truck manufacture had started in April of 1944. When converting to war production, Ford had retained a stock of wood parts at its Iron Mountain, Michigan facility, which it used for the 1946 station wagons. Ford and mercury were the last manufacturers to build 'woodies,' ending production in 1955. Since the war department forbad non-essential design work, the 1946 models were basically prewar designs with slight updates. Unique to 1946 was the red trim on the front grill. Due to parts being in short supply, some details did not always match. In this car, the clock is different from the rest of the dash. Most of the wood on this station wagon is original. The quality of the woodwork earned it the Finest Wood Grain Award at Hemming's New England Concours in 2012.
1964 Nurburgring 1000 Kilometers: Survive for One Last Victory
During the late 1950s, Richie Ginther would begin a relationship with John von Neumann and this partnership would result in one of the most dominant periods of American sportscar racing in which Ginther and Porsche would be virtually unbeatable. Nearly a decade later, that same combination would again join forces to provide one more moment of glory. By the mid-1950s Porsche had developed its 550. This was a small car more than capable of dominating its class and consistently able to challenge...[Read more...]
150TH ANNIVERSARY OF HENRY FORD'S BIRTH CELEBRATED AROUND THE WORLD
DEARBORN, Mich., July 30, 2013 – Today marks the 150th anniversary of the birth of Henry Ford, whose innovative ideas revolutionized transportation and brought mobility to the masses. Henry Ford's enduring impact is being recognized through events and declarations across the United States and around the world. Celebrations at Ford Motor Company's Dearborn headquarters today are being complemented by a special proclamation by the state of Michigan declaring this 'Henry Ford Day.' In Was...[Read more...]
RECHARGED ELECTRIC VEHICLE MANUFACTURER, DETROIT ELECTRIC, TAKES ROOT IN THE HEART OF DETROIT
-Electric vehicle company revitalizes iconic Detroit Electric brand -New company headquarters in Detroit's iconic Fisher Building with production in Michigan, USA -Plans to create 180 local jobs by the end of 2013 -Limited-edition two-seat 100% electric sports car to be launched next month -Diverse family of high-performance electric vehicles to follow -New sports car showcases Detroit Electric's class-leading electric vehicle powertrain technologies After an absence of over 70 years, De...[Read more...]
Edsel Ford's Speedster Stars at 'The Amelia'
Edsel Ford's 'continental car', a custom boattail speedster, will take its rightful place in the Sports Car Class of the 18th annual Amelia Island Concours d'Elegance. In the shape of Edsel's seminal speedster is the genesis of Ford's legendary design department. Edsel Ford was hardly 'a chip off the old block'. The acorn fell well away from the mighty oak that was Henry Ford, founder of the Ford Motor Company. Edsel was not just the President of Ford, he was a car guy to his core. His ta...[Read more...]
Edsel Ford's Restored 1934 Model 40 Special Speedster Returns to Amelia Island Concours d'Elegance
It has been 13 years since Edsel Ford's 1934 Model 40 Special Speedster first made headlines when it rolled onto the field at the Amelia Island Concours d'Elegance. The elegant roadster, which was rediscovered in 1999 by the show's founder and Chairman Bill Warner, will return again on Sunday, March 11 to the 17 the annual Concours; this time as part of the collection of the historic Edsel Eleanor Ford House (Ford House) and completely restored to its timeless elegance. The Speedster's ...[Read more...]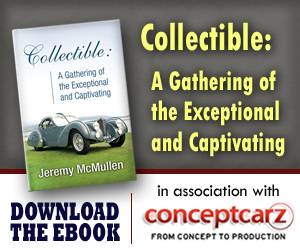 Similarly Priced Vehicles from 1946
Simca 8 1100 ($1,500-$1,700)
Nash Ambassador Series 60 ($1,450-$1,930)
Mercury Series 69M ($1,450-$2,210)
Packard Clipper Deluxe Eight ($1,800-$1,870)
Buick Series 50 Super ($1,740-$4,055)

Average Auction Sale: $54,416
Ford
Monthly Sales Figures
Volume
December 2014
209,679
November 2014
178,221
October 2014
179,014
September 2014
172,261
August 2014
214,028
July 2014
204,373
June 2014
214,793
May 2014
244,501
April 2014
203,552
March 2014
235,198
February 2014
177,286
January 2014
148,671
(More Details)
© 1998-2014. All rights reserved. The material may not be published, broadcast, rewritten, or redistributed.