1931 Chevrolet AE Independence news, pictures, specifications, and information

Tweet
As the 1920s continued to roll-on, Chevrolet abandoned its attempt to compete head-on with Ford's Model T. Ford was able to drop their prices annually whereas Chevrolets steadily rose. They continued to move their product mid-market and they possessed a degree of refinement lacking in the Model T.

In 1929, Chevrolet introduced its new range powered by the famous 194ci (3.2-liter) Stovebolt overhead-valve six-cylinder engine. Chevrolet marketed their new product as 'a Six for the price of a Four.' Wearing styling by Harley Earl at General Motors Art & Color department, the new line was known as the International in its first year, subsequently becoming the Universal and then the Independence in 1931.

The 1931 Independence received a higher, larger radiator along with a bowed tie bar carrying the headlights. Its hood gained vertical louvers on the raised side panels and wire wheels were now standard.

This rumble-seat coupe is equipped with dual side mounts with covers, front and rear bumpers, pedestal mirrors and a luggage rack. The car joined the Heritage Auto Museum Collection in 2003, and prior to this had been the property of Donald Sullivan of Ann Arbor, Michigan. Prior to that, it was part of the W.A. Smith Museum in Flint, Michigan for many years.
By Daniel Vaughan | Jan 2014
The 1931 Chevrolet offered 12 different body styles ranging in price from $475 to $650. Chevrolet was well-established as an industry leader by this time; 1931 saw production of the company's 8 millionth car.

Following the series AD of 1930, the new Series AE Chevrolets for the 1931 model year included the first ever 5-passenger convertible 'Landau Phaeton' Deluxe as the most elegant Chevrolet. All the new Chevrolets were marketed as the 'Independent' line in either Standard or DeLuxe models, the latter for the first time and distinguished by a chrome plated wire mesh grill in front of the radiator housing. ON a wheelbase of 109 inches, stretched from the previous year, ride quality improved across the Chevrolet line.

Power and performance were continuations of the year before but with considerable refinement of the new-for-1930 six-cylinder engine that was refined and brought up to about 50 horsepower for 1931. In the depths of the Great Depression, annual sales of Chevrolets dropped over 8% from 1930 to 627,104 cars sold in 1931.

However, among GM's five divisions, Chevrolet remained the largest selling division by far, maintaining its market segment with stylish designs in a range of colors and a growing list of options. An important factor in the nameplate's sales that year was a broader selection of body styles than previously offered and continuation of reduced prices.

The lowest priced Chevrolet was within about $65 of a comparable Ford. 'Body by Fisher' had become a quality feature of Chevrolet cars by then, and the 'Landau Phaeton' DeLuxe priced at $650 brought 5,634 buyers into Chevrolet showrooms who then drove away in high style, enjoying open air travel.
Corvette Shines in the Big Apple
All-new Corvette Stingray comes to New York City 60 years to the day after Motorama debut 2013-01-16 Sixty years ago tomorrow, spectators lined New York City's posh Park Avenue, waiting to get a glimpse of the ground-breaking Chevrolet Corvette on display at the General Motors' Motorama show. On Thursday, the Corvette will be back in The Big Apple, marking the historic milestone with the all-new 2014 Chevrolet Corvette Stingray. The all-new Corvette Stingray debuted earlier...[Read more...]
CADILLAC CONCEPT CARS STAR at AMELIA CONCOURS d'ELEGANCE
There are limited production cars, there are rare cars and there are concept cars that never find their way to the showroom. A fleet of Cadillac's rare and mythic Motorama and Detroit Auto Show Concept Cars will take to the field at the 18th Annual Amelia Island Concours d'Elegance on Sunday March 10, 2013. Created under the supervision of GM's legendary styling chief, Harley Earl, the Cadillac Concept cars of the 'Fifties were created as the stars of GM's Motorama shows. All are blood anc...[Read more...]
Joe Bortz to Host Historic Dream Car Discussion Panel
Dream car collector and historian Joe Bortz has prepared a special treat for participants at the 40th Annual Pontiac-Oakland Club International Convention in St. Charles Illinois, this coming July 17-21. In addition to bringing his four historic Pontiac Dream Cars, he has also assembled a panel, conisisting of two noted designers, a retired engineer and two veteran authors to examine the topic of Pontiac's early concept vehicles. The panel discussion will be held on Friday, July 20th at 1...[Read more...]
GM Design: 85 Years of Making Art That Moves You
As GM Design celebrates its 85th birthday this month, the 1,900 men and women in GM's 10 global design centers are focused on the future, united in their vision to entice consumers to fall in love and see vehicles as they do: art that moves you. 'Our global team is united around its passion for designing vehicles that make an emotional connection with customers,' said Ed Welburn, GM vice president, Global Design. 'What was true 85 years ago is still true today: A designer's role is to create...[Read more...]
Automotive Hall of Fame Inductees Named
Awards to be Presented in Conjunction with the Concours d'Elegance of America The Automotive Hall of Fame will present its annual induction and awards ceremony on Thursday, July 26, 2012 as one of the week-long Concours d'Elegance of America events. It will be held at The Inn at St. John's in Plymouth, Michigan. Both the Concours d'Elegance of America and the Automotive Hall of Fame celebrate the heritage and history of Detroit. The show highlights the evolution of the automobile's...[Read more...]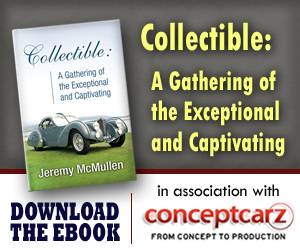 Chevrolet
Monthly Sales Figures
Volume
November 2014
149,673
October 2014
155,965
September 2014
153,873
August 2014
185,930
July 2014
175,155
June 2014
188,567
May 2014
205,010
April 2014
181,648
March 2014
179,681
February 2014
153,913
January 2014
119,089
December 2013
153,493
(More Details)
© 1998-2014. All rights reserved. The material may not be published, broadcast, rewritten, or redistributed.