1968 AMC Javelin news, pictures, specifications, and information

Tweet
Factory Team Race Car Driven by: Peter Revson
The 1968 Trans-Am season saw a new competitor in sedan road racing, one that in its rookie year displayed its muscle with amazing speed and stamina. As a result, the first Official American Motors racing team has proven that its specially prepared Javelin can compete with the best in the fast Trans-Am racing circuit. It is posing a serious challenge to car makes that have been dominating the circuit for years.

In the first five races since its competitive debut at Sebring, Florida, Javelin matched defending Trans-Am titlist Mustang in piling up manufacturer's championship points.

At 29 years of age, Revson already has five years of professional International competition under his helmet along with four years of amateur racing. The highlight of his 1967 season was the winning of the SCCA Jim Kimberly Cup.

'Cinderella car of the 1968 Trans-Am racing circuit!' The Javelins were entered in the Trans-Am class for 'sporty sedan' with engines under five liters in size. The Revson/Scott cars first race of the season was Sebring where the car finished an amazing fifth in its class and 12th overall in the 68-car field. Only 36 cars finished. The Follmer/Grant Javelin ran strong for six hours before retiring with a broken valve.

The 1968 number 3 Javelin Race car surprised the Trans-Am racing world with its competitive performance in its first year of racing. The #3 car was the first car completed in the Kaplan shop and was later used for testing by John Martin, the team's crew chief and driver. The #3 car with Revson driving started its career with a 5th place at Sebring 1968 (12 overall) and ended with Revson leaving AMC and finishing the season at Riverside with a second place. Lothar Motschenbacher drove the car in the final race of the 1968 season at Kent, running in the top 3 before he DNF'd with mechanical failure. After the 1968 season, the number 3 car was retained by Kaplan for testing and was repainted with red, white and blue stripes. In 1969, the car was held over for the Michigan race and was driven by Bob Tullius to a 4th place finish at Michigan. The car was then sold to the Rocky Mountain race group and driven for the rest of the season by privateer Ron Hunter as the #10 car. The Javelin is a veteran of 19 combined total races with 6 DNF's throughout the 1968 and 1969 seasons. The car is currently in its configuration with original components.

The car is registered with the Trans-Am registry and has been authenticated by john Martin, who participated in building the car and retelling its history.
The AMC Javelin was produced from 1968 through 1974 intended as a 'pony' car for the American Motors Corporation. To fit into a wide variety of budgets, AMC offered the Javelin with a variety of engines that included the 232 six-cylinder variant all the way up to the might eight-cylinder power-plants. The 343 cubic-inch four-barrel V8 was a serious performance machine offering, with 280 horsepower and 365 foot-pounds of torque. Optional disc brakes and wide tires helped the driver keep the vehicle in control.

AMC had introduced the Marlin in 1965, right after the introduction of the Ford Mustang. The Mustang easily outsold the Marlin partly due to the Marlins large 112-inch wheelbase. There was seating for six with plenty of trunk space. The thing it lacked was the sporty image that the Mustang had capitalized upon.

AMC's chief designer Richard A. Teague quickly revised the design resulting in the AMX concept cars of the late 1960's. Pressured by upper management and those with financial interests in AMC, the Javelin production car was sent to market. It borrowed heavily from the AMX concept's design and was considered by many to be sporty and attractive. Its design was uncluttered and smooth with its split front grille and semi-fastback roofline. The interior featured front bucket seats and rear bench.

The six-cylinder engine offered 145 horsepower and adequate fuel economy. The 'Go' package, opted by many buyers, featured front disc brakes, tuned suspension with anti-sway bar, upgraded tires, and a choice of three potent V8 engines.

In 1969 a 390 cubic-inch engine became available. Its impressive 315 horsepower and 425 foot-pounds of torque could send the Javelin from zero-to-sixty in the seven-second range.

The standard suspension was comprised of coil springs and unequal-length wishbones in the front and semi-elliptic leaf springs and sold axle in the rear. The optional fast-ratio steering and handling package greatly improved the handling during aggressive driving.

In 1971 the Javelin was restyled and now included a roof spoiler, fender bulges, and arched fenders. The interior was given a stripe pattern.

During its introductory year, 55000 examples were produced. The AMC Company was not known as a company that could produce a performance machine. The Javelin, along with the help of Mark Donohue and Roger Penske, set a new reputation for the AMC Company on the Trans Am racing circuit. In nine races the duo scored seven wins and captured the Trans Am Series Championship. The Javelin repeated its success in the following two years.

The demise of the muscle-car era was mostly caused by an increase in government and safety regulations and fuel concerns. Javelin's sales creped along during the early 1970's but by 1974 production ceased.
By Daniel Vaughan | Jul 2006
Talk on racing legend Nuvolari set for Nov. 2 at IMRRC
WATKINS GLEN, N.Y. (Oct. 18, 2013) - Legendary Italian racer Tazio Nuvolari will be the subject of a Center Conversations talk on Saturday, Nov. 2, at the International Motor Racing Research Center in Watkins Glen, N.Y. Long fascinated with Nuvolari, Joe Tierno of Honeoye Falls, N.Y., will highlight his free talk, 'Tazio Nuvolari: His Life and Times,' with photographs and film to illustrate Nuvolari's career and the world in which he became a champion. The talk begins at 1 p.m. ...[Read more...]
1953 FERRARI 375 MM SPIDER LEADS LATEST HIGHLIGHTS FOR RM'S MULTI-MILLION-DOLLAR MONTEREY SALE
• RM Auctions secures a championship-winning 1953 Ferrari 375 MM Spider competition car for its flagship Monterey, California, sale, August 16–17, after single ownership for 45 years • Also announced are a 1939 Mercedes-Benz 540K Special Roadster, a 1958 Lister-Jaguar 'Knobbly' Prototype, and a 1960 Aston Martin DB4GT • Sale held during the Pebble Beach Concours d'Elegance motoring week features no less than 25 automobiles estimated to fetch in excess of $1,000,000 each • Complete list of en...[Read more...]
SCCA JUNE SPRINTS RETURN TO ROAD AMERICA
• LOCAL RACERS ARE NOT IN IT FOR THE MONEY AS THE WEATHERTECH® CHICAGO REGION SCCA JUNE SPRINTS® RETURN TO ROAD AMERICA
ELKHART LAKE, Wis., June 10, 2013 - The tradition for many local SCCA racers around this time of year is something like this, they leave their job early on a Friday, load up their race car, parts and tools into a trailer, grab a cooler of food and hit the road for one of the nation's premier amateur sports car racing events at Road America. Their ultima...[Read more...]
The Mecum Marathon In Kissimmee Sets New Record As World's Largest
Unprecedented 10-day Auction Goes Where No Other Auction Has Ever Gone Before Mecum Auctions' record-setting 10-day auction, held Jan. 18-27, exceeded all expectations transforming more than 100 acres of land at Osceola Heritage Park in Kissimmee, Fla., into the nation's collector car epicenter. A total of 3,337 lots filled every building and 15 acres of tents with a total of 2,610 cars crossing the auction block and a huge selection of Road Art and memorabilia. With 1,811 vehicles sol...[Read more...]
Vintage Racing Ushers In The 2012 Season At Road America
It has been 62 years since racers tore through the streets of this tiny village about 60 miles north of Milwaukee. Still, every spring you would swear that the town speed limit doesn't exist when the sounds of historic racecars from days gone by seem to echo throughout the hillside. May 18-20 the Spring Vintage Weekend returns to Road America and kicks-off the start of a summer full of racing, from vintage and historic cars to motorcycles and even NASCAR. Racing came to Elkhart Lake in 1950...[Read more...]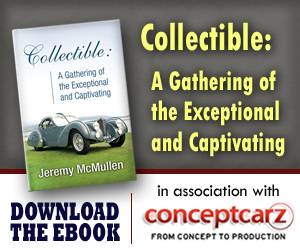 Similarly Priced Vehicles from 1968
Chevrolet Chevelle Series ($2,340-$3,100)
Dodge Coronet ($2,460-$3,610)
Plymouth Satellite ($2,545-$3,210)
Buick Gran Sport 400 ($2,510-$2,510)
Chevrolet Corvair Monza Series ($2,500-$2,630)
BMW 1600 ($2,495-$2,495)
Saab 96 ($1,990-$2,550)
Chevrolet Corvair Series ($2,250-$2,624)
Chevrolet Biscayne Series ($2,445-$2,920)

Average Auction Sale: $59,275
© 1998-2014. All rights reserved. The material may not be published, broadcast, rewritten, or redistributed.