1935 Frazer Nash TT Replica news, pictures, specifications, and information

Tweet
The Frazer Nash Boulogne was produced from 1926 through 1932 with around 16 examples created. They were powered by a 1.5-liter four-cylinder Anzani or Meadows engine that could be fitted with a supercharger to enhance the power. The cars were available on a long or short chassis.

The Frazer-Nash TT Replica was produced from 1932 through 1938 with a total of 83 examples created. Power came from a 1.5-liter four-cylinder engine or a six-cylinder unit that displaced 1660cc. They rested on a wheelbase that measured 105-inches or a slightly larger 108-inches.

The history of the Frazer-Nash company dates back to the early 1920s and was founded by Archibald Frazer-Nash. Along with partner Ron Godfrey, the duo would play on the popularity of the small cycle-car resulting in sales of over 400 cars by the mid-1930s. There popular 'GN' cycle-car was powered by a twin-cylinder engine fitted into a primitive, yet effective, frame. The true uniqueness of the car was in the use of chain drive rather than shaft drive.

In 1922, Austin introduced their own inexpensive cycle car known as the Seven which diverted attention away from the GN. The GN had only basic weather protection whereas the Seven allowed for proper protection from the elements. This greater level of comfort along with its more powerful four-cylinder engine would make it a very successful and popular car.

In 1924, Godfrey left Frazer-Nash to build his own version of the automobiles at Kingston upon Thames. Soon after the departure, Frazer-Nash introduced a new sports car fitted with a Plus Power four-cylinder engine. A side-valve Anzani unit was used in later models. It would become a very successful vehicle. Similar to the GN, it had a chain drive transmission, a feature that would stay with the Frazer Nash automobiles until 1939. This chain drive feature gave the cars a weight advantage and quick gear changes.

These new cars were known as 'Fast Tourers' or 'Super Sports.' They were produced until 1929 with around 149-165 examples produced. They were fitted with various engines including Plus Power, Meadows, and Anzani. The Super Sports were introduced in 1928 and came with no running boards. They rested on a wheelbase that measured 99-inches while the Fast Tourers were slightly larger, at 105-inches.

When the company entered receivership in the late 1920s, they were rescued by the Aldington family (of Aldington Motors). Under the Aldington family, the company soon took a new direction. The most notable was the use of the overhead valve 1500cc Meadows engine. Most of the competition cars were given the Anzani engines and fitted with superchargers. The bodys of the car were formed from aluminum or steel and dubbed the 'Sporttop.'

With their salesmanship experience, the Aldington's began marketing their vehicles rather strategically. They gave their new models names that coincided with racing successes. The vehicles that followed were called the Boulogne, Colmore, Exeter, and Nurburg. There were 16 examples of the Boulogne produced, five of the Ulsters, 3 of the Nurburg, four Exeter, and 19 Colmores. Later, names such as Targa Florio, Le Mans, and Sebring were used.

The most popular of this new breed of Frazer-Nash models was the 'TT Replica'. It had many similarities to the famous Model TT and would account for a very impressive 83 sales from 1932 through 1938. The base engine was a Gough (after the man who designed it) four-cylinder engine though a Meadows and Blackburne were also used. The Blackburne unit was a six-cylinder version. It rode on a 105-inch or 108-inch wheelbase, had a hand brake lever and gear lever that were both outside the bodywork, and a full range of instrumentation.

In 1934, the company became importers and assemblers of BMW cars and re-sold them as Frazer-Nash BMW. They became the official British BMW importers until war time intervened in 1939. After World War II, in 1954, the Frazer-Nash company sold Porsche cars, becoming the official importer for Great Britain in 1956. They would retain this title until 1965 at which time the Porsche Cars Great Britain was officially established.

Between 1948 through 1957, a total of 85 Frazer-Nash vehicles were produced. Most drew their inspiration from the BMW 328.
By Daniel Vaughan | Feb 2009
Introduced in May 1933, the Blackburne was the first six-cylinder engine ever fitted to a Frazer-Nash. A sophisticated double-overhead camshaft design crafted by H.J. Hatch of Burney & Blackburne Ltd, it was intended to broaden the marque's appeal beyond the hardcore enthusiast. Reputed to develop some 75bhp @ 5,000rpm, its gentle torque curve and notable smoothness were in sharp contrast to the four-cylinder Meadows 4ED upon which Frazer-Nash had come to rely so heavily. In keeping wîth their more refined nature all but one of the Blackburne powered cars used the longer 9'0' wheelbase chassis. Equipped wîth all round quarter-elliptic cantilever suspension, four-wheel drum brakes, idiosyncratic chain-drive transmission and hyper-direct rack and pinion §teering (less than one turn lock-to-lock) they welcomed drivers to a world of extremely rapid 'power on' cornering and four-wheel drifts. Capable of 80mph plus, they were little if any faster than their more raucous siblings despite being somewhat pricier. Thus, a mere 27 Blackburne engined 'Nashs were built between May 1933 and November 1936. Though, several of these shared the same engine as chassis frames were written-off or broken-up along the way (the AFN Ltd Works being highly adept at recycling).
Source - H&H Sales Limited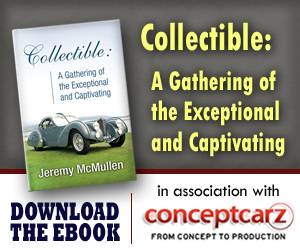 © 1998-2014. All rights reserved. The material may not be published, broadcast, rewritten, or redistributed.