1950 Healey Silverstone news, pictures, specifications, and information

Tweet
Although everyone now remembers Donald Healey for the famous Austin-Healey sports car which bear his name, his reputation was secure well before then. Triumph's technical chief in the 1930s, he established his own sports car business immediately after the Second World War, and a whole family of sports saloons, drop-head coupes and two-seaters evolved around the same chassis.
Donald Healey, a British rally racing driver and car manufacturer, founded the company bearing his name in 1945. Healey had started out racing, and then, turned to car manufacturing. He was a Technical Chief at Triumph, and also, had helped Riley build some of their proven race winning engines. At first, the Donald Healey Motor Company manufactured box-section chassis. Riley supplied the engines and the rear axles. The Riley engine Healey used was 2,443 cc. It had overhead valves actuated by twin, high-mounted camshafts and pushrods. Healey used his box-section chassis and independent coiled spring front suspension in conjunction with the Riley engine to create two chassis models. Healey created a roadster known as the Westland and a saloon called the Elliot. Both were unveiled in 1946.

Healey then decided to make a car truly made for sports car racing. In 1949, Healey introduced the Silverstone. Virtually a single-seat styled grand prix car with fenders, the chassis consisted of what was a heavily-rounded box chassis, made up of aluminum. The nose was rounded off and fell steeply at the very front. Interestingly, behind the vertical-bar grill set the car's two headlights. The front suspension incorporated a trailing link design similar to the German cars of pre-war design. In addition, the tires were neatly covered by cycle fenders. One of the other interesting design aspects to the Silverstone was Healey's placement of the spare tire. Healey dramatically rounded the rear end of the car and pulled it in slightly from the sides. A slot was cut out of this rear end. This slot was used to house the tire. The tire then doubled as a bumper.

Healey had created two generations of the Silverstones. The first example was known as the D-Type. The follow-up was the E-Type. The E-Type improved upon the D-Type, specifically by making the car a bit wider and the cockpit more comfortable. By making the car a little wider, the light-weight E-Type chassis experienced great success on the race track, especially in club events.

The Silverstone offered at the 2011 RM Auction in Arizona bore chassis number E-69, and was owned and raced by A.G.H. Rimmel. Rimmel received the car in 1950 and competed with the car extensively at Silverstone over the next couple of years. E-69 had the standard Riley 2,443 cc ohv four-cylinder engine that developed 104 bhp. It sports a four-speed manual transmission, coil spring independent front suspension, a live rear axle with coil spring suspension and four-wheel hydraulic drum brakes.

Throughout 1952, until 1954, the car was raced by Mr. B. Simpson. Then, in 1965, the car was purchased by Leslie Cato.

Mr. Cato was the founder of the Healey Driver's Club and, by the early 1960s, was instrumental in establishing the Healey Register. The Healey Register became the Austin-Healey Club in 1962. When in the possession of Mr. Cato, the car didn't sit around. The car took part in both touring and racing events. Mr. Cato had even published his account of driving the car on a London-to-Rome tour.

In the 1970s, the car was sold and made its way to the United States. It was seen quite often at tracks throughout the New England area. Bill Emerson decided to purchase the car in the late-80s. By that time, the car was still running rather well, but, was nowhere near its original condition. Just as with its race-track namesake, this 1950 Healey Silverstone has been through troubled times, but has been rescued and restored to incredible condition. In all, the car's restoration took 12 years. What has emerged from restoration is a prodigious show winner. The car has won Best of Show honors some 16 times.

As it appears for the auction, the Silverstone Healey has been meticulously take care of; ready for either the concours or competition. This fast and delightfully handling car was estimated to fetch between $155,000 to $190,000. Only 105 Silverstones were built. Truly, this car upholds the Silverstone name and honors well the memory of Donald Healey.

Sources:
'Buy: Feature Lots (Lot 128: 1950 Healey Silverstone Sports Roadster)', (http://www.rmauctions.com/FeatureCars.cfm?SaleCode=AZ11&CarID=r340&fc=0#). RM Auctions Arizona. http://www.rmauctions.com/FeatureCars.cfm?SaleCode=AZ11&CarID=r340&fc=0#. Retrieved 3 January 2011.

'How Stuff Works: 1950 Healey Silverstone', (http://auto.howstuffworks.com/1950-healey-silverstone.htm). 1950 Healey Silverstone. http://auto.howstuffworks.com/1950-healey-silverstone.htm. Retrieved 3 January 2011.
By Jeremy McMullen
The Healey Silverstone was produced from 1949 through 1950, during that time, 105 examples were produced. These cars were built before the 'Nash-Healey' and 'Austin-Healey' by a number of years.

These hand built, two-seater, machines were designed to be light, quick, and agile. The vehicle featured a twin high-camshaft Riley 2.5-litre engine, capable of producing 104 horsepower.
Riley transmission and rear axle also accompanied the 'sporty' little British vehicle.

The spare tire was mounted horizontally in the rear of the vehicle. It served a duel purpose; it was the bumper for the vehicle. The front of the vehicle was void of a bumper.

The Silverstone's were a two-seater with little luggage space. Since they were hand-built, they were expensive. This made the vehicle suitable for only one purpose: motor-sports. The vehicle weight 2,050 pounds thanks to its aluminum body. The chassis was a simple, box-section, design featuring an independent front suspension and beam-axle in the rear. The Silverstone could achieve a top speed of around 105 miles-per-hour.

Due to their limited production these vehicles are very rare and desirable.
By Daniel Vaughan | Sep 2008
For more information and related vehicles, click
here
Auctions America Readies for Highly Anticipated Spring Carlisle Collector Car Weekend
• Auctions America returns to Carlisle, Pennsylvania for its annual Spring Carlisle sale, April 25-26 • Two-day sale lifts the gavel on a diverse roster of approximately 300 quality collector cars • Notable highlights include a rare 1959 Chevrolet Corvette 'Big-Brake' Fuel-Injected Roadster, a 1970 Chevrolet Chevelle SS LS5 Convertible and a 1999 Bentley Azure Convertible • Sale held during Carlisle Events' highly anticipated Spring Carlisle Collector Car Swap Meet & Corral weekend, April 24...[Read more...]
VICARI AUCTION COMPANY OFFERS RARE '62 & '63 Z06 CORVETTES AT 2013 CRUISIN' NOCONA
In a recent rare find, two classic Chevrolet Corvettes (one '62 and one '63) - stored for decades-are being made available by the Vicari Auction Company. Both vehicles will cross the block during 2013 Cruisin' Nocona, a north Texas collector car auction and classic car poker cruise set for April 19th and 20th in historic Nocona, Texas. The Corvettes are virtually all-original, and have been stored in Texas by a classic-vehicle aficionado and collector since the 1980s. 'These...[Read more...]
World's Rarest Muscle Car to Join a Spectacular Show Field at the 2nd Annual Concours d'Elegance of Texas
Houston, Texas. April 1, 2012. Organizers of the 2nd annual Concours d'Elegance of Texas have confirmed that the world's rarest muscle car, the only big block GT convertible ever built by Shelby American Inc., will be part of this year's spectacular show field on Sunday, May 5 at La Torretta Lake Resort & Spa. The 1967 Shelby GT500 Convertible was originally assigned to Carroll Shelby, the most expensive GT500 in Shelby American's company car inventory and the only Shelby GT Convertible f...[Read more...]
Barrett-Jackson Flavors Its January Scottsdale Auction With NASCAR Treats
• RACING HERITAGE, HIGH PERFORMANCE ARE RECIPES FOR CAR-COLLECTING FEAST
• SPEED™ SET FOR 39 HOURS of LIVE COVERAGE STARTING JAN. 15
The great Henry Ford once said, 'Auto racing began five minutes after the second car was built.' And for more than 60 years, there are few entities that better represent auto racing in America than NASCAR. From the hallowed grounds of Daytona International Speedway, to Sonoma, California's intricate and picturesque road course, the sp...[Read more...]
TOPLINE COLLECTORS PLACE SPOTLIGHT on SPEED'S BARRETT-JACKSON BROADCAST FROM SCOTTSDALE
• TOPLINE COLLECTORS PLACE SPOTLIGHT on SPEED'S BARRETT-JACKSON BROADCAST FROM SCOTTSDALE
• 'LOST' SHELBY DUAL PROTOTYPE, HAGERTY GIVEAWAY & SALON COLLECTION HIGHLIGHT 39 HOURS OF LIVE COVERAGE
The 42nd annual Barrett-Jackson Scottsdale (Ariz.) Collector Car Event, the first of four set for live coverage in 2013, kicks off the auction season in grand style as some of the world's most sought-after machines cross the block starting Tuesday, Jan. 15 at 7 p.m. ET/4 p.m. PT. SP...[Read more...]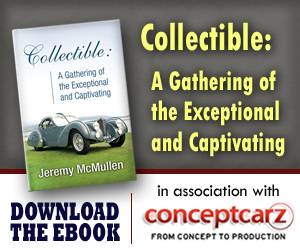 © 1998-2014. All rights reserved. The material may not be published, broadcast, rewritten, or redistributed.