1929 Studebaker Commander news, pictures, specifications, and information

Tweet
This is the only Studebaker Commander Straight Eight with a Dual Cowl Phaeton bodystyle ever created. It was given a full body-off restoration; upon completion, it was put on display at the 2004 Meadow Brook Concours. It retains its original coachwork and is finished in white with a taupe beltline and fenders, black Connolly leather interior and side-mount spare tires.

Power is from a 250 cubic-inch L-head eight-cylinder engine offering 80 horsepower at 3600 RPM. There is a three-speed gearbox and four-wheel mechanical brakes.

In 2008, this one-off Studebaker Dual Cowl Phaeton was offered for sale at the Gooding & Company auction held in Pebble Beach, CA. The car was estimated to sell for $80,000 - $100,000 and offered without reserve. As the gavel fell for the third and final time, the car had been sold for $74,800, including buyer's premium.
By Daniel Vaughan | Mar 2009
This 1929 Studebaker Commander Regal 2-Door Roadster wears an older restoration. There are dual side mounted tires and a rumble seat. The car was once owned by the popular singer, AL Jolson. When new, the car sold for $1,595.
By Daniel Vaughan | May 2009
The Studebaker Commander was produced for several years, representing several bodystyle changes, and first appeared in the 1920s. The company would continue to use the name until their demise in 1966. There were only a few years where the Commander did not appear in Studebaker's line-up during that time; those were in 1936 and 1959-1963.

When the name first appeared in 1927, it was Studebaker's middle-series. As the years progress, it would move up and down market, often changing positions from year to year. The name would continue until it was dropped in 1935, only to reappear in 1937 where it served as the company's least expensive model, taking the place of the previous Studebaker Dictator. The company had decided to do away with the 'Dictator' name, due to the negative political connectors associated with the name. Mainly, Adolf Hitler in Germany had tainted the word 'dictator.'

The Commander moved up-market in 1939 when Studebaker introduced the Champion model. After the Second World War, Studebaker dropped its President moniker, and repositioned the Commander in its place. At the same time, Studebaker introduced an extended wheelbase model known as the Land Cruiser.

The President name reappeared in 1955; the President model became the premium model range and the Commander was demoted to the mid-range model. The name would continue until 1958 and reappear in 1963 for the 1964 model range. It was positioned next to the lowest-priced Lark model and above the entry-level Challenger model.
By Daniel Vaughan | Jun 2008
For more information and related vehicles, click
here
THE NEW AMG 4.0-LITER V8 BITURBO ENGINE
Powerful, innovative and efficient July 25, 2014 - Affalterbach -- Mercedes-AMG presents a new technological masterpiece: the AMG 4.0-liter V8 biturbo engine is a new development at the sporting heart of the new Mercedes-AMG GT car. This innovative eight-cylinder unit stands out for its sublime power delivery, the purposeful lightweight construction, as well as its high efficiency and environmental compatibility. With peak power of up to 375 kW (503hp) and maximum torque of up t...[Read more...]
DIVERSE PRIVATE COLLECTIONS ADDED TO AUCTIONS AMERICA'S FLAGSHIP AUBURN FALL SALE
• Numerous private collections to cross the block at Auctions America's Auburn Fall event, August 27 – 31 at Indiana's historic Auburn Auction Park • Latest highlights led by 80 vehicles from a prominent private collection along with 20 cars from The David Disiere Collection • Multi-day sale to feature approximately 1200 quality collector cars and a full day of parts and memorabilia • Frequently updated list of entries and complete event information available at auctionsamerica.com AUBU...[Read more...]
HIGHLIGHTS AND LOWLIGHTS FOR VOLKSWAGEN AT HOME RALLY
It was the home rally of all races where Volkswagen would fall short of their own high expectations for the first time since joining the FIA World Rally Championship (WRC) in January 2013. This was the first time Volkswagen have missed out on a podium place in a season which has seen the team pick up six rally wins in eight rallies. And all this despite World Championship leaders in the Drivers' and Co-drivers' categories Sébastien Ogier/Julien Ingrassia (F/F) and Jari-Matti Latvala/Miikka Antti...[Read more...]
Audi Confirmed For Salon Privé 2013
• Salon Privé 2013 - 4th to 6th September
Syon Park, London, 21 August 2013 – Audi is set to display the R8 V8 Spyder, RS 6 Avant and RS 4 Avant at Salon Privé 2013. A hand-built, high-revving V8 engine mounted just behind the passenger compartment of the Audi R8 V8 Spyder launches the stunning soft-top supercar to 62 mph in 4.8 seconds and on to a top speed of 187 mph. The mid-engine configuration helps to lower the centre of gravity for optimum road holding, while the slick...[Read more...]
1964 Nurburgring 1000 Kilometers: Survive for One Last Victory
During the late 1950s, Richie Ginther would begin a relationship with John von Neumann and this partnership would result in one of the most dominant periods of American sportscar racing in which Ginther and Porsche would be virtually unbeatable. Nearly a decade later, that same combination would again join forces to provide one more moment of glory. By the mid-1950s Porsche had developed its 550. This was a small car more than capable of dominating its class and consistently able to challenge...[Read more...]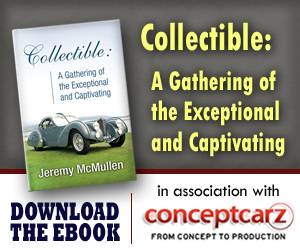 Similarly Priced Vehicles from 1929
Chrysler Series 75 ($1,540-$2,350)
Auburn 8-90 ($1,395-$1,695)
Hudson Model L ($1,650-$2,205)
Hudson Model R ($1,095-$1,500)
Hupmobile Series A ($1,345-$1,550)

Average Auction Sale: $44,782
© 1998-2014. All rights reserved. The material may not be published, broadcast, rewritten, or redistributed.