1954 Packard Panther Daytona Concept news, pictures, specifications, and information

Tweet
The story of the very first Packards is a classic tale of American ambition. James Ward Packard purchased a Winton automobile in the late 1890's. Unsatisfied with his new car, the man was convinced he could do better. A producer of electrical equipment, Packard had a good grasp of how things ticked. He quickly set to work in an effort to one-up Winton.

Packard began producing cars as early as November of 1899, following a remarkably quick start-up time. Success was ensured when his company was bought out and moved to Detroit. Within 15 years of the company's inception, Packard had earned a reputation for building high quality luxury cars. And given that the company survived for almost 35 years longer than Winton, it's clear that James Ward Packard succeed in his mission to overtake that automotive pioneer.

The early years of Packard were full of success, with the company's sales rising all the time. It wasn't until World War II that the story got choppy. Like all large American auto manufactures, the war affected Packard in a big way.

While most companies built equipment to aid fighting on the battlefront, Packard played a much less combatant role in the war effort. Selling its body dies to the Soviet Union, Packard was used to encourage good relations between the United States and its ally. The Soviets used these dies to create the ZIS-110 in 1945. Unfortunately, this kind act left Packard without a source of well-styled bodies for the postwar market. The subsequent Packards of 1948 were dubbed 'Pregnant Elephants' by a not-so-adoring public. Despite the looks, 1948 Packards were still very good cars and healthy sales reflected this fact.

The company had done a good job reestablishing itself by 1951 when an all-new line of cars was introduced for the first time after the war. Powered by a hearty straight-eight, this new series provided the basis for the mid-1950's Packards which could be found in showrooms at the same time that the Panther could be found in shows.

A concept car introduced for 1954, the Packard Panther was a fully functional automobile capable of high performance and sheathed in an incredible fiberglass skin. The body's fiberglass construction was a major innovation given its length of nearly 17 feet. Parts of the shell had to be a whole inch thick just to offer sufficient structural integrity. Designed by Dick Teague, the bodies were created by Mitchell-Bentley.

With a 359c.i. eight pushing 212hp and feeding a 2-speed Ultramatic auto transmission, the Panther was incredibly drivable for a concept. Four were produced, and one was used as a real driver by William Mitchell, Sr. of Bentley-Mitchell. This very car, the only Panther ever created with a removable hardtop, will be offered at RM Auction's prestigious Automobiles of Amelia Island event this Saturday.

According to RM Auction's website, Mitchell drove this Panther himself for a few years. He then sold it to Homer Fitterling, a collector of Duesenbergs. The Studebaker National Museum displayed the car, which Fitterling still owned, for 30 years.

In 1988, Mitchell's Panther was sold to the Bortz collection, which houses concepts and prototypes of American origin. It was well kept in this excellent collection, never restored and retaining its impeccable originality.

The Panther's current owner refurbished the vehicle with fresh paint, a new interior and wiring harness, and an extensive mechanical overhaul. The car is now fully capable of being driven, though with an auction estimate of $700,000 to $1,000,000, it's unlikely that it will see much highway use in its next life.

Even with the introduction of the four 'fabulous fiberglass Panthers,' 1954 was a turning point for Packard that steered the company towards its pending fate. It was the year when Packard bought Studebaker. This new acquisition proved to be more than the manufacturer could handle, and Studebaker dragged Packard to its end in 1958. Over 50 years after the company's collapse, Packard's luxury cars are still regarded with high respect and admiration.

Sources:

RM Auction http://www.rmauctions.com/FeatureCars.cfm?SaleCode=AM09&CarID=r116.

Wise, David Burgess. 'Packard, USA 1899-1958.'The New Illustrated Encyclopedia of Automobiles. 2000. 'Mitchell Panther.' Shiawassee History 11 Mar 2009 http://www.shiawasseehistory.com/panther.html.
By Evan Acuña
Packard was not going down without a fight. Things were looking bleak on East Grand Avenue in Detroit, but to let the motoring world know that Packard was alive and well, the company introduced a special show/experimental car in 1954. Styled by Dick Teague, the car was quickly sent to the annual Speed Weeks action at Daytona Beach in February of that year. With noted race driver Jim Rathmann at the wheel, he set an official 110.9 mph on the sand while recording an unofficial 131 mph. Called the Gray Wolf II, it took its name from the record-setting racer of 1903 and 1904 giving a 50th anniversary purpose to the car as well. It is powered by Packard's 359 cubic-inch inline Eight equipped with a McCullough supercharger thereby boosting output to a claimed 275 horsepower.

The car was renamed the Panther-Daytona after its debut at Speed Weeks. A total of five were crafted by Creative Industries of Detroit. The fiberglass-bodied two-seaters hit the show circuit for the 1954 model year. At least two were modified to 1955 standards in anticipation of a repeat performance for the next season's shows. Modifications included a new grille, 1955-style taillights and a two-tone paint scheme. It is believed however, that none appeared at shows during the 1955 model year.

The Packard Panther, originally named the Grey Wolf II, has a one-piece body of molded fiberglass up to an inch thick. This particular example once belonged to the company chief, who redesigned the rear end with cathedral style taillights.
This is the fourth of the Panthers to be constructed and was originally owned by Rex Terry, general manager of Creative Industries. Like the first three cars, it featured the 1954 Clipper taillights, before being updated with the 1955 'Cathedral' taillights and bumpers. It should be noted, Panthers were the first Packards to employ a wrap-around windshield, and the front bumpers previewed what would appear on the 1955 Packards. After the update, Terry's was repainted an iridescent pearl over black, and included gold-plated 'V's scripts reading 'Creative' at the leading edge of the rear quarters. Panther #4 went through at least five owners before becoming a part of the current Marano collection a few years ago.
AWARD WINNING A.R.E ACCESSORIES F-150 PROJECT TRUCK ON DISPLAY IN DUB EXHIBIT DURING L.A. AUTO SHOW
MASSILLON, Ohio – The imaginative and detailed execution of the A.R.E. Accessories' 2015 Ford F-150 Extreme Sports Project Truck was recognized with both the Ford Project Excellence Award and the 2014 Mothers Choice Award. These national awards were announced during the Specialty Equipment Market Association (SEMA) show. This Extreme Sports-Themed Project Truck is being displayed in the DUB booth at the Los Angeles Auto show. The creative concept for the project truck, built by A.R....[Read more...]
John Barnard's Finest: Some of the Greatest of Barnard's Design
The latter-part of Barnard's Formula One career would be filled with disappointments and disputes. However, there was no disputing the genius of the man from London. In fact, a couple of innovations that are mainstays in Formula One design were first introduced by this man who had been involved in motor racing in some form or manner since the 1960s. John Barnard would be born in London on the 4th of May in 1946. The war was over and a whole new world loomed on the horizon. It was t...[Read more...]
PACKARD'S RARE CONCEPT CARS FEATURED AT 'THE AMELIA'
'Ask the man who owns one' was Packard's slogan from the earliest days of the marque. On March 9, 2014, Packard fans visiting the 19th annual Amelia Island Concours can ask the man who owns 58 Packards. Ralph Marano, Sr., an orthodox Packard man of long standing, has been seized by one of the most dignified, delightful and elegant obsessions in the car collecting hobby. Ralph really likes Packard show cars. He likes them so much that he has collected all ten. Marano's Packard ...[Read more...]
One of the Three Final Cars Built by Famed Italian Engineer Giotto Bizzarrini To Be Offered at Russo and Steele's Highly Anticipated Monterey Auction
Monterey, California – As the engineer responsible for the design and development of some of the most successful and innovative racing and GT cars ever conceived, Giotto Bizzarrini remains one of the most revered names in motorsport history. Hailing from Livorno, Italy and eventually leaving Alfa Romeo for Ferrari where he began as a test driver and quickly rose to Chief Engineer, Bizzarrini collaborated with Carlo Chiti on the 250 Testa Rossa's V-12 engine and the 250 SWB, with his caree...[Read more...]
Norra Names Mark Mcmillin Grand Marshal For 2013 General Tire Mexican 1000
Legendary Baja racing champion and San Diego-based homebuilder Mark McMillin has been named by the National Off Road Racing Association (NORRA) as the honorary Grand Marshal for this year's upcoming General Tire NORRA Mexican 1000. The unique fourth annual on and off-road rally is set to kick off this Saturday, April 27th in Mexicali, Baja, Mexico and will conclude at lands-end in San Jose Del Cabo on May 1. Mark McMillin's Grand Marshal role places him in an elite group of previous icons ...[Read more...]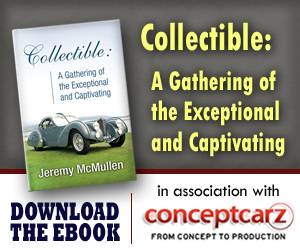 © 1998-2014. All rights reserved. The material may not be published, broadcast, rewritten, or redistributed.