1926 Bugatti Type 35B news, pictures, specifications, and information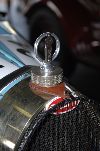 Roadster
Chassis Num:
BC37
The 400 Type 35's were raced between 1924 and 1927 and accumulated over 1850 victories. This is the car that made Bugatti famous.
Various flavors of the Type 35 were designed and built during its 3 year production run. The base engine size was 2.0 liter. The 35B featured a 2.3 liter engine, while the 35C used a 2.0 liter engine fitted with a Roots-type supercharger.
The Type 135's brakes were cable operated, an archaic system compared to the widely used hydraulic drum brakes of the time were.
Though it is personal preference the Bugatti Type 35 is regarded by many as one of the most beautiful pre-war racer from the legendary Bugatti Company. Its beauty is matched by its accomplishments, being one of the most successful pre-war racer winning over 1000 races and capturing the 1926 Grand Prix World Championship with 351 races. During that two year period it also claimed 47 records. From 1925 through 1929 the Bugatti Type 35 dominated the Targa Florio.

The first Bugatti Type 35 was introduced on August 3rd, 1924. It was powered by a modified engine used in the Type 29. The 3-valve 2-liter overhead cam straight-eight engine had five main bearings and producing around 90 horsepower. The suspension was comprised of leaf springs attached to solid axles. Stopping power was provided by drum brakes in the rear operated by cables which could be seen on the exterior of the vehicle. In total, there were 96 examples produced.

There were multiple versions of the Type 35 which were specifically designed to accommodate many types of racers. The Type 35A, nicknamed 'Tecla' was an inexpensive version of the Type 35 and made its first appeared in May of 1925. Its nickname was given by the public after a maker of imitation jewelry. The engine was a reliable unit borrowed from the Type 30. It used three bearings, had smaller valves, coil ignition, and produced less horsepower than its Type 35 sibling. In total 139 examples of the Type 35A were created.

Though Ettore Bugatti favored naturally aspirated engines, the Type 35C was given a Roots-Type supercharger which boosted power to an impressive 128 horsepower. There were only fifty examples created with many providing historic victories for the company. The Type 35C won the 1928 and 1930 French Grand Prix, undoubtedly their greatest accomplishments.

The Bugatti Type 35T, commonly known as the Targa Florio, was specially prepared for the Targa Florio race. There were only thirteen examples produced. It was powered by a 2.3 liter engine. When Grand Prix rules changed stating that engine displacement sizes of up to 2 liters were required, the Type 35T became obsolete and production ceased.

The Bugatti Type 35B was introduced in 1927 and was the final iteration of the Type 35 series. The name Type 35TC was pondered since it shared the same 2.3 liter engine as the Type 35T and a supercharger just like the Type 35C. The engine produced an astonishing 138 horsepower, by far the most of the Type 35 series. In total there were only 45 examples produced with one of their greatest accomplishments being the victory at the 1929 French Grand Prix.

The Type 39 was produced alongside the Type 35B but adhered to current Grand Prix regulations which limited engine capacities to 1.5 liters. Only ten examples of the Type 39 were produced.
By Daniel Vaughan | Sep 2006
Recent Vehicle Additions