1956 Chrysler Windsor news, pictures, specifications, and information

Tweet
Virgil Exner was one of the primary individuals responsible for the post war designs at Chrysler. He became Chrysler's head of advanced styling 1949. He sourced the best elements of European styling into a series of styling exercises and by the mid-1950s had shocked the world with his 'Forward Look' of vehicle designs.

In the very early 1950s, Chrysler introduced their 331 cubic-inch FirePower V8 engine. This 'Hemi' engine was powerful, but also it was heavy and costly to produce. A few years later, the polyspherical engine was introduced that had a simpler valvetrain and was less costly to produce.

This 1956 Chrysler Windsor Sedan is an original example that has spent the last fifteen years in storage. It wears most of its original paint and is finished in black with newer paint on the roof. Inside there is a Chrysler pushbutton transmission and tinted glass, and the original salmon and black upholster with matching dash and padded dash pad. There is a dealer-installed 'Equip-Aire 707' air condition unit, power steering and power brakes.

The odometer currently reads just 40,000 miles since new. There are original air vents, gas tank and body decals and is a well-equipped cars from the mid-1950s. In 2009, this Windsor Sedan was offered for sale at the Automobiles of Amelia Island auction presented by RM Auctions. It was expected to sell for $10,000 - $15,000 and offered without reserve. The lot was sold for a high bid of $7,700, which includes buyer's premium.
By Daniel Vaughan | Apr 2009
Known for developing high quality vehicles, the Chrysler Corporation was established by Walter Percy Chrysler on June 6, 1925. Existing as an independent company from 1925 until 1998, it was then purchased by Daimler-Benz.

Labeled as the Chrysler group, the full-size Chrysler Windsor was introduced in the 1940's. Larger than a mid-size and sitting on a wheelbase of more than 2.79 meters, the full-size Windsor was sold from the 1940's through the 1960's.

Releasing a fairly new design for the time, the 1940 Chrysler Windsor was a convertible type that was very attractive to consumers. The option of an adjustable top was a very pleasant feature to buyers. The convertible type was fairly new at the time and extremely popular.

Equipped with the newly developed Fluid Drive transmission system that allowed the driver to shift without using the clutch, the Windsor was a rear wheel drive car that had an S6 configuration. The 1940's Windsor was capable of producing 108 bhp at 3600 rpm.

A new batch of Windsor models were released by the Chrysler Corporation in 1953. Continuing in rear wheel drive form, the engine was situated in the front. This time around a V8 engine powered the Chrysler Windsor. Capable of a very secure ride, the new Windsor featured a 230 bhp and torque of 310 ft-lbs. A 3-speed automatic transmission was now offered. Able to seat up to five passengers, the new Windsor was both roomy and comfortable.
The final Chrysler Windsor known to Americans was introduced in 1961 for only two years, 1965 and 1966. In Canada, the Chrysler Corporation released a Windsor model basically equivalent to the Newport in the U.S. for those years.

Until the 1961 model year, the Windsor was the Chrysler price leader until the Chrysler Newport took the spot. The Windsor name was replaced in 1962 by the non-lettered series Chrysler 300.

Today the Chrysler Windsor is considered to be a vintage car though at one time it truly did make its mark in the automobile world.
By Jessica Donaldson
Formerly a U.S. based automobile manufacturer, the Chrysler Corporation and all of its subsidiaries are now part of the American and German based DaimlerChrysler AG after being acquired by Daimler-Benz in 1998.

All previous production records were shattered during the Second World War when Chrysler Canada plants produced 180,816 military trucks and other vital war material. In 1945 the peacetime vehicle production resumed and expansion continued at the Chrysler plants. In 1949 the company moved into a new administration building on Chrysler Centre. In 1955 the Chrysler Company produced its first V8 passenger car engine, while further expansions were undertaken through the mid-1950s.
Built from 1940 until 1967, the Chrysler Windsor was a full-sized vehicle produced by the Chrysler Corporation of Highland Park, Michigan. In 1949 the Chrysler Windsor was priced at $3,206.

The last Chrysler Windsor was produced in 1961 for two years only, 1965 and 1966. In Canada the Chrysler Corporation produced a Windsor model equivalent to the Newport in the U.S. for those years. Chrysler's price leader until the 1961 model year, the Newport replaced the Windsor as the marques price leader. The non-lettered series Chrysler 300 replaced the Windsor name in 1962.

A significant step away from the boxy, woody model, the 1941-1942 Chrysler Windsor Town & Country was the new modern station wagon. Featuring a streamlined steel roof and tailgate doors that opened like a clam-shell via outboard hinges, the new Chrysler was somewhat sedan-like in appearance. The performance of the Windsor was leisurely with Chrysler's L-head six and semi-automatic Fluid Drive.

The Chrysler Windsor Highlander was introduced in 1940 and shared the same distinctive trim package as the larger New Yorker Highlander – Scottish plaid cloth and leatherette upholstery. The six-cylinder vehicle had an eye-catching interior and was a smooth ride.
By Jessica Donaldson
For more information and related vehicles, click
here
Concours d'Elegance of America at St. John's : Class Previews
Here is a little preview of two of our special classes for St. John's upcoming show. Featured Designer: Virgil Exner The 2014 Concours d'Elegance of America will honor the work of famed chief designer Virgil Exner with an unprecedented display of Chrysler Corporation's 1955-1961 'Forward Look,' a daring two-pronged styling revolution that changed the look of the American car. First up were the 'jet-age'1955 Plymouths, Dodges, DeSotos, Chryslers and Imperials. Then came the 1957 m...[Read more...]
RARE REUNION: CHRYSLER CONCEPT CARS GATHER AT AMELIA, 2014
Nine rare and important Chrysler Concept Cars from the forties, fifties and sixties will be presented together for the first time at the 19th annual Amelia Island Concours d'Elegance on March 9, 2014. From the two-seat Chrysler Thunderbolt roadster and the dual-cowl Chrysler Newport of 1941 through the radical 1963 Chrysler Turbine car, Amelia's Chrysler Concept Car Class shows the genesis of the styling and engineering philosophy that summoned Chrysler's industry-changing 'Forward Look...[Read more...]
RARE CHRYSLER LA COMTESSE CONCEPT APPEARS AT AMELIA 2014
After decades in obscurity Chrysler's La Comtesse Concept Car will re-debut at the 19th annual Amelia Island Concours d'Elegance on March 9, 2014. The Fifties introduced new automotive chemical and paint technologies that helped summon a sea change in the way cars were purchased. It was a subtle component of Detroit's marketing equation, but color had risen near the top of the car buyer's priority list. The important fact was that women invariably chose the color of the new family car....[Read more...]
FORD ECOBOOST POLICE INTERCEPTORS OUTRUN CHEVROLET CAPRICE V8, HEMI DODGE CHARGER IN MICHIGAN STATE POLICE TESTING
◾Ford EcoBoost® Police Interceptor sedan repeats top performance and retains its title as best-in-class overall acceleration pursuit vehicle ◾New Ford EcoBoost Police Interceptor utility vehicle acceleration faster than Chevrolet Tahoe and all base V6 competitors ◾Ford Police Interceptors maintain segment sales leadership for 16 years straight Ford, manufacturer of the best-selling police vehicles since 1996, trumped Chevrolet and Dodge in recent instrumented acceleration testing by the Mic...[Read more...]
Joe Bortz to Host Historic Dream Car Discussion Panel
Dream car collector and historian Joe Bortz has prepared a special treat for participants at the 40th Annual Pontiac-Oakland Club International Convention in St. Charles Illinois, this coming July 17-21. In addition to bringing his four historic Pontiac Dream Cars, he has also assembled a panel, conisisting of two noted designers, a retired engineer and two veteran authors to examine the topic of Pontiac's early concept vehicles. The panel discussion will be held on Friday, July 20th at 1...[Read more...]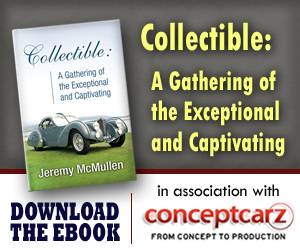 Similarly Priced Vehicles from 1956
Chevrolet Corvette C1 ($3,118-$3,118)
Ford Thunderbird ($3,150-$3,150)
Dodge Coronet ($2,160-$2,785)
Mercury Montclair ($2,630-$2,898)
Mercury Monterey ($2,550-$2,975)
Studebaker Golden Hawk ($3,060-$3,060)
Porsche 356A ($3,210-$5,900)
Dodge Custom Royal ($2,580-$2,880)
Austin-Healey 100-4 BN2 ($2,995-$3,280)
DeSoto Firedome ($2,680-$3,320)

Average Auction Sale: $14,746
Chrysler
Monthly Sales Figures
Volume
December 2014
30,930
November 2014
27,243
October 2014
27,546
September 2014
28,781
August 2014
29,762
July 2014
23,455
June 2014
24,026
May 2014
22,592
April 2014
21,967
March 2014
26,140
February 2014
25,230
January 2014
21,113
(More Details)
© 1998-2014. All rights reserved. The material may not be published, broadcast, rewritten, or redistributed.