1935 Duesenberg Model JN news, pictures, specifications, and information

Tweet
Only those considered the elite of society and entertainment could afford to own a Duesenberg. How fitting it would be then that the long, graceful lines of a Model JN Duesenberg would be owned by the graceful and fluid dancer and entertainer Bill 'Bojangles' Robinson.

Throughout Robinson's career he would entertain both blacks and whites and would leave a legacy that crossed racial barriers because of is incredible generosity and famous big smile. In no small way, Robinson would help play a part in changing the face of race relations throughout the United States.

While not as important to the whole of the nation, just as Robinson was at the height of his popularity and drawing potential, Duesenberg would be busy creating a new image for itself. The old tired designs of the past couple dozen, or more, years were believed to be hindering the company. Enter the Duesenberg Model JN.

The Model JN was to provide Duesenberg's expected face-lift. With a wider body that dropped down over the frame rails to provide a lower profile, skirted fenders and redesigned tool and battery boxes, the Model JN certainly gave Duesenberg an updated look.

To give Duesenberg that new look, the company would turn to the New York coachbuilder Rollston. While promising a new look for Duesenberg, Rollston's efforts would be limited as the coachbuilder would only end up producing a total of 10 Model JN bodies as each would command a handsome sum.

Each Model JN produced would be reserved for very special clientele. In February of 1935 this particular Model JN, chassis 2587, would arrive from Rollston in New York with a new Berline body. Over the course of the next few months the Berline body would be combined with the Duesenberg Model JN chassis and would be shipped back to New York by July of 1935.

On the 9th of July, Duesenberg Sales Corporation would sell this particular chassis to Bill 'Bojangles' Robinson for the sum of $17,500. Just like that, two graceful artists would be united.

By the following year, the JN would be in Pasadena, California at the coachbuilders of Bohman & Schwartz. It would be there to receive some updates, like the Cadillac bullet headlamps and special parking lights. Other additions would include a reworked windscreen, painted radiator and one-piece bumpers.

Robinson and his Model JN were practically inseparable. Often the two would be seen together, and, when Robinson returned to New York years later, the Model JN would come with him.

At the time of Robinson's death in 1949, the Model JN was sitting at the Zumbach Motor Repair Company on West 53rd Street. The car would be there to undergo service and repairs. When repairs went unpaid because of Robinson's death his widow would determine to sell the car. Nightclub entertainer Phil Regan would then come to own the car.

Formerly a New York Police detective, Regan would be a popular entertainer in his own right. Interestingly, he would retrace the Model JN's steps by taking the car with himself back to Pasadena. While in Pasadena, Regan would have the car restyled. The result would be a car that had the look of something like a 1950s hot rod. The car was finished in a dark blue and the top was covered in an off-white canvas. The original side mounted spare would be replaced with a Continental-style rear mount. On the interior a Cadillac 'banjo' steering wheel and sun visors would be just some of the updates.

By 1951, Regan would sell the car to William Graham Bell, the owner of Worldwide Motors. This Model JN was purchased by Bell for the specific purpose of being a gift for his wife. She would be pleased with the gift but would end up being rather critical of it when she tried to bring it to a stop. She would voice her displeasure with the needed stopping distance and immediately the car would be put up for sale. Jay 'Bourbon' Bullen would end up buying the car from Mr. Bell but would turn around and sell it to W.C. Wilkinson.

Mr. Wilkinson would only hold onto the car for a few months before selling it to Lamont Cochran of New York and Connecticut. One year later, Cochran would come to acquire a Model J Murphy Roadster and would begin to exchange components. Therefore, the JN's original engine, J-559, would be substituted with J-500 from the Murphy. Additionally, the Berline would come to have the 19' wire wheels that were also originally on the Murphy. This work would be completed under the supervision of Duesenberg mechanic Jim Hoe.

Following the completion of the work, Mr. Cochran would arrange to have the car sold through Hoe Sportscars. And, in January of 1955 an MIT student, William Deibel, would purchase the car for the price of $3,200.

Mr. Deibel would own and regularly use the car for a period of about a decade before he would determine to have it restored to its original state. This restoration would begin in 1966 and would end up lasting for some five years before being completed. The result would be truly transforming as the well-worn Model JN would be restored to its former glory. However, for the MIT student the restoration wouldn't be just right. A main focus of Mr. Deibel would be to thoroughly document the car's very interesting past.

In 1971, the Duesenberg would be placed on exhibit at the CCCA Indianapolis Grand Classic. Between 1979 and 1984 the car would be placed on loan to the Auburn Cord Duesenberg Museum in Auburn, Indiana.

Following the car's stint in the Auburn Cord Duesenberg Museum, Mr. Deibel would take the car to Jim Kaufman of Manitowoc, Wisconsin. Kaufman would take and thoroughly tune the Model JN to top working order and it would be necessary as Deibel took off from Wisconsin for Seattle. The trip across the country would see Deibel complete the journey averaging speeds of more than 80 mph, and this would thoroughly test the soundness of the car and the work it had received.

Because of the car's vastly interesting past and quality of restoration the car would be presented in a feature article of The Classic Car magazine, the official magazine of the CCCA.

Though the restoration of the Model JN is now over 40 years old, the car continues to present well and would certainly be one of the highlights of the Gooding & Company auction in Amelia Island in March of 2013.

Presented in dark brown metallic with a padded leather top and Bedford cord upholstery, the Model JN remains attractive inside and out. Including very thorough documentation, photos, ACD certification report and other correspondences, the Model JN certainly remains one of the most pleasant historical gems of the entire Duesenberg line. As a result of the car's history and restoration, prior to auction, it would be receiving estimates ranging from $500,000 to $700,000.

As the car came rolling across the block, the 1935 Duesenberg Model JN would draw keenly interested bidders and would end up selling for a price of $594,000.

Sources:
'Lot No. 25: 1935 Duesenberg Model JN Long-Wheelbase Berline', (http://www.goodingco.com/car/1935-duesenberg-model-jn-long-wheelbase-berline). Gooding & Company. http://www.goodingco.com/car/1935-duesenberg-model-jn-long-wheelbase-berline. Retrieved 13 March 2013.

'1935 Duesenberg Model JN News, Pictures and Information', (http://www.conceptcarz.com/vehicle/z16851/Duesenberg-Model-JN.aspx). Conceptcarz.com: From Concept to Production. http://www.conceptcarz.com/vehicle/z16851/Duesenberg-Model-JN.aspx. Retrieved 13 March 2013.

'1933 Duesenberg JN', (http://www.supercars.net/cars/2472.html). Supercars.net. http://www.supercars.net/cars/2472.html. Retrieved 13 March 2013.

Wikipedia contributors, 'Bill Robinson', Wikipedia, The Free Encyclopedia, 26 February 2013, 16:41 UTC, http://en.wikipedia.org/w/index.php?title=Bill_Robinson&oldid=540679966 accessed 13 March 2013
By Jeremy McMullen
The Duesenberg JN Models were produced in limited numbers with only ten examples created with each given bodies by Rollston and designed by Herb Newport. In comparison to the standard Model J vehicles, the JN models were given redesigned fender lines and 17-inch wheels. The tool and battery box were slightly redesigned to allow the doors to open and close over the fame. They had wider bodies that were dropped over the frame rails giving a lower profile. Just four of the ten were given convertible bodystyles with the first example going to the Hollywood legend, Clark Gable.
By Daniel Vaughan | Apr 2009
Duesenberg advertising claimed it was the best car in the world, and their world-beating performance and extreme opulence tended to back that up.

The engine was a race inspired version of polished aluminum, 265 horsepower, 32 valves, and a whopping 420 cubic-inches. Under 500 Duesenbergs were completed during the company's short life. Duesenberg owners were the wealthy and affluent-and those who wanted to look wealthy and affluent.

Marketing magician Eric Lobban Cord dubbed the Duesenberg 'The World's Finest Motor Car,' and auto engineering genius Fred Duesenberg made sure that every detail lived up to its publicity. Powered by a twin-overhead-cam straight eight of 420 cubic-inches, the Model J had a top speed of over 150 mph. The bare chassis cost over $9,000, and custom bodies could easily double that price tag. This car was purchased in 1935 by Clark Gable and was originally bodied by Rollston as a convertible coupe. It was restyled by Bohman & Schwartz of Pasadena, CA, to sketches created to reflect ideas and shapes suggested by Gable himself. It was used by Gable during his courtship of Carole Lombard, and was used during their marriage, then abandoned by Gable after her untimely death in 1942.

This Model J, with chassis number 2585 and engine J-560, was given to actor Clark Gable by Carole Lombard. It was initially a JN convertible coupe and Gable had it restyled by Bohman & Schwartz. The car carries many unique features including painted radiator and headlight buckets to accentuate the long hood to cowl line. Other details include a dramatically lower windshield, single bar bumpers, and two covered mounted rear spare tires. Although not supercharged, the car has external exhaust pipes, which were often added.

With its raked windscreen and lowered top, it is rumored that Gable had made sketches of what he wanted. He added on the fender skirts, the double spare, and the cut-down windshield. The car's breathtaking beauty and classic Bohman and Schwartz lines make a statement. Gable owned this car until his wife's death in 1941 with instructions that it should never be seen in California while he was still alive.
Duesenberg intended an initial run of 500 chassis for 1929, but the Great Depression changed the face of the luxury car market in an instant. Those individuals, who possessed the means and confidence to make the purchase for the expensive Model J, were truly societies elite.

Three years after the introduction of the Model J, Duesenberg began offering variants of the standard chassis in hopes of stimulating sales. The supercharged SJ appeared in 1932 and 36 examples would be purchased. By the mid-1930s, other luxury marques were offering updated styles and technology, while the Duesenberg was starting to look outdated and obsolete. In 1935, Duesenberg responded with the JN. Duesenberg commissioned Rollston of New York City to fashion a line of tasteful body styles. Rollston was one of Duesenberg's long-standing collaborators. In total, three body styles were offered and included convertible coupes and convertible sedans on the standard-length chassis, while sport sedans were produced strictly for the long-wheelbase chassis.

Styling cues included soft, sweeping curves, smaller 17-inch disc wheels, skirted front fenders, small dual taillights in place of the classic Duesenberg 'stop' light and carriage-body sills that brought the bottom of the doors very close to the running boards. All of the JN body styles included long, sloping rear decks.

It is believed that just 10 JNs were built and four examples were bodied as convertible coupes, style number 434. All of the Model JNs were delivered to Duesenberg 'in the white,' ready for trim and paint to customer preference.

This example was the last of four JN Convertible Coupes built. It was originally delivered to the factory's Los Angeles, California, branch in December of 1935. Following the New Year, this JN was sold to its first owner, Clark Gable. On January 25th, Gable drove this JN to the White Mayfair Ball in Beverly Hills, CA. At the Mayfair Ball, Gable and Carole Lombard took a drive in the new Duesenberg. Lombard was one of the highest-paid actresses in America, earning over $450,000 in one year for three movies and a series of popular radio shows.

Clark Gable soon had the Duesenberg updated with new coachwork by Bohman & Schwarts of Pasadena. Gable worked in cooperation with legendary designer Wellington Everett Miller. At the time, he was regarded as one of the most talented and influential automotive stylists of the 1930s. Miller had worked as the head designer for two of the most respected American coach-building firms, Locke and Murphy, and helped Packard create a series of elegant production bodies. Miller successfully updated many Duesenbergs and his designs for Bohman & Schwartz were among the very best of the mid-1930s automobile styling.

Gable worked in tandem with Miller to create the highly individualized coachwork. The car had a dramatically raked windscreen, rear-fender spats and a full-length hood that stretches past the firewall, terminating at the trailing edge of the cowl. There are 'continental-style' dual rear spares, each enclosed in a metal cover. Gable also requested rectangular mesh hood sides, scooped and V'd hood ventilators, single-bar bumpers and sun visors with a unique articulating hinge that allows for uninterrupted storage. Other additions include external exhaust pipes, painted radiator shell and headlights and a re-worked convertible mechanism that aides in giving the car a sleek, integrated look.

The car was finished in a light, monochromatic color scheme, and equipped with whitewall tires.

On March 29th of 1939, when Gable had a break in production of Gone with the Wind, he married Lombard in Kingman, Arizona. On January 16th of 1942, Carole Lombard, along with her mother and Otto Winkler, boarded a TWA DC-3. 23 minutes after taking off from Las Vegas, Nevada, their plane crashed into Potosi Mountain, killing all 22 passengers aboard.

After Lombard's death, Gable fell into a deep depression. On August 12, 1942, he joined the US Army Air Corps and trained to serve in aerial gunnery. During the War, he flew five combat missions, including one over Germany as an observer gunner on a B-7 Flying Fortress.

With too many painful memories with the Duesenberg and Lombard, Gable sold his Duesenberg. It was consigned to a Los Angeles dealer - either Bob Roberts or Peter Satori - with orders to sell the car to someone outside California.

By the late 1940s, the car was in the care of Donald Ballard, a resident of Santa Fe, New Mexico. After some time with the Duesenberg, the car was sold to S.P. Motors of Albuquerque, New Mexico, operated by Alta and Earl Sanders and James Palmer. S.P. Motors acquired at least seven Model Js throughout the late 1940s and early 1950s. During this period, Sanders installed engine J-521 in the Gable Duesenberg, although the original bell-housing number, J-560, has always remained intact.

In August of 1951, G.W. Cleven of Albuquerque offered the Duesenberg for sale, asking $3,750. It was sold to professional wrestler Robert 'Hans' Hermann, who paid $2,500 for the car. From there, the Duesenberg was sold to Richard S. Luntz of Indianapolis, Indiana, who consigned it with Chicago, Illinois, Rolls-Royce and Duesenberg dealer 'Honest John' Troka. In October 1953, Troka sold the Gable Duesenberg to Paul V. Colianni of Arlington, Illinois, who paid a record price of $4,500. By this point in history, the car had been re-finished in maroon and equipped with a single rear spare.

The car was displayed at Troka's showroom before relocating to Joseph Kaufmann's shop in Manitowoc, Wisconsin. In late 1973, Charles H. Johnson, Jr., acquired the Gable Duesenberg after chasing it for many years. It was purchased for $75,000. Mr. Johnson treated the car to its first comprehensive restoration and displayed it with great success, earning a string of ACD, AACA and CCCA awards throughout the late 1970s. For three months in 1979, it was on display at the Auburn Cord Duesenberg Museum in Auburn, Indiana.

In May of 1980, the car was purchased by Jerome Sauls of Pennsylvania. Two years later, it was sold to P.A. Parviz of London, England. In January of 1983, Tom W. Barrett, III discovered the car in a Beverly Hills garage and bought the car from Mr. Parviz. It soon joined the Behring Collection and was displayed as part of the Blackhawk Collection in Danville, California. In 1995, Chairman Lee purchased the Duesenberg. It remained a fixture at Blackhawk for the next decade.

In 2006, the current owner acquired the car and immediately began a restoration, entrusting the work to Stone Barn Automobile Restoration in Vienna, New Jersey.

Upon completion, the car was shown at the 2007 Pebble Beach Concours d'Elegance where it won the Gwenn Graham Most Elegant Convertible Trophy. It has taken Best of Show honors at Amelia Island and Meadowbrook.

In 2012, this car was offered for sale at the Pebble Beach, CA auction presented by Gooding & Company. Bidding reached $6,400,000, but was not enough to satisfy the vehicle's reserve. It would leave the auction unsold.
By Daniel Vaughan | Nov 2012
Background
The Duesenberg Company produced high-end, luxury automobiles and racing cars from 1913 through 1937. It was created by the Duesenberg brothers, Fred and August, who formed the Duesenberg Automobile & Motors Company, Inc. in Des Moines, Iowa with the intent on building sports cars. Just like many of their time, they were mostly self-taught engineers and had only constructed experimental cars up to this point.

Duesenberg's place in history was officially solidified in 1914 when Eddie Richenbacker drove a Duesenberg to an astonishing 10th place finish at the Indianapolis 500. Duesenberg later went on to win the race, capturing overall victories in 1924, 1925, and 1927. A Duesenberg was used as a pace car for the Indianapolis 500 in 1923.

Starting with the companies first appearance at the Indianapolis 500 in 1913 and continuing for a consecutive 15 years, there were a total of 70 Duesenberg racing cars entered in the race. Thirty-two of the cars finished in the top ten. In 1922, eight of the top ten cars were Duesenberg-powered. Many great racing names, such as Eddie Rickenbacker, Rex Mays, Tommy Milton, Peter DePaolo, Albert Guyot, Ralph DePalma, Fred Frame, Stubby Stubblefield, Ab Jenkins, Ralph Mulford, Jimmy Murphy, Joe Russo, and Deacon Litz raced in a Duesenberg.

Duesenberg's racing pedigree was not just reserved for the United States; in 1921, Jimmy Murphy drove a Duesenberg to victory at the French Grand Prix at the LeMans racetrack. This made him the first American to win the French Grand Prix. It also made the Duesenberg the first vehicle to start a grand prix with hydraulic brakes.

The Duesenberg headquarters and factory was relocated in July of 1921 from New Jersey to Indianapolis. Part of the purpose for the move was to focus more on the production of passenger vehicles. The Company had a hard time selling their Model A car. This was a very advanced car with many features not available on other vehicles being offered at the time. The engine had dual overhead cams, four-valve cylinder heads and was the first passenger car to be equipped with hydraulic brakes.

The Duesenberg Company produced 667 examples of the Model A, making it their first mass-produced vehicle. The Model A was powered by a 183-cubic-inch single overhead camshaft inline eight-cylinder engine. The strain of racing, moving, and lack of selling automobiles sent the company into receivership in 1922. After a few years, it's debts had been resolved, thank in-part to an investor group. The company re-opened in 1925 as the Duesenberg Motors Company.

In 1926, Errett Lobban Cord purchased the Duesenberg Company. The company appealed to E.L. Cord, owner of the Cord and Auburn Automobile Company, because of its history, the engineering ingenuity of the products, brand name, and the skill of the Duesenberg Brothers. The purpose was to transform the company into a producer of luxury automobiles.

Duesenberg Model J and Model SJ

Fred Duesenberg was a master of creating engines and was a creative designer. He had a talent for conceiving new ideas and ways of doing things. The engines he constructed were beautiful, mechanically sound, and advanced. E.L. Cord gave him one task: 'Create the best car in the world.' This was a very tall order and came at a very difficult time in history. The onset of the Great Depression and the Stock Market crash was just around the corner. Competition in the luxury car segment was fierce and involved all facets of the automobile. The cylinder wars that began in the 1920s and continued into the 1930s had marque's trying to outdo each other on the bases of their engines output, number of cylinders, and the speed of their ultra-luxury automobiles. Styling continued to be very important and often outsourced to the greatest designers and coachbuilders of the time. Maruqee's such as Cadillac, Packard, Rolls-Royce, Hispano-Suiza, Isotta Fraschini, Bugatti, and others were all trying to out-do each other and continue in business during this difficult point in history.

The Duesenberg Model J was first unveiled to the public at the New York Car Show on December 1st of 1928. Only the chassis and engine were shown and it still impressed enough to make front page news. The wheelbase was 142-inches making it nearly 12 feet. The chassis had a six cross-members made it very sturdy and able to accommodate the heaviest of bodies. The engine had dual overhead camshafts and eight-cylinders with four valves per cylinder. It displaced 420 cubic-inches and produced an impressive 265 horsepower in un-supercharged form. The engine had been designed by Fred Duesenberg and constructed by the Lycoming Company, which had been recently acquired by E.L. Cord. There was a brilliant lubrication system which automatically lubricated various mechanical components after sixty to eighty miles. Two lights mounted on the dashboard indicated when the lubrication process was transpiring. After 750 miles, lights mounted on the dashboard would light-up indicating the oil required changing. After 1500 miles, the lights would illuminate indicating the battery should be inspected. Top speed was 119 mph and 94 mph in second gear. With the use of a supercharger, the top speed increased even further, to nearly 140 mph. Zero-to-sixty took around eight seconds with 100 mph being achieved in seventeen seconds.

Each chassis was driven at speed for 100 miles at Indianapolis before being delivered to the customer or coachbuilder.

The coachwork was left to the discretion of the buyer and the talents of the coachbuilders. Prominent coachbuilders from North American and Europe were selected to cloth the Model J and Model SJ in some of the grandest and elegant coachwork ever created.

The cost of a rolling chassis prior to 1932 was $8,00. The rolling chassis usually included all mechanical components, front fenders, radiator grille, bumpers, running boards, dashboard, and sometimes a swiveling spot-light. After 1932, the price was raised to $9,500. After the coachwork was completed, the base price was $13,500 with a top-of-the line model fetching as much as $25,000 or more. To put this in perspective, the entry level Ford Model T in the early 1930s cost around $435 with the most expensive version selling for about $650. Many individuals in very prominent careers, such as doctors, made around $3,000 annually. The Great Depression meant the number of individuals capable of affording an automobile of this caliber soon dwindled. Those who could afford one often bought modest vehicles to avoid public uprising and ridicule. The pool of marques who catered to the upper-class of society did all they could to attract buyers; prices were lowered and incentives were made just to attract another sale. Needless to say, competition was fierce.

After the New York Show, Duesenberg ordered enough components to build 500 Model Js. Specifications and drawings of the chassis had been sent to prominent coachbuilders six months prior to its unveiling at the New York Show. This had been done to guarantee that a wide variety of bodies were available after its launch. Duesenberg ordered bodies in small quantities and offered the completed cars to have on-hand incase the customer wanted to take delivery immediately. The first customer took delivery of their Model J in May of 1929. This was just five weeks before Black Tuesday.

The Model SJ, a supercharged version of the Model J, produced 320 horsepower. The supercharger was located beside the engine with the exhaust pipes beneath through the side panel of the hood through creased tubes. The name 'SJ' was never used by the Duesenberg Company to reference these models.

Even though the Model J had received much attention from the press and promotional material was well circulated, sales were disappointing. The Duesenberg Company had hoped to construct 500 examples per year; this figure was never matched with a total of 481 examples constructed throughout its lifespan. Duesenberg did find customers such as Gary Cooper, Clark Gable, Greta Garbo and James Cagney. Monarch, kings, queens, and the very wealthy accounted for the rest of the sales.

Production continued until the company ceased production in 1937. Little changed on the Model J over the years. The four-speed gearbox was replaced by a unsynchronized three-speed unit which was better suited to cope with the engines power. The last Model SJ's produced had ram-horn intakes and installed on two short-wheelbase chassis. Horsepower was reported to be as high as 400. These examples are commonly known as 'SSJ' in modern times.

In 1932, Fred Duesenberg was involved in a car accident which claimed his life. Development on the Model J had come to a halt which was not a problem at the time, but within a few years had become antiquated in comparison to the competition. An entirely new design and updated mechanical components were required for the Duesenberg name in 1937 in order to stay competitive. The cost and development time was too much for E.L. Cord to consider, and so he withdrew his financial support and the company dwindled.

August Duesenberg tried, unsuccessfully, to revive the Duesenberg name. Fritz Duesenberg tried again in the mid-1960s but again without success.
By Daniel Vaughan | Feb 2007
The Duesenberg Automobile & Motors Company, Inc was founded and operated by Fred and August brother's who began their company in 1913. From the start their company has been a US based luxury automobile company with a standard to build the very best hand-built vehicles during the time period. Duesenberg vehicles lived up to this standard until 1937 when the company closed.

Created to build sports cars, the Company began its life in Des Moines, Iowa by two men who were self-taught engineers that produced various experimental vehicles. Unfortunately the brothers did have much selling capability, and due to this the company claimed bankruptcy and closed in 1922.

Purchasing the Duesenberg Company in 1926, Errett Lobban Cord, the owner of Cord Automobile, Auburn Automobile and several other transportation companies acquired the Duesenberg Brothers' engineering skills along with a brand name. Setting out to produce the Model J, Cord hired Fred Duesenberg to design both the engine and the chassis that would eventually be the best in the world.

Displayed at the New York Car Show of 1928, the Model J (Judkins) Duesenberg was indeed impressive. While only the engine and chassis were put on display at the show, the body and interior of the vehicle would be eventually custom-made by an extremely experienced coachbuilder to the owner's specification. Coachbuilders in both Europe and North America were responsible for the extensive bodywork. The finished product was the grandest, largest and most beautiful vehicle ever before created. The base model cost around $13,500, while the top of the line model sold for an extreme $25,000.

With a lack of supercharged form, the Model J was renowned for it incredibly 265 horsepower, straight-8 engine, and dual overhead camshafts. Able to reach an impressive top speed of 119 mph, and 94 mph in 2nd gear, the Model J was a success.

While other top of the line vehicles of the time period could barely reach 100 mph, the Duesenberg models were definitely turning some heads. The 1932 SJ was estimated to reach 104 mph in 2nd gear, a top speed of 135-140 mph in 2rd, and turned around 0-60 in 8 seconds. The supercharged Model J came with 320 HP and the supercharger placed alongside the engine, with creased exhaust pipes to make room it. The SJ models were easily recognizable due to their shiny creased tubes, a trademark by E. L. Cord. Weighing around two and a half tons, due to the large array of custom coachwork available, the Duesenbergs were not any heavier than their fellow competition.

Rapidly becoming of the most popular vehicles in the world, the Duesenberg was a status symbol for the elite. Such famous owners of the Duesenberg were Clark Gable, the Duke of Windsor and Gary Cooper.

Advertised to be the 'best car in the world', Duesenberg's have held up to their status for numerous years. Following world-beating performance along with high regard and standard for quality, the Duesenberg continued to hold the reputation for opulence.

A total of 481 Model Js and SJs were produced between 1928 and 1937. Following E. L. Cord's financial empire collapsing, Duesenberg ceased production in 1937. It is estimated that approximately 50% of these classic cars are still on the road today. Both Duesenberg Model J's and SJ's are among the most desired collectible classic cars in the world.

Jay Leno owns four Model J Duesenbergs.
By Jessica Donaldson
For more information and related vehicles, click
here
McQueen's Famous 1956 Jaguar Coming to Pinehurst Concours
VILLAGE OF PINEHURST, N.C. (April 16, 2014) – A 1956 Jaguar XKSS owned by movie legend Steve McQueen, now housed at the world famous Petersen Automotive Museum in Los Angeles, will make the cross country trip from California to North Carolina and be displayed at the 2014 Pinehurst Concours d'Elegance. McQueen, called 'The King of Cool,' became the highest paid movie star in the world in 1974 and starred in such movies at 'Bullitt,' 'The Great Escape' and 'Papillon.' McQueen, who was al...[Read more...]
63rd Pebble Beach Concours d'Elegance Names 1934 Packard 'Best of Show'
The competition showcased 248 cars, including 48 from abroad PEBBLE BEACH, Calif. (August 18, 2013) -- A 1934 Packard 1108 Twelve Dietrich Convertible Victoria owned by Joseph and Margie Cassini III of West Orange, New Jersey, was named Best of Show at the 63rd Pebble Beach Concours d'Elegance, held Sunday on the 18th fairway of Pebble Beach Golf Links at Pebble Beach Resorts. The event showcased 248 cars from 36 states and 12 countries and raised $1,277,007 for charity. 'This Pack...[Read more...]
2014 Honda Odyssey Arrives At Dealers July 2 Delivering More Value To Customers With Refreshed Styling
06/25/2013 - TORRANCE, Calif. The 2014 Honda Odyssey minivan arrives at Honda dealerships nationwide on July 2, refreshed with a host of powertrain, styling, interior, feature and safety upgrades, all designed to meet the needs of today's family. Key changes to the 2014 Odyssey minivan include the addition of a standard 6-speed automatic transmission on all trims resulting in class-leading fuel-economy ratings, enhanced safety equipment, cleaner front and rear exterior styling, plus revis...[Read more...]
ALL-NEW 2014 JEEP CHEROKEE TO START AT $22,995
◾Jeep® raises the bar with legendary benchmark 4x4 capability, world-class on-road dynamics, fuel economy of more than 30 mpg, modern and progressive new design, world-class craftsmanship, and an array of advanced safety and technology features ◾All-new 2014 Jeep® Cherokee pricing starts at a U.S. Manufacturer's Suggested Retail Price (MSRP) of $22,995 ◾2014 Jeep Cherokee is priced less than outgoing Liberty model, but offers more advanced technology and safety features, significantly improved...[Read more...]
Four more legends join Gooding & Company's 2012 Pebble Beach Auctions, its greatest collection of automobiles ever assembled
Gooding & Company, the official auction house of the Pebble Beach Concours d'Elegance acclaimed for selling the world's most significant and valuable collector cars, is thrilled to present four automotive icons at its Pebble Beach Auctions on August 18 & 19: the Clark Gable 1935 Duesenberg Model JN Convertible Coupe; the 'Green Hornet,' a 1931 Bentley 4 1/2 Litre SC 'Blower' Sports 2/3 Seater Boattail; the 1957 Ferrari 250 GT LWB California Spider Prototype and a 1932 Bugatti Type 55 Cabriolet. ...[Read more...]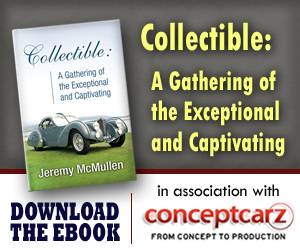 © 1998-2014. All rights reserved. The material may not be published, broadcast, rewritten, or redistributed.