2009 SMS 570X Challenger news, pictures, specifications, and information

Tweet
Steve Saleen and his new company SMS are pleased to introduce the first product in his line of Signature Series ultra-high performance vehicles, the SMS 570TM Challenger and SMS 570XTM Challenger.

As a professional racecar driver and innovative businessman, Mr. Saleen is well known as the founder of a number of Steve Saleen brands including Saleen Autosport, Saleen Productions, Saleen Speedlab, Saleen Performance, Saleen, Inc. and now SMS. In the years of building the many brands, Mr. Saleen oversaw and participated in every aspect of the business, in product development, sales and marketing. Mr. Saleen's latest endeavor will focus on the expansion into the high-end of the diverse American Muscle Car markets.

The fully certified and street legal SMS 570TM Challenger and SMS 570XTM Challenger will be based on the all-new and exciting Gallery: SMS 570X Challenger 2009 Dodge Challenger R/T platform and will feature a SMS Supercharged 5.7L Hemi wîth respective power ratings from 500 to over 700 horsepower! Both models are fully equipped wîth a compliment of SMS ultra-high performance components including: drivetrain, suspension, aerodynamics, tires, wheels and interior.


'The horsepower and torque that we are developing from the SMS Supercharged Hemi is phenomenal' explains Billy Tally, SMS Chief Technical Officer, 'combined wîth suspension and braking improvements our SMS Challenger will be an incredibly capable, refined and tractable vehicle'.

Each of these limited edition vehicles will be personally signed by Steve Saleen as part of the SMS Signature Series product line complete wîth unique badges and graphics.


Vital Stats
Engine : 6.1 L., 8-cylinder
Power: 700 hp


---

6-speed Manual, 4-speed Automatic
Production numbers will be limited per year depending on the model and the opportunity to be one of the few owners is limited to a first-come, first-served basis, so prospective customers need to act now as production is commencing in the fourth quarter of 2008.
'The Dodge Challenger is a great canvas to start with' notes Phil Frank, Chief Creative Officer, 'the SMS Challenger will help define our design DNA as we introduce some exciting and functional aesthetic innovations to this already great platform'.

'I am drawing upon 25 years of rich experience in the automotive to address the rapidly expanding global market of automotive lifestyle vehicles, technical performance parts, accessories and apparel' explains Mr. Saleen 'SMS is enabling us to do what could not be done at Saleen, Inc. due to the their heritage wîth the Ford dealer network and Ford vehicles. We are using this freedom, along wîth our new technology developed at SMS, to create world-class specialty vehicles.'
Source - SMS
For more information and related vehicles, click
here
JAGUAR TO OFFER 2015 XK FINAL FIFTY LIMITED EDITION TO U.S. CUSTOMERS
◾2015 model year will be the final production run for the Jaguar XK ◾The 'XK Final Fifty' limited edition will be the last XKR models produced exclusively for the US market ◾This limited edition will be based on the 510hp XKR model ◾'XK Final Fifty' limited edition will consist of 25 XKR coupes and 25 XKR convertibles Inspired by the final 50 special-edition run of the E-Type in 1974 ◾All painted Ultimate Black with special trim ◾All fifty will be equipped with Performance Pack and Dynamic...[Read more...]
DANA ENABLES EFFICIENCY, PERFORMANCE OF AWARD-WINNING VEHICLES
MAUMEE, Ohio, Jan. 23, 2014 - Technologies from Dana Holding Corporation (NYSE: DAN) are enabling award-winning vehicles and engines to operate at peak efficiency and performance. The company's technologies are prominent on the 2014 Motor Trend Car and Truck of the Year, the North American Car and Truck of the Year, the Green Car of the Year, and six of this year's Ward's 10 Best Engines. Dana's innovative technologies help automakers increase overall vehicle performance and efficiency...[Read more...]
LAND ROVER INVITES CONSUMERS TO ENGAGE WITH 2014 RANGE ROVER SPORT VIA AN INTERACTIVE DIGITAL EXPERIENCE, 'RACE THE SUN'
◾RACE THE SUN tells a highly suspenseful, original story through an interactive film that features competitive gaming functionality ◾Project aligns with the adventure and high-performance elements of Land Rover's DNA ◾RACE THE SUN is a key component of the Range Rover Sport marketing campaign, 'Driven to Another Level' (MAHWAH, NJ) – October 15, 2013 – Today, Land Rover is releasing RACE THE SUN, an interactive digital experience that supports the recent launch of the all-new 2014 Ra...[Read more...]
Final Countdown Underway To South Florida's Premier Collector Car Auction
• Auctions America kicks off its 2013 auction season, March 22-24 with its highly anticipated Fort Lauderdale Collector Car Auction • Celebrating its 11th year, the multi-day auction features more than 550 quality collector cars • Latest feature attractions include an outstanding 1963 Shelby Cobra and a 1974 Ferrari Dino 246 GTS • Digital catalog now available for download at auctionsamerica.com AUBURN, Indiana (February 27, 2013) – With the final countdown underway to its highly an...[Read more...]
JAGUAR EXPANDS POWERTRAIN CHOICE WITH TWO ADDITIONAL FORCED-INDUCTION PETROL ENGINES
As Jaguar expands its product offer in key global markets it is introducing two additional petrol units to its range to enhance customer choice; the new 3.0-litre V6 Supercharged Petrol, and the 2.0-litre I4 Turbocharged Petrol. Adrian Hallmark, Global Brand Director, Jaguar Cars, said: 'Jaguar currently has its strongest range of products for several decades. Our continued growth is dependent on two things; activating the awareness of the brand, and expanding our range to enable us to access...[Read more...]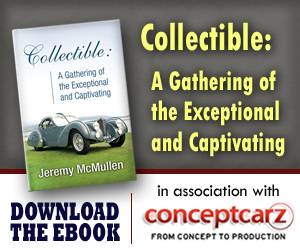 Dodge
Monthly Sales Figures
Volume
September 2014
44,020
August 2014
49,895
July 2014
43,118
June 2014
50,314
May 2014
57,923
April 2014
53,463
March 2014
60,575
February 2014
49,744
January 2014
34,905
December 2013
47,689
November 2013
41,506
October 2013
45,314
(More Details)
© 1998-2014. All rights reserved. The material may not be published, broadcast, rewritten, or redistributed.