1931 Franklin Series 15 news, pictures, specifications, and information

Tweet
'Highest horsepower per cubic inch! - Its a claim many would like to have made and Franklin could say it in 1930, and again in 1931 for an non-supercharged, American engine. This was the second year for Franklin's 'airplane-type' engine with 'side-draft' cooling and improvements due, primarily, to higher output through a camshaft change and a redesigned cooling fan which now consumed only 4.5 horsepower.
The H.H. Franklin Automobile Company of Syracuse, NY, is well-known for building only air-cooled cars from 1902 until 1934. In addition to air-cooling they were also known for other automotive innovations like double elliptical springs, which allowed for a better ride than most cars of the day.

Raymond Dietrich designed the Series 153 DeLuxe bodies for an anticipated new V12 line of cars, but the bodies ended up on the 132-inch chassis with the standard 6-cyliner, 100 horsepower engine.

This is a one-off car built by the Franklin's primary body supplier, Walker Company of Amesbury, MA where Raymond Dietrich worked. It was displayed by Franklin at the 1931 New York Auto Salon. It was the last custom-built car by Walker and was known as 'The Walker.' It was previously housed in the Harrah Collection where it was fully restored.
The Franklin, built in Syracuse, New York, was by far the most successful and popular air-cooled automobile built in America until it closed its doors in 1934. From its beginnings in 1902, the company had focused solely on air-cooling.

In 1931, when this Model 151 convertible coupe was built, the Franklin had evolved into not only a uniquely engineered automobile but one that featured some of the most handsome body design of the late 1920s and early 1930s. However, the effect of the Great Depression was taking its toll on automobile companies, particularly independents like Franklin.

The convertible coupe was powered by a 100 horsepower Franklin motor that rested on a 125 inch wheelbase chassis. Price new was approximately $2,400.
This Franklin Series 15 Convertible Coupe was purchased new by the president of South Boston Savings Bank, of Boston, Massachusetts. He drove it as his primary car until his unexpected passing in the mid-1950s. The car was then inherited by the banker's daughter and her husband. They would use the car extensively during the summer months. Their son would later become the next and current owner.

In the mid-1990s, the car was rebuilt. It was finished in its original colors. It is powered by an L-head, air-cooled six-cylinder engine displacing 274.2 cubic-inches and offering 100 horsepower. There is a three-speed manual transmission and four-wheel hydraulic brakes.
By Daniel Vaughan | Nov 2014
The 1931 Franklin Series 151 was available on either a 125-inch wheelbase or a larger 132-inch unit. The only engine available was a six-cylinder powerplant that produced 100 horsepower. There were twenty bodystyles available that ranged from coupes and roadsters to seven-passenger sedans and limousines.

Produced by the H.H. Franklin Automobile Company of Syracuse, New York, this luxury automobile manufacture offered air-cooled engines from 1902 through 1934 (with a total production of 151,266 automobiles). Franklins are known for their innovative engine and chassis designs features double elliptic springs that offer a ride unmatched by many cars even of today.
By Daniel Vaughan | Jun 2009
The Series 153 DeLuxe bodies were originally designed by Raymond Dietrich for the new V-12 line. With the V-12 redesign ordered by the new bank-appointed management, these designs were mounted on a 132-inch chassis with standard 6-cylinder 100 horsepower engine. A DeLuxe Roadster was never produced, but Franklin factory blueprints survived for the proposed body, perhaps intended by Dietrich for the V-12 line. Created by Franklin Club member Frank Gardner, the project consumed some eight years with the body having been custom made for Mr. Gardner in England from the Franklin blueprints.
For more information and related vehicles, click
here
PORSCHE'S 914 HONORED AT 20TH AMELIA CONCOURS d'ELEGANCE
The 20th annual Amelia Island Concours d'Elegance will honor the first mid-engine production Porsche, the 914 in all its variants. At first some Porsche purists lamented the Porsche 914's seemingly humble origins. They whispered the 'V-Word' . . . Volkswagen. The reality was that the 914 is a blood descendant of the seminal Gmund Porsche, the first car to wear the family name and the crest, a pure sports car designed around a Volkswagen-sourced air-cooled flat-four and a mid-engine con...[Read more...]
TATRA UNSEEN FOR DECADES BEGINS LONG JOURNEY FROM CZECH REPUBLIC TO PEBBLE BEACH
Pebble Beach Concours d'Elegance to Feature Streamlined Tatras for First Time PEBBLE BEACH, Calif. (July 16, 2014) -- This past week Pavel Kasik bid farewell to his beloved Tatra T77 only days after completing its 20-year restoration. The Tatra started its overseas journey of 4,279 miles from the Czech Republic to the Pebble Beach Concours d'Elegance, which will host an exclusive feature of streamlined Tatra automobiles for the first time. A passionate car enthusiast, Kasik will...[Read more...]
Two Best of Show Winners : Similar Designs : Same Owner
When these two vehicles won Best of Show honors at major Concours d'Elegance events, they both were owned by Judge Joseph Cassini III. The green colored Chrysler 4 door Phaeton with tan convertible top wears coachwork by LeBaron. In 2012, it won the Best of Show title (for an American car) at the Concours d'Elegance of America at St. Johns. The other car is a Packard 2 door Convertible Victoria with coachwork by Dietrich. It won this years Pebble Beach Concours d'Elegance Best of Show honors...[Read more...]
Singer Vehicle Design Celebrates 50Th Year Of 911 With Latest 'Re-Imagined' Debut At Quail
• Newest Handcrafted Restored Customer Car by Singer Evokes Past Racing Glories of Porsche, With State-of-the-Art Content and Peerless Execution.
LOS ANGELES – August 1, 2013 – When Singer Vehicle Design (SVD) displays the latest handcrafted masterpiece it has restored for a customer at the 2013 Quail Motorsports Gathering on August 15th, it will note a series of 'firsts' while continuing to salute the genius of Porsche and the 50th anniversary of the original 911. For SVD, the...[Read more...]
BMW CONCEPT NINETY
Cernobbio. 90 years of BMW Motorrad, 90 years of two-wheeled history – hardly another motorcycle manufacturer can boast such a longstanding and successful heritage as BMW. The BMW R 90 S likewise has cause to celebrate: the BMW Motorrad design icon turns 40 this year. As a tribute to both these anniversaries, the BMW Group is presenting a very special model at the Concorso d'Eleganza Villa d'Este 2013: the BMW Concept Ninety. In partnership with the custom bike company Roland Sands Design, the B...[Read more...]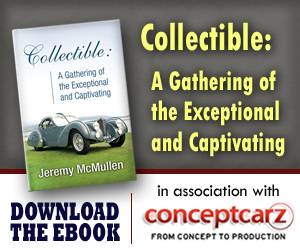 © 1998-2014. All rights reserved. The material may not be published, broadcast, rewritten, or redistributed.