1931 Franklin Series 15 news, pictures, specifications, and information

Tweet
'Highest horsepower per cubic inch! - Its a claim many would like to have made and Franklin could say it in 1930, and again in 1931 for an non-supercharged, American engine. This was the second year for Franklin's 'airplane-type' engine with 'side-draft' cooling and improvements due, primarily, to higher output through a camshaft change and a redesigned cooling fan which now consumed only 4.5 horsepower.
The H.H. Franklin Automobile Company of Syracuse, NY, is well-known for building only air-cooled cars from 1902 until 1934. In addition to air-cooling they were also known for other automotive innovations like double elliptical springs, which allowed for a better ride than most cars of the day.

Raymond Dietrich designed the Series 153 DeLuxe bodies for an anticipated new V12 line of cars, but the bodies ended up on the 132-inch chassis with the standard 6-cyliner, 100 horsepower engine.

This is a one-off car built by the Franklin's primary body supplier, Walker Company of Amesbury, MA where Raymond Dietrich worked. It was displayed by Franklin at the 1931 New York Auto Salon. It was the last custom-built car by Walker and was known as 'The Walker.' It was previously housed in the Harrah Collection where it was fully restored.
The Franklin, built in Syracuse, New York, was by far the most successful and popular air-cooled automobile built in America until it closed its doors in 1934. From its beginnings in 1902, the company had focused solely on air-cooling.

In 1931, when this Model 151 convertible coupe was built, the Franklin had evolved into not only a uniquely engineered automobile but one that featured some of the most handsome body design of the late 1920s and early 1930s. However, the effect of the Great Depression was taking its toll on automobile companies, particularly independents like Franklin.

The convertible coupe was powered by a 100 horsepower Franklin motor that rested on a 125 inch wheelbase chassis. Price new was approximately $2,400.
This Franklin Series 15 Convertible Coupe was purchased new by the president of South Boston Savings Bank, of Boston, Massachusetts. He drove it as his primary car until his unexpected passing in the mid-1950s. The car was then inherited by the banker's daughter and her husband. They would use the car extensively during the summer months. Their son would later become the next and current owner.

In the mid-1990s, the car was rebuilt. It was finished in its original colors. It is powered by an L-head, air-cooled six-cylinder engine displacing 274.2 cubic-inches and offering 100 horsepower. There is a three-speed manual transmission and four-wheel hydraulic brakes.
By Daniel Vaughan | Nov 2014
The 1931 Franklin Series 151 was available on either a 125-inch wheelbase or a larger 132-inch unit. The only engine available was a six-cylinder powerplant that produced 100 horsepower. There were twenty bodystyles available that ranged from coupes and roadsters to seven-passenger sedans and limousines.

Produced by the H.H. Franklin Automobile Company of Syracuse, New York, this luxury automobile manufacture offered air-cooled engines from 1902 through 1934 (with a total production of 151,266 automobiles). Franklins are known for their innovative engine and chassis designs features double elliptic springs that offer a ride unmatched by many cars even of today.
By Daniel Vaughan | Jun 2009
The Series 153 DeLuxe bodies were originally designed by Raymond Dietrich for the new V-12 line. With the V-12 redesign ordered by the new bank-appointed management, these designs were mounted on a 132-inch chassis with standard 6-cylinder 100 horsepower engine. A DeLuxe Roadster was never produced, but Franklin factory blueprints survived for the proposed body, perhaps intended by Dietrich for the V-12 line. Created by Franklin Club member Frank Gardner, the project consumed some eight years with the body having been custom made for Mr. Gardner in England from the Franklin blueprints.
For more information and related vehicles, click
here
PORSCHE INTRODUCES PORSCHE CLASSIC MOTOR OIL FOR THE U.S. MARKET
• 20W-50 and 10W-60 motor oils now available for all air-cooled Porsche models
Atlanta. Porsche Cars North America, Inc. is launching its own engine oil for air-cooled flat-four and flat-six Porsche engines: Porsche Classic Motor Oil. In collaboration with the Porsche Development Center in Weissach, Germany, the new engine oil has been developed by the Porsche Classic experts to meet the lubrication requirements of all Porsche air-cooled engines. The sports car manufacturer mad...[Read more...]
REVERED FERRARI 250 LM LEADS SUPERLATIVE ROSTER OF ITALIAN SPORTS CARS AT RM'S FLAGSHIP MONTEREY SALE
· RM Auctions announces a legendary 1964 Ferrari 250 LM by Scaglietti as the latest multi-million-dollar highlight for its flagship Monterey sale, August 15–16 in California · 250 LM leads a superb roster of no less than 26 Ferraris at RM's two-day sale; additional new entries include a 1953 250 Europa and a 1963 400 SA LWB Coupe Aerodinamico Series II · RM joins in Maserati's 100th anniversary celebrations, presenting no less than four examples from the luxury Italian ma...[Read more...]
Two Best of Show Winners : Similar Designs : Same Owner
When these two vehicles won Best of Show honors at major Concours d'Elegance events, they both were owned by Judge Joseph Cassini III. The green colored Chrysler 4 door Phaeton with tan convertible top wears coachwork by LeBaron. In 2012, it won the Best of Show title (for an American car) at the Concours d'Elegance of America at St. Johns. The other car is a Packard 2 door Convertible Victoria with coachwork by Dietrich. It won this years Pebble Beach Concours d'Elegance Best of Show honors...[Read more...]
Legendary Tucker 48 Joins RM'S Amelia Island Concours d'Elegance Sale
• Just announced: RM Auctions secures rare Tucker 48, previously owned by film legend George Lucas, for its Amelia Island, Florida sale, March 9 • The official auction of the Amelia Island Concours d'Elegance, single-day sale features a superb roster of more than 80 blue-chip collector cars • Additional sale highlights include a 1952 Ferrari 225 Sport Vignale Berlinetta, a 1958 Mercedes-Benz 300SL Roadster and a 1929 Isotta Fraschini 8A Convertible Sedan • Digital catalogue now available onli...[Read more...]
Auctions America By RM's Spring Carlisle Auction Kicks off 2012 Northeastern U.S. Collector Car Season
Auctions America by RM will return to the Carlisle Expo Center in Carlisle, Pennsylvania, on April 26-27, 2012, to kick off the collector car season for the Northeastern U.S. with its Spring Carlisle auction. Featuring nearly 300 American hot rods, muscle cars, classics and memorabilia during its two-day sale, the Spring Carlisle auction is held in conjunction with the Spring Carlisle Collector Car Swap Meet & Corral (April 25-29), hosted each year by Carlisle Events. The auction is one of se...[Read more...]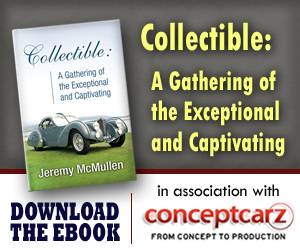 © 1998-2014. All rights reserved. The material may not be published, broadcast, rewritten, or redistributed.