1957 Packard Clipper news, pictures, specifications, and information

Tweet
Studebaker purchased the Packard Company in 1956 and for 1957, the Packards were based on the Studebaker Presidents, with taillights, trim and interior appointments dressed to Packard specifications. By mid-1958, Packard marque was no longer available from the Studebaker line, bringing an end to one of the most revered American luxury brand of the golden age of motoring.

This Packard was given a rotisserie restoration in 2002 and finished in factory color combination of lilac and Arctic White, with matching interior. After the restoration was complete, the car became part of the famous '57 Heaven Museum collection in Branson, Missouri, before it was acquired by the present owner in 2009.

The car is powered by a 289 cubic-inch V8 engine breathing through a single two-barrel carburetor. The 275 horsepower produced by the powerplant was sent to the rear wheels via a Flite-O-Matic Automatic transmission. There are four-wheel hydraulic drum brakes and an independent-coil spring front suspension with a semi-elliptic leaf-spring setup in the rear.

In 2010, this car was offered for sale at the Gooding & Company auction in Pebble Beach where it was estimated to sell for $60,000 - $80,000 and offered without reserve. As bidding came to a close, the car had been sold for the sum of $57,750 including buyer's premium.
By Daniel Vaughan | Oct 2011
The 1957 Packard Clipper was based on Studebaker's largest, most expensive model, the President Classic. It was designed in a short time in late 1956 and incorporated many Packard appearance items including taillights, upholstery and the 'Reynolds Wrap' side trim of the 1956 models. It was powered by a 289 cubic-inch supercharged V8 engine that produced 275 horsepower and rode on a 120-inch wheelbase. Priced at $3,210, only 4,809 were sold including 3,940 sedans. The Packard brand was discontinued after the 1957 year.

Restoration of this car was challenging due to its rarity as a one year model. While mechanical components shared with Studebaker are easier to find, the unique trim pieces such as Clipper script and gold trim pieces took years to locate. Some pieces, such as the lighter fabric of the seat upholstery, had to be custom reproduced.
For 1957, Packard offered just one series, the Studebaker President-based Clipper. It rode on a wheelbase that measured 116.5 inches and featured many standard comfort and convenience features. Only two body styles were available, a town sedan or a station wagon. The only engine choice was a McCulloch-supercharged 289 cubic-inch Studebaker V-8. The blower was designed to provide boost pressure when the engine was revving above 3,000 RPM.

For 1957, only 4,809 Clipper models were produced, with 869 of those being Country Sedans.

This example was acquired by the current owner in August of 2009. The prior owner acquired it in mid-2008 from Art Astor of California. While in Mr. Astor's ownership, the car was treated to a cosmetic restoration with the majority of the chrome and brightwork refinished. The interior features gold leather upholstery with black and white cloth inserts, complemented by gold carpeting. Factory options include power steering, power brakes and a power driver's seat, plus a radio, clock, heater and defroster. Accessory boost and oil pressure monitor the powerful supercharged V-8 engine, while a roof rack, dual radio antennas and wide whitewall tires with refinished wheel discs complete the exterior.

In 2011, the car was offered for sale at the St. John auction presented by RM Auctions. It was estimated to sell for $50,000 - $75,000 and offered without reserve. As bidding came to a close, the car was sold for the sum of $60,500, including buyer's premium.
By Daniel Vaughan | Oct 2011
When the Packard Company began automobile production in 1899, it was known as Ohio Automobile Company. In 1903 the name was changed to the Packard Motor Car Company when it moved from Warren, Ohio to Detroit, Michigan. The move was the result of a majority stock purchase made by investors in the Detroit area.
Packard had sustained a Great Depression and a World War and was still at the fore-front of vehicle production. Advances in automotive technology and design were making vehicles more and more exciting each day. During the early forties Packard decided to compete in a broader market by introducing the Clipper, a vehicle aimed at higher production but lower cost.

The Briggs Manufacturing Company was tasked with building the Clipper bodies. This conclusion was made after the Briggs Manufacturing Company had stated and proven to the Packard Company that they could produce the bodies cheaper than Packard. Production of the bodies began and the price Briggs Manufacturing Company had quoted Packard proved to be too low, so the price was raised leaving Packard with the extra cost. It would have been cheaper for Packard to produce the bodies themselves.

The sales of the Clipper series were very successful, outselling Cadillac and LaSalle. The vehicles were stylish, durable, and elegant. The body of the vehicle had been designed by the legendary Howard 'Dutch' Darrin. The Packard 120 was the company's first sub-$1000 car. It was aimed at stimulating sales and increasing production.

The sixteen valve eight-cylinder engine powering the Clipper was capable of producing 125 horsepower, a rather high figure at the time. The modern body, stylish interior, excellent performance, and Packard quality made the Clipper Series very desirable.

In February of 1942 the United States Government ordered all manufacturers to cease production of automobiles and shift their priorities to war related efforts. Packard began the production of aircrafts and marine engines, ambulance and military vehicles. More than 60,000 combined engines were produced by the Packard factory during the war.

In 1945 the war had ended and Packard went back to automobile production. They had made $33 million through their engine and military vehicle sales, $2 million was used to renovate and update their facilities. Packard was in excellent financial condition. Most of the automobile parts that had been created prior to the war were in bad shape. They had been put in storage in order to make space for equipment that was needed to design and build military vehicles. The storage was often subject to the weather and the elements. As a result much of the equipment and supplies needed to be replaced.

When automobile production began, Packard decided to only produce the Clipper Series and abandon the other model lines. For 1946 Packard produced the Clipper Six 2100 and 2103, Super Clipper 2103, and the Custom Super Clipper 2106. The Super Eight and Custom convertibles were added in 1947. In 1949 Packard introduced the 23rd Series Eight and Deluxe Eight.

The Clippers were very unique and innovative for their time. They featured an alarm on the gas tank that would whistled as the fuel was pumped, stopping only when the tank was full. The running boards and door hinges were concealed adding to the smooth appearance of the body. The Clipper Series were also very wide. This not only gave passengers extra interior room but it gave the vehicle stability at speed around the corners. The width was a foot wider than it was tall making it the widest vehicle in production at the time.

The sales of luxury vehicles began to decline near the end of the 1940's and continued into the 1950's. This hurt Packard production and sales for their high-end luxury vehicles declined considerably. Packard's were built so well that they lasted for a very long time. So Packard did not have very many repeat customers because their customers did not need to purchase another vehicle. The president of Nash Motors, Mr. George Mason, had approached Packard about a merger during the early 1950s. He believed that the days of independent car manufacturers were soon to be gone. Packard was reluctant and thought otherwise. 1954 was another bad industry for the luxury car market and Nash Motors merged with the Hudson Motor Car, forming American Motors. In 1952 James Nance was elected president and general manager of Packard. In 1954, Nance merged Packard with Studebaker in an effort to diverse their product line and stimulate sales for both struggling companies. Studebaker had a larger network of dealers, a potential benefit for Packard. Unfortunately, Studebaker sales dipped dramatically and this ultimately hurt Packard more than it helped.

World War II and the Korean War had come and gone. This meant their entire defense contracts had ceased, ending nearly half a billion dollars in income.

In 1953 Chrysler bought Briggs Manufacturing, the producer of Packard bodies. Packard was forced to find another company to produce their bodies. None was found and Packard formed a temporary deal in 1955 with Chrysler to have them produce their bodies.

By June of 1956, production of Packard automobiles ceased. Production of the Packard model names continued for a few years but was adorned with Studebaker nameplates. By 1959 this style had ended and only the Studebaker name prevailed. In the early 1960's the Avanti and Lark were able to make a small profit for the Studebaker-Packard Company. In 1962 the decision was name to drop the Packard name from the Studebaker-Packard Corporation. In 1966 Studebaker was out of business.
By Daniel Vaughan | Apr 2009
For more information and related vehicles, click
here
ONE-OF-A-KIND 2014 BMW i8 CONCOURS d'ELEGANCE EDITION SOLD FOR WORLD AUCTION RECORD PRICE OF $825,000
• One-of-a-Kind 2014 BMW i8 Concours d'Elegance Edition, Presented by Jay Leno and Ludwig Willisch, President and CEO of BMW of North America
Woodcliff Lake, NJ – August 17, 2014… On Saturday evening, August 16, in celebration of the U.S. arrival of the revolutionary BMW i8, Jay Leno and Ludwig Willisch, President and CEO, BMW of North America, presented a one-of-a-kind 2014 BMW i8 Concours d'Elegance Edition, which was then auctioned off for $825,00, including buyer's premier, ...[Read more...]
ONE-OF-A-KIND BMW I8 CONCOURS D'ELEGANCE EDITION TO BE AUCTIONED DURING PEBBLE BEACH CONCOURS D'ELEGANCE WEEKEND
BMW i8 Concours d'Elegance Edition to be sold at Pebble Beach Auctions presented by Gooding & Company with proceeds benefitting the Pebble Beach Company Foundation and the Pebble Beach Concours d'Elegance Woodcliff Lake, N.J. – July 25, 2014… In celebration of the US arrival of the BMW i8, the world's most innovative sports car, a one-of-a-kind 2014 BMW i8 Concours d'Elegance Edition will be auctioned during the weekend of the 2014 Pebble Beach Concours d'Elegance, ahead of the ...[Read more...]
EXCLUSIVE VOLVO OCEAN RACE EDITION AND V70 & XC70 EDITION RELEASED IN GENEVA
Exactly forty years after the completion of the first race, Volvo Car Group (Volvo Cars) is celebrating the upcoming 2014-2015 Volvo Ocean Race by presenting another special edition of sailing-inspired cars. The fifth generation Volvo Ocean Race Edition, which includes the Volvo V40, V40 Cross Country, V60 and XC60, will be launched at the 2014 Geneva Motor Show. At the same time, Volvo Cars will introduce the V70 and XC70 Editions for customers with a taste for a more dynamic look and handli...[Read more...]
BENTLEY 'HOME COLLECTION' MAKES ITS DEBUT
Full furniture range at prestigious Maison & Objet Fair in Paris • Bentley aesthetic translated into luxury home and board room environments • Collaboration with leading Italian interiors company defines luxury lifestyle direction (Crewe, January 24) Bentley Motors presents its range of luxury home and executive furniture at the Maison & Objet fair in Paris, designed and manufactured in collaboration with Luxury Living Group, one of Europe's leading furniture makers. The collection i...[Read more...]
Lost Mercedes - Surfaces At Bonhams
One owner, unrestored, supercharged 'S' Type Mercedes to be sold by Bonhams at Goodwood Revival this autumn One of the greatest and most important motor car finds of the last decade, the 'Lost Mercedes' is to be offered at Bonhams Goodwood Revival sale on Saturday 15th September 2012. Bonhams announced today that it has been commissioned to sell a recently discovered 1928 Mercedes-Benz 26/120/180 'S' Type Sports Tourer which almost without precedent for motor cars of this type and d...[Read more...]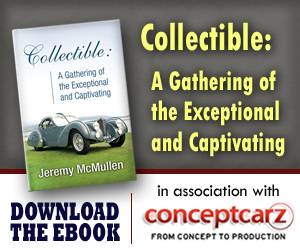 © 1998-2014. All rights reserved. The material may not be published, broadcast, rewritten, or redistributed.