1905 Ford Model F news, pictures, specifications, and information

Tweet
| | |
| --- | --- |
| | Touring Car |
Henry Ford built his first motor vehicle in 1899. It rode on bicycle wheels and was given the name 'Quadricycle.' It was created at Ford's home on Bagley Avenue in downtown Detroit while he was working as an employee for the Edison Illuminating Company. The success of the Quadricycle attracted the attention of some well Detroit area investors and in 1901 Ford founded the Detroit Automobile Company. The company soon failed, with a second new company called the Henry Ford Company soon established in 1902. This company failed almost immediately. A third company, the Ford Motor Company, was incorporated on June 16th of 1903.

The first car produced by the Ford Motor Company was called the Model A. Power was from an opposed, two-cylinder engine mounted underneath the body. It had a planetary transmission with two speeds forward and one reverse. Over time, the Model A was continually refined, and in 1904 it was replace with the Model AC. The Model C appeared in late 1904. The replacement for the Model C was the Model F and was the last two-cylinder Ford produced during 1905 and early 1906.

This Model F is one of only a few pre-Model T Fords still in existence.
For the 1904 model year, the Ford Motor Company introduced three new models, the Model B, C and F. At the time, the Ford Company produced around eight percent of all cars build in the U.S. and the Ford Motor Company of Canada was also founded this year. Also in 1904, Ford opened its first dealership in Detroit on Jefferson Avenue. The Ford Model F tourer was priced at $2,000 for 1904.

The following year, 1905, Henry Ford did his best to improve his line of vehicles and the Ford F was now more dependable. This same year the Ford Motor Company was moved from the Mack Avenue factory to a much larger one on Piquette Avenue. For this year the Ford Model F's price rose from $1000 to $1,200 while the prices on all other models remained the same. Unfortunately even with all of these updates and improves, the new 'Truck' sales were still slightly less than the previous year.

For the 1906 model year, the Model F was dropped and the two cylinder engine was phased out and replaced by the Model N and the Model K. A total of seven thousand of the Ford Model N's were produced between 1906 until 1908 and sold for around $600, nearly half of the price of the Model F.
By Jessica Donaldson
For more information and related vehicles, click
here
BEIJING DEBUT FOR INFINITI Q50 EAU ROUGE RUNNING PROTOTYPE
◾Prototype project now officially an engineering feasibility study ◾Sebastian Vettel, Infiniti's Director of Performance, takes active part in track testing BEIJING / HONG KONG – Infiniti revealed at the Beijing Auto Show 2014 that an Infiniti Q50 Eau Rouge prototype had been built and track tested and that the concept was now officially an engineering feasibility study. The Infiniti Q50 Eau Rouge prototype has undergone on-track dynamics testing at the Millbrook Proving Ground, a...[Read more...]
INFINITI EAU ROUGE – READY TO ROAR AT GENEVA MOTOR SHOW
◾Infiniti hints at powertrain for Q50 Eau Rouge concept ◾Engine to be revealed at Geneva Motor Show on March 4 ◾For more information, visit http://unveil.infiniti.com/ Geneva / Hong Kong – Infiniti has today released a new preview of the Q50 Eau Rouge concept – the sound of premium automotive performance. The identity of the big personality engine with forced induction under Eau Rouge's sculpted and vented hood will be revealed at the 2014 Geneva International Motor Show, but it can be hear...[Read more...]
RON BURGUNDY ANCHORS NEW 2014 DODGE DURANGO ADVERTISING CAMPAIGN
◾Co-branded advertising campaign combines power of Detroit automaker, major Hollywood studio and Will Ferrell (as Ron Burgundy) in biggest ever original content promo ◾Campaign launches new 2014 Dodge Durango featuring 'Anchorman 2: The Legend Continues' character Ron Burgundy as its new pitchman ◾Multimedia campaign spans television, digital, social and print ◾Television spots debuted on television and online on Saturday, October 5 ◾Campaign champions holiday release of Paramount Pictures' ...[Read more...]
Lingenfelter Collection Garage Crawl To Take Place Saturday, June 15 During 26Th Annual Eyeson Design
BRIGHTON, Mich. - Ken Lingenfelter, owner of Lingenfelter Performance Engineering, will open the doors of his famed Lingenfelter Collection by hosting a Garage Crawl during the 26th Annual EyesOn Design week of activities. All proceeds from EyesOn Design events, this year themed 'Revolution over Evolution,' will benefit the Detroit Institute of Ophthalmology. Lingenfelter, who serves on the EyesOn Design Board, will also exhibit select vehicles from his collection in the EyesOn...[Read more...]
1966 24 Hours of Le Mans: Bewildered Bruce
The look on Bruce McLaren's face as he climbed from his GT40 would be one of stark contrast to the rest of those with the Ford team. It was clear who the winner was, and yet, confusing as well. In the midst of one of the most demonstrative and authoritative victories in Le Mans history, McLaren and his co-driver Chris Amon would find themselves the beneficiaries of a saga that upset the team management at Ford as much as Ferrari's presence. It was an all-out effort. Tremendous amounts of capi...[Read more...]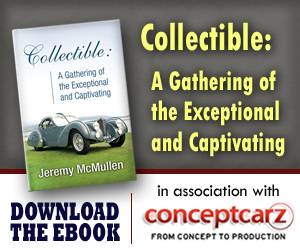 Similarly Priced Vehicles from 1905
Auto Vehicle Company Tourist ($1,250-$1,250)
Cameron Runabout ($650-$1,050)
Queen Model E ($1,000-$1,000)
Woods Electric ($1,000-$3,000)
Buick Model C ($1,200-$1,200)
REO Two-Cylinder ($1,250-$1,250)

Average Auction Sale: $93,500
Ford
Monthly Sales Figures
Volume
September 2014
172,918
August 2014
214,028
July 2014
204,373
June 2014
214,793
May 2014
244,501
April 2014
203,552
March 2014
235,198
February 2014
177,286
January 2014
148,671
December 2013
210,074
November 2013
183,722
October 2013
184,854
(More Details)
© 1998-2014. All rights reserved. The material may not be published, broadcast, rewritten, or redistributed.