1905 Ford Model F news, pictures, specifications, and information

Tweet
| | |
| --- | --- |
| | Touring Car |
Henry Ford built his first motor vehicle in 1899. It rode on bicycle wheels and was given the name 'Quadricycle.' It was created at Ford's home on Bagley Avenue in downtown Detroit while he was working as an employee for the Edison Illuminating Company. The success of the Quadricycle attracted the attention of some well Detroit area investors and in 1901 Ford founded the Detroit Automobile Company. The company soon failed, with a second new company called the Henry Ford Company soon established in 1902. This company failed almost immediately. A third company, the Ford Motor Company, was incorporated on June 16th of 1903.

The first car produced by the Ford Motor Company was called the Model A. Power was from an opposed, two-cylinder engine mounted underneath the body. It had a planetary transmission with two speeds forward and one reverse. Over time, the Model A was continually refined, and in 1904 it was replace with the Model AC. The Model C appeared in late 1904. The replacement for the Model C was the Model F and was the last two-cylinder Ford produced during 1905 and early 1906.

This Model F is one of only a few pre-Model T Fords still in existence.
For the 1904 model year, the Ford Motor Company introduced three new models, the Model B, C and F. At the time, the Ford Company produced around eight percent of all cars build in the U.S. and the Ford Motor Company of Canada was also founded this year. Also in 1904, Ford opened its first dealership in Detroit on Jefferson Avenue. The Ford Model F tourer was priced at $2,000 for 1904.

The following year, 1905, Henry Ford did his best to improve his line of vehicles and the Ford F was now more dependable. This same year the Ford Motor Company was moved from the Mack Avenue factory to a much larger one on Piquette Avenue. For this year the Ford Model F's price rose from $1000 to $1,200 while the prices on all other models remained the same. Unfortunately even with all of these updates and improves, the new 'Truck' sales were still slightly less than the previous year.

For the 1906 model year, the Model F was dropped and the two cylinder engine was phased out and replaced by the Model N and the Model K. A total of seven thousand of the Ford Model N's were produced between 1906 until 1908 and sold for around $600, nearly half of the price of the Model F.
By Jessica Donaldson
For more information and related vehicles, click
here
FORD, GE WATTSTATION CHARGERS SUPPORT EMPLOYEE ELECTRIC VEHICLE CHARGING NETWORK
◾Ford to install its first employee electric vehicle charging station network in Dearborn, Mich.; facilities across the United States and Canada to follow ◾Ford will work with GE as its network provider and supplier of electric vehicle charging stations; networked stations will help Ford understand charging usage and plan for future installations ◾Ford electrified vehicles have logged an estimated 65 million electric miles over the last 18 months. Ford now offers six electrified vehicles, incl...[Read more...]
Lingenfelter Collection Garage Crawl To Take Place Saturday, June 15 During 26Th Annual Eyeson Design
BRIGHTON, Mich. - Ken Lingenfelter, owner of Lingenfelter Performance Engineering, will open the doors of his famed Lingenfelter Collection by hosting a Garage Crawl during the 26th Annual EyesOn Design week of activities. All proceeds from EyesOn Design events, this year themed 'Revolution over Evolution,' will benefit the Detroit Institute of Ophthalmology. Lingenfelter, who serves on the EyesOn Design Board, will also exhibit select vehicles from his collection in the EyesOn...[Read more...]
Commemorative Poster For 2013 Pebble Beach Concours d'Elegance Features Ford Family Lincolns
Event Posters Also Celebrate Aston Martin and Porsche 911 PEBBLE BEACH, Calif. (April 16, 2013) -- When Edsel B. Ford II came upon the 1956 Lincoln Continental MK II last year, he admired the long lines and elegant custom styling of the automobile, but he didn't immediately recognize it. Imagine his surprise when he learned the car had, in fact, belonged to his mother, Anne, as evidenced by the original owner's manual inscribed with her name. In all fairness, Edsel was just...[Read more...]
CADILLAC CONCEPT CARS STAR at AMELIA CONCOURS d'ELEGANCE
There are limited production cars, there are rare cars and there are concept cars that never find their way to the showroom. A fleet of Cadillac's rare and mythic Motorama and Detroit Auto Show Concept Cars will take to the field at the 18th Annual Amelia Island Concours d'Elegance on Sunday March 10, 2013. Created under the supervision of GM's legendary styling chief, Harley Earl, the Cadillac Concept cars of the 'Fifties were created as the stars of GM's Motorama shows. All are blood anc...[Read more...]
Concours d'Elegance of America Announces Official Charities
The Board of Directors of the Concours d'Elegance of America has announced that the College for Creative Studies (CCS), Leader Dogs for the Blind and Hospice of Michigan will be its charitable beneficiaries at the 2012 Concours d'Elegance of America at St. John's. Concours' Director and Chief Judge, Bill Parfet explained, 'To further celebrate the heritage of Detroit, a portion of the proceeds of the Concours d'Elegance of America at St. John's is designated for local educational and charita...[Read more...]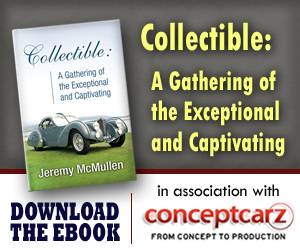 Similarly Priced Vehicles from 1905
Auto Vehicle Company Tourist ($1,250-$1,250)
Cameron Runabout ($650-$1,050)
Queen Model E ($1,000-$1,000)
Woods Electric ($1,000-$3,000)
Buick Model C ($1,200-$1,200)
REO Two-Cylinder ($1,250-$1,250)

Average Auction Sale: $93,500
Ford
Monthly Sales Figures
Volume
November 2014
178,221
October 2014
179,014
September 2014
172,261
August 2014
214,028
July 2014
204,373
June 2014
214,793
May 2014
244,501
April 2014
203,552
March 2014
235,198
February 2014
177,286
January 2014
148,671
December 2013
210,074
(More Details)
© 1998-2014. All rights reserved. The material may not be published, broadcast, rewritten, or redistributed.