1905 Ford Model F news, pictures, specifications, and information

Tweet
| | |
| --- | --- |
| | Touring Car |
Henry Ford built his first motor vehicle in 1899. It rode on bicycle wheels and was given the name 'Quadricycle.' It was created at Ford's home on Bagley Avenue in downtown Detroit while he was working as an employee for the Edison Illuminating Company. The success of the Quadricycle attracted the attention of some well Detroit area investors and in 1901 Ford founded the Detroit Automobile Company. The company soon failed, with a second new company called the Henry Ford Company soon established in 1902. This company failed almost immediately. A third company, the Ford Motor Company, was incorporated on June 16th of 1903.

The first car produced by the Ford Motor Company was called the Model A. Power was from an opposed, two-cylinder engine mounted underneath the body. It had a planetary transmission with two speeds forward and one reverse. Over time, the Model A was continually refined, and in 1904 it was replace with the Model AC. The Model C appeared in late 1904. The replacement for the Model C was the Model F and was the last two-cylinder Ford produced during 1905 and early 1906.

This Model F is one of only a few pre-Model T Fords still in existence.
For the 1904 model year, the Ford Motor Company introduced three new models, the Model B, C and F. At the time, the Ford Company produced around eight percent of all cars build in the U.S. and the Ford Motor Company of Canada was also founded this year. Also in 1904, Ford opened its first dealership in Detroit on Jefferson Avenue. The Ford Model F tourer was priced at $2,000 for 1904.

The following year, 1905, Henry Ford did his best to improve his line of vehicles and the Ford F was now more dependable. This same year the Ford Motor Company was moved from the Mack Avenue factory to a much larger one on Piquette Avenue. For this year the Ford Model F's price rose from $1000 to $1,200 while the prices on all other models remained the same. Unfortunately even with all of these updates and improves, the new 'Truck' sales were still slightly less than the previous year.

For the 1906 model year, the Model F was dropped and the two cylinder engine was phased out and replaced by the Model N and the Model K. A total of seven thousand of the Ford Model N's were produced between 1906 until 1908 and sold for around $600, nearly half of the price of the Model F.
By Jessica Donaldson
For more information and related vehicles, click
here
Ford To Auction Prototype Of The 2014 Mustang Cobra Jet For National Multiple Sclerosis Society At Barrett-Jackson
◾Ford is selling a one-of-a-kind prototype of the NHRA competition-ready 2014 Mustang Cobra Jet at Barrett-Jackson Las Vegas to benefit the National Multiple Sclerosis Society ◾The sale includes an once-in-a-lifetime Mustang experience. The winning bidder will become an honorary member of Team Mustang with full backstage passes to the Ford Product Development Center, Ford Design Studios and Ford Racing ◾Ford to also offer Ride-and-Drives and hot laps at Mandalay Bay Event Center featuring t...[Read more...]
FORD FUND CELEBRATES INNOVATION AS PART OF HENRY FORD'S LEGACY; ELENA FORD AWARDS INVENTORS WITH SPECIAL PRIZES
◾Two days before the 150th birthday of Henry Ford, Ford Motor Company Fund is sponsoring Henry Ford Maker Challenge, named after one of the most influential innovators of the 20th century ◾Elena Ford presented awards to three inventors out of the 400 participating in the fourth annual Maker Faire at The Henry Ford ◾Ford Fund supports innovation in education through long-term partnerships with nonprofits DEARBORN, Mich., July 28, 2013 – Two days before the 150th birthday of Henry Ford...[Read more...]
Lingenfelter Collection Garage Crawl To Take Place Saturday, June 15 During 26Th Annual Eyeson Design
BRIGHTON, Mich. - Ken Lingenfelter, owner of Lingenfelter Performance Engineering, will open the doors of his famed Lingenfelter Collection by hosting a Garage Crawl during the 26th Annual EyesOn Design week of activities. All proceeds from EyesOn Design events, this year themed 'Revolution over Evolution,' will benefit the Detroit Institute of Ophthalmology. Lingenfelter, who serves on the EyesOn Design Board, will also exhibit select vehicles from his collection in the EyesOn...[Read more...]
Barrett-Jackson Flavors Its January Scottsdale Auction With NASCAR Treats
• RACING HERITAGE, HIGH PERFORMANCE ARE RECIPES FOR CAR-COLLECTING FEAST
• SPEED™ SET FOR 39 HOURS of LIVE COVERAGE STARTING JAN. 15
The great Henry Ford once said, 'Auto racing began five minutes after the second car was built.' And for more than 60 years, there are few entities that better represent auto racing in America than NASCAR. From the hallowed grounds of Daytona International Speedway, to Sonoma, California's intricate and picturesque road course, the sp...[Read more...]
TWO 1950s AUTO SHOW CARS TO SHARE THE SPOTLIGHT AT RM'S 'AUTOMOBILES OF ARIZONA' EVENT
Two unique and rare examples of automotive styling – a record-breaking, Hemi-powered 1954 Dodge Firearrow III Sport Concept by Ghia, and a one-of-a-kind 1950 Saturn 'Bob Hope Special' are set to star at RM's prestigious 'Automobiles of Arizona' event, January 16th in Phoenix, Arizona. A rare, record-breaking 1954 Dodge Firearrow III Sport Concept by Ghia and a one-of-a-kind 1950 Saturn 'Bob Hope Special' will take centre-stage at RM's prestigious Automobiles of Arizona event, Januar...[Read more...]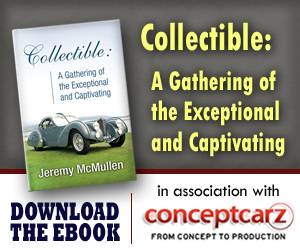 Similarly Priced Vehicles from 1905
Auto Vehicle Company Tourist ($1,250-$1,250)
Cameron Runabout ($650-$1,050)
Queen Model E ($1,000-$1,000)
Woods Electric ($1,000-$3,000)
Buick Model C ($1,200-$1,200)
REO Two-Cylinder ($1,250-$1,250)

Average Auction Sale: $93,500
Ford
Monthly Sales Figures
Volume
February 2014
177,286
January 2014
148,671
December 2013
210,074
November 2013
183,722
October 2013
184,854
September 2013
178,693
August 2013
213,078
July 2013
186,796
June 2013
228,174
May 2013
239,280
April 2013
204,969
March 2013
229,335
(More Details)
© 1998-2014. All rights reserved. The material may not be published, broadcast, rewritten, or redistributed.